This post may contain affiliate links. Read our disclosure page for full details.
I'm not going to lie to you. When it comes to romantic vibes, Taipei is probably not the first city that comes to mind.

Taipei City is the bustling capital of the subtropical island nation of Taiwan. The city's claims to fame are its jam-packed night markets, legendary street food, super efficient MRT, and Taipei 101, once the tallest skyscraper in the world.

But Taipei has its own special charm that will appeal to couples who prefer adventure to overpriced candlelit meals, and getting off the beaten track to cliché attractions for couples. Getting romantic in Taipei will involve a little more creativity, but you'll feel all the more bonded to your partner as a result.
As a matter of fact, I met my wife to be, a local Taipei resident, on one of the least romantic of places: the MRT. Our relationship blossomed as we explored the city and country together in the years to come. We are now married, and our two kids were born and raised in Taipei.

In this article, I'm going to introduce ten super fun AND romantic things to do in Taipei, all based on our personal experience. Try a few, and you may find yourself falling in love with your partner all over again, and with this incredible city!
PLANNING YOUR TAIPEI TRIP
A little bit of planning can go a long way for making your trip to Taipei more worry free, and we all know that stress can be a romance killer on the road! Here are some tips for planning the perfect romantic trip to Taipei. For more tips and information, see this guide to traveling in Taiwan.

WHAT IS THE BEST TIME OF YEAR TO VISIT TAIPEI?
There's no easy answer here. Each season in Taipei offers different romantic possibilities.
Winter is best for hot springs and flower viewing, but cold, damp whether and gray skies can be a mood killer. Spring is good for avoiding crowds, but there's a mini rain season in late May. Summer is really hot and sweaty (whether you like that or not), but occasional typhoons might force you to stay inside. Autumn is probably the all-around winner, with pleasant weather and low crowds.
See here for more info on the best months to visit Taiwan.
ROMANTIC PLACES TO STAY IN TAIPEI
It's never easy to choose from the thousands of accommodations in a large city like Taipei. On the plus side, it's insanely easy to get to virtually anywhere in the city thanks to the MRT, so just try to choose somewhere close to an MRT station.

Choose something around Taipei Main Station for sheer convenience, Ximending for the coolest vibes, Zhongxiao East road for shopping and dining, or the area around Taipei 101 for iconic views.

For romance in an ultra-hip setting, it doesn't get any more fashionable than W Taipei.

Wego Boutique is the best upscale (and tasteful) love hotel in Taipei, while JSL offers rooms in the city center that include private hot spring tubs.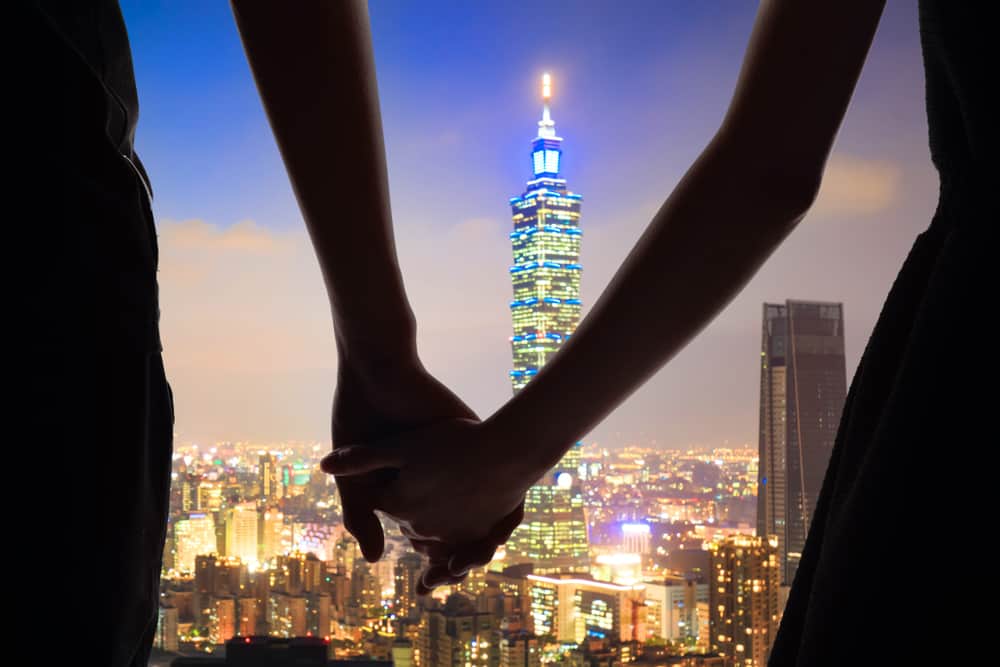 THE TOP ROMANTIC THINGS TO DO IN TAIPEI
BATHE IN YOUR OWN PRIVATE HOT SPRING
For local and visiting couples alike, hot spring hotels are the perfect place to find a little solitude and, well, get naked together! Taiwan is famous for its hot springs, and soaking in their thermal waters is a must-do experience.

Typically you get 60-90 minutes to enjoy your hot spring room. The most basic ones are windowless tiled rooms with nothing but a hot tub, shower, and hooks for clothes, while fancier ones are essentially a hotel room, including a bed for (let's not beat around the bush here) romantic encounters before or after your soak.

The highest concentration of hot spring hotels is in Beitou (see #2), but upscale hotels in the city such as JSL offer private soaking rooms with hot spring water brought in from out of town.
EXPLORE AN ATMOSPHERIC JAPANESE BATHHOUSE VILLAGE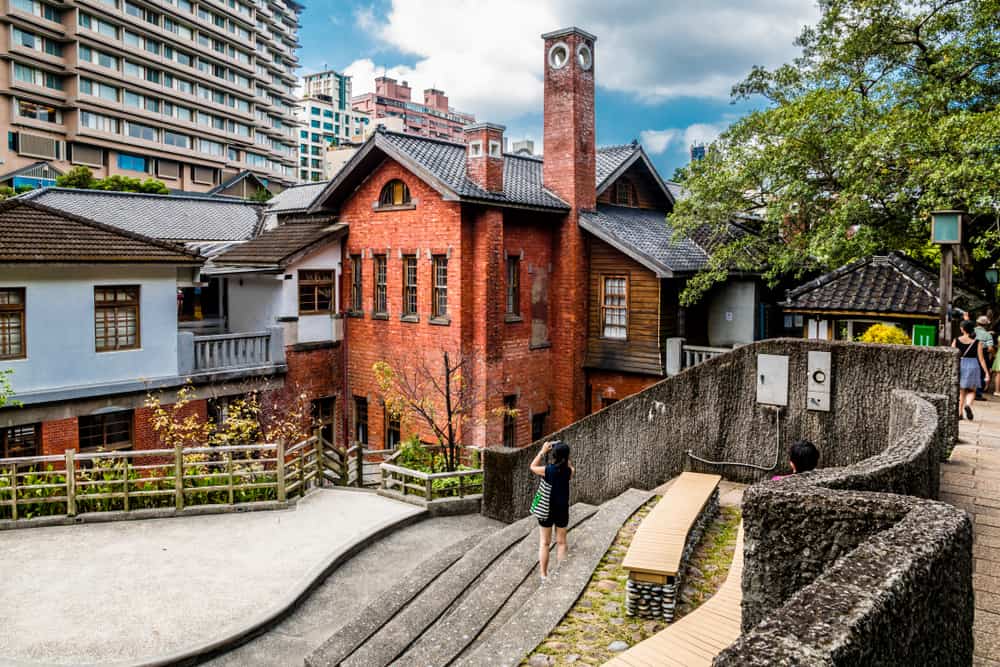 As I mentioned above, Beitou is the best place in Taipei to find hot spring hotels. But there are even more romantic things to do in Beitou after you take a hot bath together.

Beitou is a hot spring village that was first developed by the Japanese when they colonized Taiwan from 1895 to 1945. Historic Japanese wooden buildings like Beitou Hot Spring Museum (the original Japanese bathhouse), Plum Garden, Marshall Zen Garden, and Beitou Museum are peaceful respites, and the latter two offer traditional Japanese set meals in a super atmospheric setting. Come in the early evening for especially romantic vibes.

SNAP A COUPLE'S SELFIE AT RAINBOW BRIDGE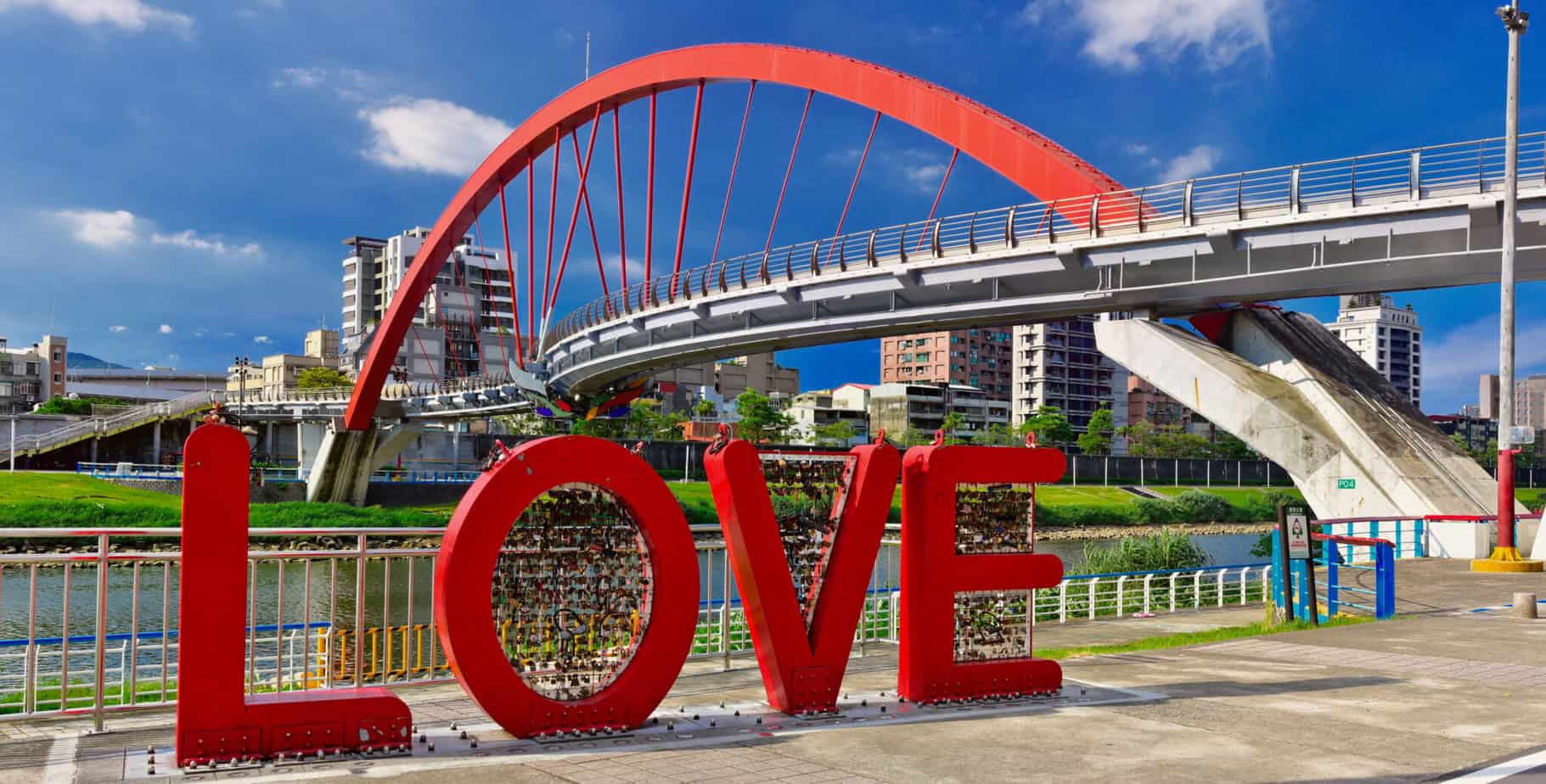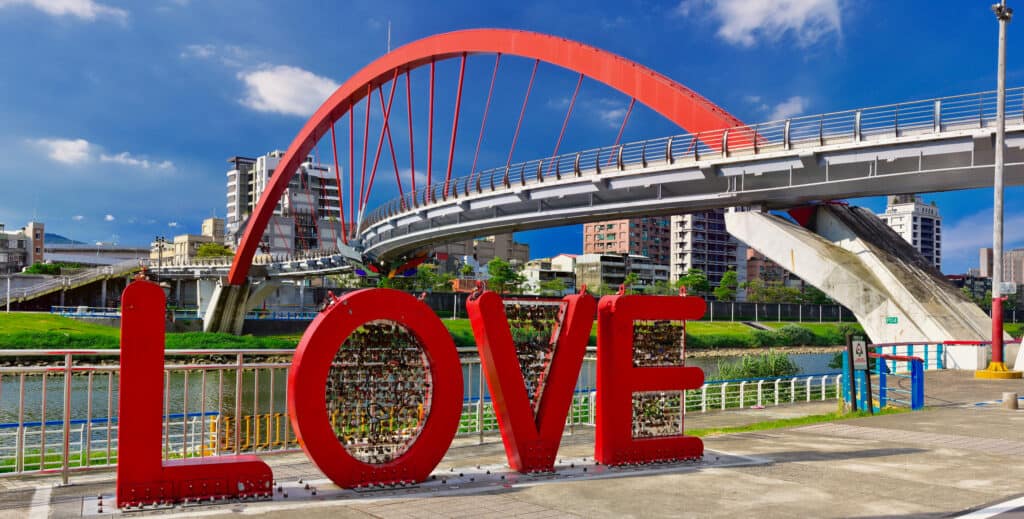 For a staple romantic photo opportunity, you can't beat Rainbow Bridge, which sets the vibes when it is all lit up at night. The pedestrian-only bridge is actually red (color of love, right?), as is the large statue of the words LOVE on the riverbank. You can also participate in that cheesiest of love-inspired rituals, tying a lovers' lock to the fencing between the letters of the statue.

But you won't just be visiting for the sappy photo. A few steps away from the bridge and LOVE statue, Raohe Night Market is one of the city's best, and what many consider the most authentic of the big Taipei night markets. Dive right in and see what kind of mouthwatering street snacks you can find to enjoy together.
SURVEY THE CITY FROM ELEPHANT MOUNTAIN
While you definitely aren't going to have the popular lookout point on Elephant Mountain to yourself, the views are undeniably romantic. This is THE place to get the classic Taipei city postcard views, with Taipei 101 dominating the view, and it only takes about 30 minutes to walk up. Sunset is the best, but also busiest, time to go.

If you're a couple that prefers a view with privacy, you only have to walk a little further past the main viewpoint to get equally inspiring views from nearby mountains. The trail is lit up at night, easy to follow, and only a short walk from Xiangshan (Elephant Mountain) MRT station.


SPEND A NIGHT IN A LOVE HOTEL
A little raunchy? OK, maybe. But maybe that's exactly what you are looking for. Like in many parts of Asia, Love Hotels exist to provide an escapes for lovers of all types. Not just the naughty variety, this also includes happily married couples looking for a sexy night away from home.

Love hotels don't have to be grotty, though. Some are extremely lavish, and the most secretive ones even provide private elevators directly from the car park to the room, for those wishing to play out sneaky fantasies.

The most famous upscale love hotel in Taipei is Wego Boutique, a love-themed urban getaway.


SNUGGLE IN A PRIVATE MOVIE THEATER
If love hotels are a romantic escape for adults, then MTV (or movie TV) are the equivalent for teenagers. In a society where youths have few places to find alone time with their partner, MTV centers offer just that: a private room with large comfy couch to watch your choice of movie on a big screen and get cozy together.

On a sweltering hot Taipei day, MTVs can also serve as a quiet, air-conditioned break from sightseeing. They are very cheap (another reason teens loved them), but anyone is welcome; I've even taken my kids. You can also order drinks and snacks to your private room.

BELT OUT ROMANTIC BALLADS IN A KTV BAR
One of the most popular things for groups of young locals to do in Taipei is spend hours upon hours singing to their heart's content in a private KTV (karaoke TV) room. But many couples also enjoy this; in many ways it's a fun alternative to a bar or nightclub, except with total privacy.

A full range of snacks and alcoholic drinks are available to order. And despite the fact that you'll mostly be alone, most people still dress up in their fanciest attire, and the establishments tend to have a classy, night-on-the-town or fancy date night vibe. Partyworld and Holiday KTV are the biggest chains, but there are many others.

STROLL AMONG SEAS OF FLOWERS
Thanks to the humid subtropical climate, there are loads of flowers to see in and around Taipei in almost every month of the year. First and foremost, cherry blossom season usually lasts from late January to March. Tianyuan Temple has the most gorgeous display in the greater Taipei area.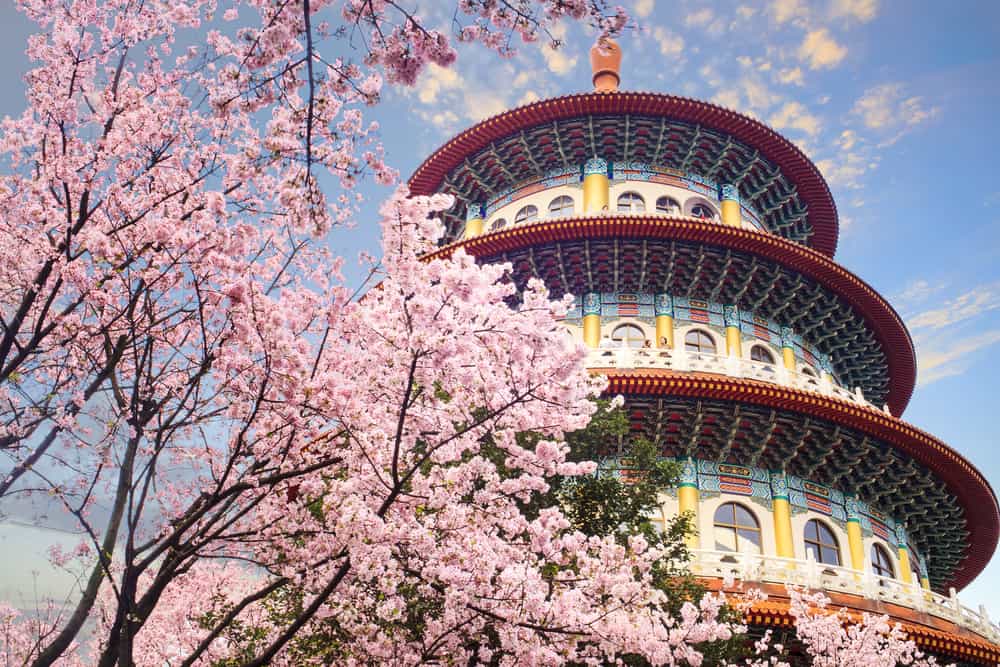 From April to June, head to Zhuzihu in Yangminsghan National Park to see seas of calla lilies, or parks outside of the city to see tung blossoms. In early summer, watch for hydrangeas, while autumn is all about silvergrass on Yangming Mountain and Caoling Historic trail.

Finally, in November and December there's a chrysanthemum show at Shilin Residence. You can also see tons of orchids and other flowers at the Jianguo Flower Market on any weekend of the year.
SEE THE SUNSET AT LOVER'S BRIDGE
For some of the best sunsets around Taipei, head to Fisherman's Wharf in Beitou, New Taipei City. There you'll find aptly named Lover's Bridge, right at the point where the Danshui River meets the sea.

To get there, you'll need to take the MRT to the final stop on the red line, Danshui, then catch a local bus or river ferry for the final 10 minutes. After taking in the sunset, return to Danshui to take a stroll along the riverside promenade and enjoy some fresh seafood.


TAKE A COOKING CLASS TOGETHER
Food is a big deal in Taiwan. After getting hooked on street foods in Taipei, nothing can be more fun than learning how to make some of them together. That way, you can bring back fond memories of your trip later on when make the same dishes back at home!

There are numerous cooking classes available in Taipei, covering aboriginal dishes, popular street foods, and vegetarian. Several of them are held in the historic Dadaocheng neighborhood.

Well, I hope you found more than enough ideas here for enjoying a fun yet lovey trip to Taipei, Taiwan!
---
About the author: Nick Kembel is the author of Taiwan in the Eyes of a Foreigner and has lived in Taipei for over 10 years. He has covered Taiwan for CNN, National Geographic Traveller, Discover Taipei, and other major publications. He also runs the free Taiwan Travel Planning group.
---
You might also like:
---