This post may contain affiliate links. Read our disclosure page for full details.
This is a sponsored post written by me on behalf of REI. All opinions are 100% mine.
Have you ever wanted to try a new outdoor activity, but weren't sure where to start? Maybe you're trying to spend more time outside but you just don't know where to begin. And still perhaps you are thinking of taking up a new activity, like skiing, but you want to dip a toe in before buying your own gear.
All of these situations are what REI's equipment and gear rentals are for; for people just like you (and like us) who want to do more outdoors.
In addition to being a great place to buy outdoor gear, REI now offers rentals! We didn't know this, but when REI invited us to come check out their new store in North Conway, New Hampshire, we were excited and intrigued. Let us tell you all about our awesome experience mountain biking with REI, and give you all the details so you can #OptOutside, too!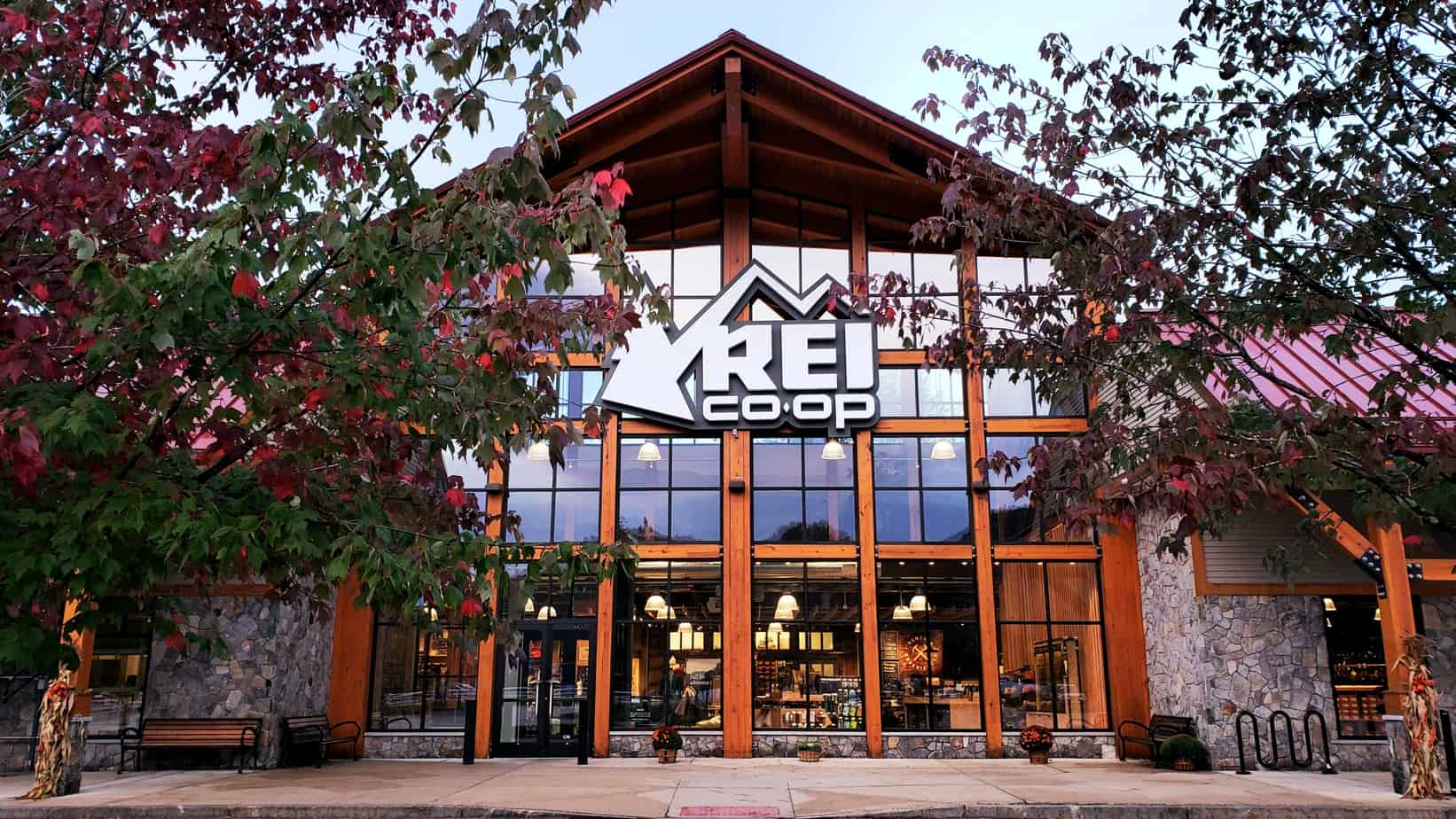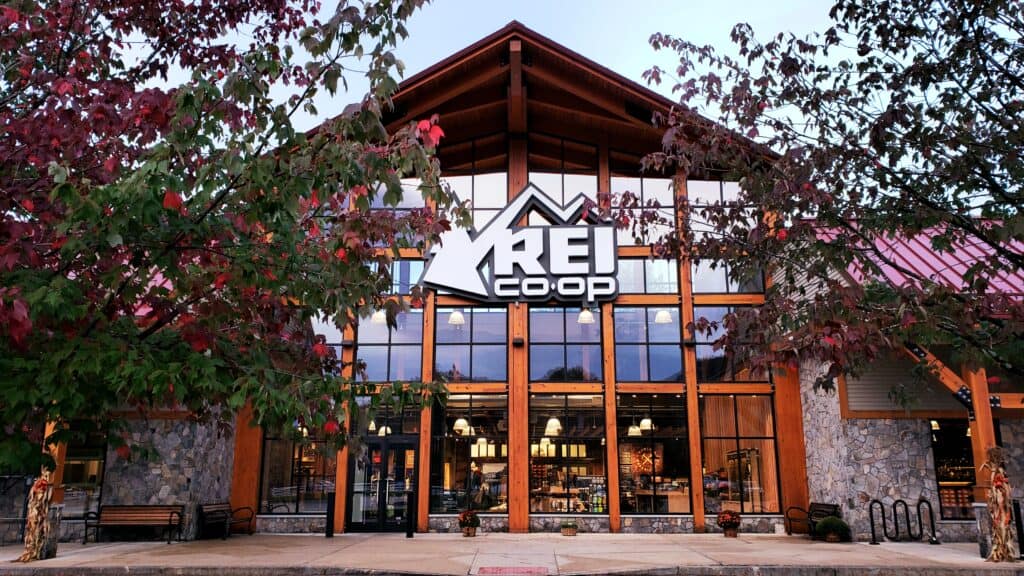 REI Rentals
Personally, we think that REI offering rentals is such a brilliant idea. Not only does this give customers the opportunity to try new products and activities, it also works well for those who can't have their own gear for various reasons (tiny living space, no storage, limited budget, etc). For us, as frequent travelers, we are fairly minimal in the things we own. It would be a challenge to store gear when we are traveling so often and moving from place to place.
REI is known for their exceptional outdoor equipment, so being able to rent that same top-quality gear is awesome. On our recent mountain biking adventure, we felt great going out knowing we were outfitted with the best.
In addition to equipment rentals, you can opt for a variety of outdoor classes and events through REI. This is a terrific option for beginners, those trying a completely new activity or wanting to learn more about their regular activity.
For us, we embarked on a mountain biking experience in New Hampshire.
The Rental Process
Now let's talk about the rental process. Renting from REI is very easy. You go into the store, let them know what you're looking to do, your ability level, etc., and they get you geared up and ready to go. It's from store to trail in no time.
Of course, you have to fill out a bit of paperwork, but this is all fast and straightforward. The staff are super friendly and knowledgeable and in many stores, there will be an area dedicated to equipment rentals (there is a huge, beautiful rentals area in the North Conway store).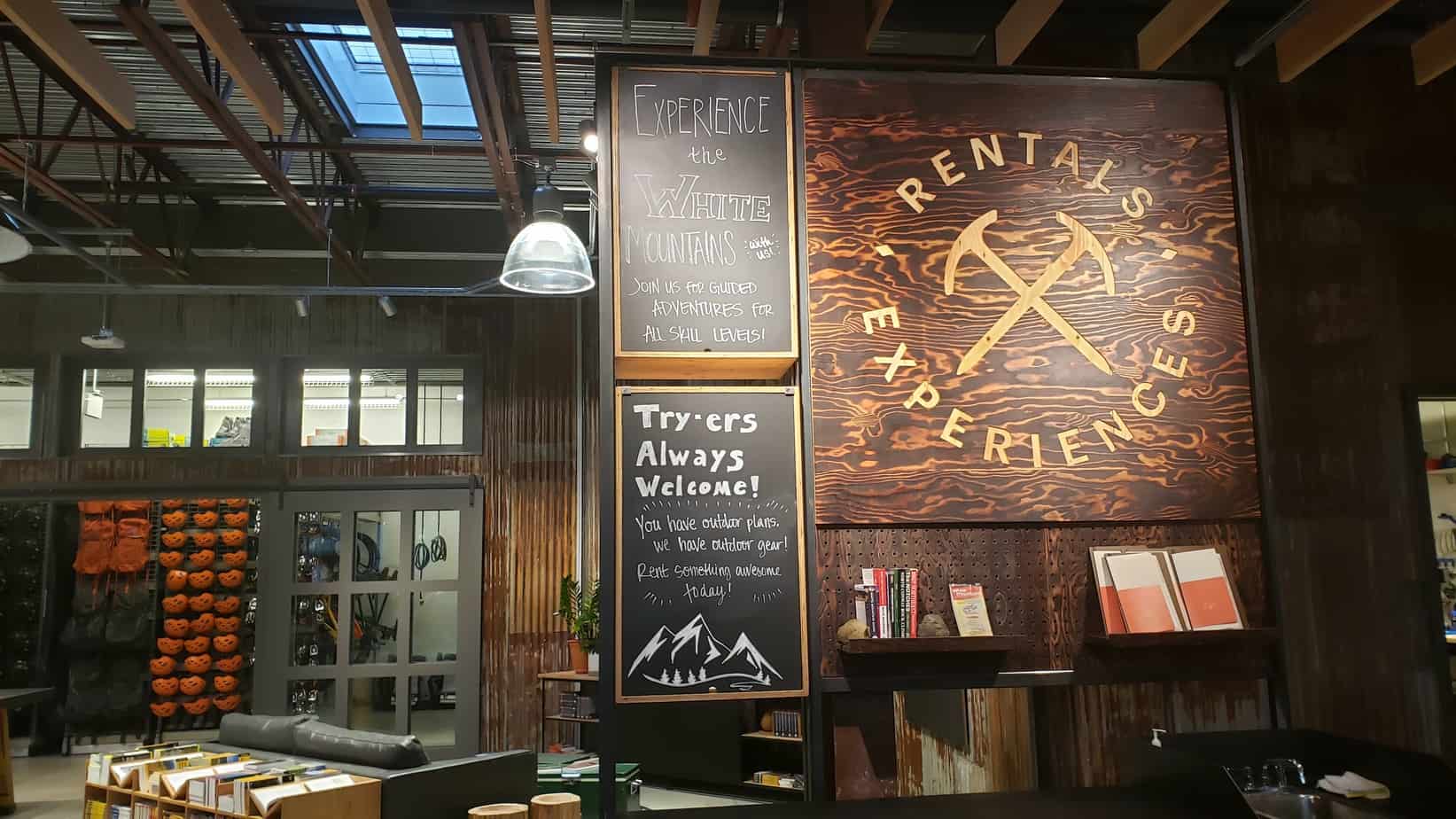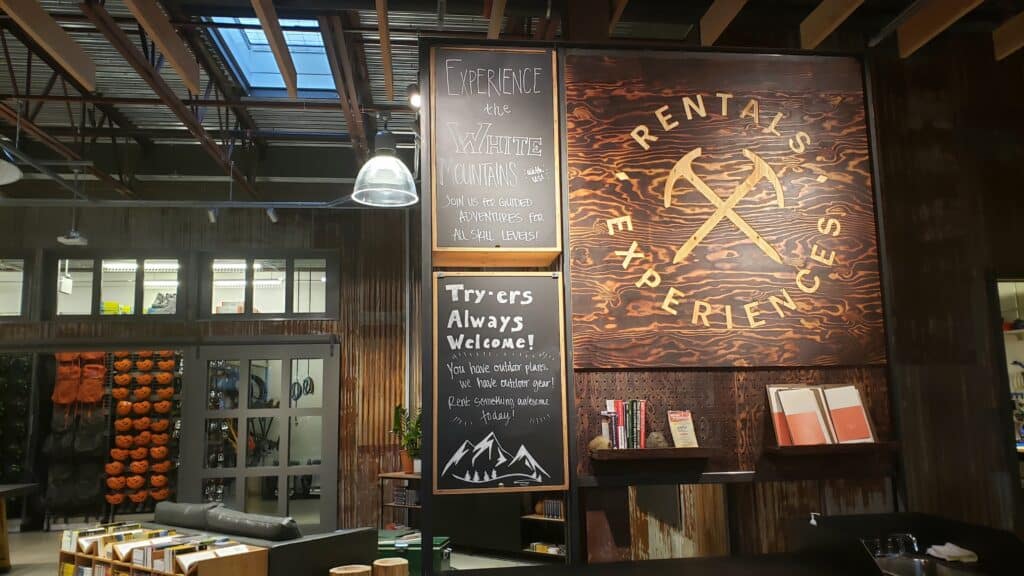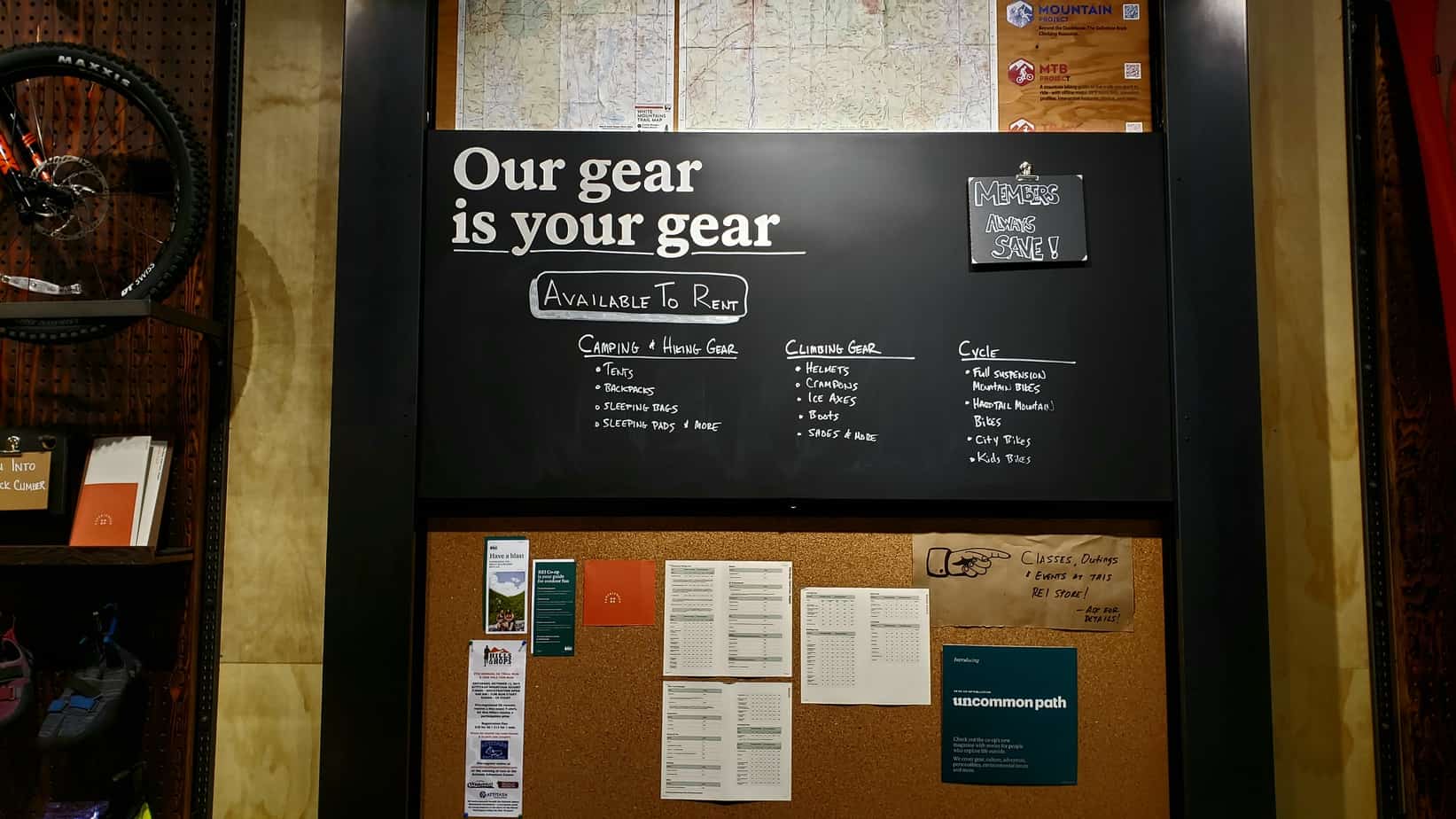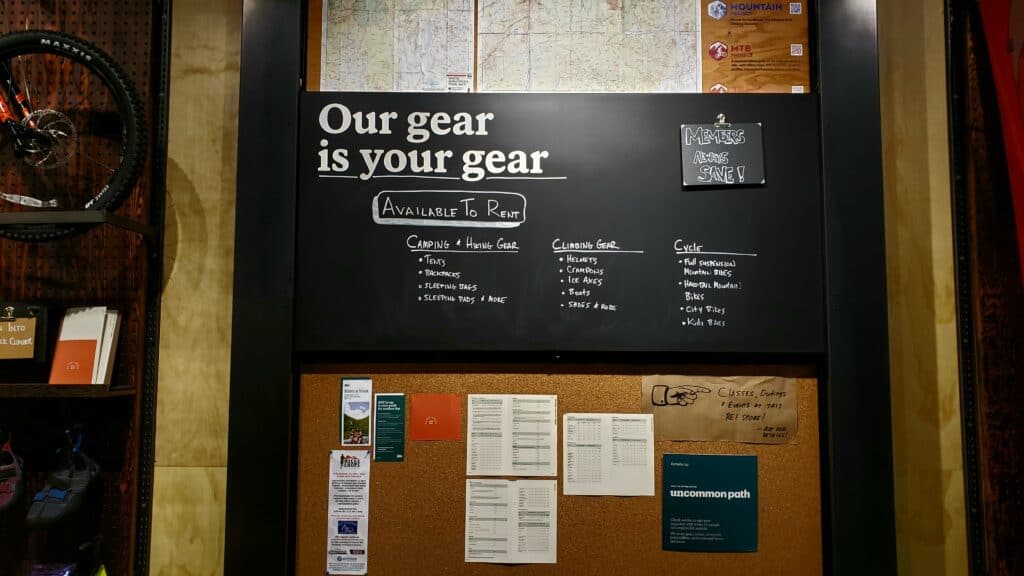 Pro tip: If you're an REI member you get discounted pricing on all of their rentals and experiences. Definitely something to consider if you live near an REI store or visit one frequently.
Also, it's important to note that the stores offer different activities depending on location. In the North Conway location, some of the rentals include climbing, biking, and snow sports.
Getting Your Gear
Now that you've gotten registered and ready, it's gear time. This is where the REI experts shine, helping you get set up with the ideal items for your skill level, body, and specific needs. This was a great time to ask questions and we had lots!
Right from the start, the REI staff was quick to find us the right-sized bike frames. We were put on bikes that were better for beginners (hardtail vs. full suspension).
From there, they spent time going through all of the parts of the bike and how to use them. For beginners like us, this was just what we needed. They helped us place our seats at the right height that would be comfortable for us when riding. (Did you know that a mountain bike seat can go up and down with the press of a lever? I did not.)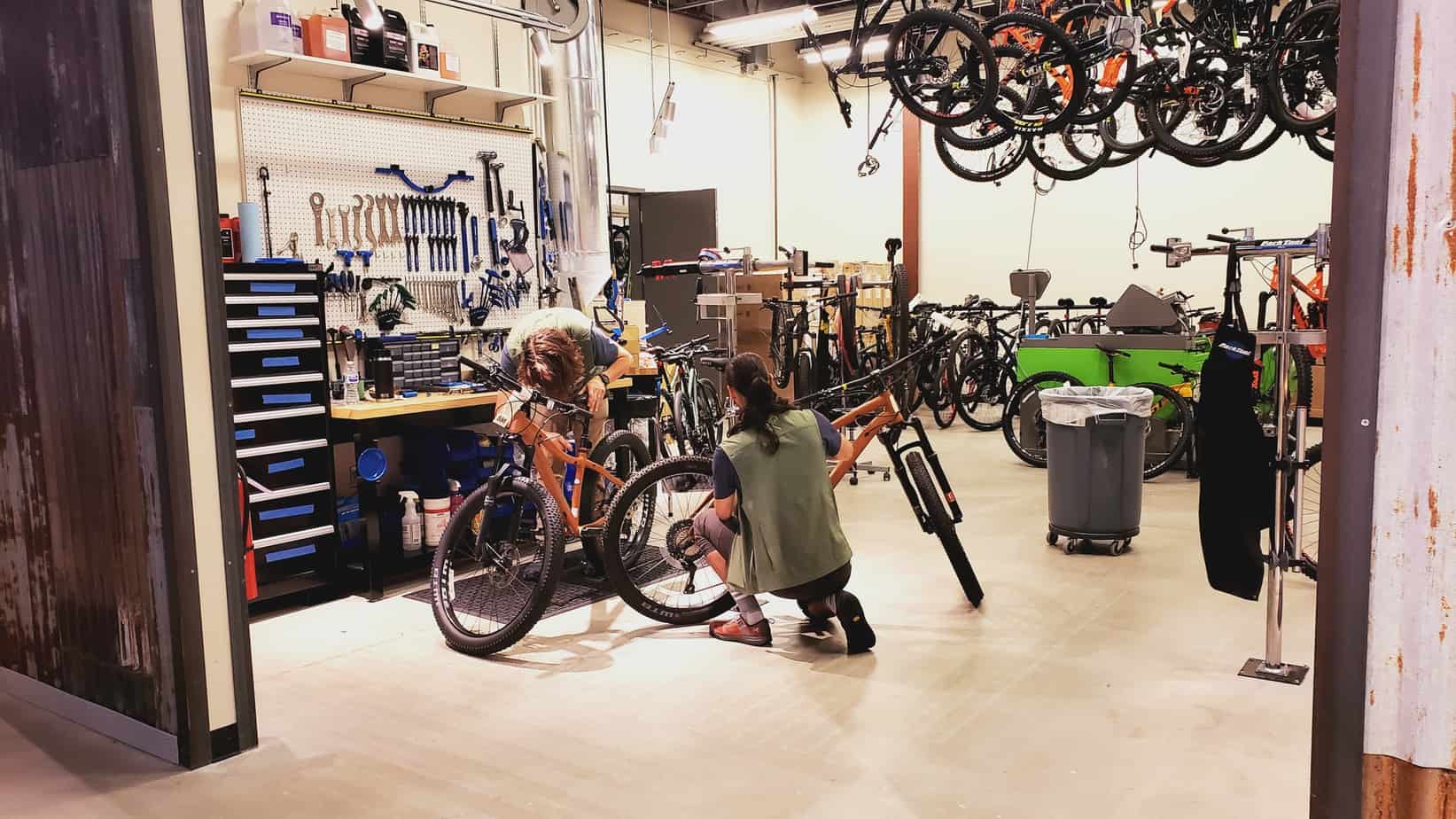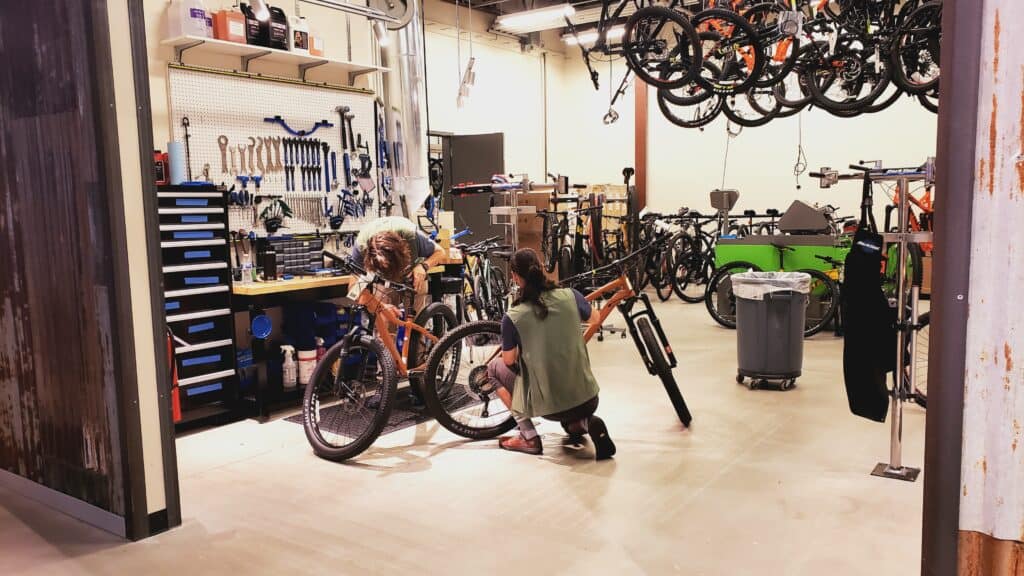 After some final checks in the Bike Shop, we were ready to hit the trails.
Into the Woods
Our experience took place in the White Mountain National Forest, on a beginner/intermediate multi-use track that the REI rentals team deemed suitable for our skill level, the weather, and the gear we were using. This trail included lots of wide, relatively flat carriage roads that were not too intimidating to mountain biking newbies like us.
Nathan and I were a bit nervous when first starting out. Neither of us had ridden a bike in at least 8-10 years. But, as they say, you never forget how to ride one once you've learned, and this seems to be the case. We were up and tentatively pedaling within a few minutes.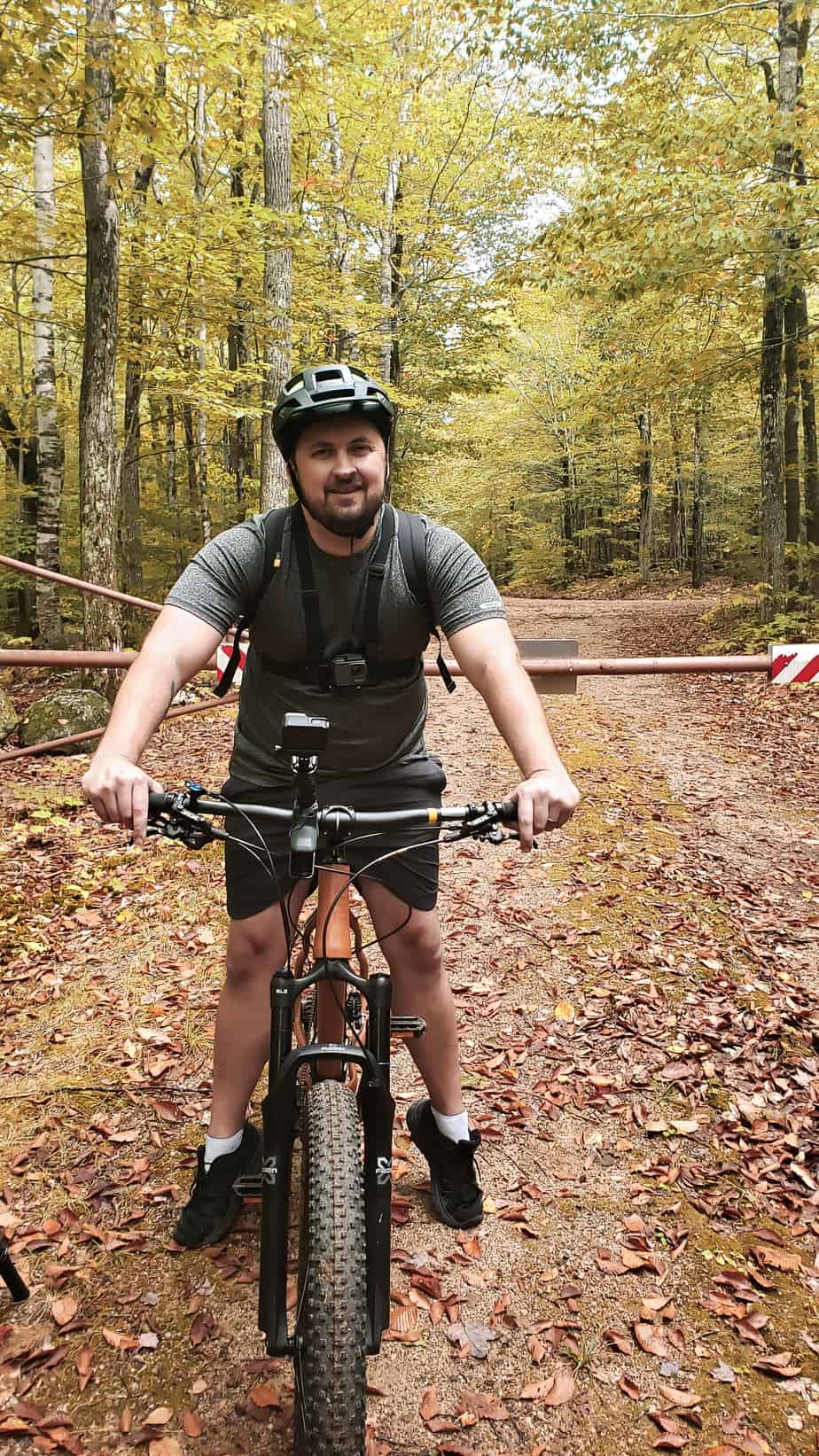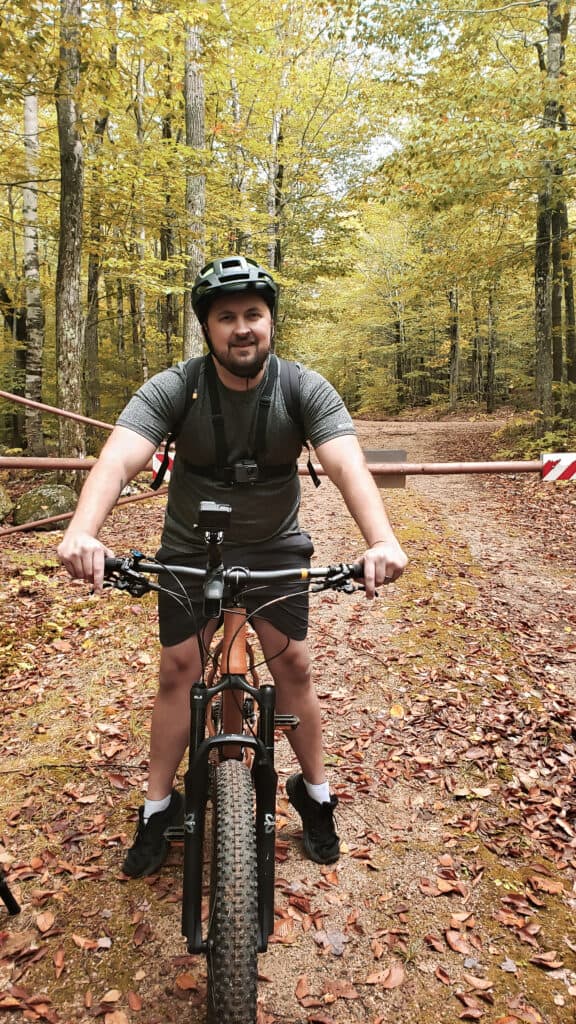 Well, that tentative pedaling quickly morphed into confident cruising. While we definitely needed guidance and helpful hints from time to time, our skills rapidly improved during our few hours out on the trails.
One piece of knowledge I picked up, in particular, was that your bike seat is really just to steady you. I kept having difficulty mounting and dismounting my bike, but the staff explained how to get up on the pedals and getting some momentum before sitting down, and this was honestly revelatory!
Not only was the mountain biking a blast, but we were in a beautiful place – the mountains of New Hampshire. The leaves were copper and golden and the air was just the right amount of crisp. Perfect biking weather.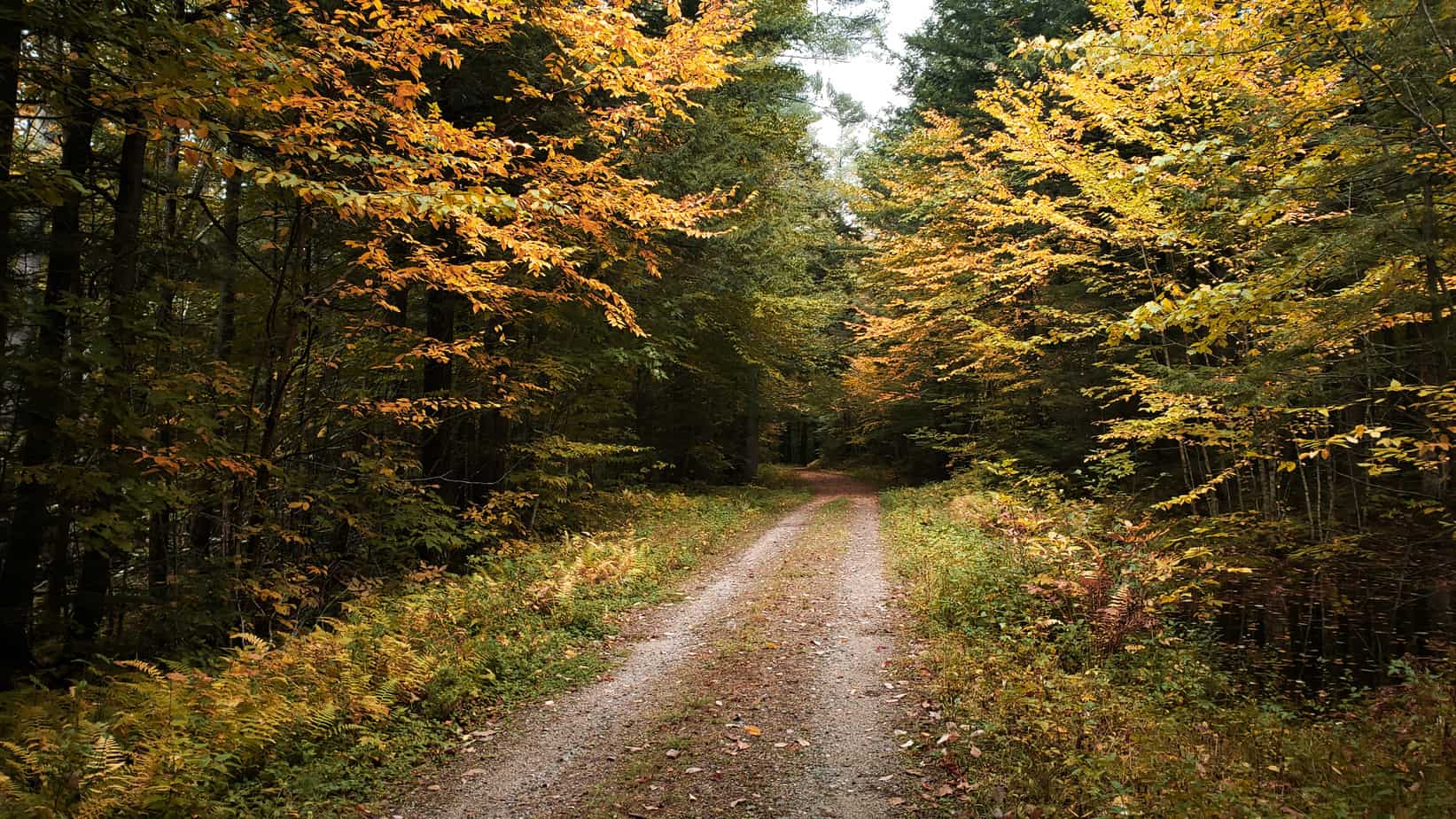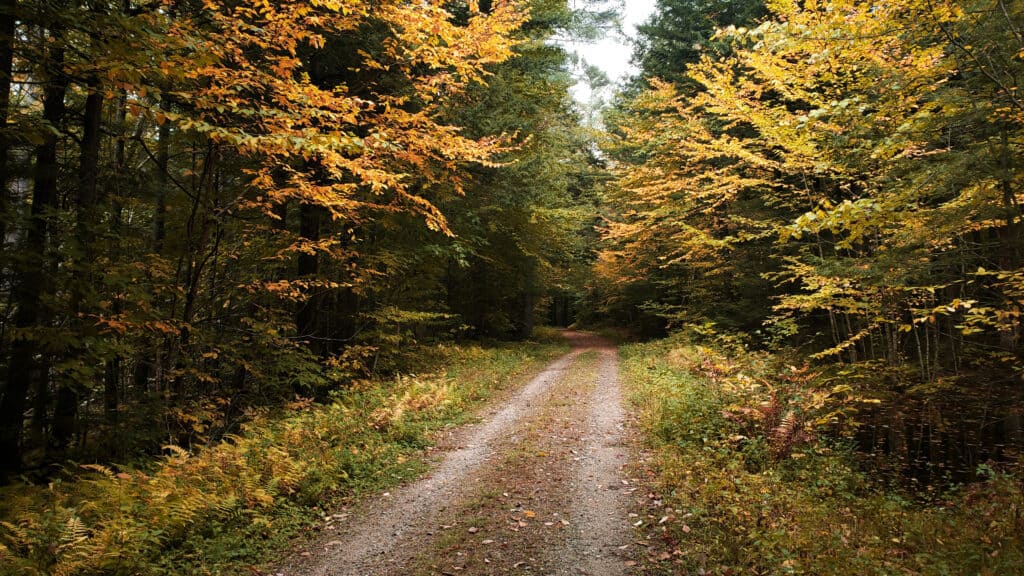 We took a break halfway through when we stopped at this pretty little spot with a narrow wooden bridge. It was very photogenic, and we rested and drank some water while we talked about our ride so far.
By this point, both of us were feeling far more secure in our biking abilities. I think the key is learning to relax and "become one with the bike." As cliché as that sounds, it really makes sense. Once you stop resisting the bike's natural movement and trust that it will support you, you get into a flow and your movements become easier. Your body moves with the bike instead of against it. As an added bonus, that cramping in your hands and shoulders will go away too when you stop gripping the handlebars so tightly! (Can you tell I was a bit nervous?)
Our Impressions
All-in-all, we greatly enjoyed ourselves. The only tough part, especially for me, was making our way back up the trail. There were some hills I didn't remember being there on the way down! But finishing the ride, sweaty, tired, and invigorated, showed me how I would definitely be up for mountain biking again.
Nathan said the experience was fun and educational. Like me, he says he felt a sense of achievement learning something new and being able to get better as he went. He also really enjoyed doing this side-by-side with me. It's definitely more fun to have an outdoor adventure with a friend or partner by your side! We laughed a lot, to be sure!
Should You Try REI Rentals?
After reading about our NH adventure, you may be wondering if there's an REI experience out there you should try. Absolutely!
There are so many possibilities and REI's staff and guides can cater to every level. They want folks to know that anyone can get outside and try a new activity. No matter your skills or experience, if you want to try something new, they can help. We definitely recommend checking out your nearest REI store to see what rentals and experiences they offer.
What's next for us? Perhaps some snowshoeing!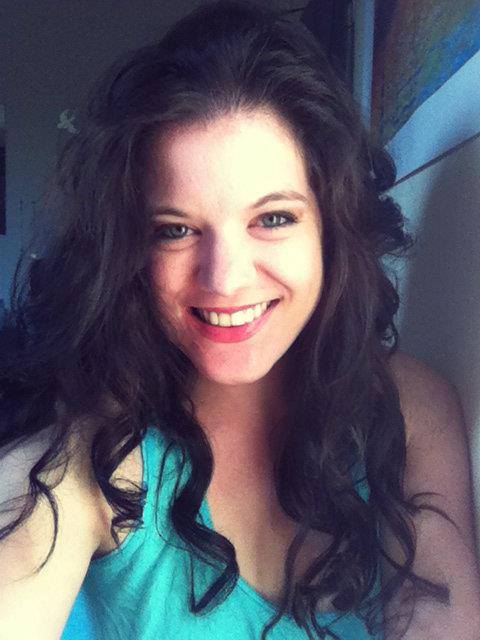 Amy Hartle is the author of Do You Love Me? How To Stop Seeking Reassurance in Relationships, a book on reassurance seeking and relationship anxiety. Both her book and this blog are born of personal experience; Amy shares expert relationship advice from the lessons learned during her own 10+ years with her husband, as well as couples travel tips and romantic getaway recommendations, all gleaned while traveling the world together.