This post may contain affiliate links. Read our disclosure page for full details.
Looking for craft beer in New England? You can barely turn a corner without stumbling into one great brewery or another. From north to south and east to west, all six states of New England are home to amazing beers and ciders. In this post, we highlight some of the local favorites suggested by fellow bloggers and New Englanders. These are some of the top breweries in Maine and Massachusetts.
The first microbrewery you encounter on Industrial Way is one of the best breweries in Portland, Maine. Foundation Brewing's tasting room has that cavernous warehouse feel with large tables you would expect at an industrial park location, but once it fills up, it gets tight.
Beers come in 5 or 10-ounce sample-sized tulips. The Riverton Flyer Pilsner (5.5% ABV) is a solid specimen of the style. The Everlong Hoppy Pale Ale (5.5% ABV) walks just this side of hazy and lives up to its name. A big brew which makes you thirstier as you drink it, Afterglow IPA (7% ABV) is a bit hazy but very hoppy and dry in the finish.
If you want to move on, there are two other breweries in the building and another two less than a minute walk away.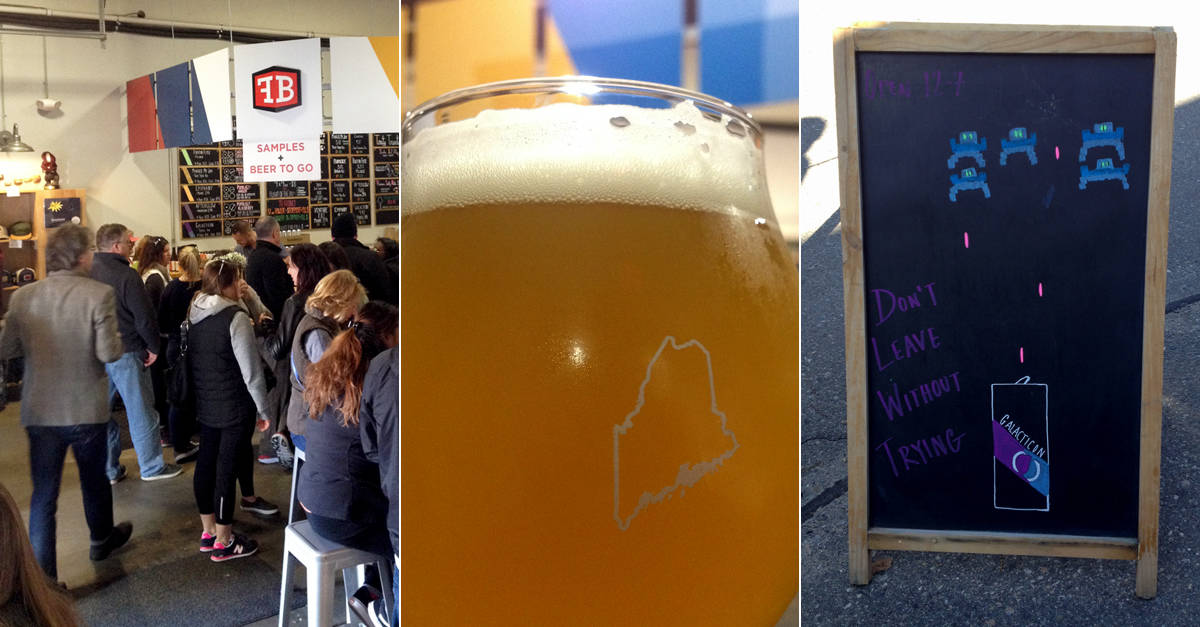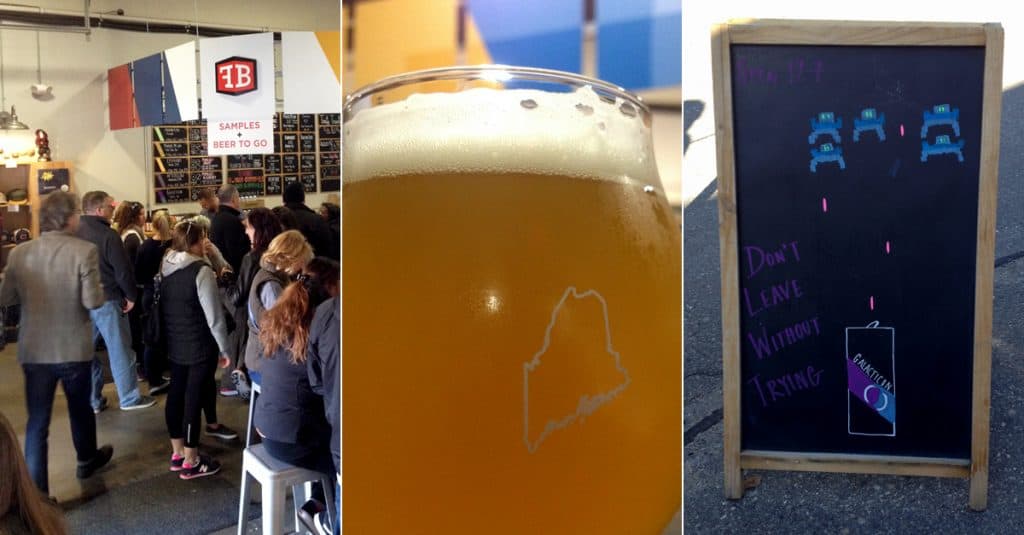 (Submitted by Peter Korchnak – Where Is Your Toothbrush?)
If you're seeking cider with creative flair, Far From the Tree in Salem, MA will not disappoint. Their ciders veer more towards dry and crisp versus the more traditional sweet hard ciders that come out of New England. Though I love a good apple cider, my favorites are their summer Lei cider (pineapple and jalapeño) and the early fall Ectoplasm (green bell pepper, jalapeño, and kiwi). The FFTT tasting room is modest in size, but their outside patio area is roomy and perfect for a relaxing afternoon – they even have some games and guest food vendors! Far From the Tree is located less than a mile from the Salem MBTA station, but not in an area of high tourist traffic, which is perfect if you're keen on stopping in for an afternoon treat with other true cider enthusiasts!
108 Jackson St. Salem, MA 01970
Mon – Thurs 4 – 10p
Fri + Sat 12 – 11p
Sun 12 – 10p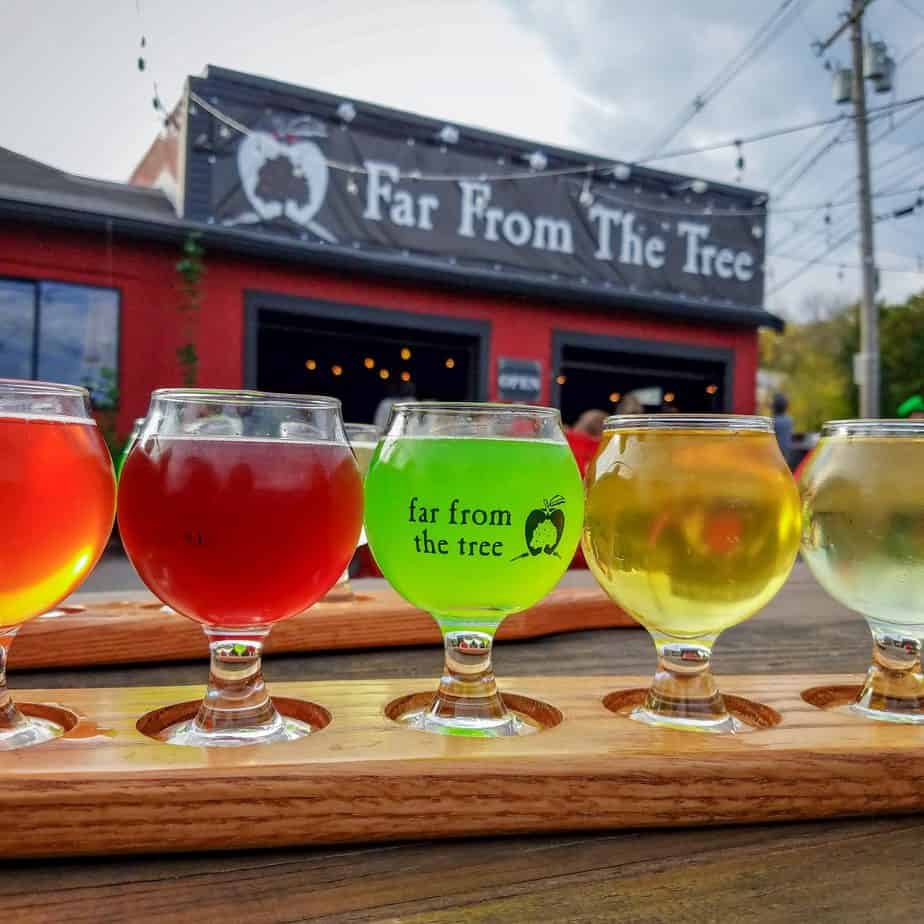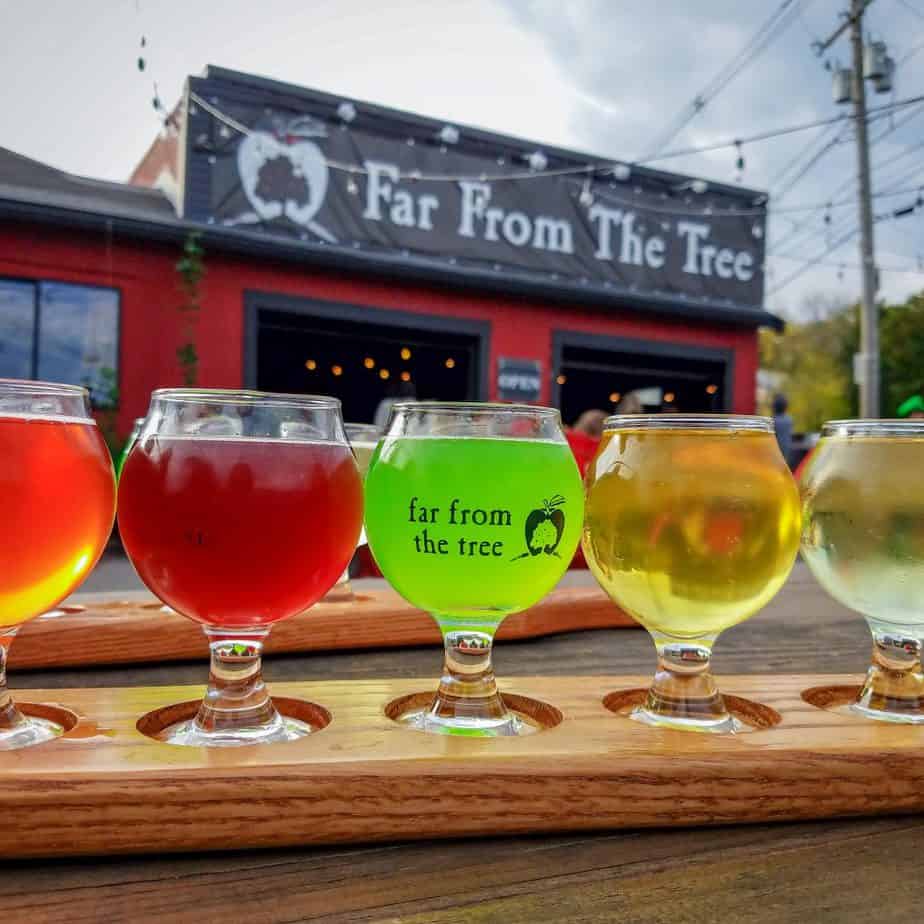 Why not hike to a brewery? Just off Route 93 in Braintree, MA, you'll find Widowmaker Brewing adjacent to the expansive and beautiful Blue Hills Reservation. The brewery is less than one year old and serves up IPAs, stouts, porters, and lagers in 5 oz flights, half pours, full pours, and 32-ounce can "crowlers". The atmosphere is always lively with long beer hall tables and tap room games. Try the hazy, hoppy "50 Year Storm," and enjoy it with some complimentary Cheez-Its or a meal from a food truck often parked outside—perfect mid-hike refreshments!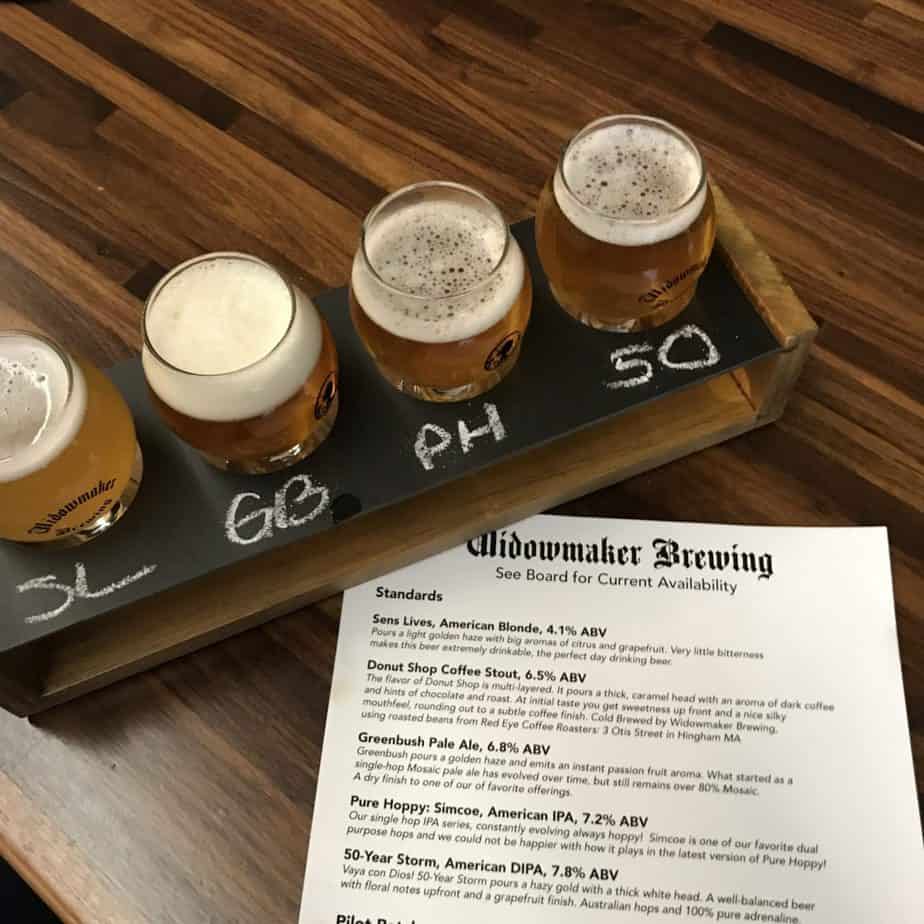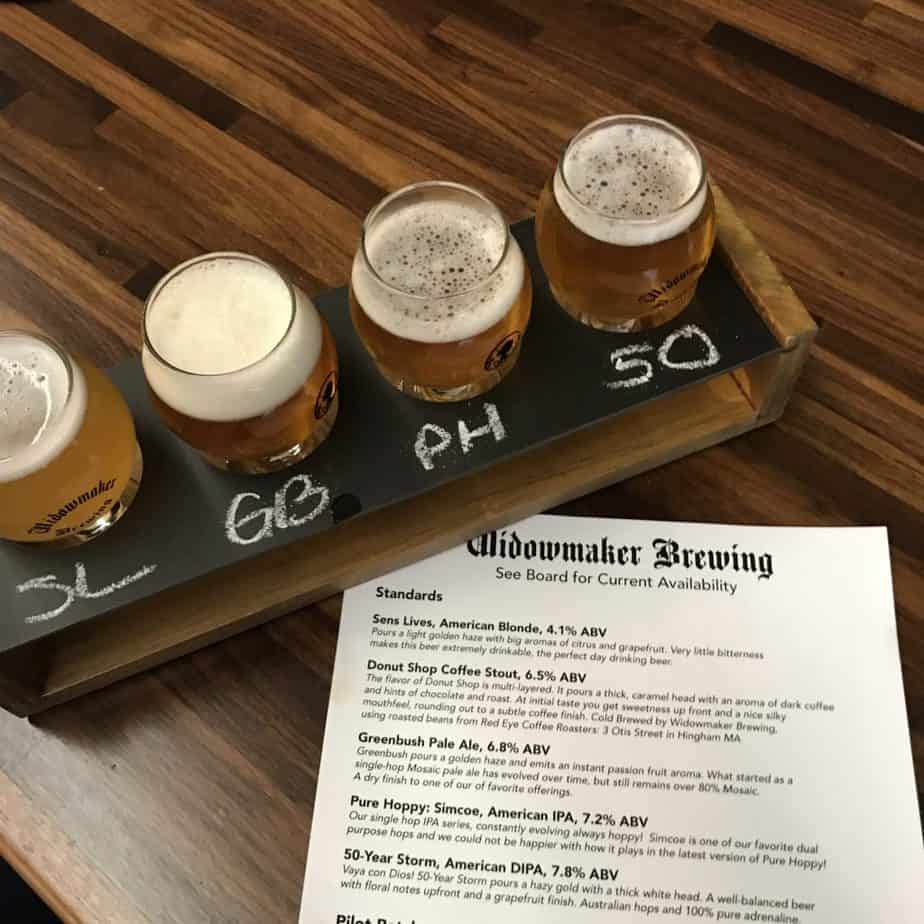 (Submitted by Kelly – Wike Baby)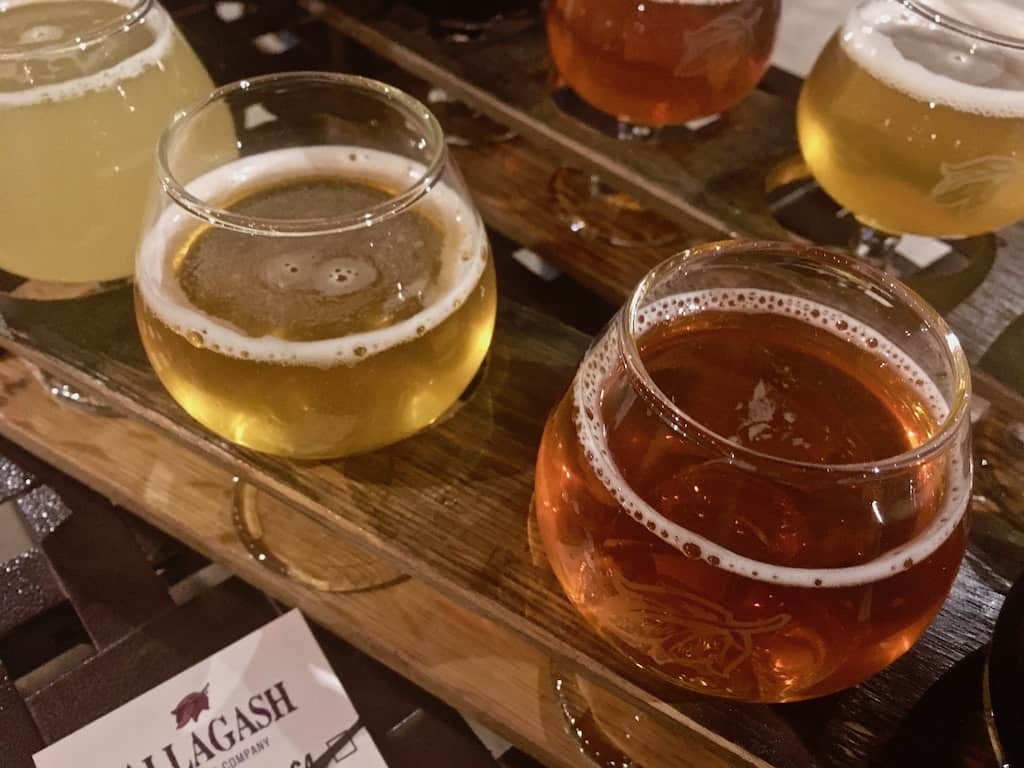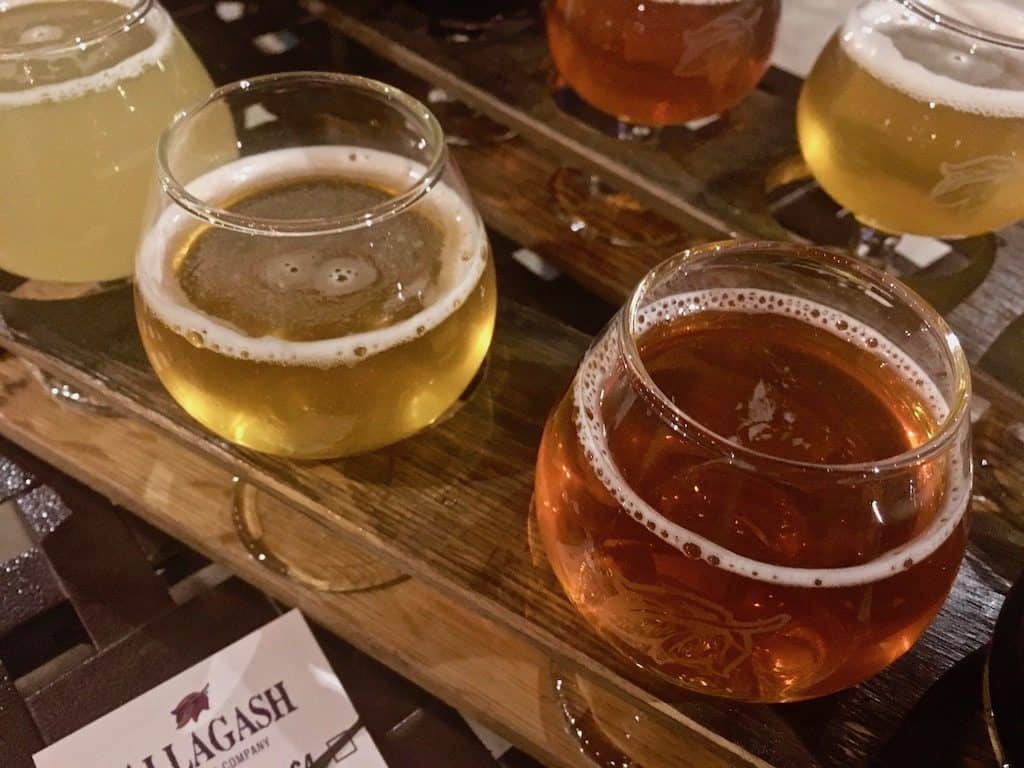 Allagash White is a staple at many restaurants and bars throughout New England and beyond. At the Allagash Brewery in Portland, Maine, you'll find the popular White as well as seven other Belgian-inspired brews on tap year-round. In addition the White, my favorites include the House, which is only available in the taproom, and Hoppy Table Beer. Allagash is open for tours and tastings seven days a week – you should book your tour in advance, however, because they frequently fill up – and a visit is easy on the wallet. You can enjoy a pre-selected flight of four 3-oz. pours for $5, and full pours are only $4. They regularly host local food trucks as well, and the patio is great spot to sit and relax during warmer months.
(Recommended by Brianne – A Traveling Life)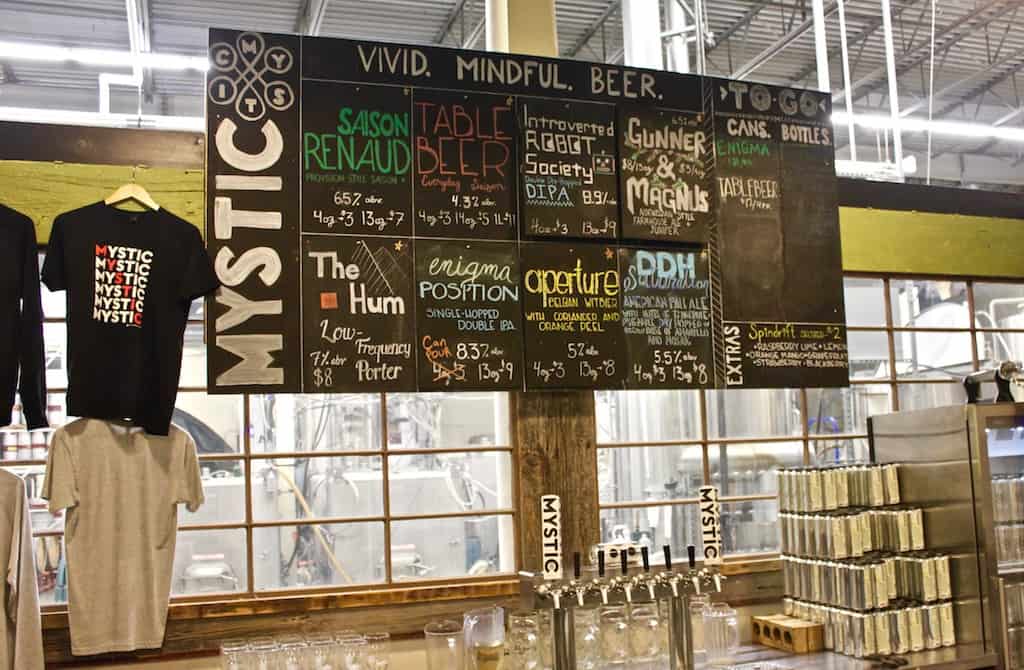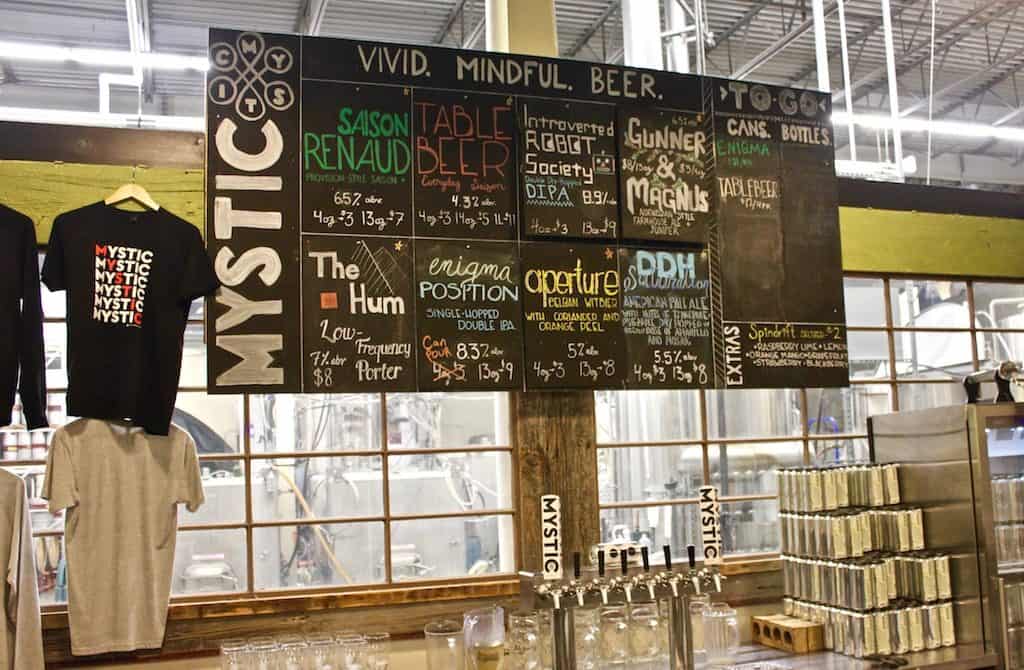 Mystic Brewery has become a New England favorite over the past eight years. In fact, it was named Boston's Best Brewery 2018 by Boston Magazine. Mystic prides itself on innovating with classic ingredients and recipes to make unique blends, and they regularly rotate what's available on tap. A few of my favorite beers are the Table Beer, a very drinkable saison, and the Saison Renaud, a Farmhouse Ale. Mystic is located in an industrial area of Chelsea, a few miles north of Boston, and in the taproom you can play old-school Nintendo and Atari video games and enjoy the occasional trivia night or restaurant pop-up. Dogs are always welcome there too!
(Recommended by Brianne – A Traveling Life)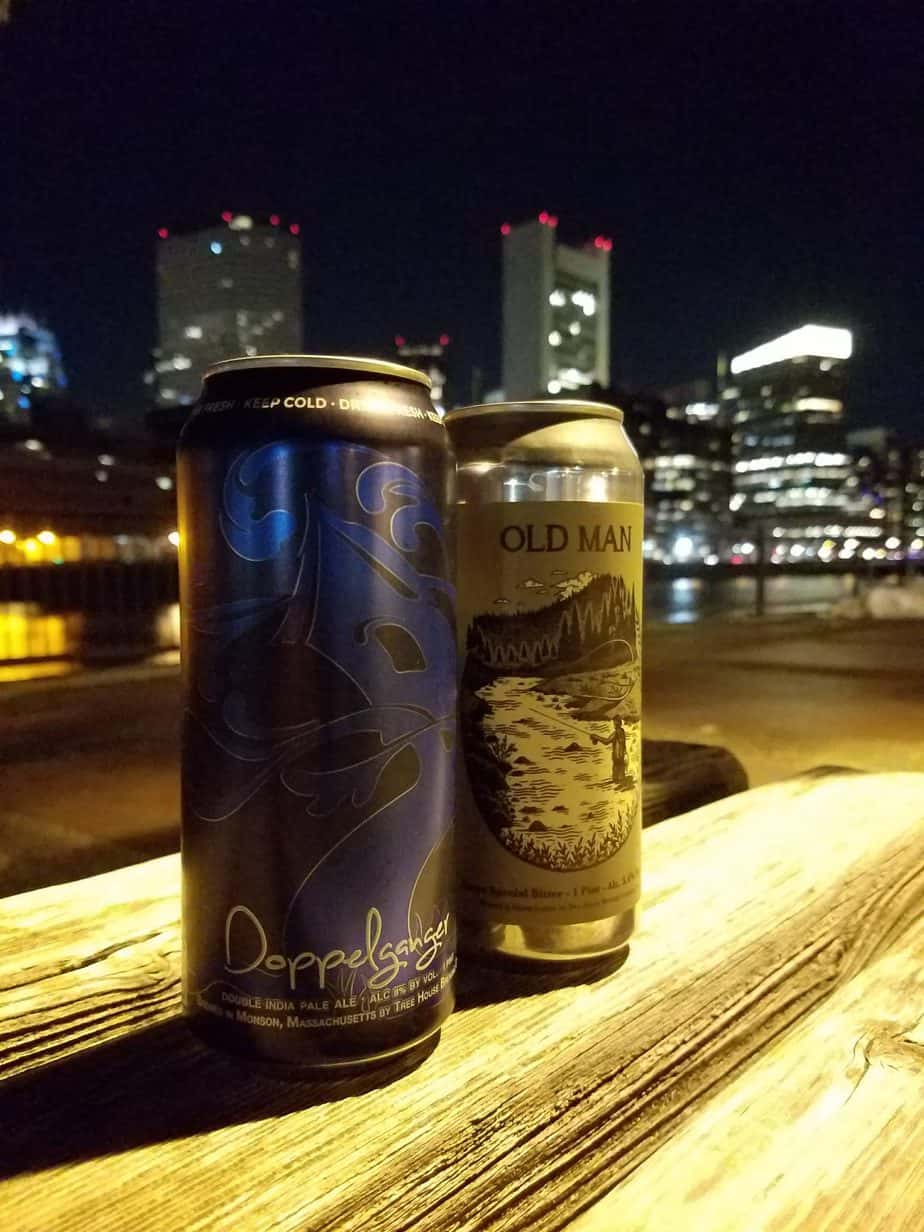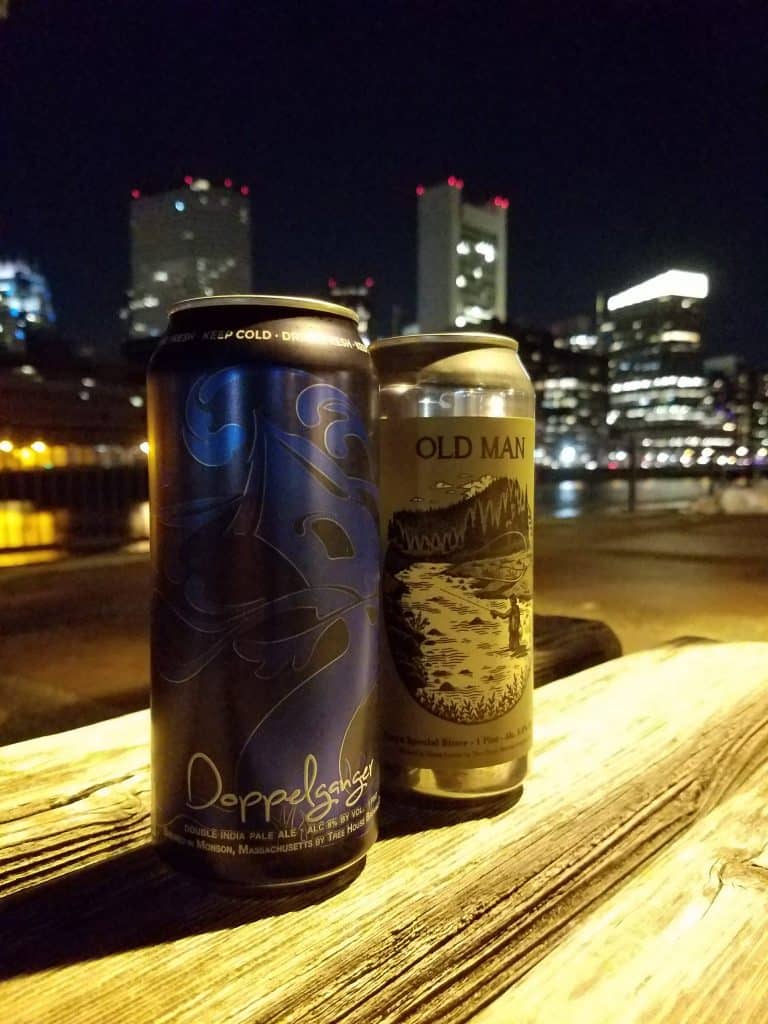 A trip to the Tree House brewery has taken on an event status unlike any other I've been to. It's truly a destination brewery and when you visit it'll be an epic journey. Before plan your trip you'll want to start following Tree House on Twitter. They'll keep you updated on the lines, what they have on tap, and what they're canning. On the day you head out to the brewery, make sure you leave early! Even if you think you're leaving plenty of time you'll still have to find parking in one of the lots, head up to the brewery proper, and wait in the line. On a busy day, it's not uncommon for the can line to take one hour +. I just look at that time as being story time with other beer lovers. You can chat about where folks are visiting from, other beers they drink and what Tree House beers they're looking forward to. This is a brewery well known for their hazy IPAs like Haze, Julius, and Green. Even their less well-known beers are excellent, you'll find their beers tend to be bold and big with a lot of complex flavors. When you're in the brewery your first stop is to grab your cans, then you can head over to the drafts and get a pint or two to enjoy while you're there. I'd also recommend quickly heading to their gift shop while you're there. It's always nice to enjoy a beer in the proper glassware and the Tree House teku glasses are an Instagram darling!
PS: Dress for the weather! The first time I visited was in the winter and with a long line. You don't want to freeze your toes off.
(Submitted by Ben Lewis – RainTaps)
In 2010 Notch became the first brewing company in the U.S. to offer exclusively session beer. The tap room and biergarten in Salem opened in 2016 on Derby Street along the South River basin, and is the perfect communal setting for grabbing a liter, playing skee ball, and hanging out with the dogs on the pet-friendly patio.
Beer selections in the tap room rotate often, with a couple of fan favorites like Infinite Jest (a pale ale crafted with Pils and wheat malt, and American hops) accompanied by seasonal offerings like German lagers, session IPAs, and more. Notch even offers a small food menu with pretzels, cheese of the week, and pickled vegetables all from local small businesses.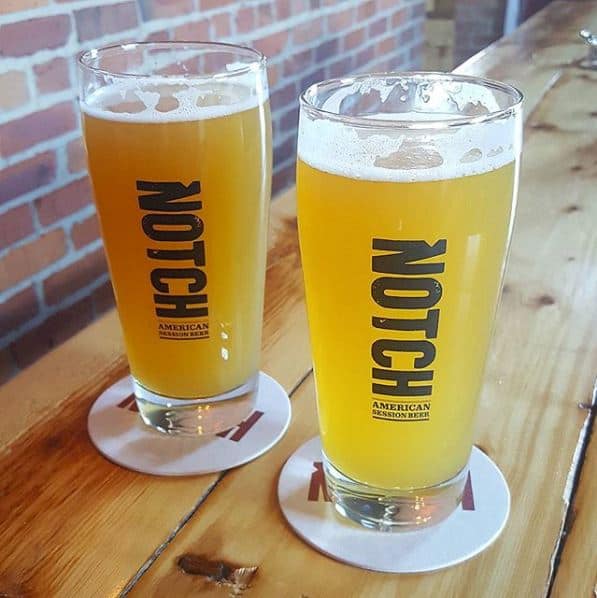 (Submitted by Brittany DiCologero – Destination Salem)
At Off The Beaten Path Food Tours we often showcase awesome local breweries. One of our favorite new breweries is Remnant Brewing in Union Square, Somerville's new Bow Market. You couldn't ask for a friendlier staff, and the space is sleek and suave. They host tons of fun local events like our Off The Beaten Path Food Tours Foodie Trivia Nights every other Monday which we co-host. Try their new Tangerine Kush, Clip Art IPA, Beginner's Mind, or Space Junk. If that's not your jam, they have yummy kombucha and coffee drinks as well. The bartenders give great recs and samples are free.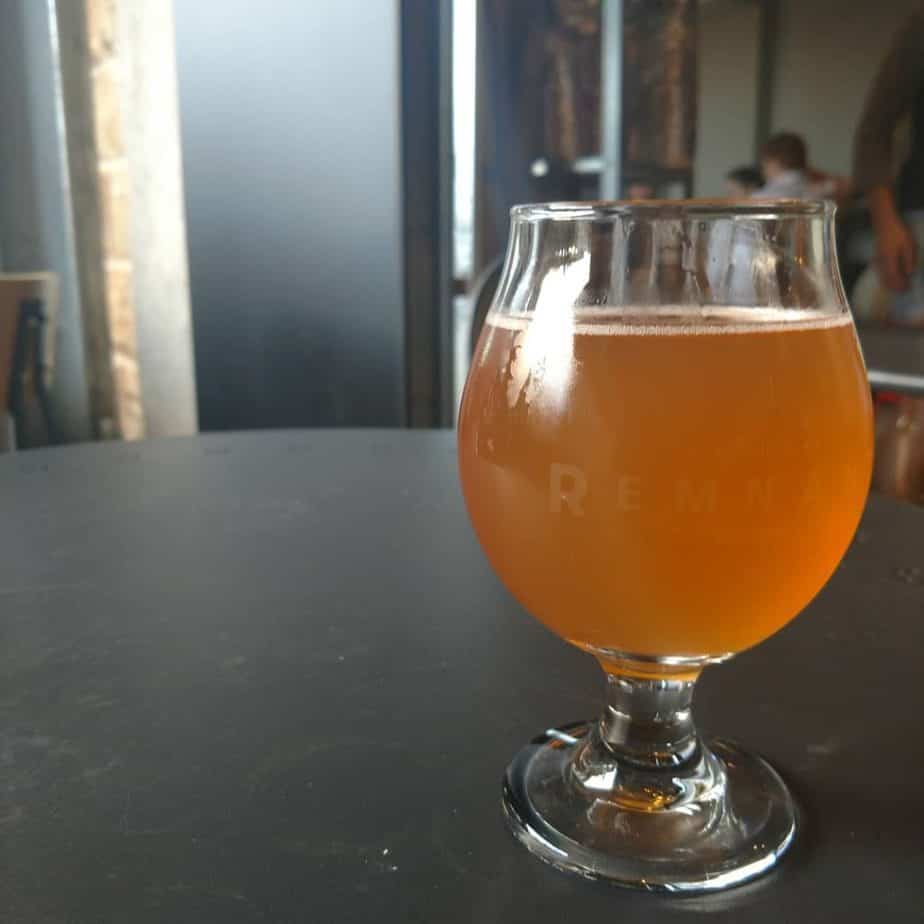 (Submitted by Lizzie and Sam – Off The Beaten Path Food Tours)
Shipyard Brewing – Portland, ME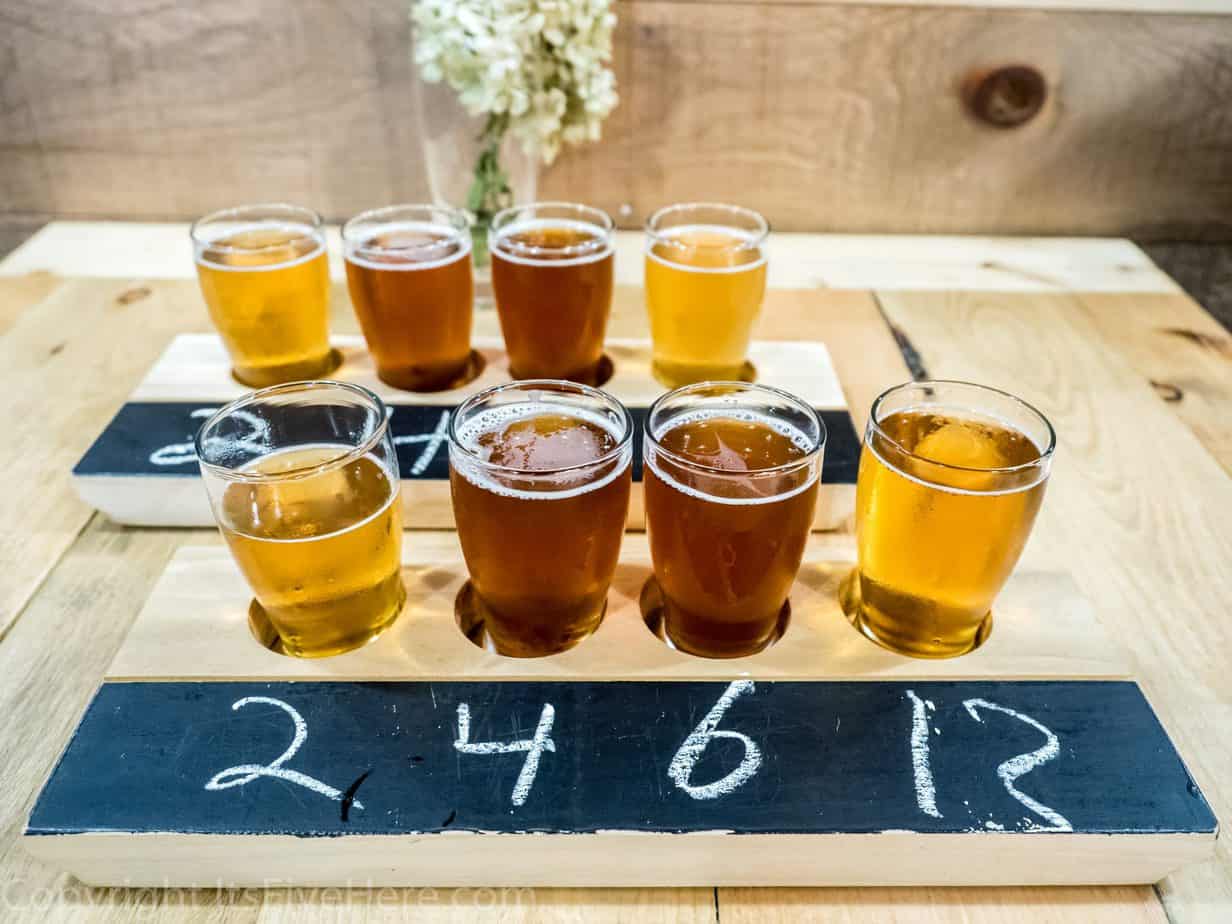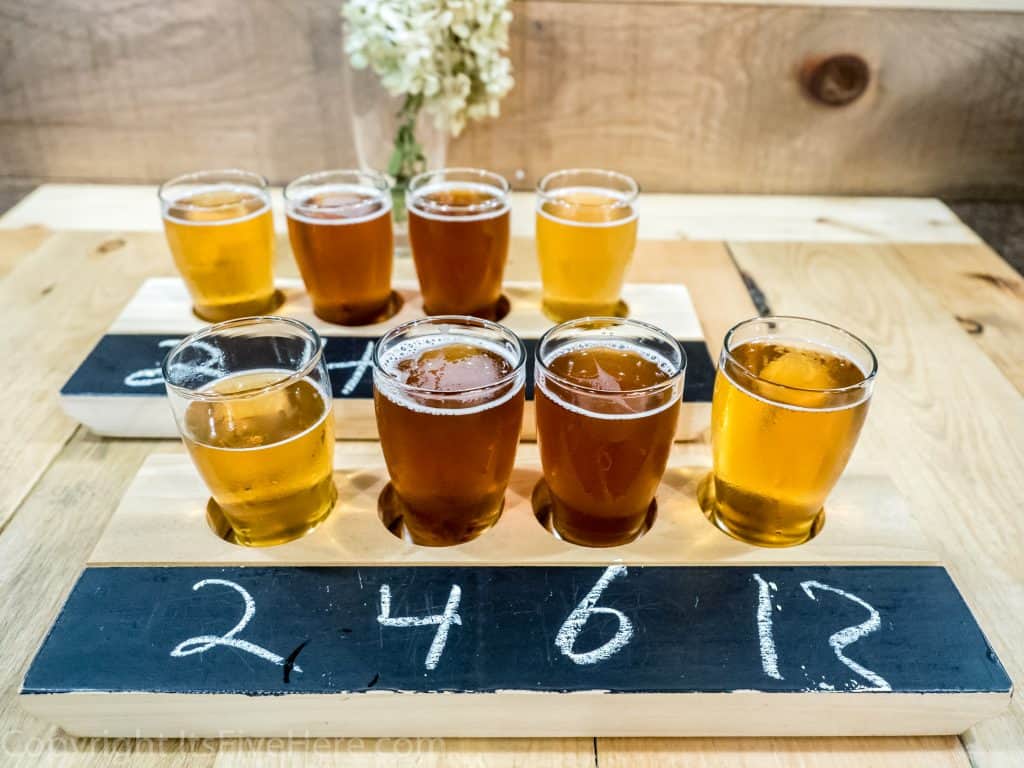 Founded in 1994, Shipyard Brewing Company is the fourth largest microbrewery in New England. (Read: it's a brewery you need to know!) Shipyard Brewing is located in the foodie paradise of Portland, Maine, meaning you won't have to walk too far for high quality restaurants if your stomach starts growling. But we bet you'll be having way too much fun sipping on one of their stellar beers–like their Deep Devil Brown Ale (5.4% ABV) or their Finder New England Style IPA (7.0% ABV)—to want to leave. Come to think of it, you soon won't have to: Shipyard recently announced plans to build Portland's first "brewtel," a beer-themed hotel with a first-floor tasting room!
(submitted by Julianne – It's Five O'Clock Here)
Do YOU have a favorite brewery we should add to the list?
---
---
Before You Go
Whether you're in the planning or packing stages, we recommend these resources and travel essentials:
---
---
Pin this post to save for later!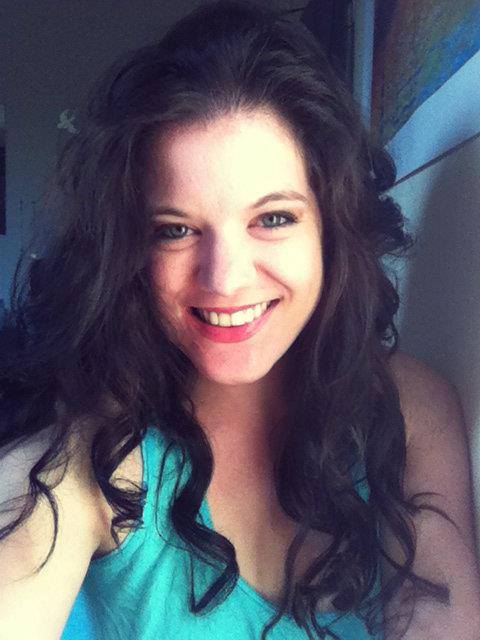 Amy Hartle is the author of Do You Love Me? How To Stop Seeking Reassurance in Relationships, a book on reassurance seeking and relationship anxiety. Both her book and this blog are born of personal experience; Amy shares expert relationship advice from the lessons learned during her own 10+ years with her husband, as well as couples travel tips and romantic getaway recommendations, all gleaned while traveling the world together.