This post may contain affiliate links. Read our disclosure page for full details.
Mmmm. Coffee. Whether you go for lattes, cappuccinos, or a serious pour-over, if you're a coffee lover, you probably swoon over an amazing coffee shop.
Perhaps you even go out of your way to find the finest cup in town. For the true coffee addict, sometimes you have to jet across the globe to find the ultimate in caffeinated goodness — and in an awesome cafe.
The coffee shops loved by travelers have special significance for us. While those spots beloved by locals might make for the true, ultimate list of the world's best coffee shops, we nomads tend to see things in a similar way. A coffee shop can become your home away from home on your travels, earning a place in your heart forever.
And for well-traveled folks, each place has a lot of past experiences to be compared to. If you've been around the world but a small little cafe in Portugal stands out in your memory, that is a powerful endorsement to its awesomeness.
We asked a bunch of our jetsetting, travel blogging friends about their favorite coffee shops across the globe. This unique and to be honest, drool-worthy list, makes us ready to hop a flight just for the coffee.
Read on to see what cafes made the cut, and then share what YOUR favorite is.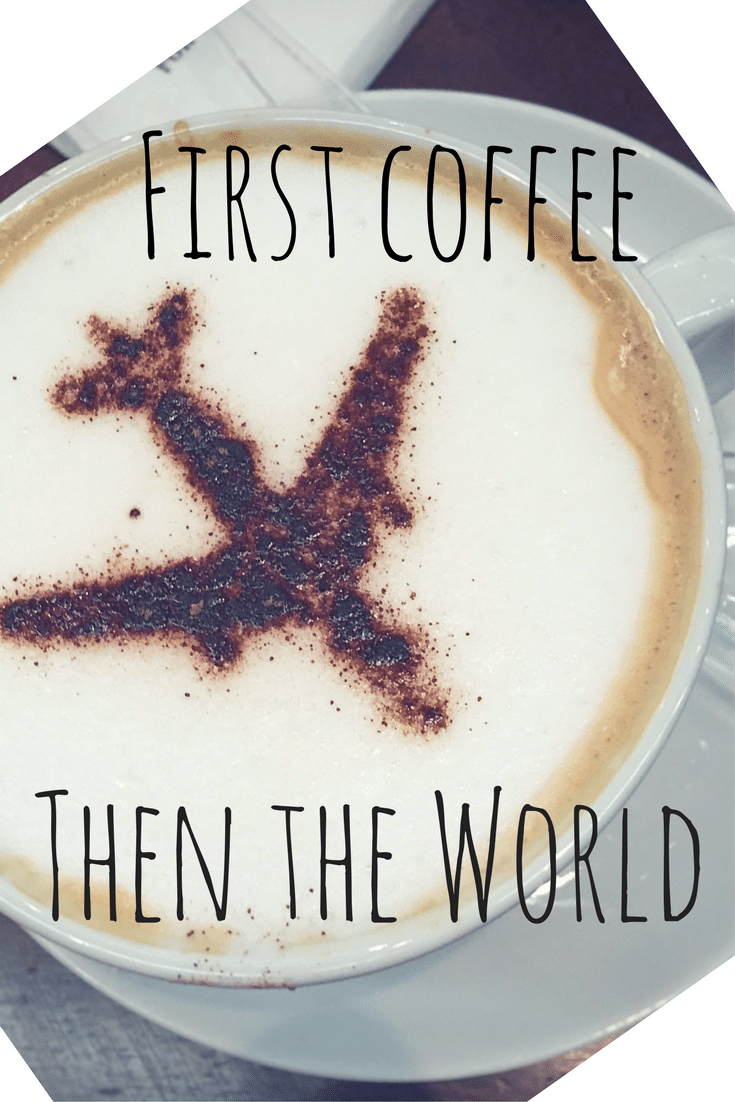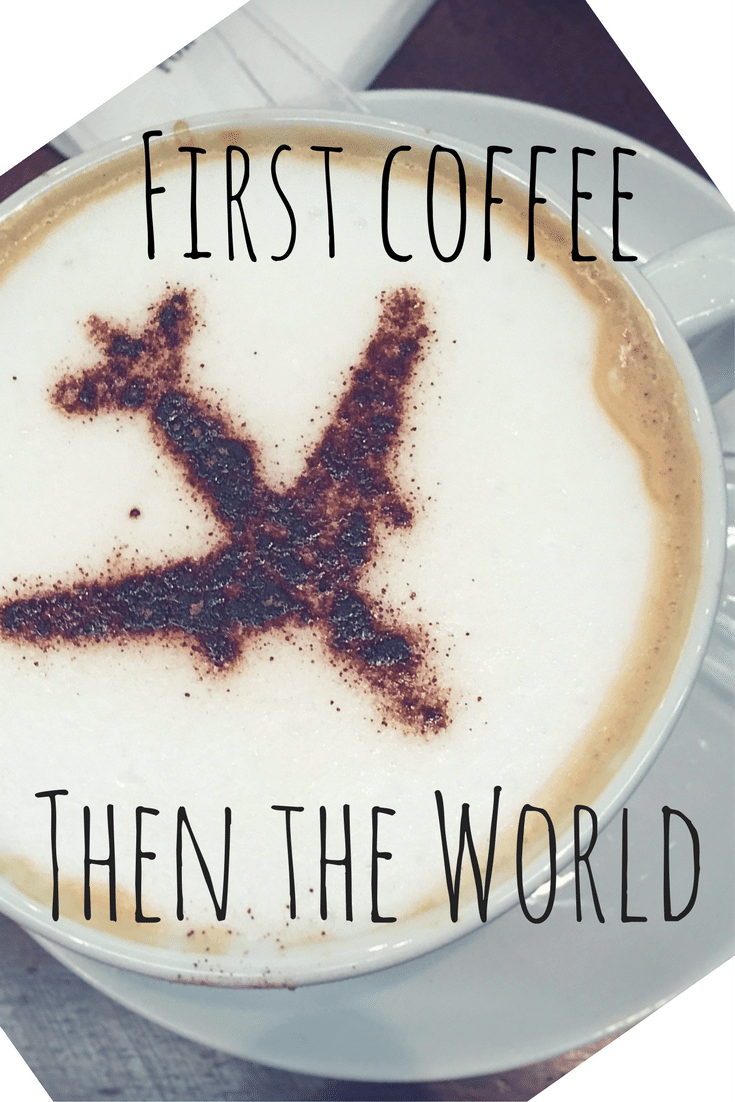 Book Corner Cafe – Tbilisi, Georgia
Book Corner Cafe is a quaint coffee shop tucked behind a heavy steel door along Ivane Tarkhnishvili Lane.
A homey ambiance will welcome you upon entering; they have round tables to keep your discussion intimate, an outdoor setting with a river view, a well-curated music playlist to boost your mood, and quotes displayed around the walls of the café that adds a ray of sunshine to your already beautiful day.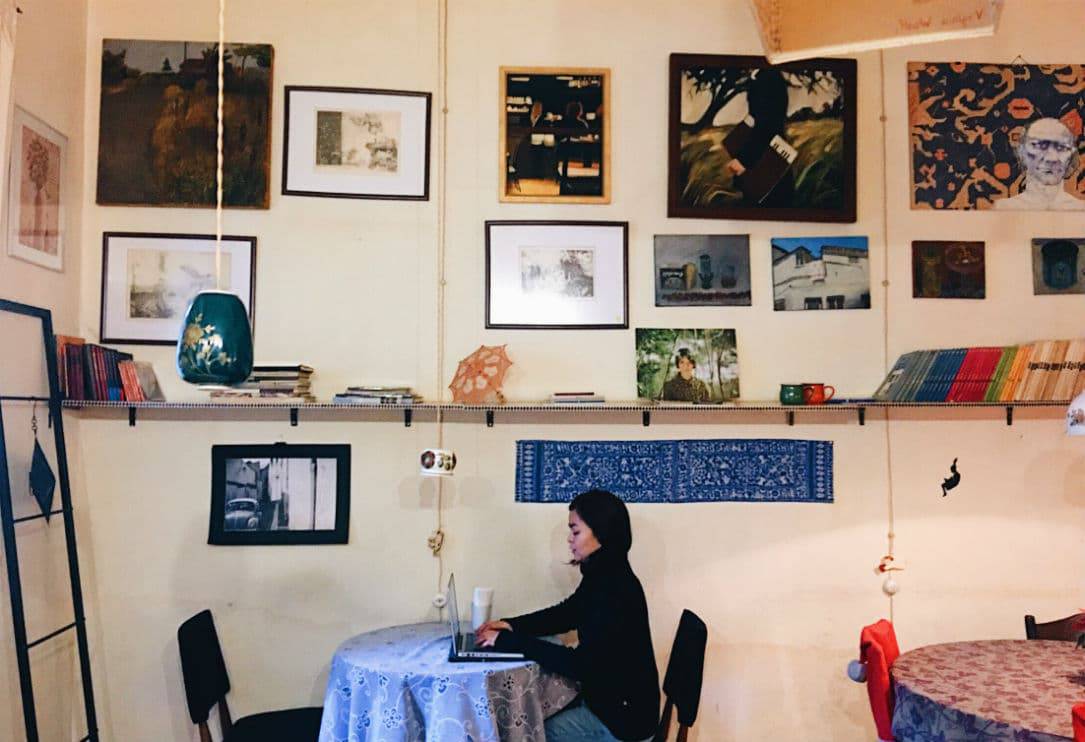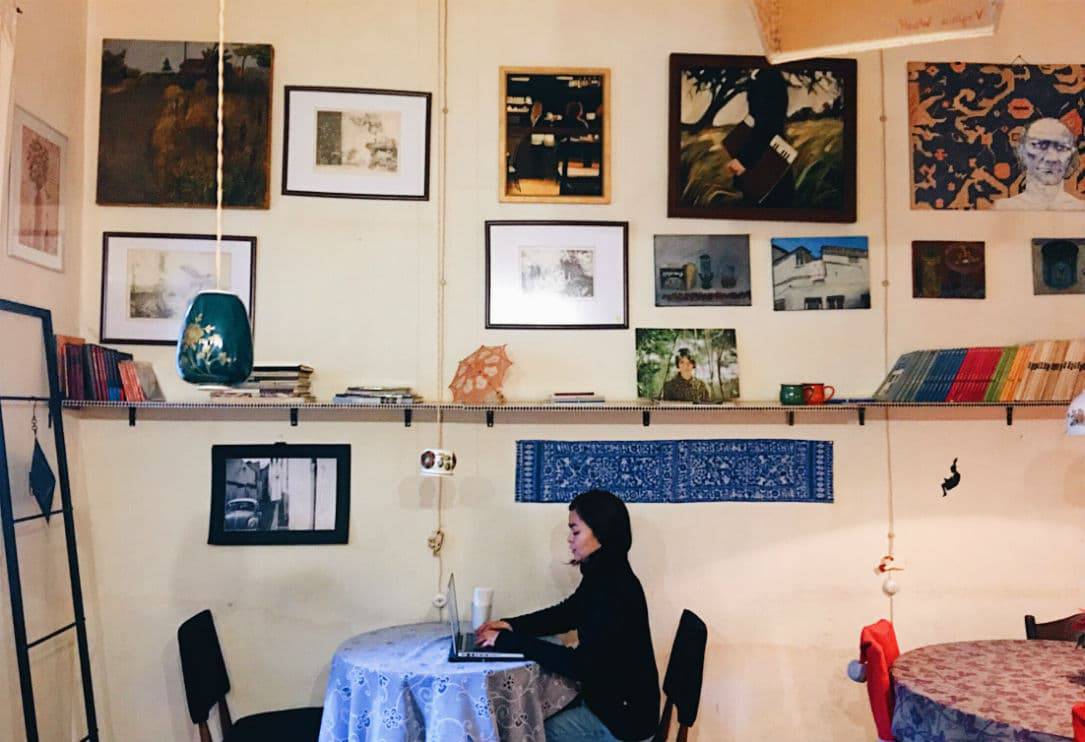 It is quite good for everyone who wants to pull off an all-nighter as they are open until the last person in the cafe leaves! Their wifi connection is as steady as the aura it brings.
Their interior design is also commendable with all the upside-down umbrella installations on the ceiling, old-fashioned displays, paintings from Georgian artists, and piano sightings around the cafe.
Not only that they serve good coffee but if you are a digital nomad who finds your way in Georgia, this is one of the best wifi cafes in Tbilisi!
-Trisha of P.S. I'm on My Way
---
Coffee on the Table – Penang, Malaysia
While I was in Penang I became obsessed with the cafes around the area. There were so many cool cafes I would spend my days trying to find as many of them as I could.
I walked past one particular cafe, Coffee On The Table, which was advertising 3D coffees. I had no idea what this meant but I was eager to find out!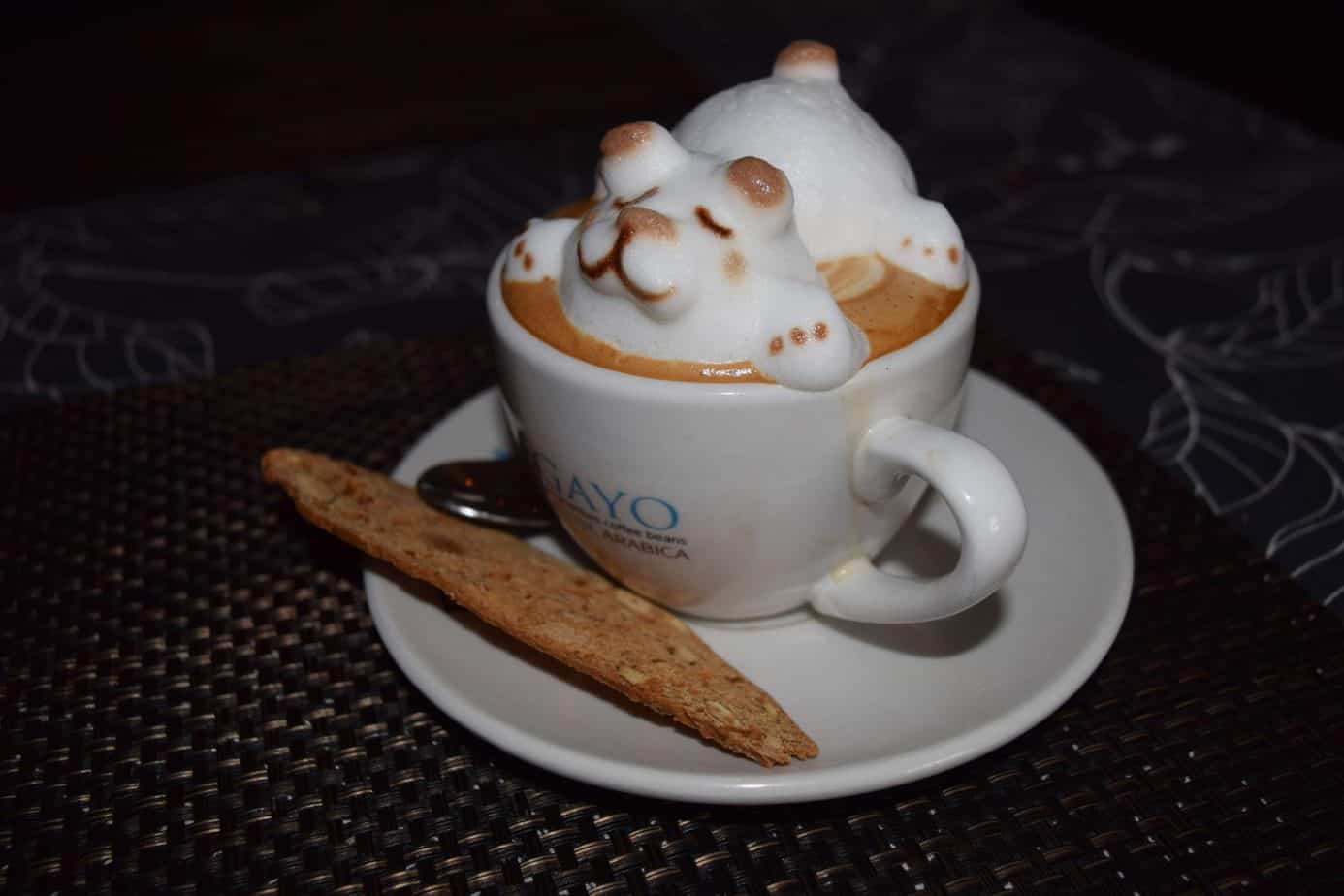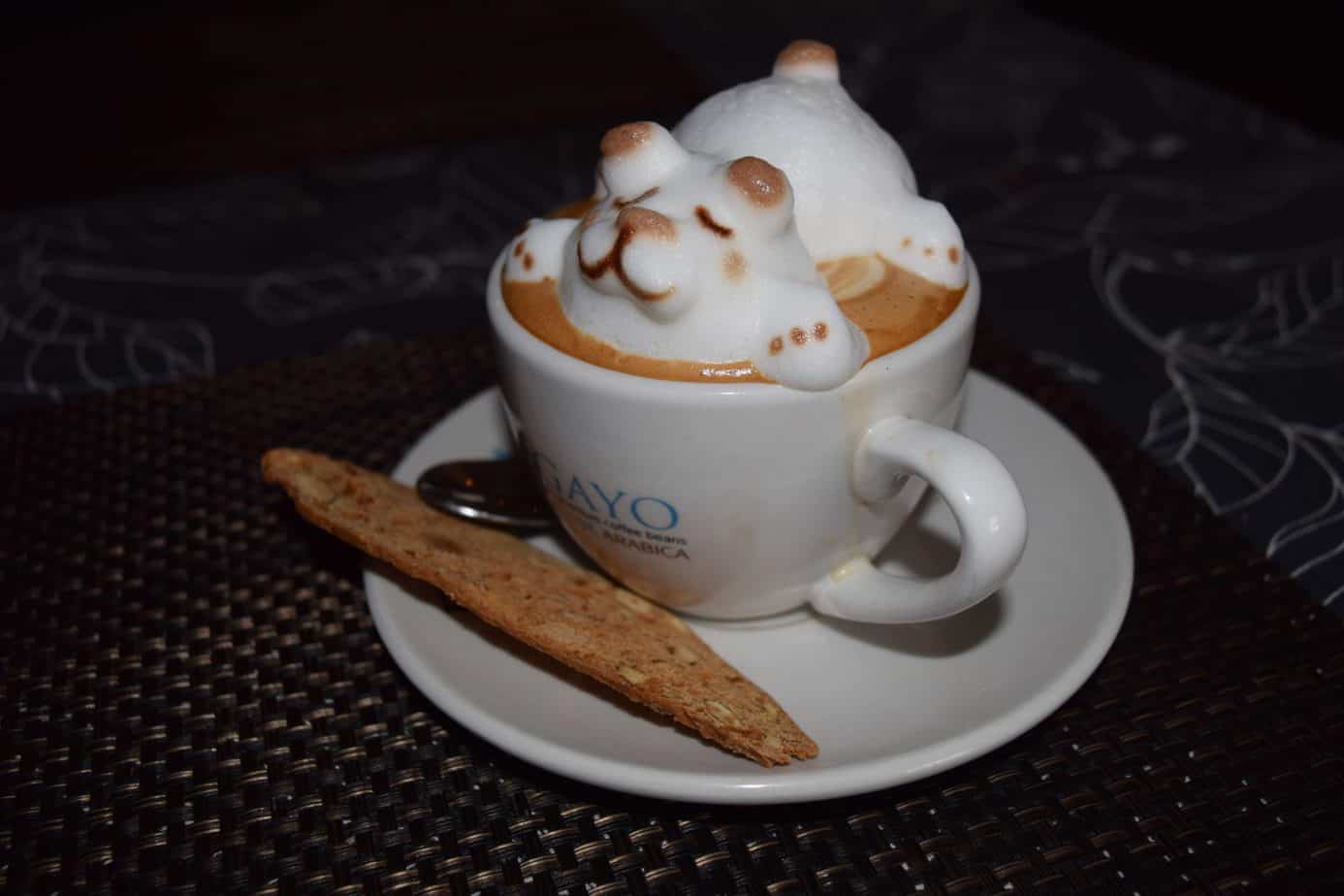 After flipping through the menu I saw so many coffees with cool 3d art designs made from the foam. It was like nothing i'd ever seen before!
I ordered one because it looked so awesome and when it came out I was impressed. The detail was amazing! Not only was it cool looking, it was also the best coffee I had in Penang!
---
Truth Coffee – Cape Town, South Africa
If you're in Cape Town and are in need of a java fix, you'll be spoilt for choice. The CBD is thriving with local coffee roasters, each providing their own unique vibe and character.
The roaster with the biggest personality is Truth. Voted by the Daily Telegraph as one of the world's best coffee shops, this steam-punk inspired roastery and café is always pumping.
With several locations, I find their large CBD café the most inspiring. Situated in an old three-story Victorian warehouse, the gritty interior is filled with metal piping and quirky antique memorabilia. Even the baristas and waiters are geared in full steampunk regalia, aviator goggles and all.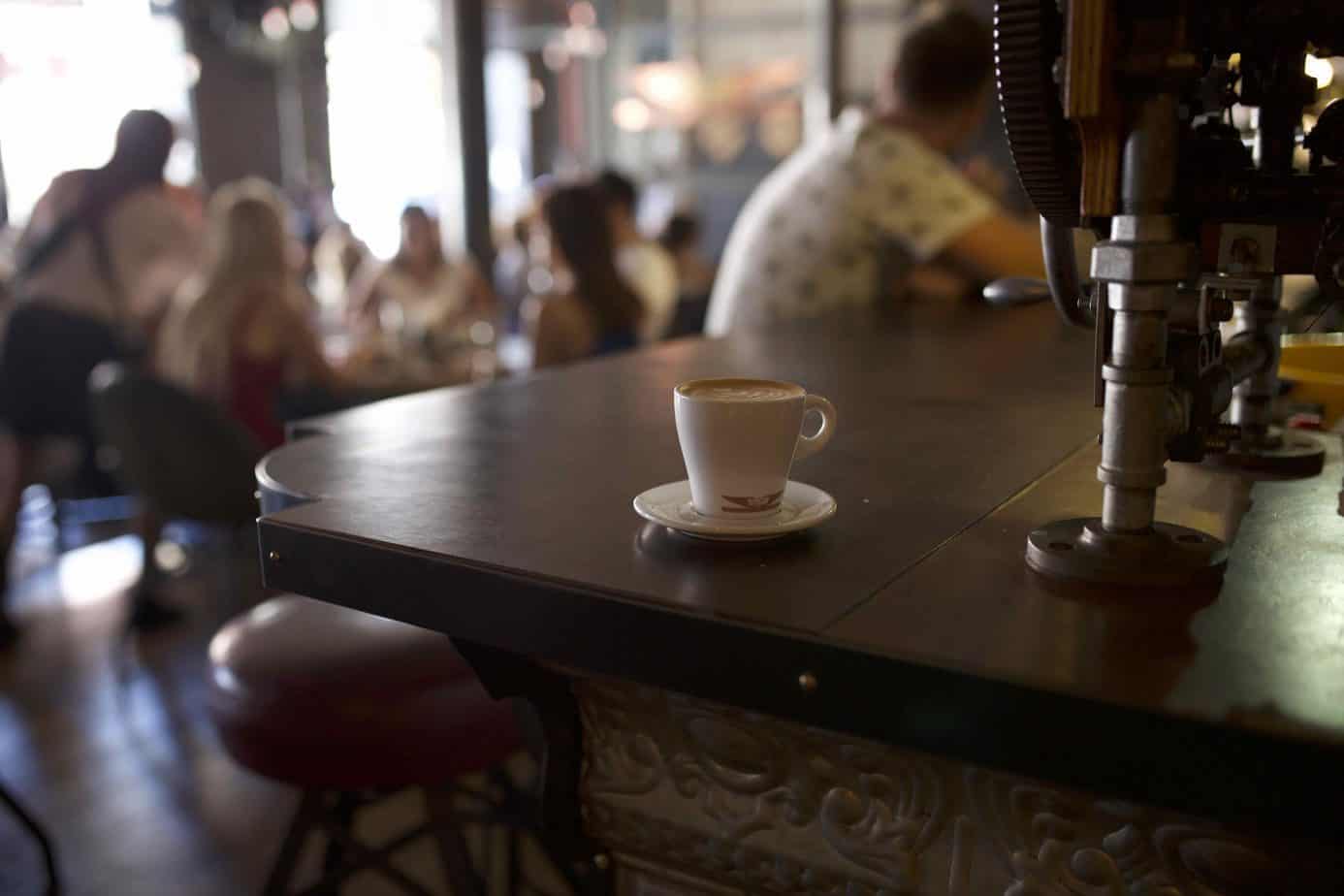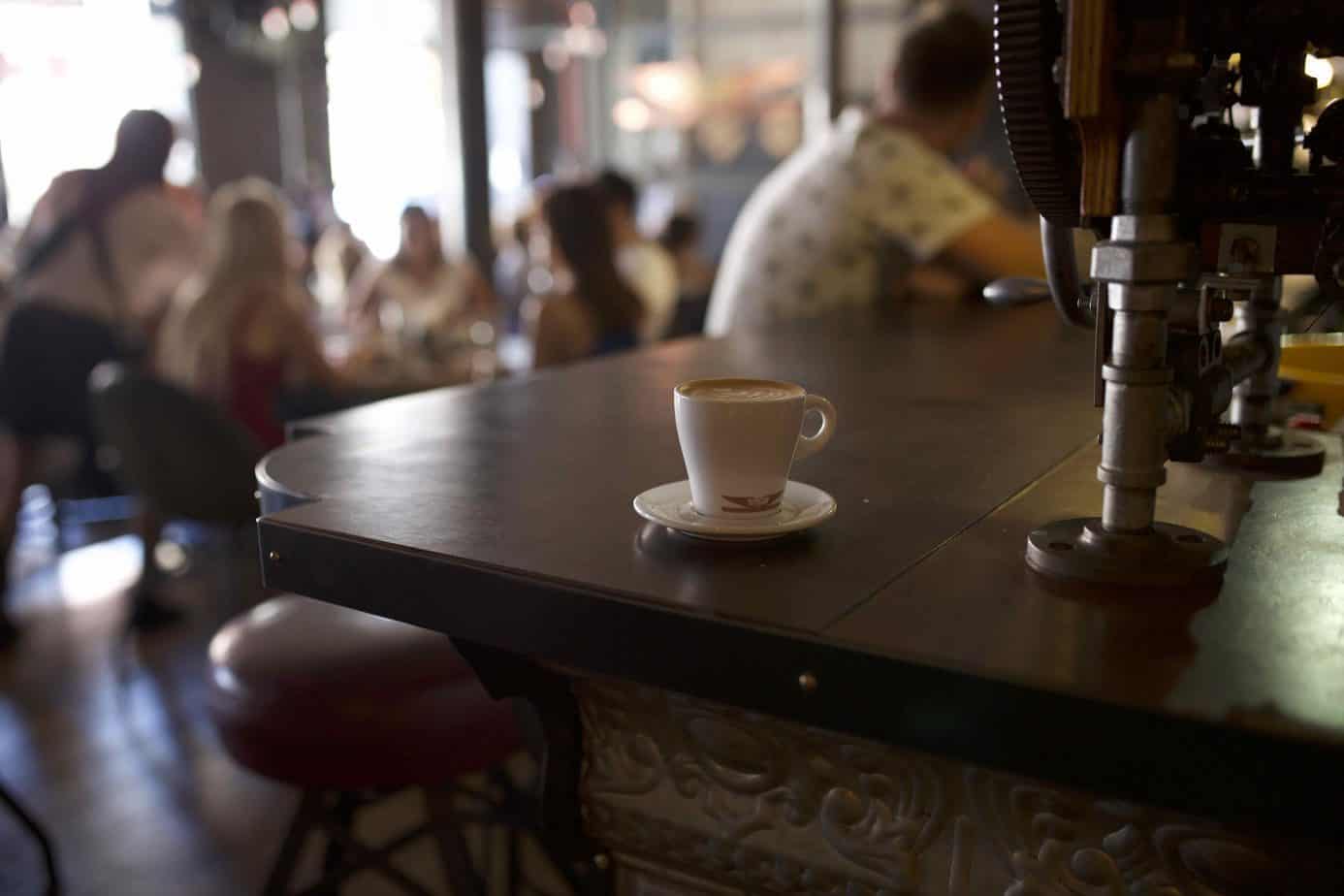 What I really love about Truth is the eclectic mix of businesspeople, tattooed hipsters, and holiday-makers sharing stories over the hissing and murmuring of steamers and grinders.
And the coffee is spectacular, all hand-roasted in vintage cast-iron drums.
Ever try a shot of espresso with OJ? Well, you can here! And the food is delicious, serving a diverse mix of Germanic/French fare. If you want a coffee experience on the grittier, yet vibey side of Cape Town, you'll have to make your way down to this diamond in the rough.
Additional information:
Free 60 minute WiFi, hanging power sockets, fully licensed.
---
Café El Jarocho – Mexico City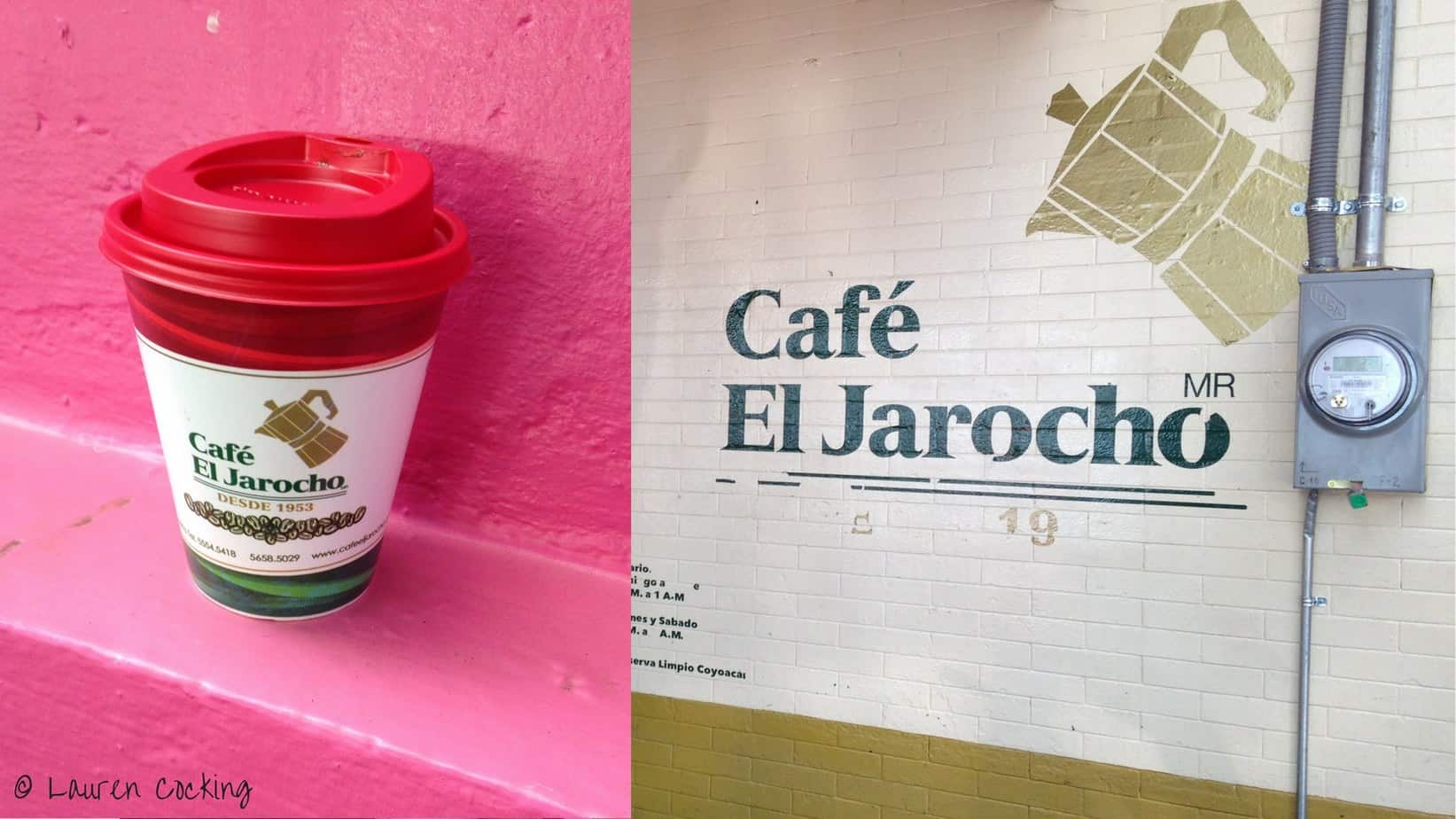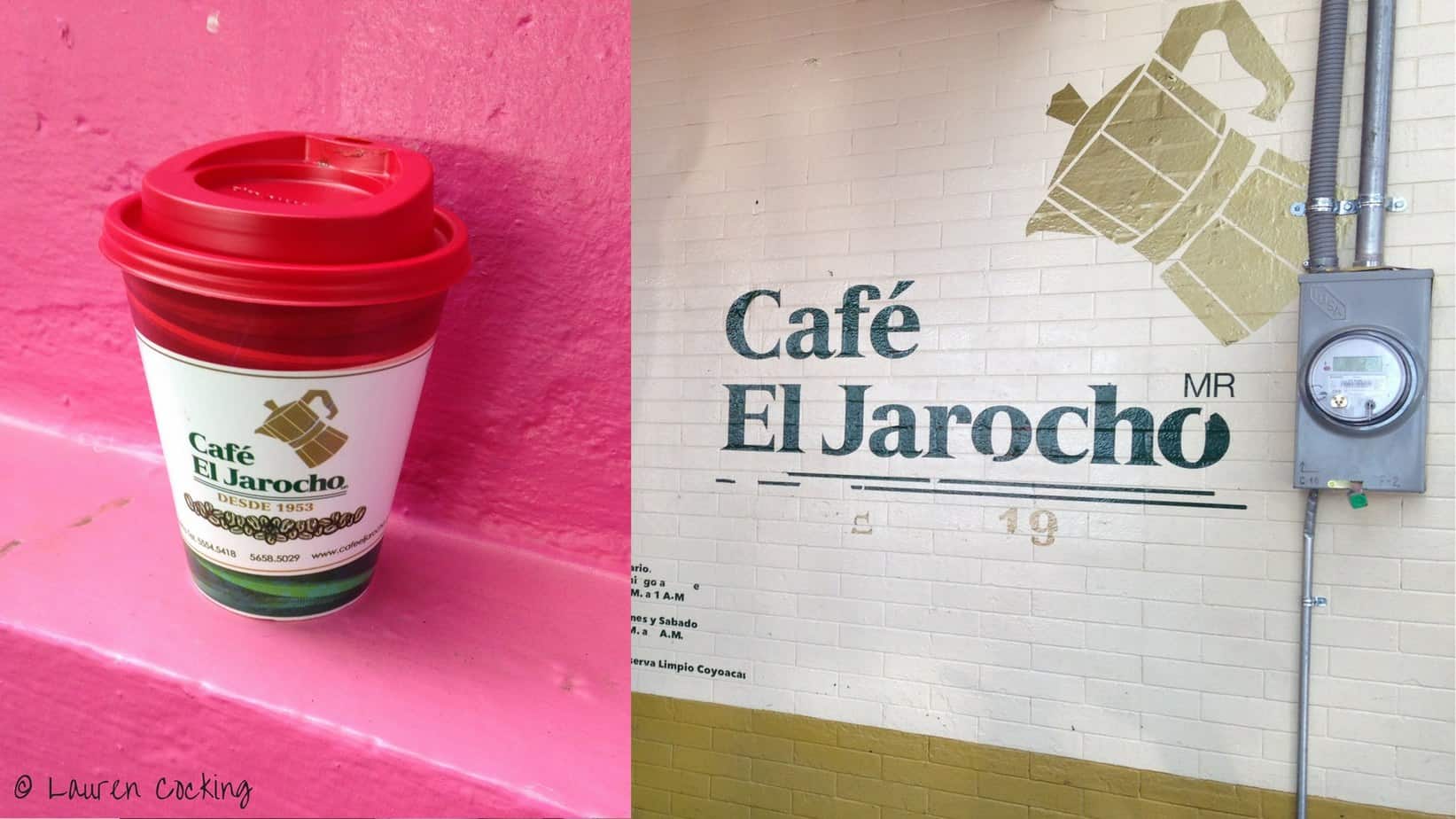 For coffee lovers, Mexico City's Coyoacán neighbourhood is undeniably one of the best places in the Mexican capital, given that it's overrun with quaint coffee shops and hole-in- the-wall takeout options.
However, the legendary Café El Jarocho has been the name on the lips of city locals and passing travellers for years, not least for its affordable options and local feel.
A stalwart of the barrio, there are now several branches of Café El Jarocho in Coyoacán, but the original remains the best, proven by the constant ebb and flow of customers that pass through its doors on a daily basis.
While you have to be on the ball to grab yourself one of the benches that line the streets surrounding this literal cornerstone of the neighbourhood, it's worth the effort to sit back and people watch with a fantastically aromatic coffee.
Plus, their iconic cups are totally Instagram worthy.
---
Brew Lab – Edinburgh, Scotland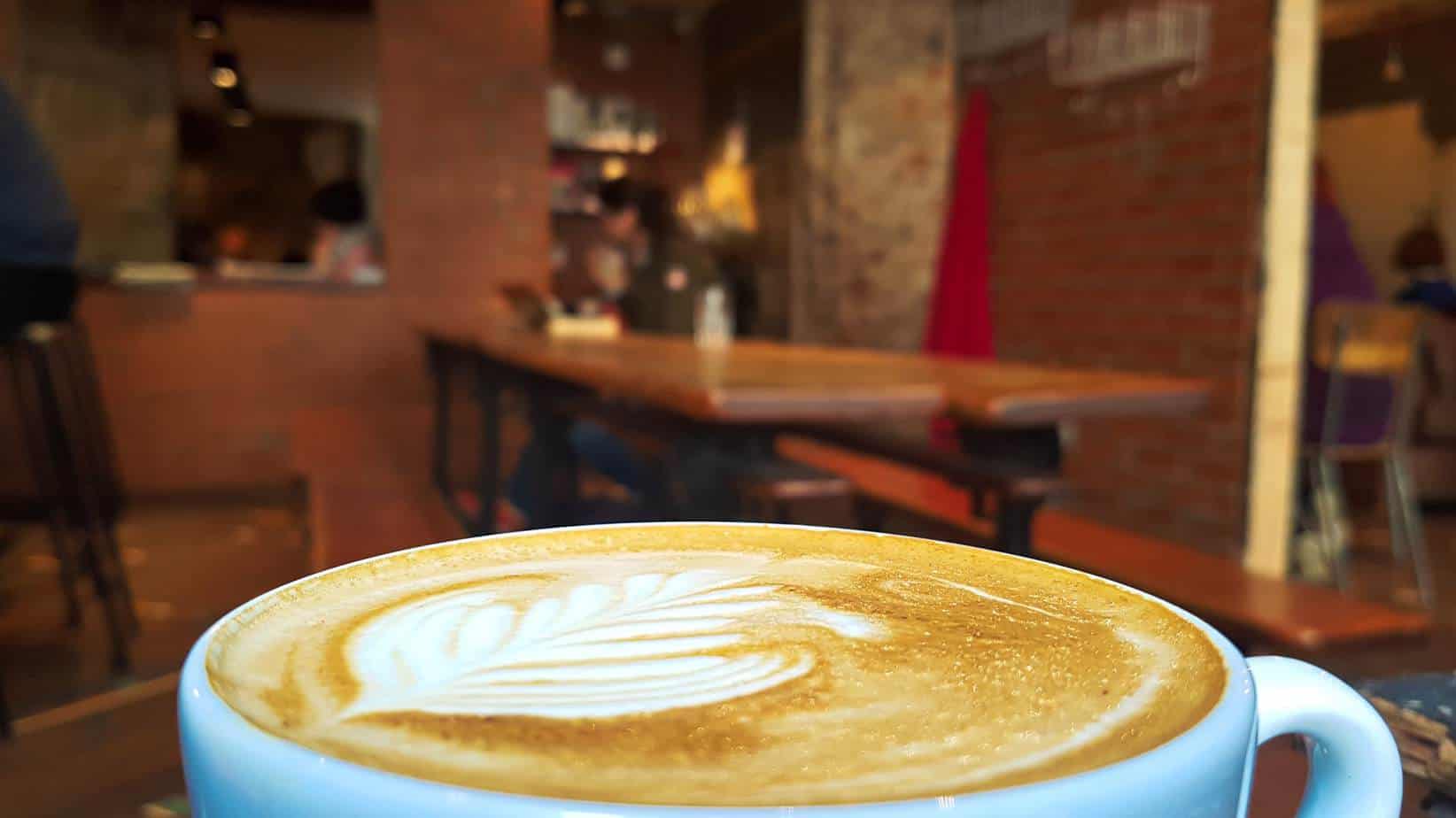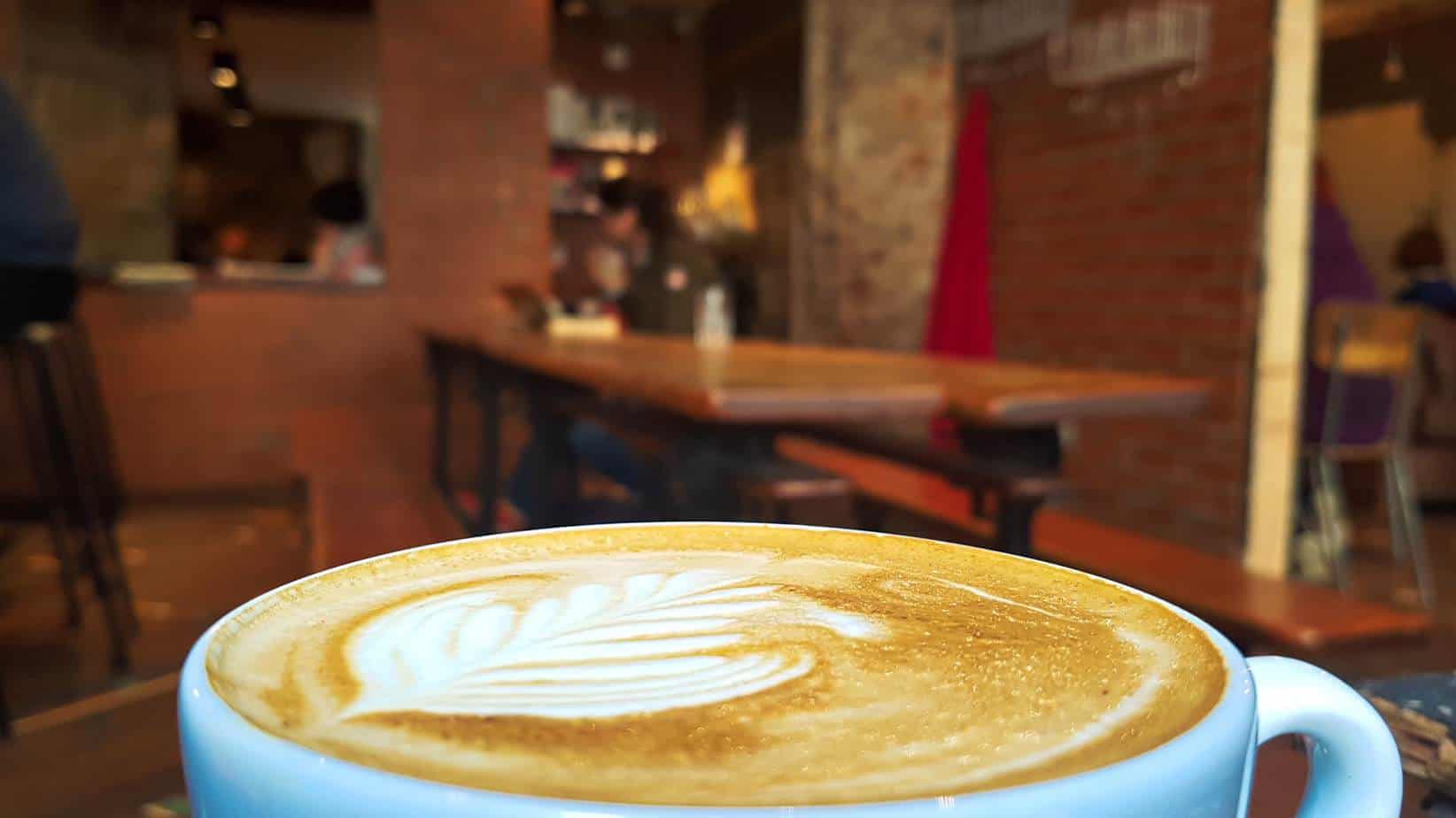 If you haven't heard of artisan, or third wave, coffee, you're missing out. Instead of getting your stale coffee from a giant urn, imagine every cup individually brewed to perfection.
Now imagine that the coffee beans are individually roasted in small batches, and hand-selected for the best flavor.
Finally, put that all together in a small, hipster cafe in the center of the most beautiful city in the world. You've now imagined a whiff of Brew Lab Coffee in Edinburgh, Scotland.
Located behind the Old College Building, Brew Lab has been serving artisan roasts to locals and travelers since 2012. They also offer a small selection of healthy or sweet dishes for breakfast and lunch.
Get their early for a table, or take a coffee to go. The internet is great too if you want to spend all day just relaxing. Read more at www.skyetravels.com/coffee.
-Skye of Skye Travels
**Psst: we love this place too! Check out our list of Edinburgh's top coffee houses.
---
Majestic Cafe – Porto, Portugal
As the most beautiful café in Porto, Portugal (and quite possibly one of the most beautiful in the world) the Majestic Café transports visitors to the glitz and glamour of the 1920's.
Established in 1921 as the Elite Café, the majestic belle époque décor fueled Porto locals to lovingly rename it as the Majestic Café (locals preferred "Majestic" to "Elite" as the original name sounded "too privileged").
With gorgeous Art Nouveau décor such as hand-carved wood details, wooden benches with leather seats, large elaborate hanging mirrors and ornate light fixtures which deliver a romantic atmosphere to enjoy a cup of coffee.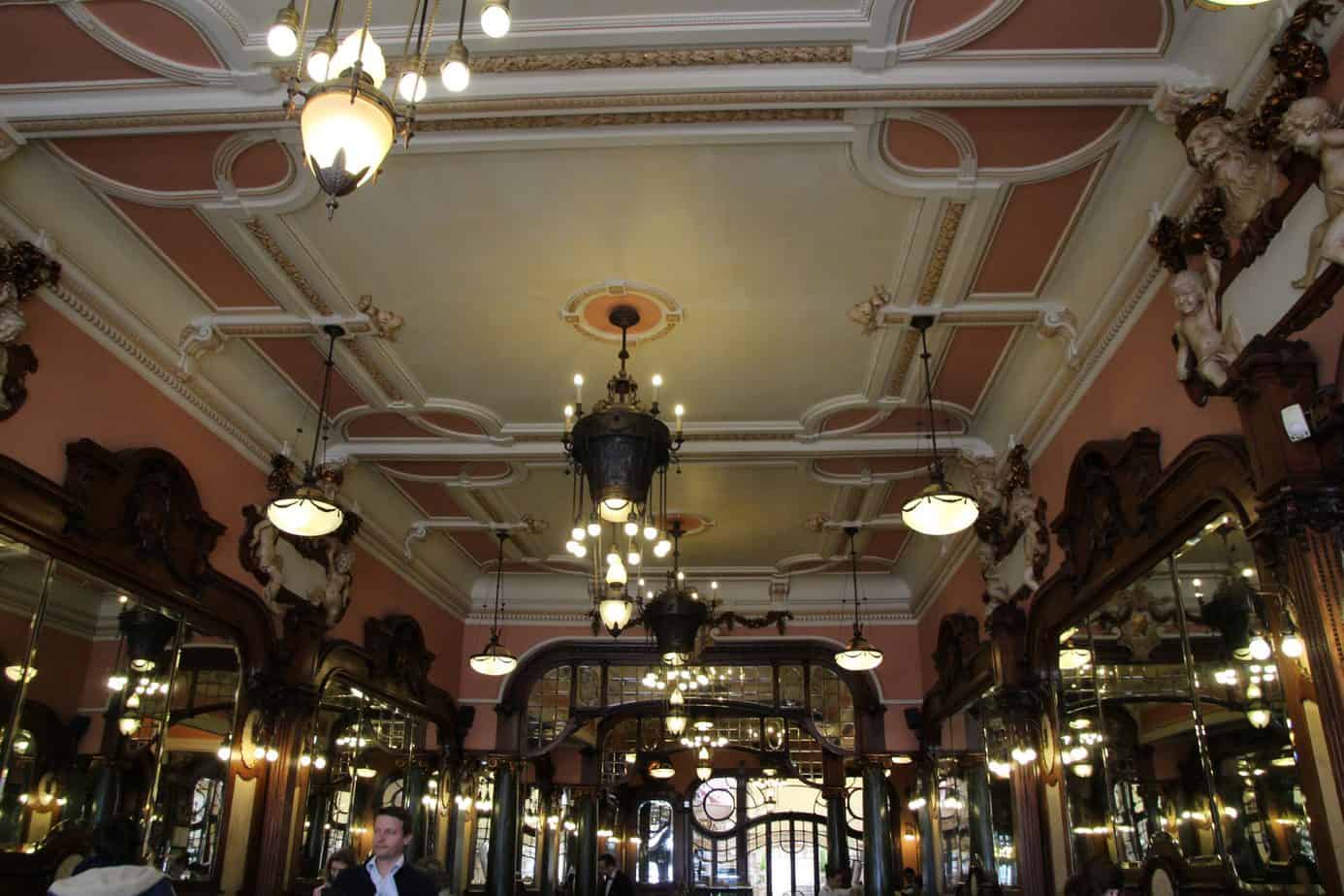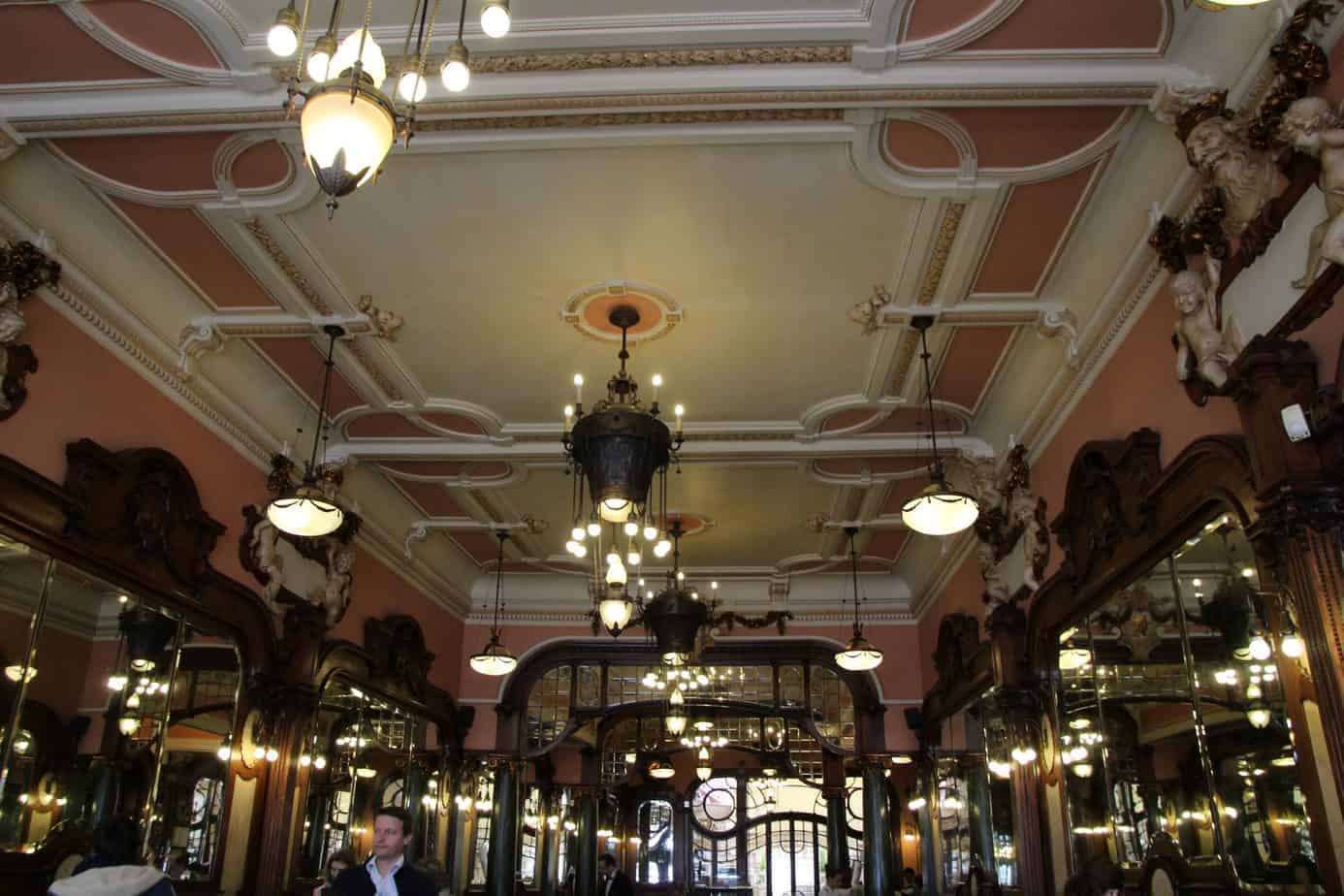 Located on the busy pedestrian-only shopping street of Rua de Santa Catarina, the stunning façade of the Majestic Café welcomes visitors to enjoy a cup of coffee, sweet treat or a meal at a table on the front patio, inside the cafe or on the small back terrace.
No matter where you sit or what you order, delightful elements that evoke a style long forgotten will transform you to another era!
---
Horchata de Santa Catalina – Valencia, Spain
For a coffee shop with a difference, you need to visit Valencia in Spain.
Horchata de Santa Catalina is the home of the famous horchata. This was the drink that made King James 1 proclaim, "this is gold baby," thus giving it its name of horchata. It is a staple drink for the local people of Valencia.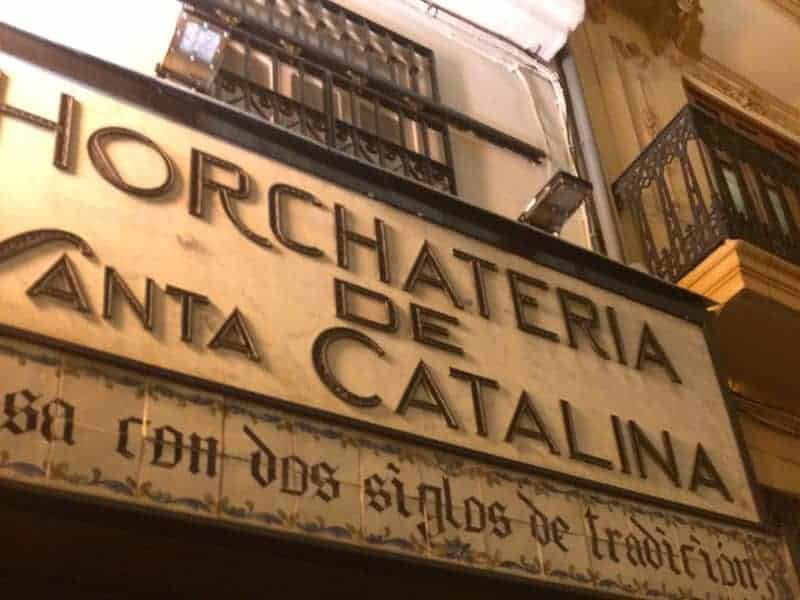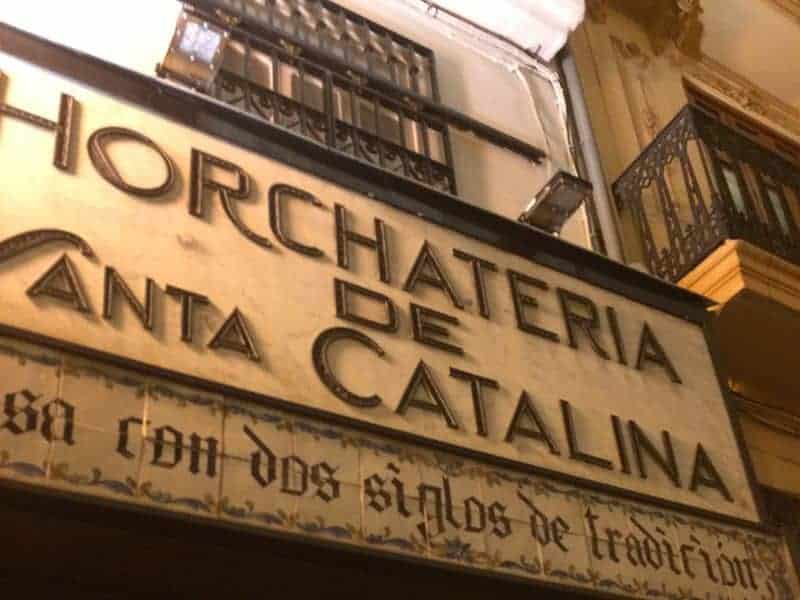 Horchata is made of chufa, sugar, and water. Chufa is also known as tiger bean and is one of the earliest domesticated crops. It has been a staple in Africa and has been found in the canopic jars of the Egyptian pharaohs.
The tiger bean was widely used throughout Egypt and Sudan. Because of the climate in Valencia, when the crop made its way to Spain this was the ideal environment to grown it.
The local love their horchata mid-morning. They eat a farton with the horchata, which is a light pastry. The rest of the day they drink coffee at this unique coffee shop.
---
Sant'Eustachio Il Caffè – Rome, Italy
Sant'Eustachio Il Caffè, in the heart of Rome, is more than just a coffee shop.
This small, but beautifully preserved standing-room- only coffee bar has been serving locals and travellers since 1938, when it opened its doors opposite the church of the same name, Sant'Eustachio.
The patron saint of this church was converted to Christianity, according to legend, when he encountered a miraculous stag on a hunting trip. On top of the church, a stone stag with a cross on top of his antlers looks down on the tiny piazza where the coffee shop stands.
The stag design is repeated across the coffee beans and chocolate treats for sale in the café, which developed a reputation over time for serving the best coffee in Rome.
They still roast beans over wood with a machine that dates back to 1948. In true, southern Italian tradition, the coffee is served already sweetened, unless you ask for it bitter.
While the bar changed hands in 1999, the new owners carefully restored the bar's 1930s decor, right down to its vintage mosaics and wall panels.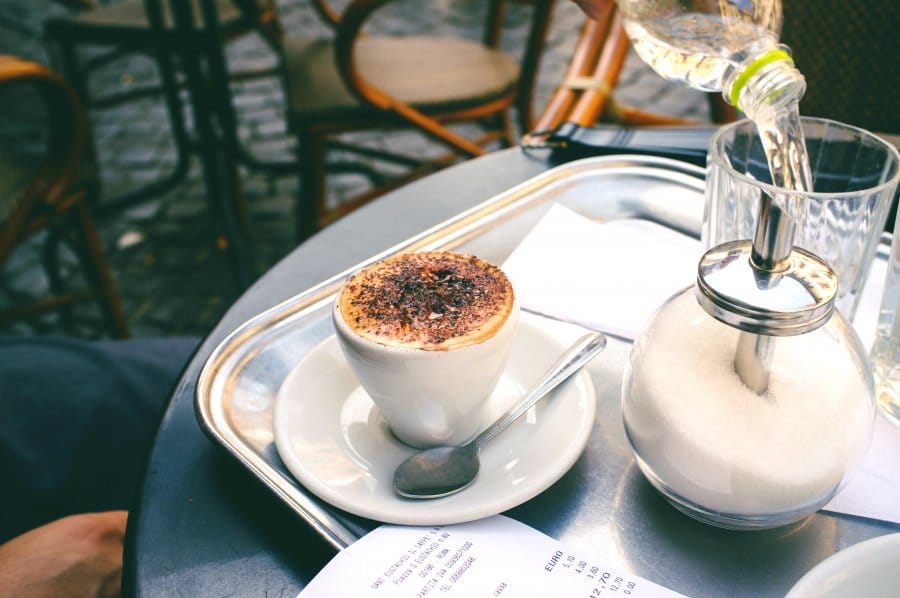 ---
Maid Cafe – Akihabara, Tokyo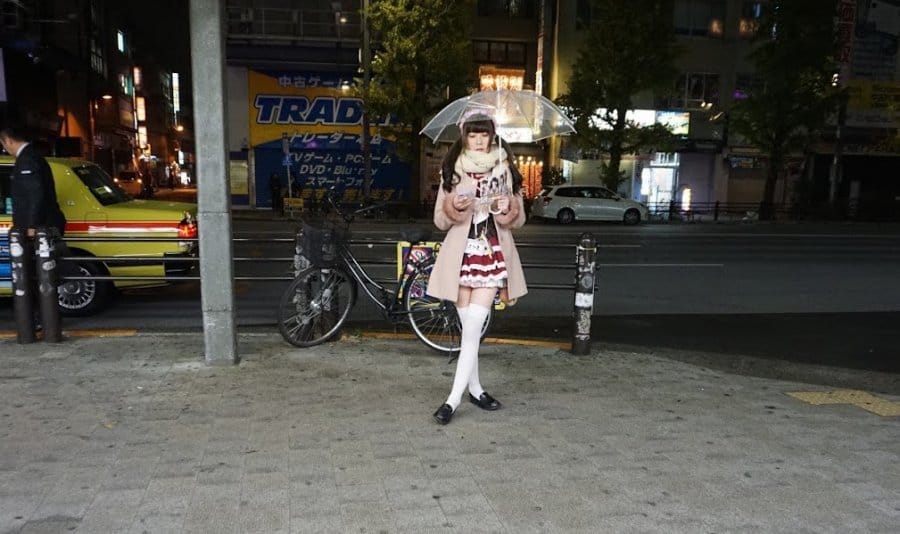 "This has to be one of the craziest experiences, you know that, right?" I tell my husband as we approach a maid cafe in Akihabara.
A thin, cute Japanese girl bows and welcomes us with a huge grin on her face. As we enter the establishment, we feel as if we crossed a fine line between reality and dream.
"Unreal!" I whisper as I admire all these girls dressed as maids, being the actual representation of the word kawaii. We sat down in these pink chairs as one of the girls bounces off to meet and greet us, whilst presenting us a menu with a variety of bunny shaped parfaits, bear pancakes and adorable savoury rice dishes.
We looked around, just to see that we are completely surrounded by children and adults alike, everyone having the time of their life.
"Would you like more tea?" I ask my husband, as I wave at the waitress and say "Sumimasen!" Nothing! The Japanese service is known to be the best in the world, so how come I'm being ignored?
A Japanese man leans towards our table and tells us "You are in maid cafe. Here, we make cat sound to call maid, not wave". I can't help but laugh at the silly thought of meowing in the middle of an establishment.
Without further hesitation, the maid immediately responds to my newly learned kitten skills. Tokyo sure is full of surprises."
-Cory, You Could Travel
---
Laughing Man Tea & Coffee – New York City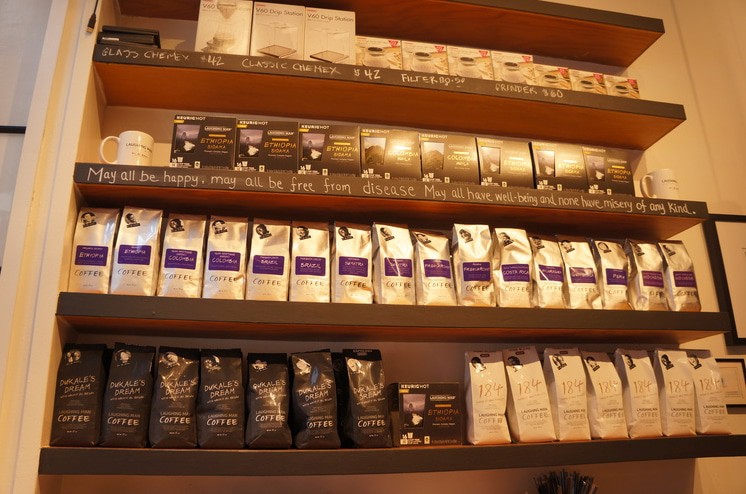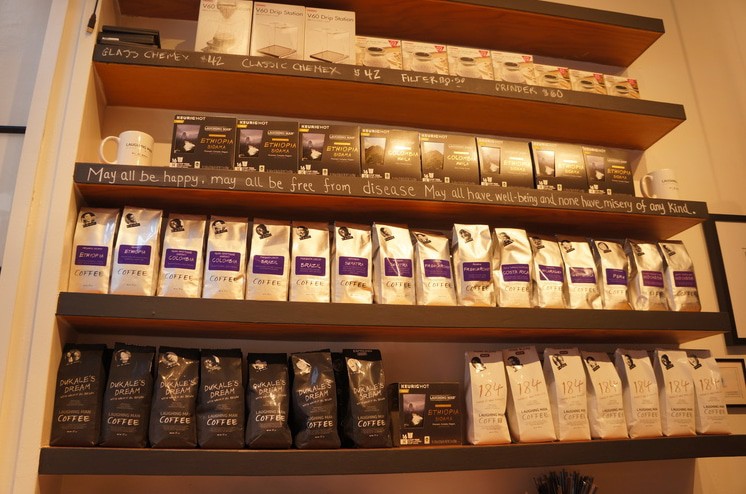 I lived in four different Manhattan neighborhoods over five years, often working long hours. This meant that I really appreciated (and needed) great coffee in the morning.
I tried so many different shops – both chains and boutiques – but my favorite is Laughing Man in Tribeca.
Not only is their coffee fantastic, but there is a truly unique and inspiring story behind the friendly faces and smell of fresh roasted coffee beans. First of all, it's owned by Hugh Jackman. Second, 100% of the profits are contributed to The Laughing Man Foundation, which supports educational programs, community development, and social entrepreneurs around the world.
In 1999, Jackman traveled to Ethiopia (where coffee originated) and met a young coffee farmer, named Dukale, who was working to lift his family out of poverty. Inspired by the story, Jackman launched Laughing Man Coffee to provide a marketplace for farmers in developing countries to sell their goods in the USA.
-Ian of Escaping Expectation
---
Puku Puku Cafe – Lima, Peru
A block away from the sprawling handicraft markets in Lima sits 1 of the 3 locations of Puku Puku Cafe, a laid back coffee shop with a cozy patio looking out over a gorgeous old colonial home.
Our espresso was bold and dark, but our Chemex was bright and acidic. We weren't surprised to learn that Puku Puku hosts a barista class for third wave coffee shops in Lima.
With a large selection of local artisan beers, Puku Puku also makes a great post-shopping wind-down spot. BTW, huge shout-out to Puku Puku's Tiramisu cupcake: it was the best cupcake by far we've had on our entire 4-month South America trip!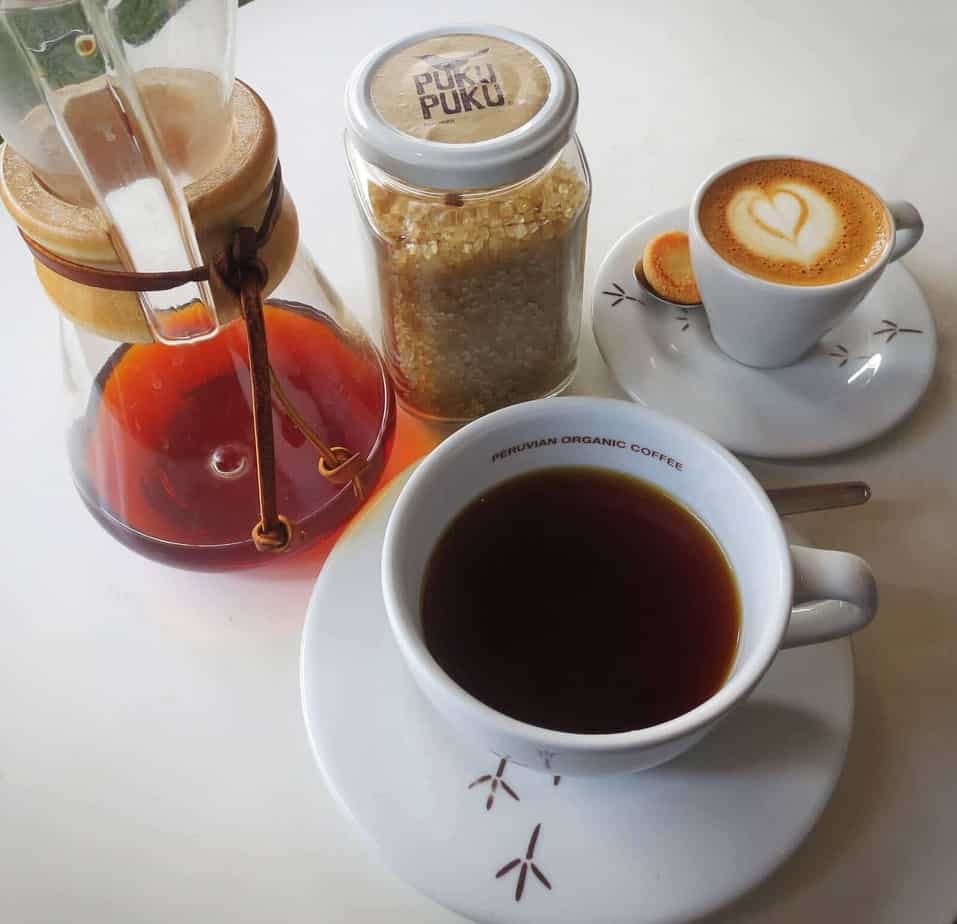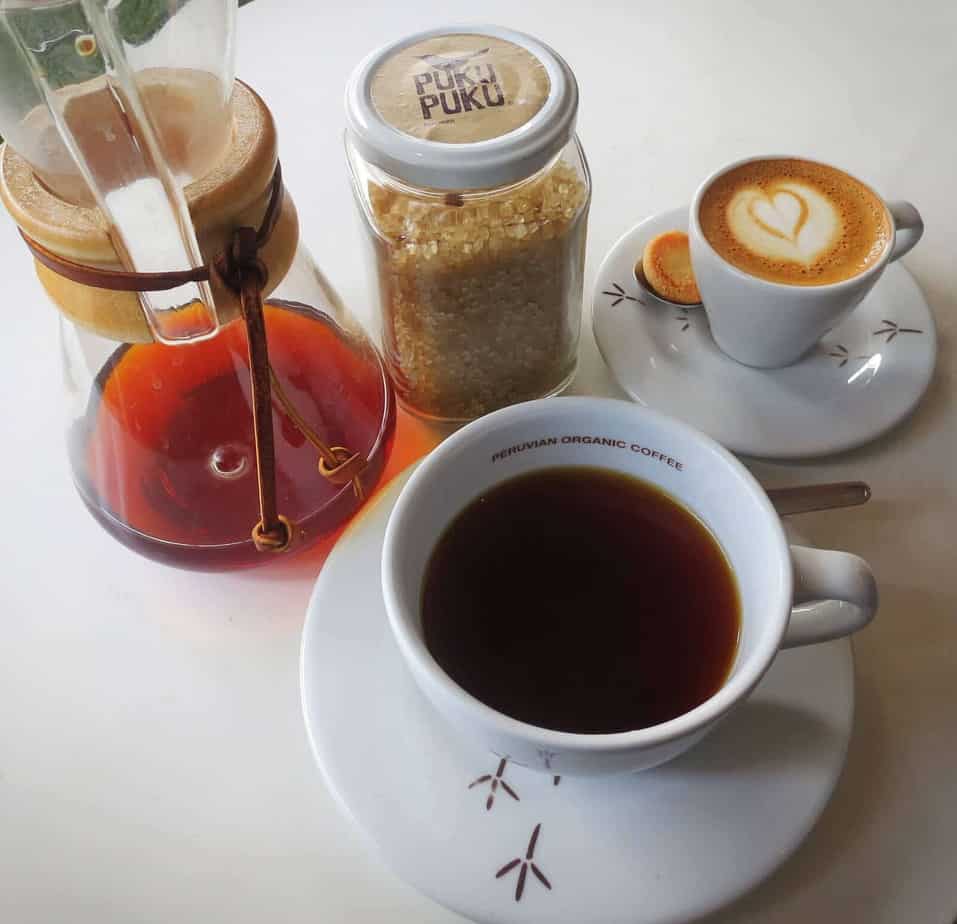 ---
Sappho Books Cafe – Sydney, Australia
Sappho Books Café is one of the coolest cafes I have visited in Sydney. It is a book shop with a café at the back in the garden. Selling the second hand books, the café is a mecca for book lovers.
The café is placed at a central suburb called Glebe in Sydney. The café offers all day breakfasts with some lunch and tapa options. The setting is very relaxing under the shades of the trees and the food is very delicious and mouth-watering. The café also has a wine bar attached.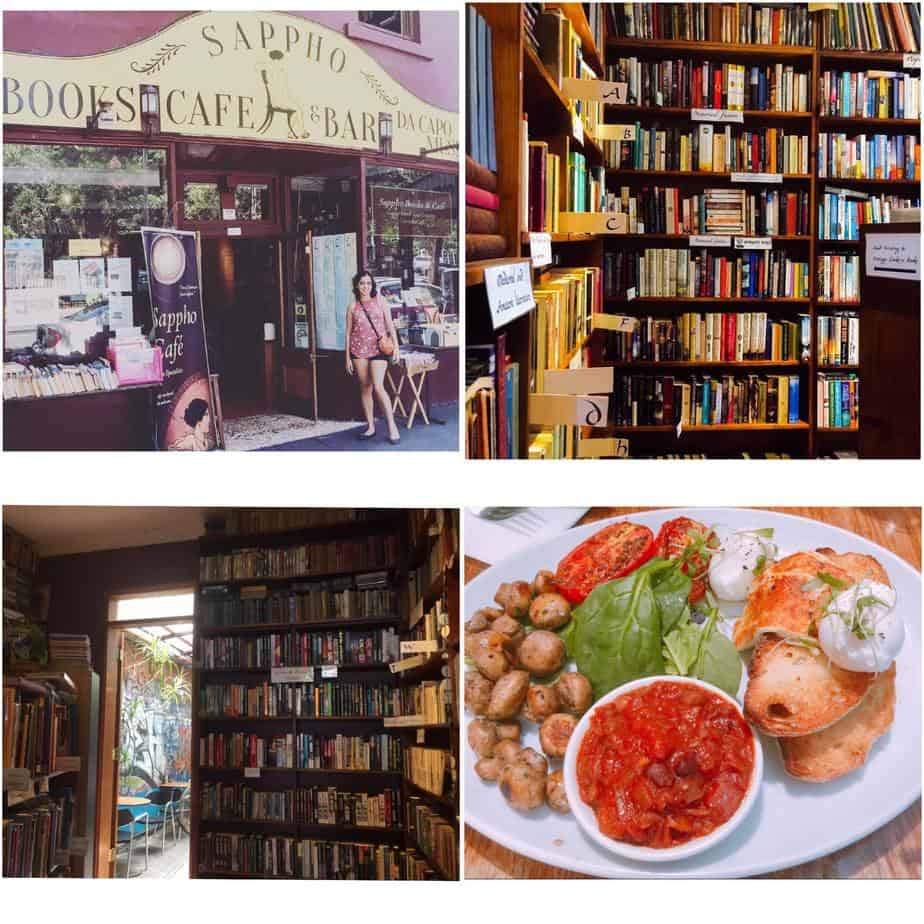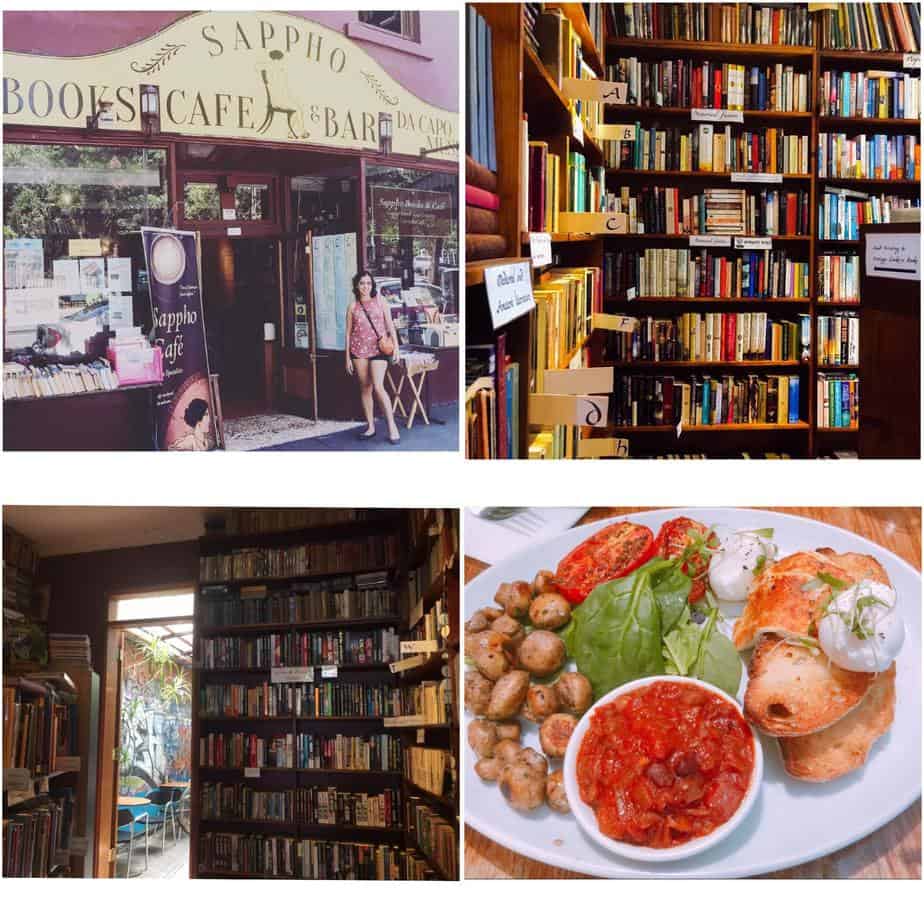 The smell of ageing paper books with the fresh smell of hot coffee is a perfect way to start a day or to spend a lazy afternoon. For a person who loves books and coffee, this café definitely has to top the most favourite cafes in Sydney.
---
Café Jesus Martin – Salento, Colombia
Colombia is synonymous with coffee because of the South American country's ideal geography for growing Arabica coffee. The best cup of coffee in Colombia can be found in Salento, a small traditional town in the country's coffee growing region.
The well-trained baristas at Café Jesus Martin offer beans from the owner's nearby Santa Ana coffee plantation and separate factory to sort out the best coffee beans and freshly roast them to be sold or brewed at the café.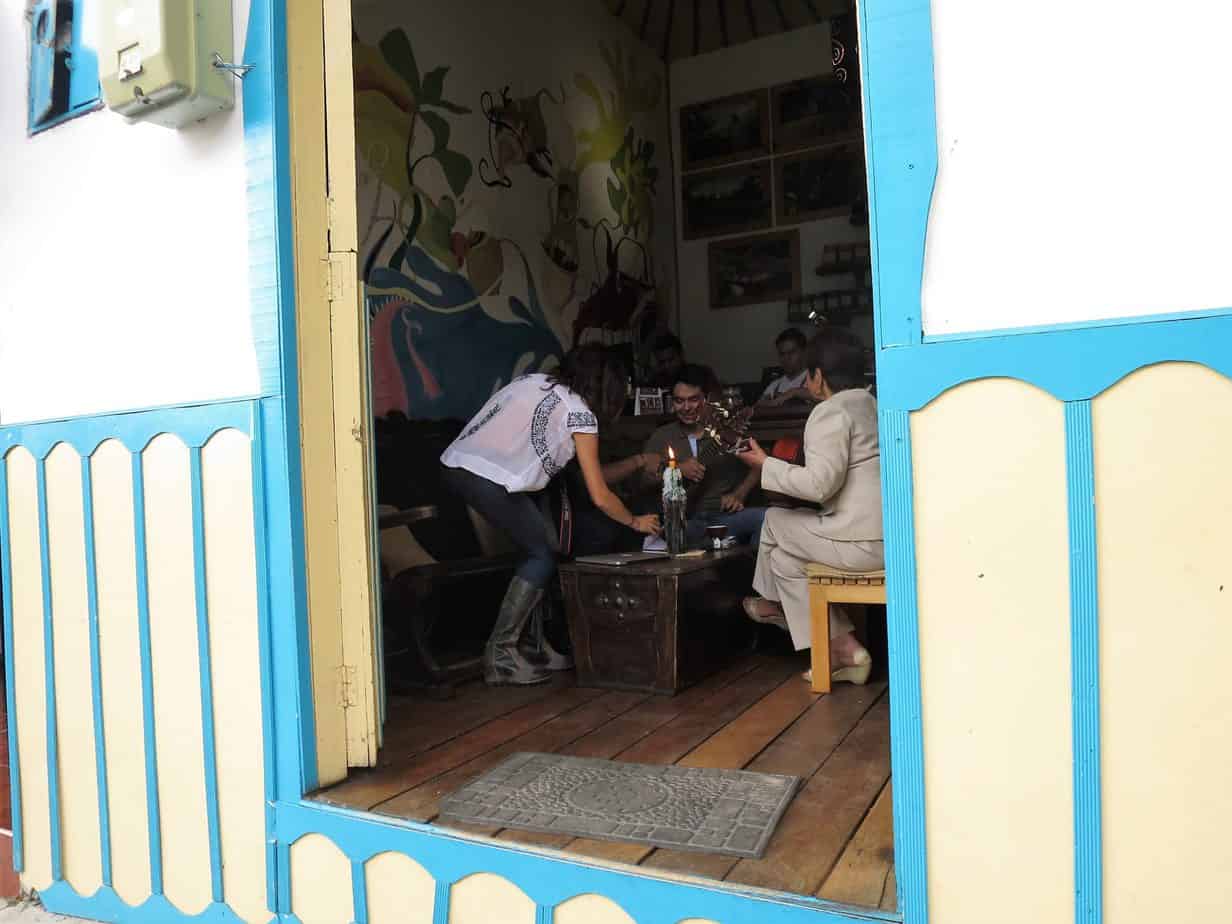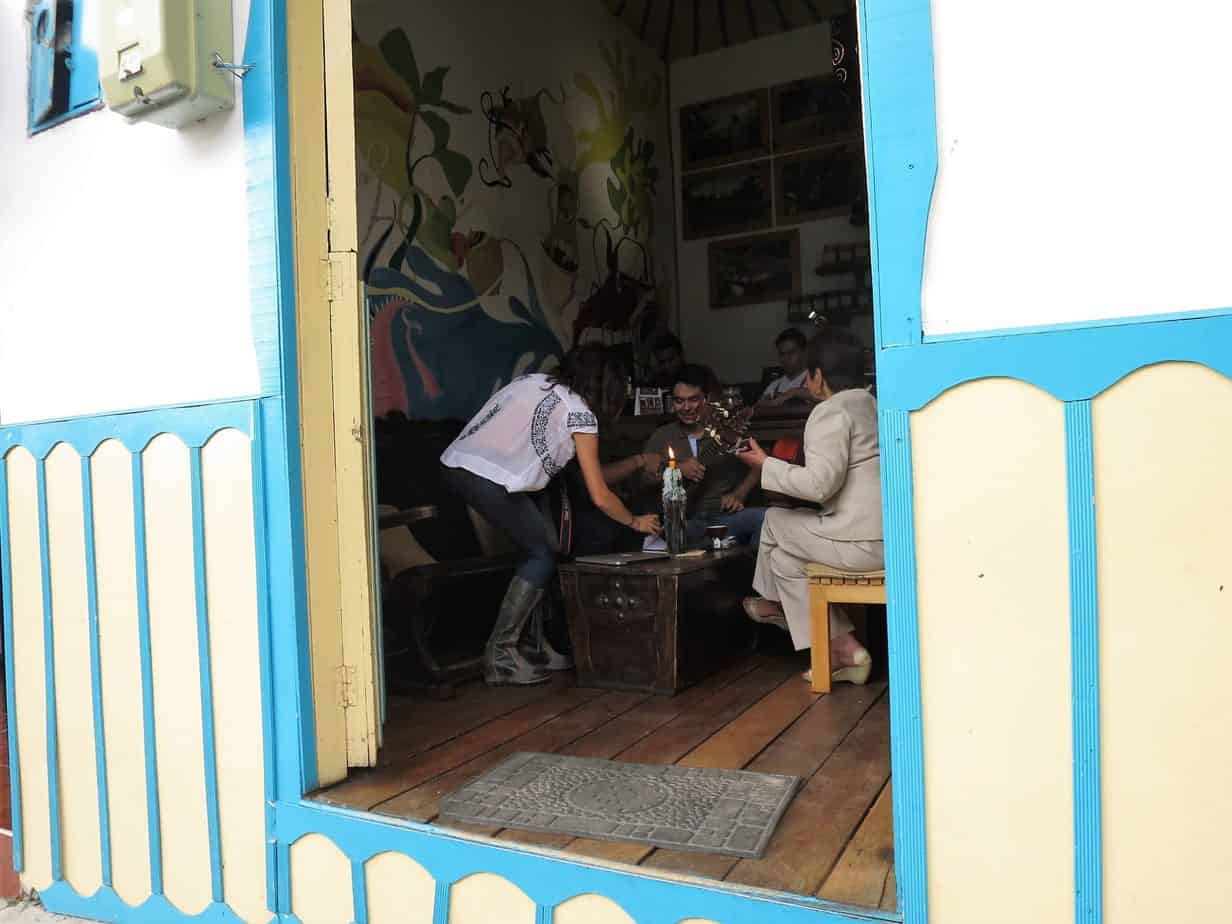 The café itself can only be described as cute with old men in cowboy hats and panchos walking past the brightly painted finca style café every now and then. The interior is relaxed with rustic leather seats, local wooden chairs and benches, and even a courtyard out back.
It's a café you could picture Juan Valdez and his friends drinking a black Americano. But it is no longer a secret like it was when it first opened in 2008.
Plenty of Colombian and foreign tourists pack the café in the afternoons but it doesn't take away from that special Latin American charm.
---
Depaul's Coffee – New Delhi, India
Growing up in Delhi, India I could not have missed the famous Depaul's coffee. And if you are planning to visit North India anytime soon – you can't miss it either.
One of the oldest coffee shops and now a chain in Delhi – Depaul's started from a small shop in the Janpath market and has been a family favorite of many over generations. My mom has her own Depaul stories when she was in college and then I have the same. Most likely, my kids with have some too.
A cold coffee full of strong mystery flavor – its hard to have just one. Chances are you will have more than three in one visit.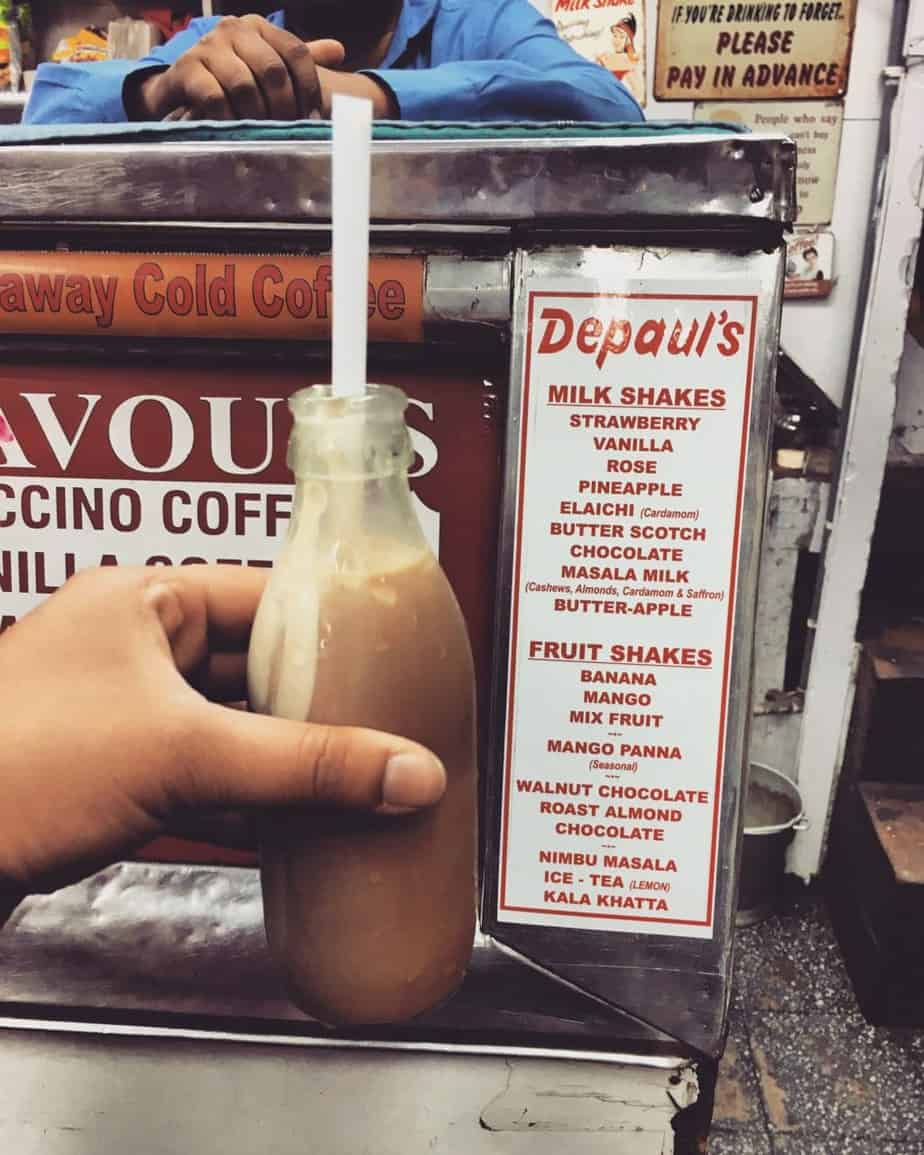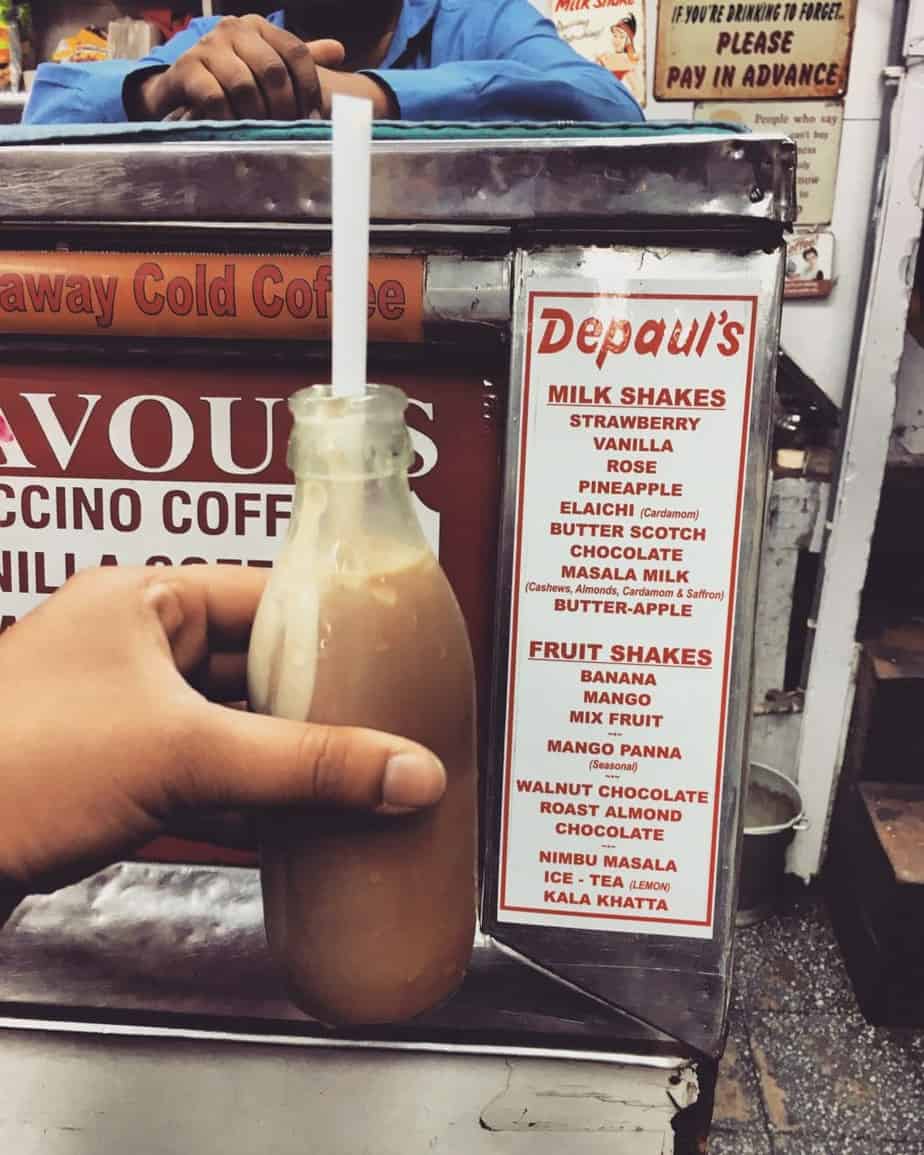 ---
The Mill Cafe – Central Maine, USA
The Mill Cafe is the kind of coffee shop that makes me swoon. Unpretentious, welcoming atmosphere, and good coffee. And it's the kind of coffee shop I'd expect to see in any small city with a growing food scene, so it's an unexpected surprise to find it in the small town of Dover-Foxcroft in the heart of central Maine.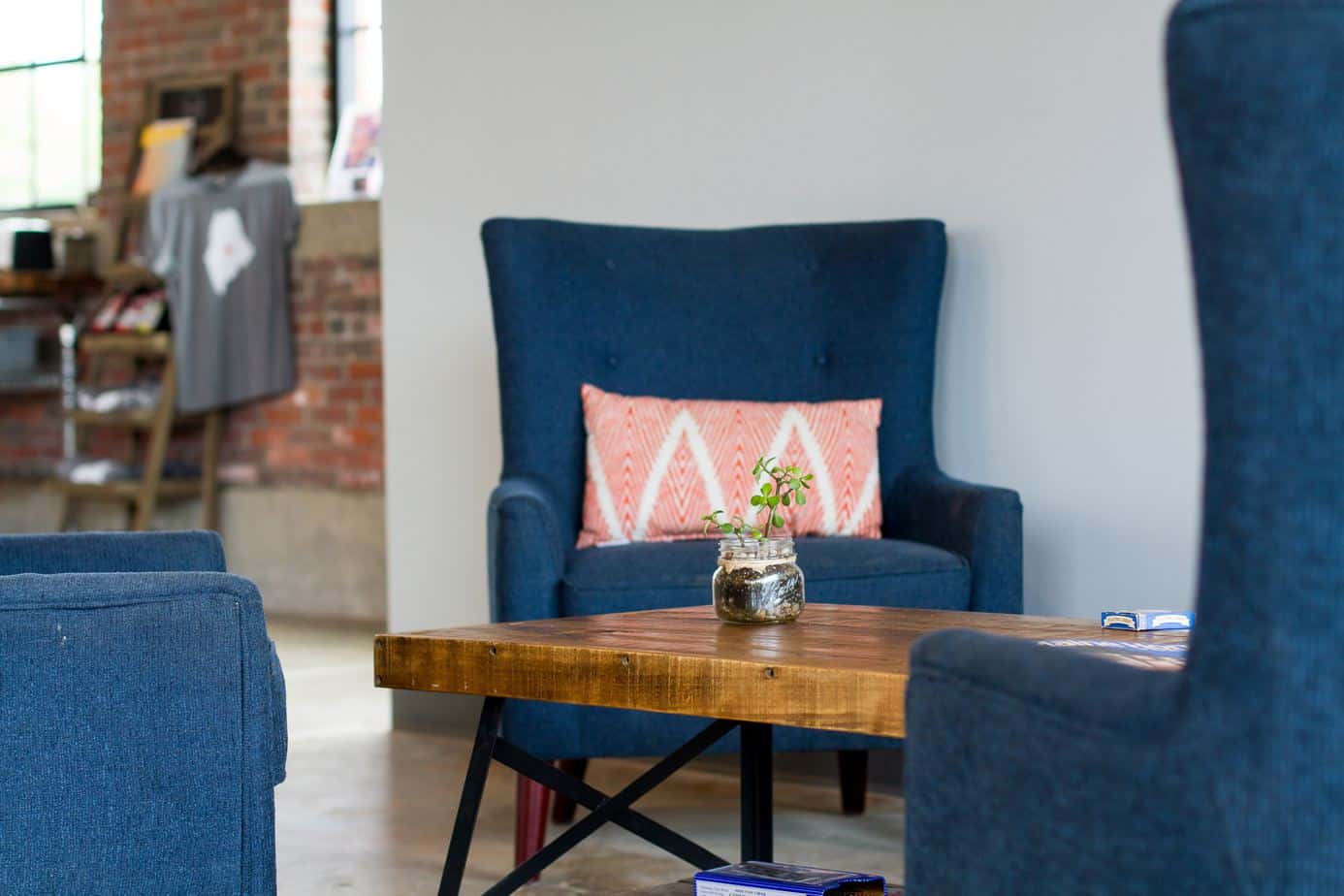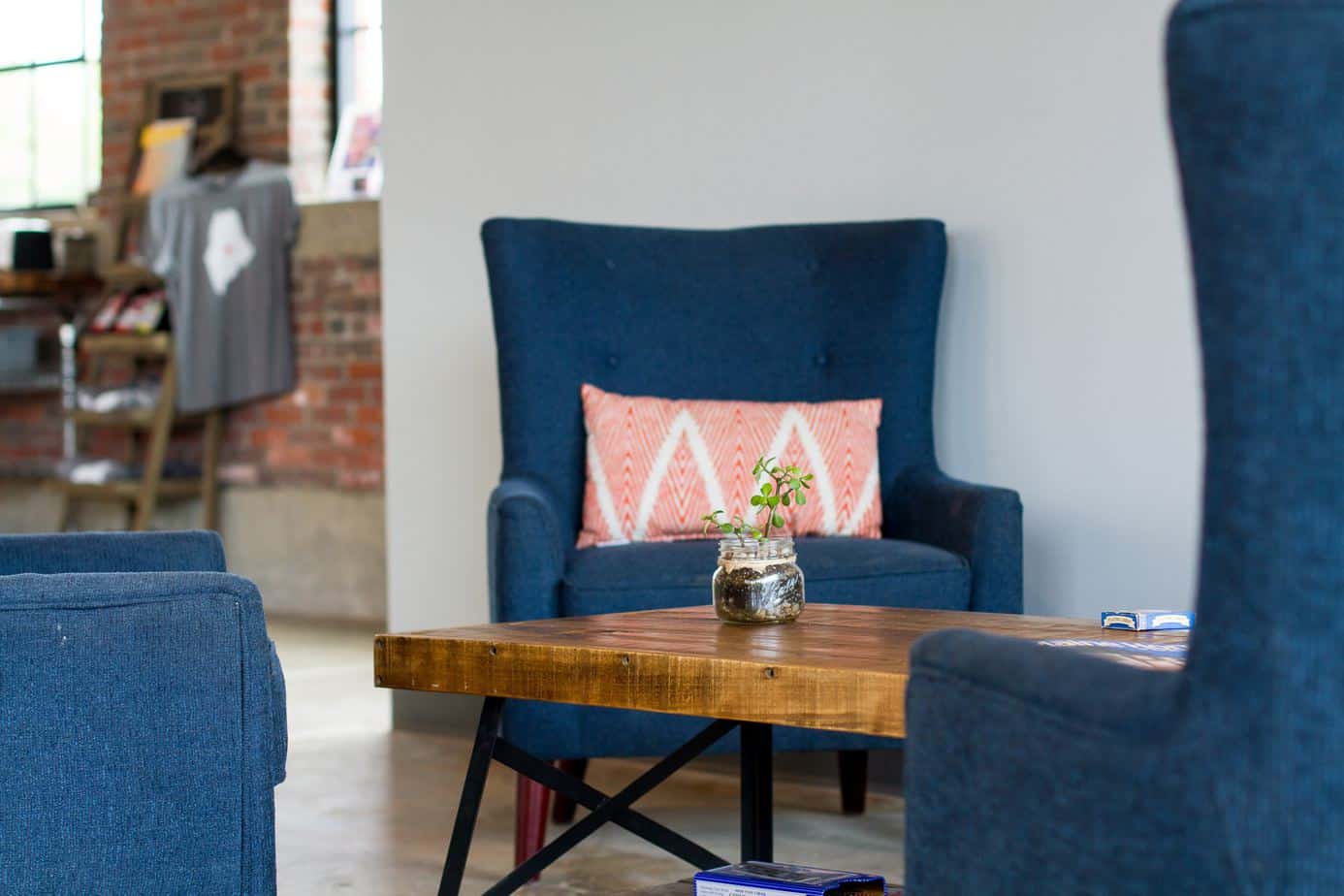 The space feels industrial with its exposed brick and high ceilings, yet the decor is cozy and inviting. It's the perfect place to warm up from the bitter cold of Maine's winter, or to fuel up for a day of outdoor adventure in the summer.
The industrial look hints at what is most intriguing about this coffee shop: it's located in a building that was renovated from an old textile mill built in 1844. In addition to renovating a historically significant building, The Mill weaves sustainability into every element of their inn and cafe: from locally-sourced products to using reclaimed materials, local labor, and found objects from around Maine in the decor.
-Naomi of Roaming the Americas
---
Caturday Cafe – Bangkok, Thailand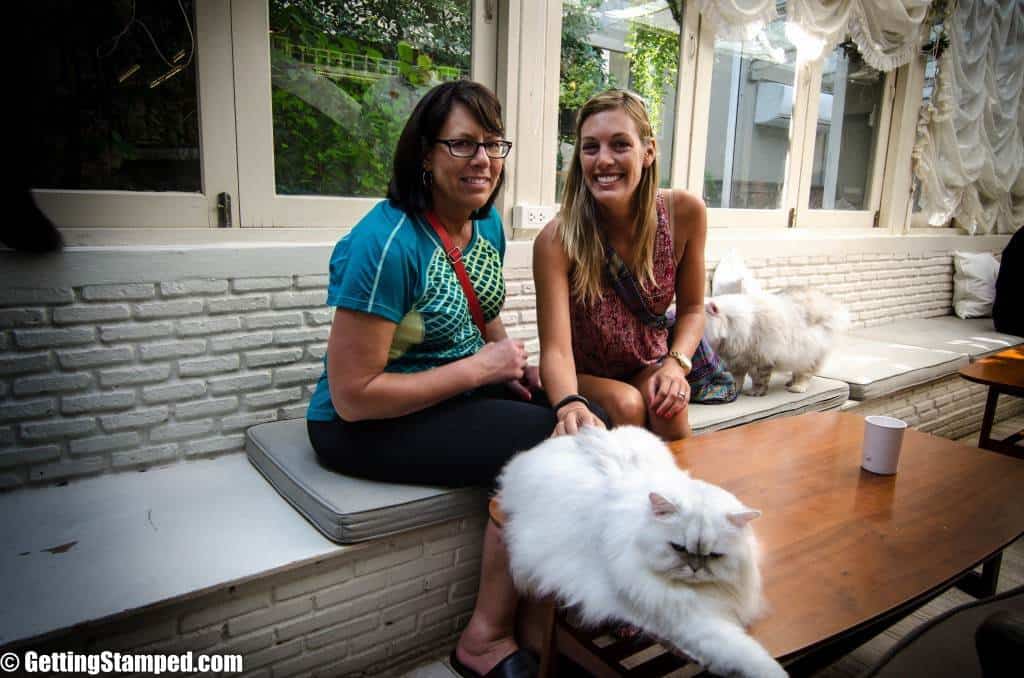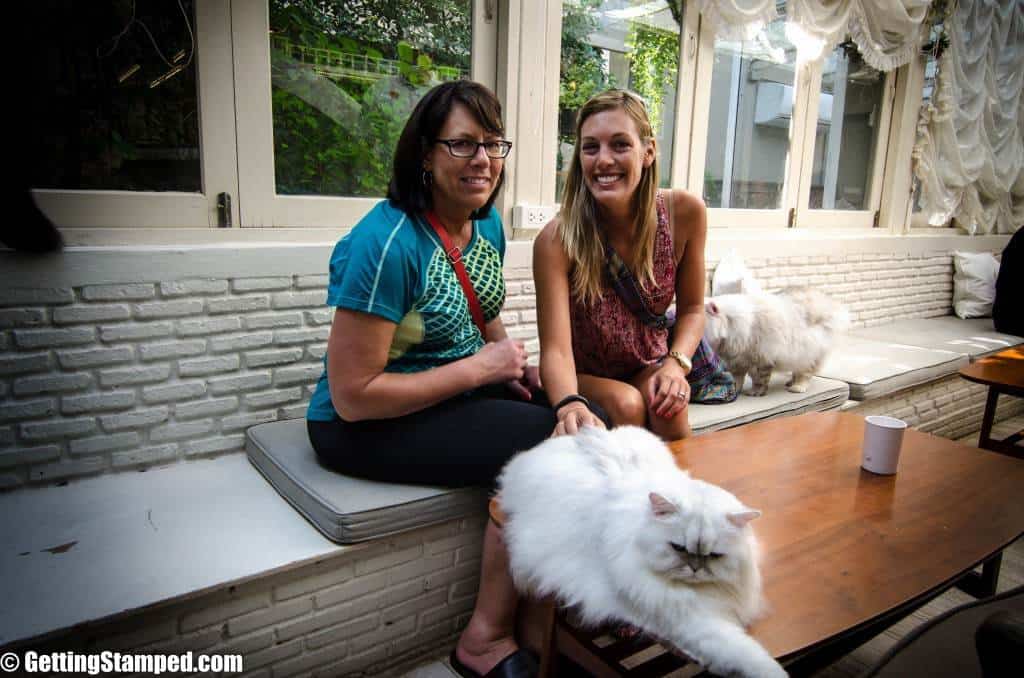 My favorite coffee shop in the world is one of the furriest & cutest: a cat cafe in Bangkok. Bangkok has tons of unique cafes from cat cafes, puppy cafes, and even a unicorn themed cafe.
If you are spending 3 days in Bangkok make sure to pick up your morning cup a joe at one of the unique cafes and save Starbucks until you get back home.
My first visit to Caturday Cat cafe was on my Thailand honeymoon back in 2012 and have since then I have been back to Bangkok 6 times and I always visit my furry friends at the cat cafe. All the coffees have cute cat designs on top!
The Caturday is a cat's dream come true, with every toy imaginable and nonstop attention from customers wanting to play with them. The prices aren't bad either, about $3-4 for a cappuccino or mocha.
-Hannah of Getting Stamped
---
Traviesa Café – Quito, Ecuador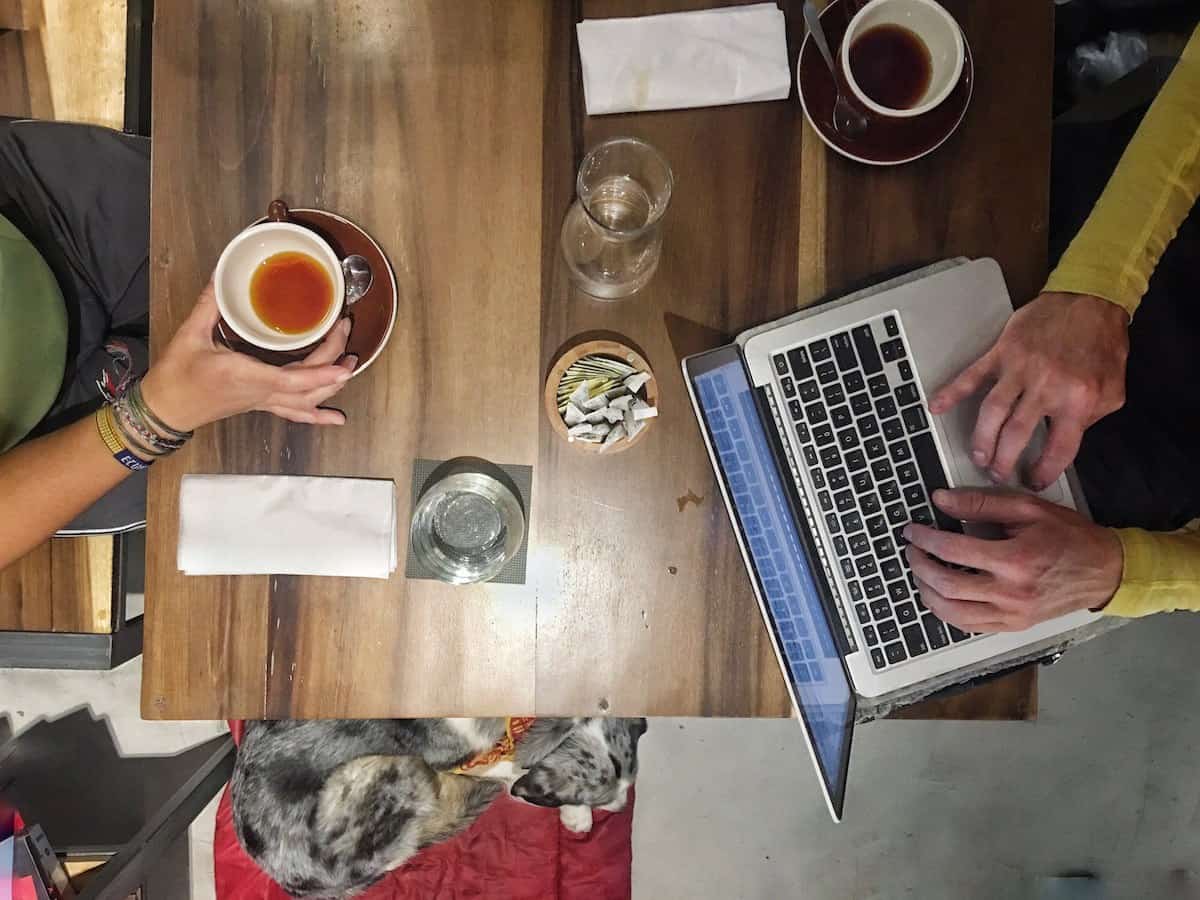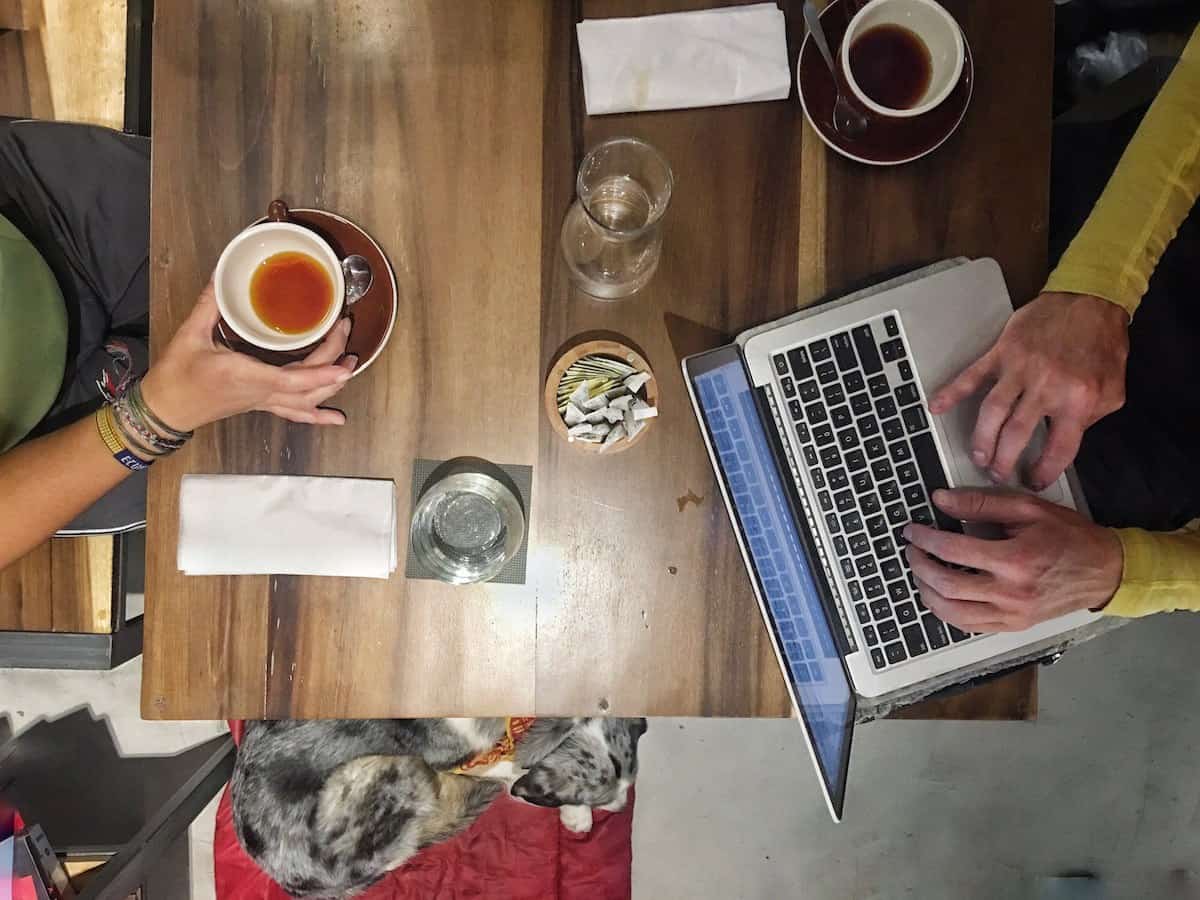 You'd think it would be easy to find a great cup of coffee in somewhere like South America, which produces some of the largest volumes of coffee in the world, however, the good coffee is sent off to faraway places, while the locals drink lower quality, or worse, Nescafé.
Traviesa, however, is a high-end coffee shop and roaster located on a quiet street in the Guapulo neighborhood in Quito and serves only specialty coffees from Ecuador.
The owner's love affair with coffee began in Oregon, where he learned barista and roasting skills. He brought his knowledge back to Quito where shop patrons can get cozy on the couch inside and get some work done with the speedy WiFi, while sipping on some of the best coffee in Quito and nibbling on a sweet or savory treat prepared in the kitchen.
---
Giang Cafe – Hanoi, Vietnam
Giang Café in Hanoi might not win an award for the prettiest interior design, but look beyond the tiny wooden stools and you'll find a coffee house that's been serving its rich Vietnamese coffee drinks since the 1940s and has fans all around the world.
On any given day, you'll find the place packed with locals sipping coffee after work and snacking on sunflower seeds, leaving piles of shells on tiny tables.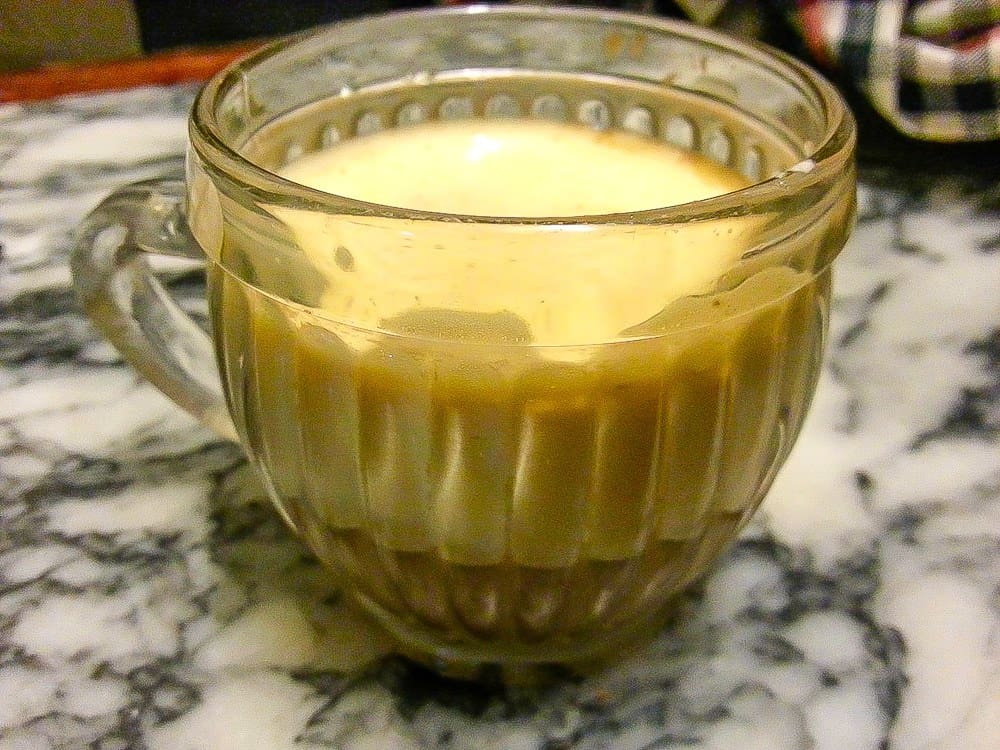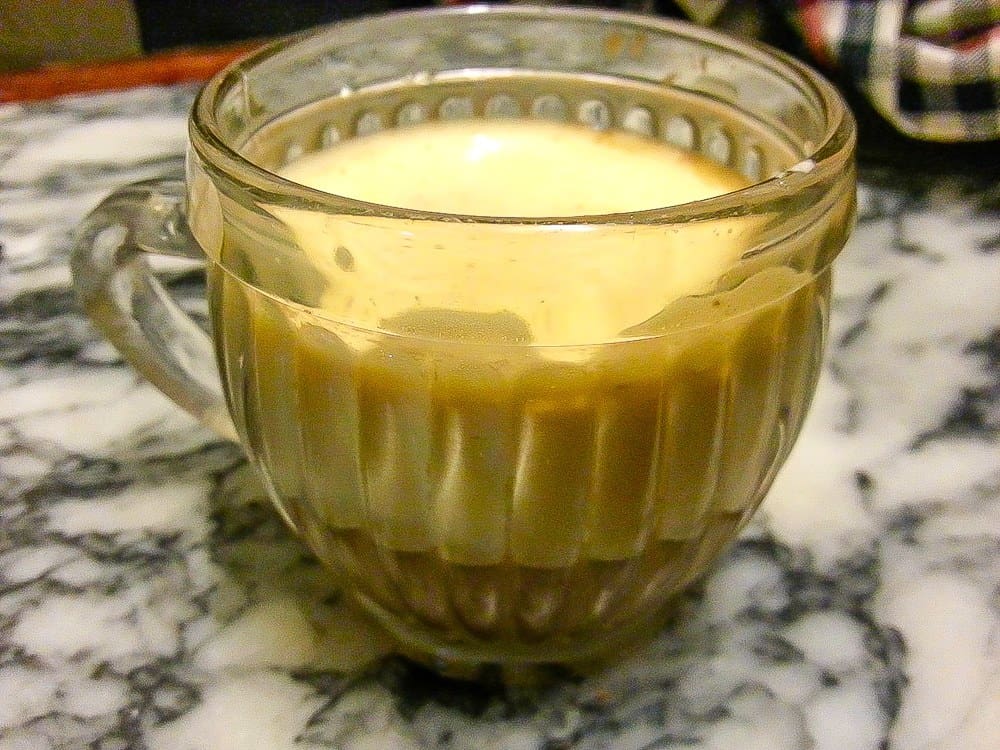 Giang's specialty is egg coffee. At a time when milk was scarce, the founder of the café replaced it with eggs. Yes, that's a raw egg whipped into your coffee!
It may sound strange. But it tastes incredible.
Rich and sweet, with the intense roast flavor that Vietnamese coffee is known for. Like a liquid, silky Tiramisu, this drink is perhaps more of a dessert than just a drink.
Either way, it's something you should put on your foodie travel bucket list.
Beirense Lda is a small local coffee shop located at the base of the hill that takes you to Largo Do Carmo square in Lisbon.
It's a small coffee shop serving coffee, beer, a great range of pastries and sandwiches. People seemed to flow in and out on there way to work having a custard tart and a pastry. It's the type of shop frequented by locals but welcoming to tourists.
A greeting of "hello sir" with a smile follows your entry. Please take a seat what can I get you. I frequented this place every morning on our two different trips to Lisbon and cant wait to return for one of the best espressos in Europe.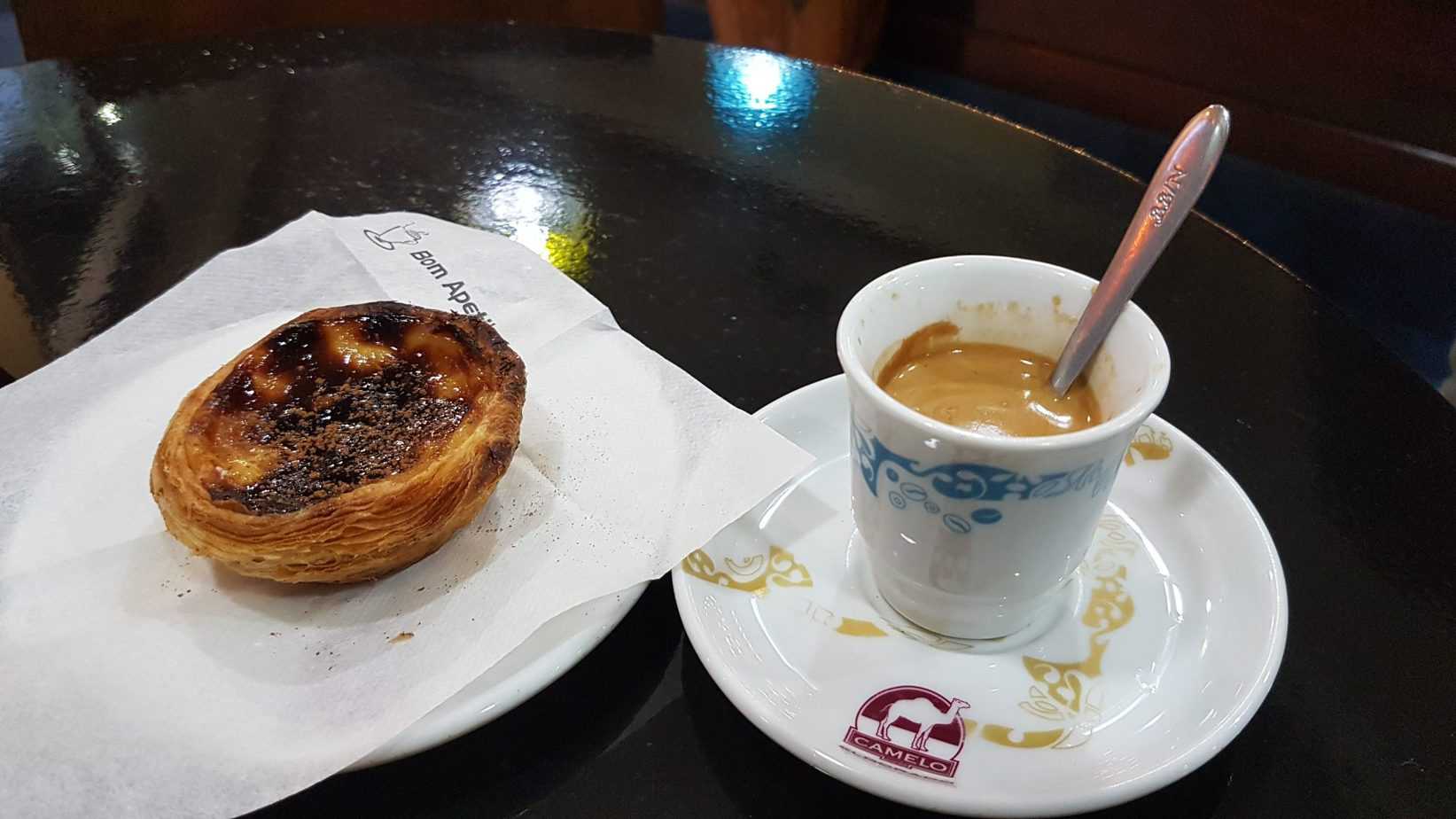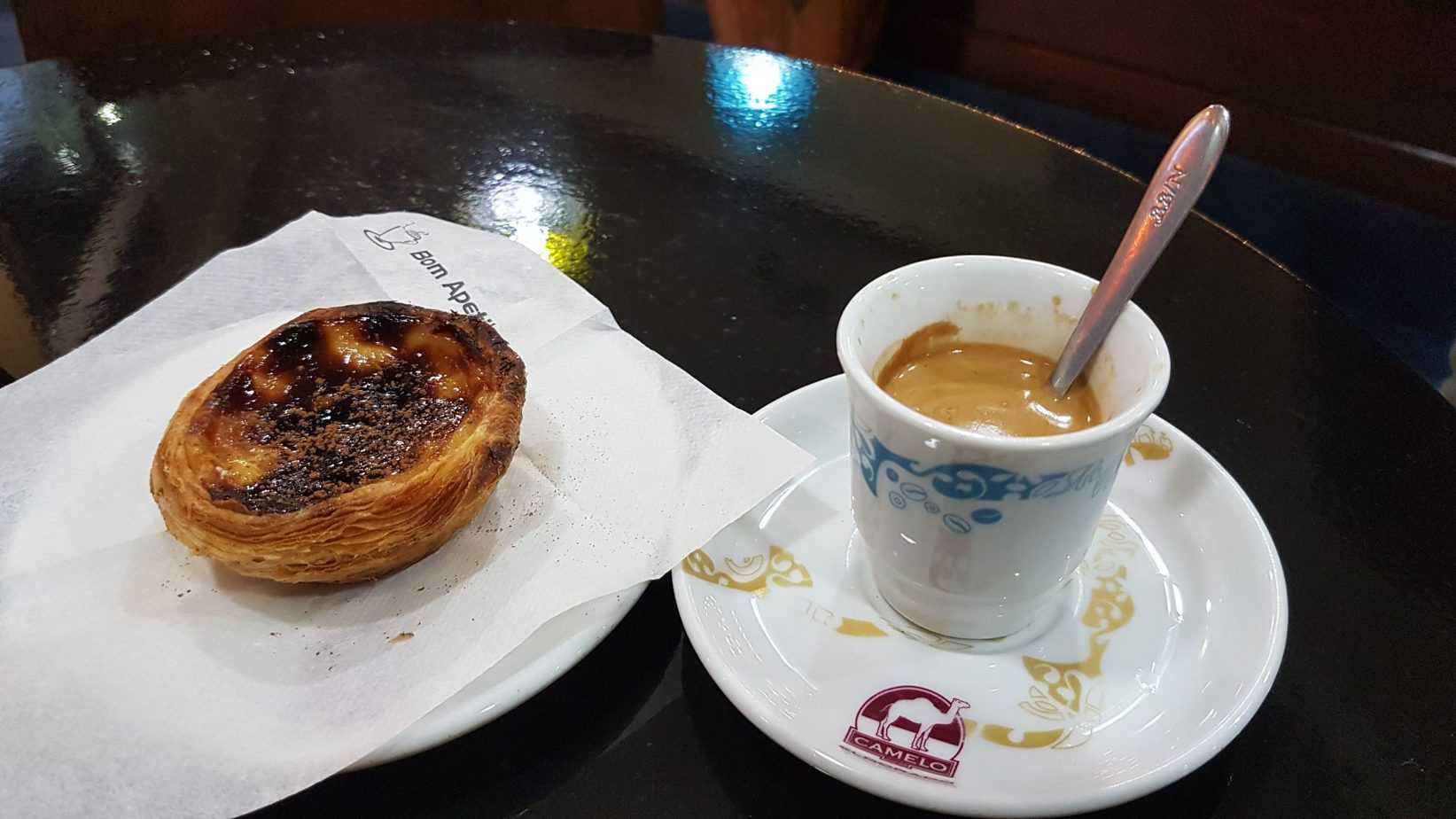 ---
The New York Cafe, Boscolo Hotel – Budapest, Hungary
The New York Cafe at the Boscolo Hotel in Budapest is one of the most beautiful cafes around the World.
The cafe is in a 260-year-old elegant palace that was converted to the Boscolo Hotel a couple of years ago. The place is decorated with large gold columns and large chandeliers. The building was built in an Italian Renaissance style.
The cafe has a long history as it has been here for over 1 00 years and many famous Hungarian writers used to come and work here. The place prides itself to be the World's most beautiful cafe. The interiors are stunning. They usually play live music and they serve a wide selection of coffees, drinks and food.
It is a memorable experience to come and have a drink here. The menu offers staple dishes of the cuisine of the Austro-Hungarian Monarchy, such as Beef Goulash, Wiener Schnitzel and Grilled Foie Gras.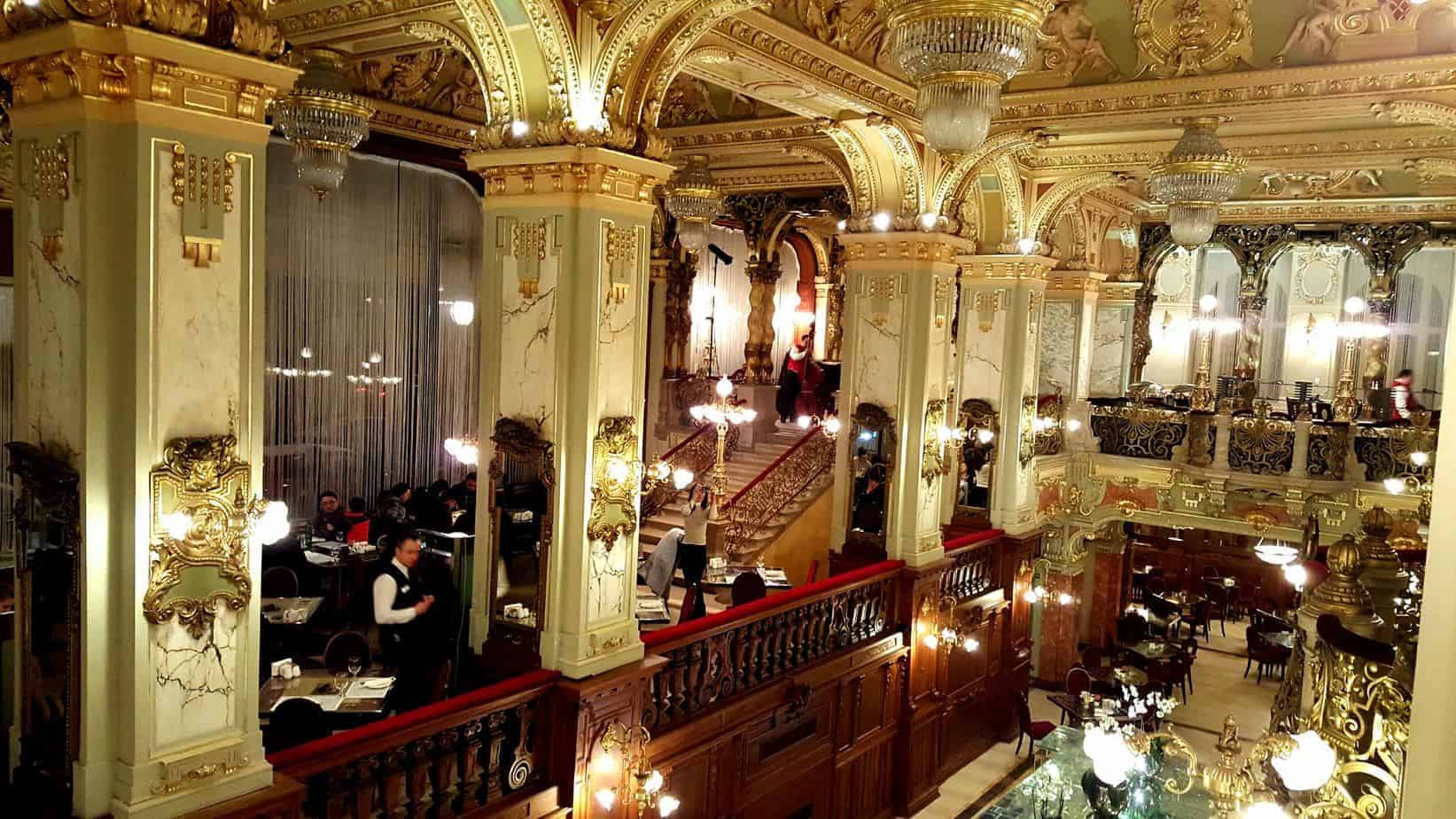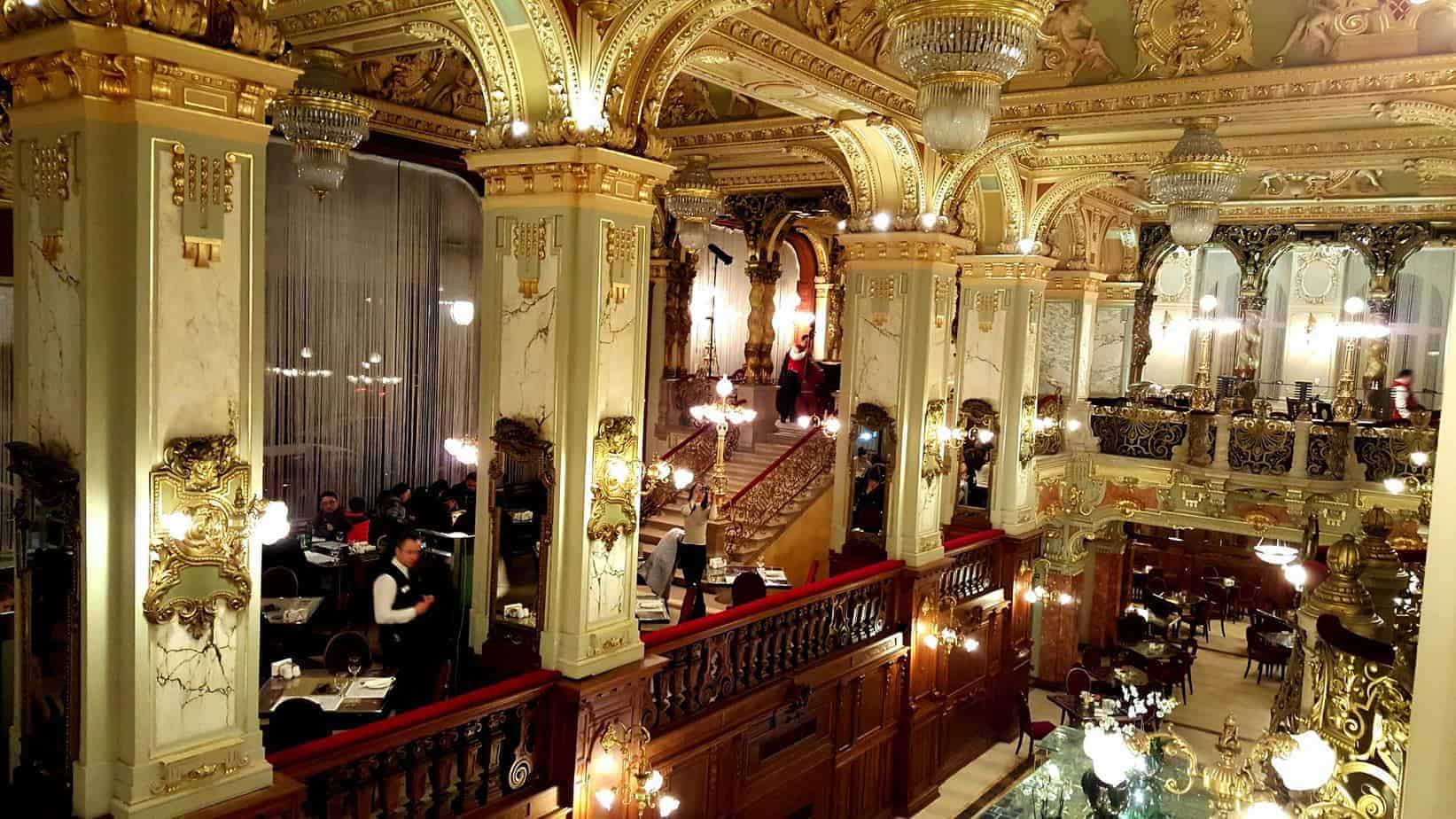 ---
What did we miss? What's the best coffee shop you've ever been to?
Check out some other great coffee shops & coffee posts from around the world:
---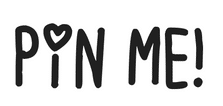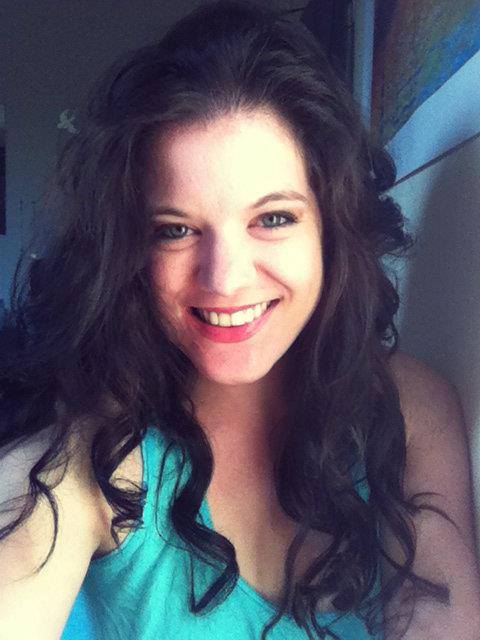 Amy Hartle is the author of Do You Love Me? How To Stop Seeking Reassurance in Relationships, a book on reassurance seeking and relationship anxiety. Both her book and this blog are born of personal experience; Amy shares expert relationship advice from the lessons learned during her own 10+ years with her husband, as well as couples travel tips and romantic getaway recommendations, all gleaned while traveling the world together.