---
*Links in this article may be affiliate links, from which we may earn commission. See our
Privacy Policy
for full details.
---
Scotland's largest city, Glasgow is a cultural gem, home to world-class museums, vibrant nightlife, festivals and one of the best live music scenes in the UK. With a thriving foodie scene thanks to an array of top-notch restaurants, this welcoming city is famed for its sense of humour and friendly locals.
The now iconic Wellington statue adorned with his very own traffic cone hat is a great example of how 'People make Glasgow'.
If you're planning your next city break, here are our top tips for discovering the best hidden gems Glasgow has to offer.
Why Visit Glasgow?
The city of Glasgow has evolved over the last couple of decades into a thriving metropolis, chock full of world-class visitor attractions, stunning architecture and a legendary nightlife scene.
This city offers a wonderful and eclectic blend of old and new, which is bound to appeal to every type of traveller!
If you're asking yourself 'Should I visit Glasgow?', the answer should be a resounding YES!
Lively, creative and uber cool, Glasgow is Scotland's hippest city and will quickly steal your heart. The mostly Victorian city centre is a haven for filmmakers, with unexpected grandeur around every corner! (Interestingly, I (Amy) attended a film festival in Glasgow while I was going to grad school in Scotland).
This post-industrial city is slightly frayed around the edges, but we're sure the desire to explore hidden nooks of this city will have you staying longer than planned. Here are the best places to check out next time you're in town.
Tchai-Ovna
We can all agree that Scots love a good cup of tea and Tchai-Ovna offers the best variety in town! This ramshackled café in the heart of the West End is tucked away down a cobbled lane, making it a favourite amongst locals.
As well as offering a fantastic array of leaf tea, there is a delicious range of vegetarian and vegan food to sample.
Kibble Palace
The Botanical Gardens in Glasgow's West End is an ideal place to enjoy a relaxing break between your jam-packed schedule of sightseeing and shopping. Kibble Palace is a striking greenhouse set in the heart of Glasgow's Botanic Gardens.
Designed by engineer John Kibble, this spectacular greenhouse features tropical palms, marble statues and vivid and vibrant flowers.
Glasgow University
While this may not exactly be a 'hidden' gem, the atmospheric cloisters at Glasgow University is an ideal spot for photographers and architecture fans (or those who wish they could attend Hogwarts!).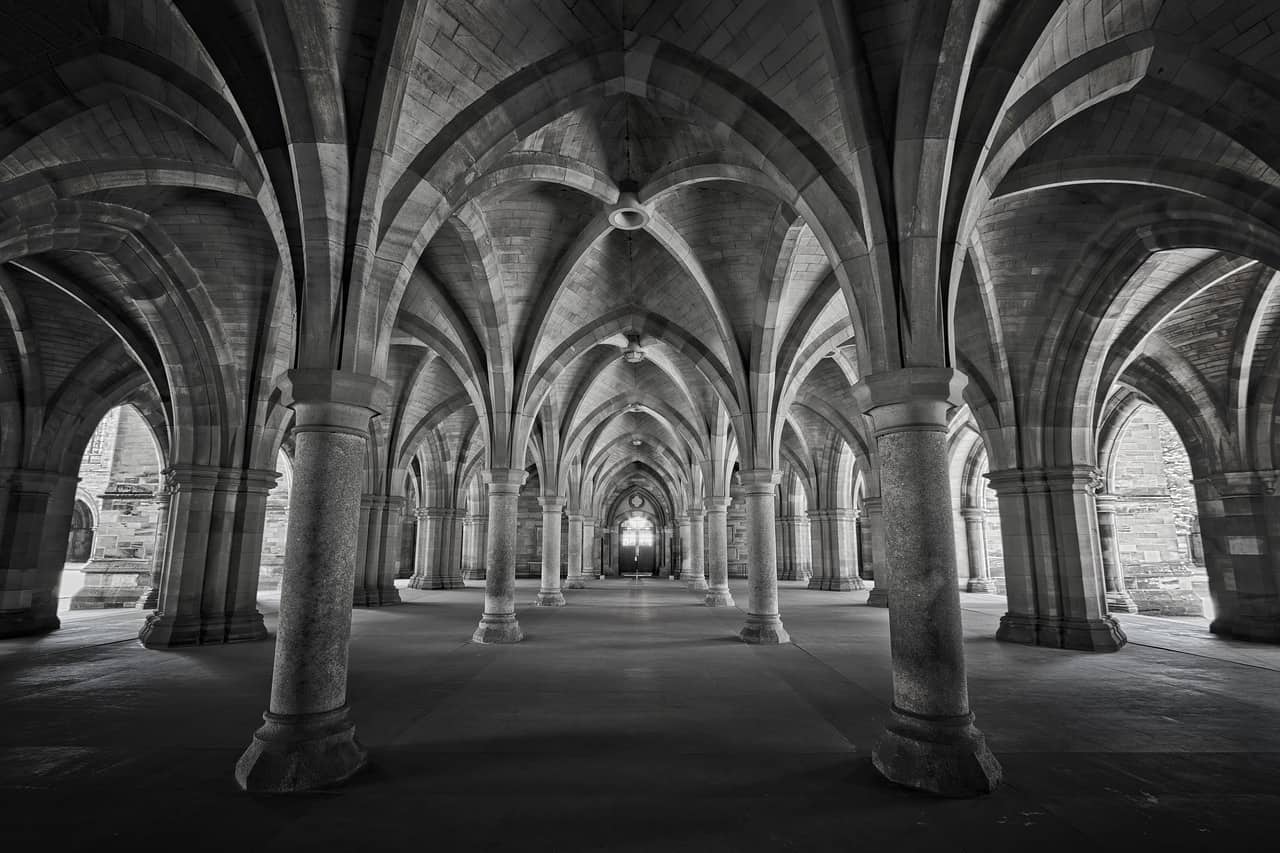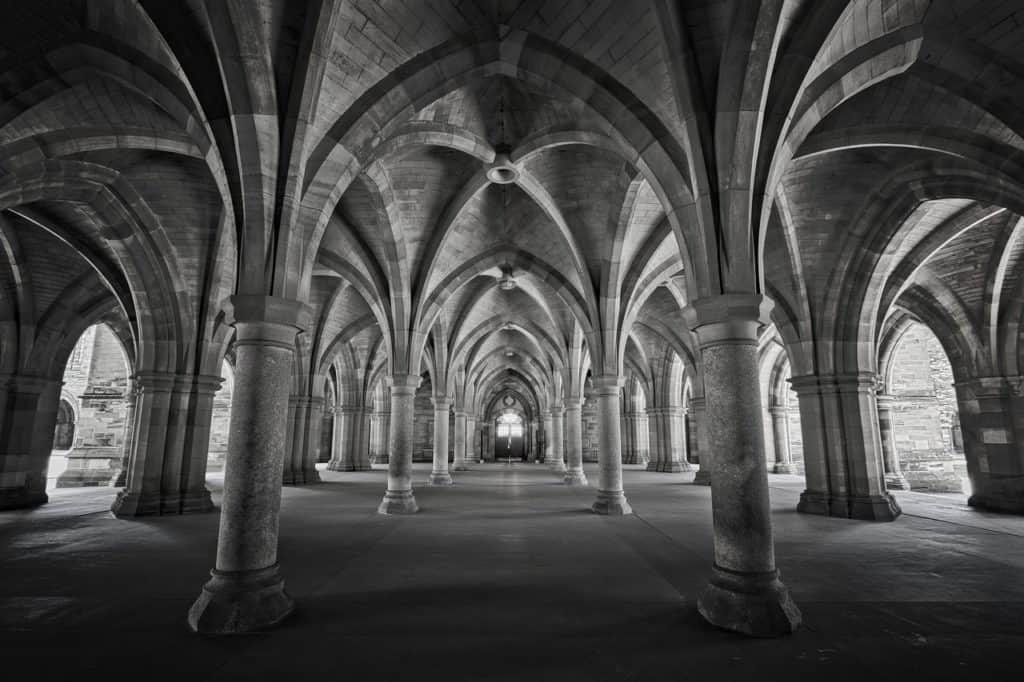 Plus, history and art enthusiasts should definitely check out the Hunterian Museum! If there are any Outlander fans, you will definitely recognize this spot!
Ashton Lane
While this lane may be a well-known spot to locals, visitors to Glasgow may miss Ashton Lane's charms if you don't keep your eyes peeled. Tucked away in the city's West End, this cobbled street boasts some of the best bars and restaurants in the area, including the famous Grosvenor Cinema and Ubiquitous Chip.
Speaking of food, Glasgow was recently voted the number one spot for Vegan food in the UK by Peta!
Glasgow Film Theatre (GFT)
If you're experiencing a touch of bad weather whilst staying in Glasgow, we definitely recommend checking out the GFT. If you're tired of mainstream films then this arthouse cinema could be just the thing you are looking for!
You have to love a wee independent cinema and you will definitely make some movie memories at this top-spot!
Where to Stay in Glasgow?
Wondering which area to stay in Glasgow? Here are our top picks!
Finnieston: Proudly proclaimed as one of the hippest places in the UK, Finnieston is one of the sassiest new haunts to discover in Glasgow. Glaswegians all enjoy a wee blether and you'll find plenty of friendly locals in this part of town!
The West End: Here you will come across old money with a plethora of student hot spots. There is a fantastic variety of boutiques, vintage shops, cocktail bars and stellar pub grub up for grabs. The West End is a great location to stay if you're
coming to Glasgow for a boutique shopping experience.
Glasgow City Centre: Convenience is key in Glasgow's city centre. With two trains stations smack dab in the middle of the city and a fantastic array of hotels to pick and choose from, you'll easily find the perfect place to stay.
If this is a first-time visit, the city centre is probably the best area to stay. If you're looking for luxury and elegance, Fraser Suites Glasgow offers a timeless appeal!
We're sure you'll be booking your tickets to Glasgow as soon you finish reading this!
Amy Hartle is the co-founder and owner of Two Drifters, where she blogs about romantic and couples travel, relationships, honeymoons, and more. With a Master's in English and a BA in Musical Theatre, Amy loves to write quality content as well as to entertain, and she hopes to do a bit of both here on the blog! Amy is happily married to her husband Nathan, and when not working on their sites, Amy & Nathan can be found cuddling, reading, and enjoying delicious lattes.