This post may contain affiliate links. Read our disclosure page for full details.
Since arriving Down Under, our travel plans have been pretty flexible. We bought our campervan knowing that we intended to drive across a great deal of the country including the iconic Australian outback roadtrip, seeing as much as possible. As we planned to stay in Australia for several months to a year, we have constantly looked for inexpensive or free accommodation options.
After house sitting near Perth, we enjoyed a 3 week trip up the Western Australia coast, ending in Broome. We decided to rent a room in a house for a month in Broome while we worked a bit to save some more money. During that time another opportunity came up for us to house sit, but all the way in Melbourne. Delighted at our luck, we agreed, even though it meant completing a km road trip in roughly 3 weeks. So two weeks ago we set off to head through the Northern Territory, South Australia, and eventually arrive in Victoria by early September.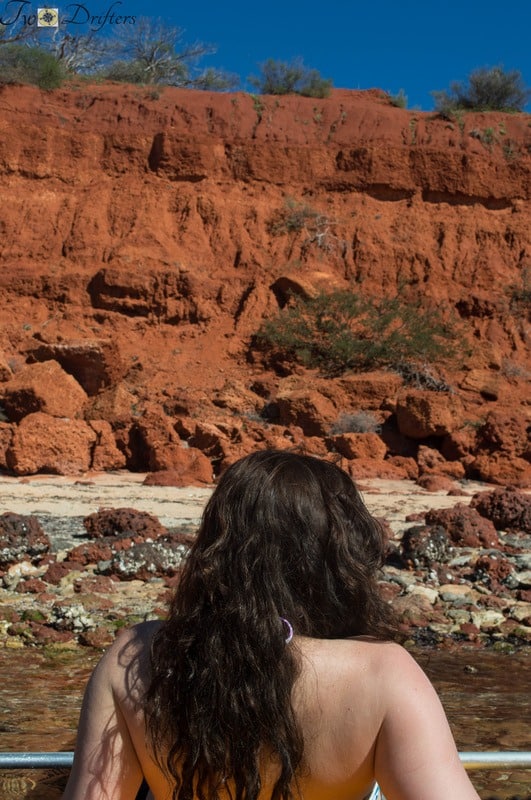 Prior to arriving in Australia, we did a lot of research on what we wanted to see, do, and explore. (For a great resource check out Travelling Tom's ultimate guide to Australian road trips). I'd often read from other travelers and locals that Australia could be considered a very expensive country. For one reason or another, I let this idea roll off my shoulders, and didn't think much of it. We arrived Down Under with a fairly decent chunk of change between us, but during our first 2 months in the Perth area and our subsequent WA road trip, that money quickly dwindled.
Australia really IS expensive, and I think you notice it most in the cost of smaller things that suddenly add up: coffees, sodas, and other food items. Petrol is also quite pricey, especially when you're driving as much as we are. Fortunately, we both work online so we can continue to fund our travels as we go.
The first part of our outback roadtrip throughout Western Australia, we were budget conscious, but definitely splurged to do the things we wanted. Swimming with whale sharks (a once in a lifetime experience) will set you back a few hundred per person. We also had a few (just a FEW!) meals out, and these rapidly added up. On a side note, Exmouth has some of the best fish n'chips we've ever had at Blue Lips, and we almost didn't even blink at the $50 our two meals set us back!Needless to say, this portion of our great Australian road trip has focused on tightening our belts considerably. It is still difficult in an expensive country, particularly when covering large distances, but it is doable.
Another obstacle we've encountered has been our lack of four-wheel drive (4WD). This is SUCH a necessity to see the entirety of the Australian Outback, and unfortunately our campervan is only a 2WD. When considering a visit to Australia's Outback, it is definitely worth looking into hiring a 4WD. I think a 4WD vehicle probably would have been out of our budget when looking to purchase our campervan, and though we are somewhat limited in what we can see, we don't regret our purchase at all. We love our campervan! I should also mention that not having a 4WD limits you from seeing everything, but there is still SO much that can be accessed on bitumen (paved) roads.We have had a really fun couple of weeks exploring the Northern Territory, and wanted to share some of our experiences seeing the Outback on a shockingly tight budget and in a 2WD vehicle.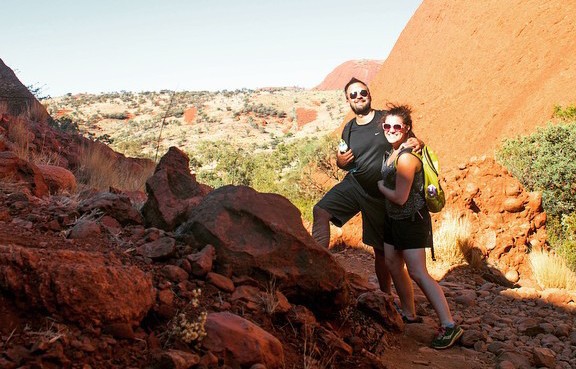 You Can't See Everything
One tenet that keeps us sticking to our budget is the idea that you can't see everything. This is a notion that never seems to bother Nathan; he says he'd much rather have hundreds of places he could never see on Earth in one lifetime. I, on the other hand, get frustrated by my inability to see absolutely everything! I'd need more time, funds, and a generally longer lifespan to see it all, and even that probably wouldn't cover it. Knowing you can't see and do everything allows you to travel better on a budget, however, because you know resources are limited. It forces you to choose the most essential experiences to have. We always try and consider our priorities and the things we know we love to do. We both enjoy the outdoors, and natural beauty is very important to us. History and wildlife are also top bullet points on our list. Less important to us are culinary activities (we don't need to sample the finest local cuisine) or overpriced guided tours. (Some guided tours certainly are worth it, particularly in areas where you can't see things up close without a guide, but many tours are unnecessary in areas where you can do-it-yourself and we think it's much more fun to be independent anyway!)
Katherine, NT
For our Northern Territory exploration, we knew we wanted to see a few key places..and let's face it, the Outback is fascinating!! Though Darwin seemed a bit too far off the beaten path, we decided Katherine would be a great place to spend a few days. Katherine is smack right in the middle of the Top End, boasting beautiful gorges in Nitmiluk National Park. The national park is easily accessible just outside of Katherine on paved roads (yay!) Many visitors to the area opt to see Katherine Gorge on a boat trip. This seems like a fun and comprehensive activity that allows you to see a great deal of the gorge. In keeping with our strict budgets, we decided to see a more localised area of the gorge in detail, by getting out and exploring on foot. We hiked 12 km on a national park trail to Butterfly Gorge. It was a long, hot trek, but oh my goodness, was it worth it! From the beginning our day was made when we stumbled across a family of wallabies right off the path. They happily posed for many pictures as I gushed over their cuteness!The Butterfly Gorge walk takes you through typical bushland and heads into a bit of tropical rain forest, home to many butterflies, as the name suggests. The trail winds its way through this lush scenery and eventually opens out onto a breathtaking gorge. The water is absolutely perfect for swimming, and we spent a few hours cooling off in the gorge. Unlike some areas of the Northern Territory, the gorge is regulated to prevent the entrance of dangerous saltwater crocodiles, so you can swim in peace. During our swim one of the tour boats came along on its way through the gorges, and the tour guide pointed to us and some fellow swimmers as the "local wildlife." Very clever.Seeing the gorge and exploring the surrounding lands via walking trails was completely free! This is an awesome option if you're looking to a save a little money but still experience Katherine Gorge.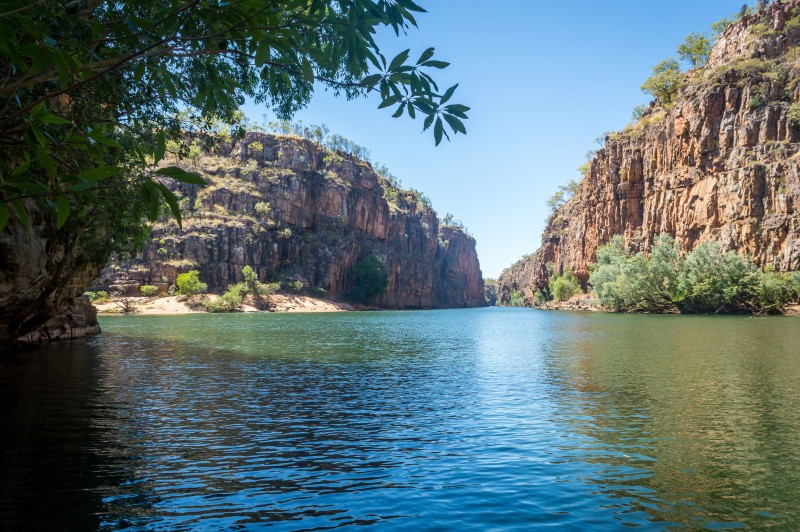 Free Camping & More
We have posted before about free camping in Australia, but as it has been such a part of our Australian outback roadtrip, I thought I'd mention it again. I can't praise enough the super handy mobile app called WikiCamps. Using this app, we check every day to find our next overnight spot. There are countless sites listed on the WikiCamps app, with ratings, comments, and features of the site all listed. You can see whether a site has toilets, drinking water, shade, and even mobile reception (vital for us when trying to blog from the road). Caravan parks are also listed, and include prices and amenities. In addition, you can check on the map for your next fuel stop or roadhouse.
During both portions of our Australian road trip, we've done a whole lot of free camping. It's awesome, and there are always many other friendly travelers using the sites. The free camping sites are typically right off the man highway, for added convenience. Generally, our method has been to free camp for 4 or 5 days and then spend a night at a caravan park. By that time our laundry has built up, we are looking for a good shower, and we could really use a camp kitchen and electrical outlets. As for showering when we're free camping, we've discovered that many of the roadhouses along the way offer showers for a very small cost. These facilities range tremendously in quality, from fairly nice to kinda scary, but it's amazing how much you appreciate the refreshment of running water after a day or two without it!
Free camping and pay-as-you-go showering is great for budget-conscious travelers. This is definitely roughin' it a bit, though, so it may not be for everyone! If you want to travel the Outback but can't live without a reliable, clean place to shower, there are countless caravan parks scattered throughout the Territory. These are still wonderful for your budget, with unpowered sites running for approximately $27-$43 at the moment. The cost for powered sites is higher, generally by several dollars. There is such a variety of accommodation options in Australia–you never know what could be on offer.
Just this week, we stayed at a place called Curtin Springs Station, about 100km from Uluru (Ayers Rock). This working cattle station allows free unpowered camping on their property. Showers were available for $3. Essentially, you could stay on this property for only $3 per day. With a restaurant and bar available, what more do you need?
Well, for us, we need Internet.
WiFi is desparingly hard to come by in Australia, we've discovered, particularly when it's free. One excellent investment we made was purchasing our Telstra Mobile WiFi Device. This device accesses 3G to provide you with a WiFi signal anywhere you can receive a Telstra signal. Telstra is the leading cell phone provider in Australia, and their coverage is pretty darn good, even in some areas of the Outback. The mobile WiFi device allows you to purchase as much data as you require and it lasts for a certain period of time. This has been extremely useful for us, for working, blogging, and staying in touch with family and friends. But because it can get a tad bit expensive, we look for free WiFi WHEREVER we can get it. So on those days when we really need to work, we'll select a reasonable caravan park that offers WiFi. But beware, these are definitely hard to come by in these more remote regions.
Uluru: Not to be Missed
You really can't miss Uluru on a trip through the Northern Territory. We probably would have found some way to see it even if it was only accessible by 4WD, but lucky for us, it's paved roads the whole way! Admission to the park is a somewhat steep $25 per adult, but the pass lasts for 3 days, so you can get out and explore Uluru and nearby Kata Tjuta (the Olgas) to your heart's content. Uluru is truly breathtaking. It's size cannot be captured in photographs; you have to see it for yourself. Some choose to climb Uluru, while others do not, due to its sacred nature to the Anangu people.
The park has specific areas recommended for viewing the rock at sunset and sunrise. We attended the sunset, alongside 100+ others, and it was stunning. We would recommend getting to the parking area early, as it was nearly full when we arrived 20 minutes before sunset. Park as far into the parking area as possible, as this is closer to Uluru and provides better, more unobstructed views. Some enterprising folks even climbed onto the roofs of their cars, tripod and all, surely catching some spectacular shots. Uluru and Kata Tjuta are located on Aboriginal land, and are important to the Anangu people. Make sure to take time to visit the informative and beautiful cultural centre in the park. It really opens your eyes to the history and cultural significance of the place.
We hope these tips will be of great use to you as you head forth on a journey in Australia or anywhere the wind takes you!
Happy trails,
The Two Drifters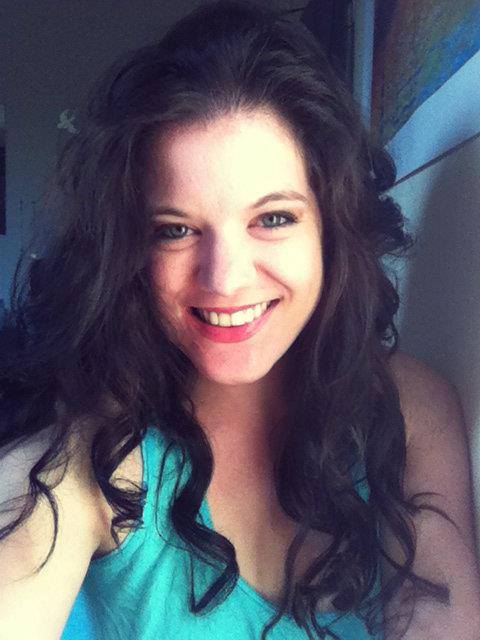 Amy Hartle is the co-founder and owner of Two Drifters, where she blogs about romantic and couples travel, relationships, honeymoons, and more. With a Master's in English and a BA in Musical Theatre, Amy loves to write quality content as well as to entertain, and she hopes to do a bit of both here on the blog! Amy is happily married to her husband Nathan, and when not working on their sites, Amy & Nathan can be found cuddling, reading, and enjoying delicious lattes.