*Links in this article may be affiliate links, from which we may earn commission. See our Privacy Policy for full details.
Fall is so magically cozy. Just search 'fall inspiration' on Pinterest, and you'll quickly be graced with a visual bounty of adorable seasonal photos and ideas. Fall is wonderful!
It's a perfect time to cuddle up inside with a good book (or someone you love) and retreat into your cozy abode. If you live in a log cabin, you're so lucky! Your home is already a naturally cozy, fall-like dwelling where you can light a fire and stay warm during those chilly nights. But if you're like most of us, you have to make an extra effort to turn your house or apartment into such a place. Looking to create a cabin style? Beyond flannels, fireplaces, and foliage, here are 4 ways to turn your home into a cozy fall cabin.
Beautiful illumination!
Lighting is EVERYTHING! I think soft, warm lighting is the key to creating a cozy atmosphere. We are very fortunate in that our apartment has a really cabin-y look, with exposed beams and a tall, A-frame style ceiling. We took advantage of this and draped several strands of white bulbs over the rafters. The result is incredibly cozy, and it sometimes feels like we're in an enchanted forest.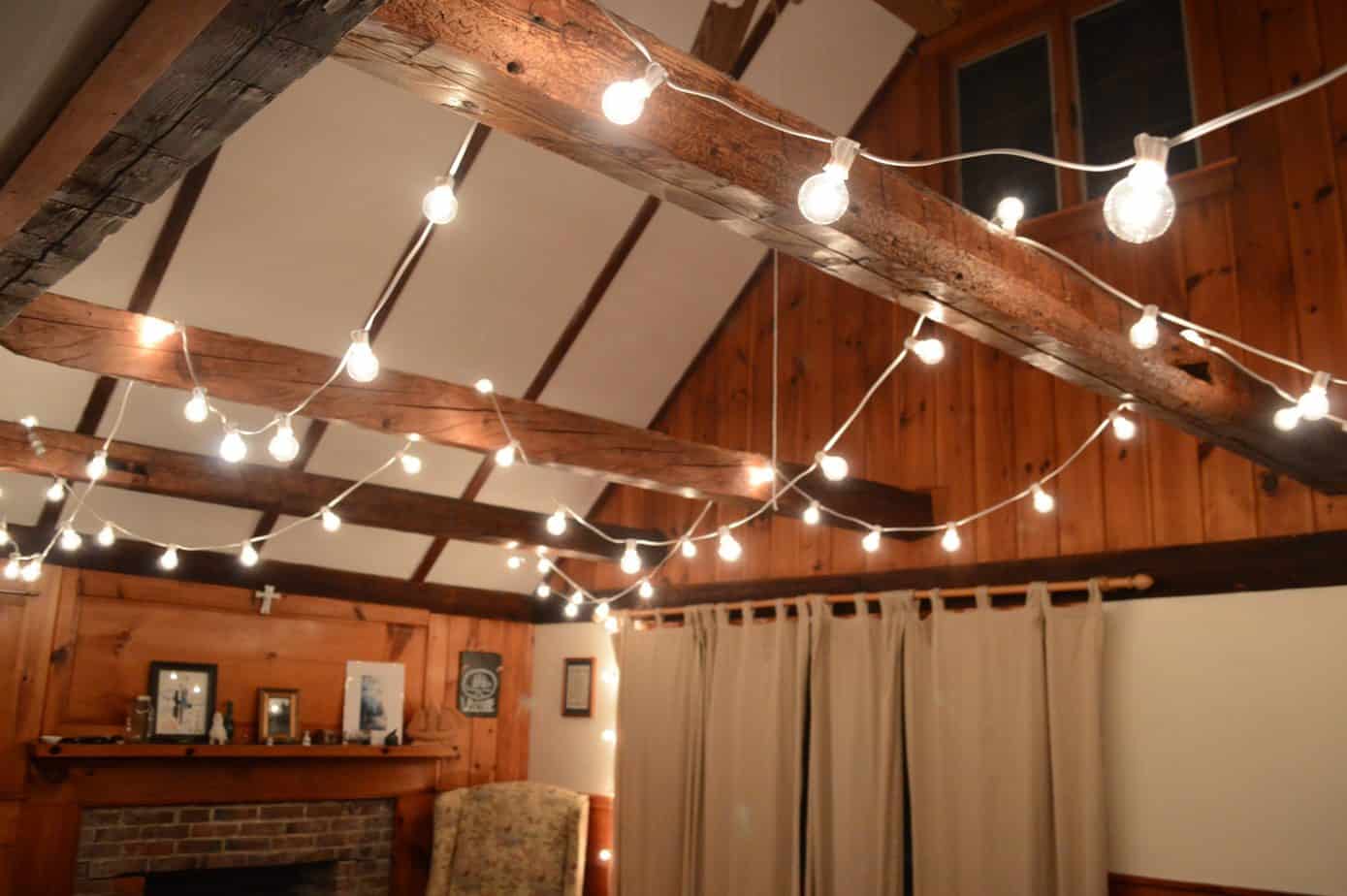 You can use any type of lights that suit you, but soft white bulbs seem to be the most serene, and the larger bulb shape adds a classy, hip vibe as well.
You can get lights just like these here.
Buy soft, seasonal blankets.
Getting cozy is about being warm and feeling good. The best fall afternoon, in my opinion, is one spent with riveting novel in hand, surrounded by a huge, billowy blanket. That softness will just carry you away. To be seasonally festive, choose blankets that celebrate autumn and the outdoors.
A few cute choices:
This rustic fall farmhouse blanket
Not only are electric-powered lights gorgeous, candles work wonders, too. A few artfully placed tealights on a windowsill or mantle can transform the atmosphere.
Invest in an amazing new mattress.
In any season, the best way to feel your most comfortable is by investing in a quality mattress that you LOVE to sleep on.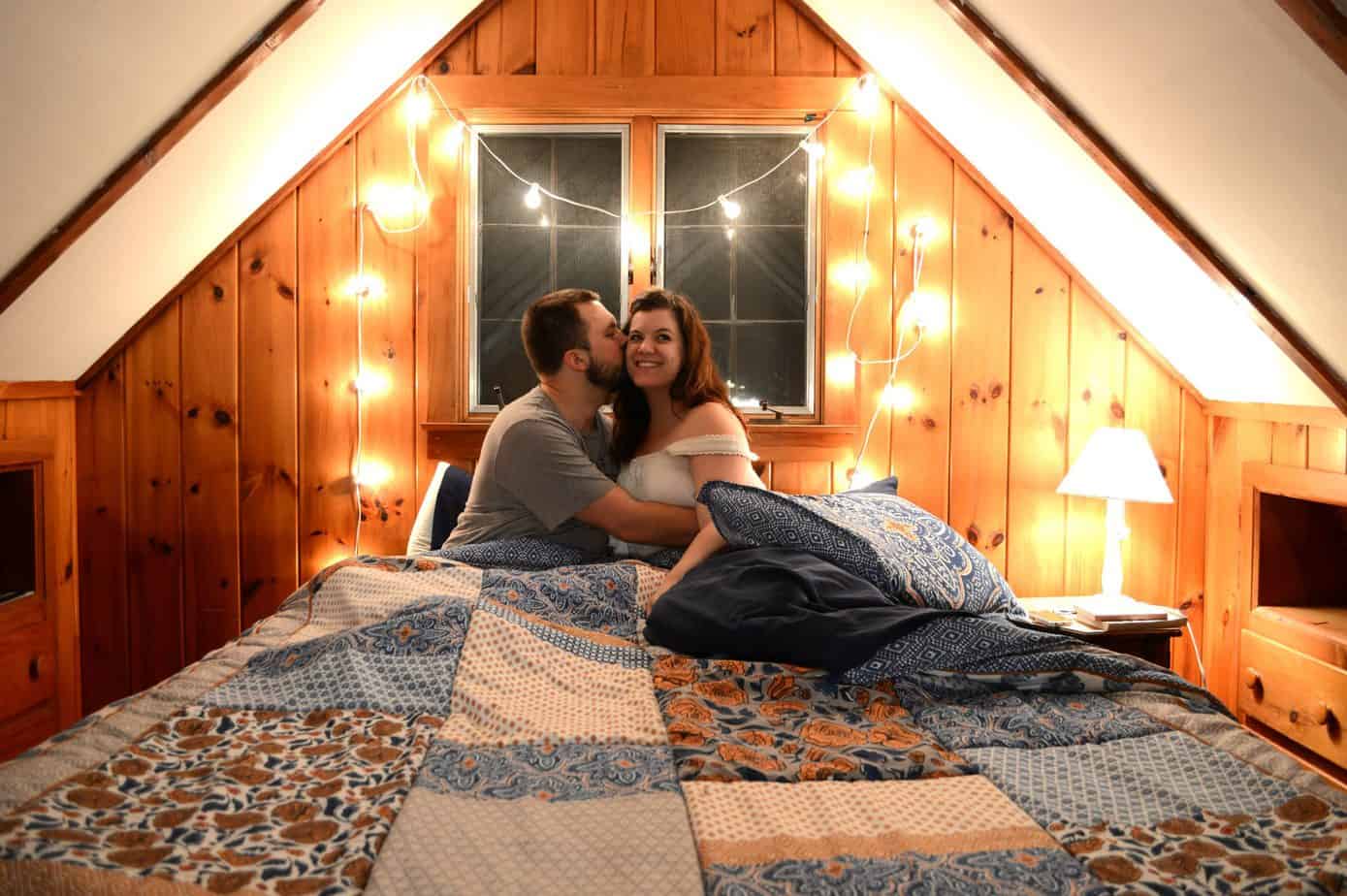 When we moved into our new home this year, we didn't have a mattress. So much traveling over the years had left us without a bed of our own. We were super lucky to partner with YogaBed for a sponsored queen size mattress. Well, I can say with certainty, this mattress is AMAZING. I am beyond thrilled that we got this bed, because I wake up every morning and declare how much I love it (ask my husband!). There's something about this bed that feels like it's gently cradling you. It's both supportive and soft and I honestly feel as though I'm napping on a cloud. You can read my full review of the YogaBed in this post.
So when you're looking for ways to make your home a cozy cabin, consider a mattress like the YogaBed. This type of mattress also doesn't require a box spring, so you can put it either on a platform bed or a close-to-the floor option. This can make your house feel less formal and can help you turn your bedroom space into the experience of a luxury glamping tent! Combined with the right lighting and soft blankets, you're 100% on your way to autumnal bliss.
Fill the house with autumn scents.
Finally, a great way to create those fall feelings is through your sense of smell. You might try some scented candles, sure, but why not go for the real thing? Baking!
Fall is all about pumpkin bread, apple pies, cookies, butternut soup, hearty chilly, and other yummy dinners and treats. So turn on the oven, whip up something delightful, and enjoy the scents of fall wafting through your home. Voila! Cozy fall cabin.
What's your #1 tip for fall decorating?
---