This post may contain affiliate links. Read our disclosure page for full details.
This is a guest post from Suzy of Suzy Stories.
With perfect white beaches and peaceful remote bays through to Perth's city skyline, Western Australia is an ideal paradise for a couple's dream getaway. Here are just a few of the great things to do in Western Australia that can spark romance on a holiday in this gorgeous part of the world.
Walk through Kings Park and the botanical gardens
Western Australia's capital of Perth has plenty of open space to enjoy just a stone's throw away from the metropolitan central business district. Kings Park is a particularly great spot to take a stroll hand in hand before pausing at one of the many great view points over the city. As you walk through the botanical gardens with immaculate flower beds you're greeted with a sensory overload from the floral scents and chirping birds, and with plenty of space to yourselves you'll feel at one with nature and each other in this amorous setting.
Is there anything more adorable than taking a gentle bike ride along the coast with your beau by your side? On Rottnest Island, it's the only way to get around. Catch the ferry from Perth or Fremantle and hire bicycles to ride between bays for a day of swimming, snorkelling, or picnicking.
One of the island's most popular residents must be the famous quokkas – the happiest animal in the world! You'll find these cute little marsupials all over the island, meaning there are plenty of chances to snap an adorable photo to remember the day by.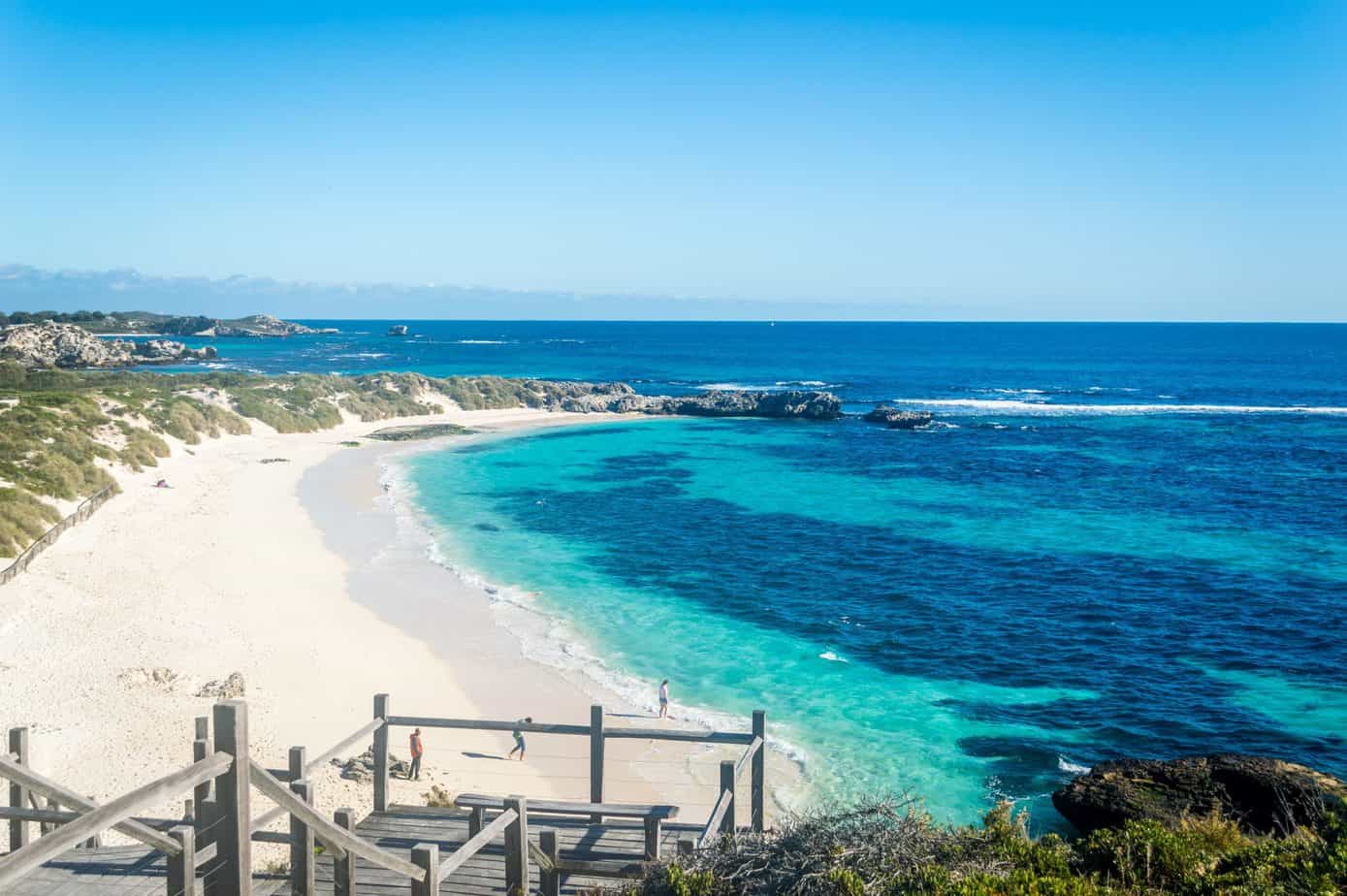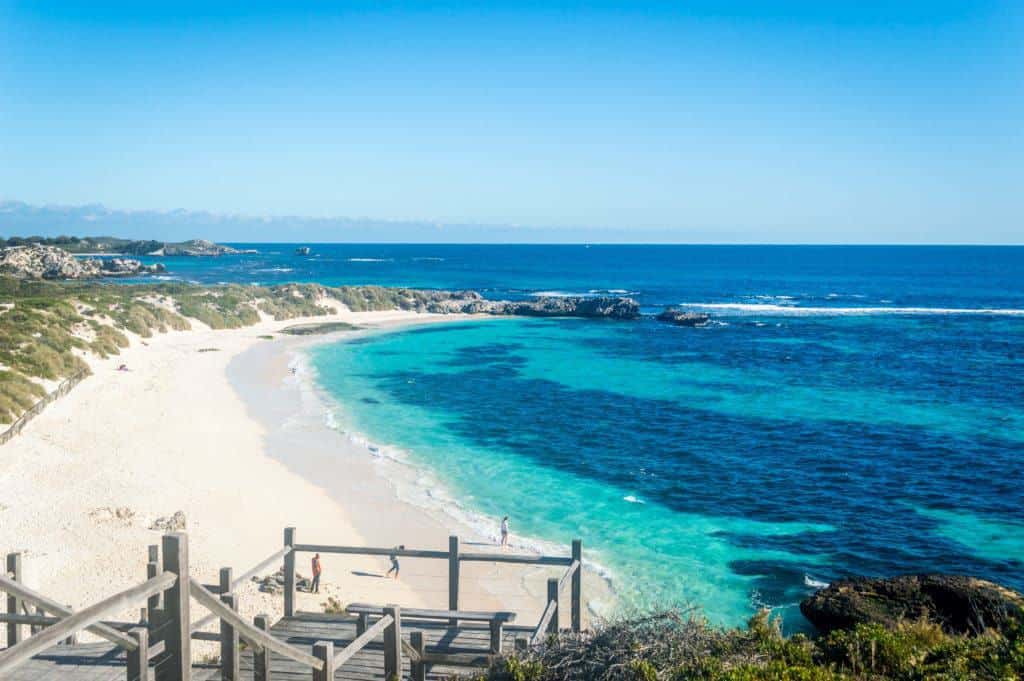 (We Two Drifters agree that this is one of the top things to do in Western Australia!)
Get a taste for Australian life in Fremantle
Most visitors to Western Australia head straight for the capital of Perth. However, the city of Fremantle (fondly referred to as Freo by locals) is a cultural, historical, and lively town that invites visitors to enjoy its own range of activities on offer.
With quirky streets, historical landmarks and museums, a great art and culture scene, and ubiquitous ocean views, Fremantle has plenty to offer couples looking to be immersed in the sociable and relaxed way of Aussie life. Many of Freo's main attractions are within walking distance of each other – making it easy to get around and see what's on offer.
Visit Fremantle Market for a browse and grab a healthy smoothie to enjoy while you people watch the world go by from Fremantle Esplanade, or catch the Esplanade Ferris Wheel for an incredible aerial view of the city – you can even take a ride at sundown for an added element of romance!
Watch the sunset from South Beach
Sunsets are hands down the epitome of romance. With the western facing beaches and cityscapes, this part of Australia is blessed with the most gorgeous, brightly coloured sunsets. The brilliant hues are the perfect reason to cuddle up together watching the sun slowly lower towards the horizon.
South Beach is a great place to enjoy the sunset over the ocean stretching across Garden and Carnac Islands. Walk along the white sands and the long pier overlooking the harbour as the sun changes the colour of the sky, and pause in the grassy park as you hear to the gentle waves nearby to complete the heart-melting experience. In the summer there's even the chance to catch the South Beach Sunset Market on Saturday evenings to grab a bite to eat and enjoy live entertainment as the sky turns a fiery shade of pink.

Take a dip in the crystal clear Indian Ocean
Anyone that's been to Western Australia will tell you that one of the most imperative things to do there is visit one of the many, many beautiful beaches. I don't even need to tell you which ones, because they're all so great! With crystal clear waters, soft white sands, a trip to any of them will be a trip to paradise. And, with the famous WA winds, you'll get a welcome breeze to cool you down (or the chance to take on some parasailing if that's your thing!).
We all know seeing our partner in their swimwear is a sure way to get the romance going, and with pristine beaches across much of Western Australia there really isn't a better place to splash around and fully relax in the cool waters and warm sunshine together.
If you're able to access a car, there's nothing better than packing up and heading out for a long drive with your partner for some quality time to talk, enjoy each others' company, and soak up some of this remarkable coastline.
There are plenty of destinations to aim for around Western Australia for a day or short trip, however with most of the state's residents living from Perth down to the south west corner's coast, I'd highly suggest heading towards the South Western town of Yallingup. Along the beautiful coastline you'll find landscapes ranging from dramatic crashing waves to calm mermaid pools between neighbouring remote bays, as well as mystical and fascinatingly formed caves.
If beaches aren't your thing, there are some great walks to take around the area. One such hike is the cape to cape track taking you from Cape Naturaliste in the northern cape to Cape Leeuwin, the south-westernmost point of Australia!
Food is always a good way to ignite the romance for date night, and with some amazing eateries around the area you really can't go wrong! Choices can be limited in this remote part of the country, so it's best to check ahead on where you'd like to go before you visit.
A particularly lovely restaurant in Yallingup is Little Fish. With romantic lake views and a delicious choices of dishes, you'll be glad to have your loved one to enjoy this relaxed experience with. A gentle walk around the lake after dinner and you'll likely be met with wild kangaroos out for their dinner too, perfectly rounding off a memorable trip together!
Go wine tasting at one of WA's wineries
Wine is without a doubt the most romantic beverage to share with a loved one, so what's better than wine tasting together? Western Australia is home to some of the countries most boasted wines, and thanks to the moderate climate around Perth and the south western tip, there is a huge selection of wineries, vineyards, and cellar doors to visit.
Choose from 8 wine regions ranging from just a 30 minute journey taking you from Perth to the Swan Valley and Perth Hills, to the longer 4 hour journey down to the cooler climates of the Coastal Region and the Great Southern region.
To sample what WA has to offer, take a trip to Margaret River – one of the largest regions – this area produces over 25% of the countries premium wines across more than 200 vineyards. Take a self-guided tour of the area (with a designated driver!) to a selection of wineries and enjoy sampling and learning about the products before picking out your favourite to pair with a gorgeous view of the region. Could it get any more romantic than that?!
And there we have just some of the romantic things to enjoy in Western Australia! It's truly an eclectic place with activities to suit any type of couple, from active outdoor pursuits to relaxing luxury you're sure to find something to make your trip to this corner of the world an ardently memorable one.
Author Bio: Suzy loves to tell a story. Travelling part time in between her job as a social media manager in London, she loves to explore the landscapes and sights around Europe and takes the trip to her favourite countries New Zealand and Australia as often as possible.
With a passion for philosophy, culture, food, and photography, there's always a story to share within these areas that can be found around the world.
Follow Suzy on Twitter, Instagram, and Facebook.
---
Pin this post to save for later!