This post may contain affiliate links. Read our disclosure page for full details.
There is so much to enjoy about fall in New Hampshire: the perfect weather, the most gorgeous colors surrounding you in nature, and of course, fall festivities. Yes, there are so many fantastic things to do in New Hampshire in the fall!
Throughout New England, the summers get hot, the winters are freezing, and Spring lasts about a week and is usually just plain muddy. This leaves Fall, the fan favorite of New Englanders and for very good reason.
Unfortunately, New Hampshire is the state that is often missed or forgotten by people not only in other parts of the world, and even those from the United States. Just above Boston, it seems forgettable to many travelers. Well, I am here to tell you why you should explore the good ol' Live Free or Die state, during its most amazing time of year.
Let's take a look at 11 of the best NH fall activities.
This is a guest post by Kelsey of The Tiny Traveler.
11 Essential, Super Cozy Things to Do in NH in the Fall
Put your boots on and go pick some apples
Apple picking is one of my favorite things to do in the Fall in NH. Everyone is out and about with their families. You get to ride a tractor to the orchard, eat some delicious apples along the way, then usually end it with a cinnamon sugar donut. The apples are fresh, delicious and are ready to be cut up for an apple pie. Here are a few Orchards you can go to:
Carter Hill Orchard – Concord, NH

Smith Orchard – Belmont, NH

Appleview Orchard – Pittsfield, NH

McKenzie's Farm – Milton, NH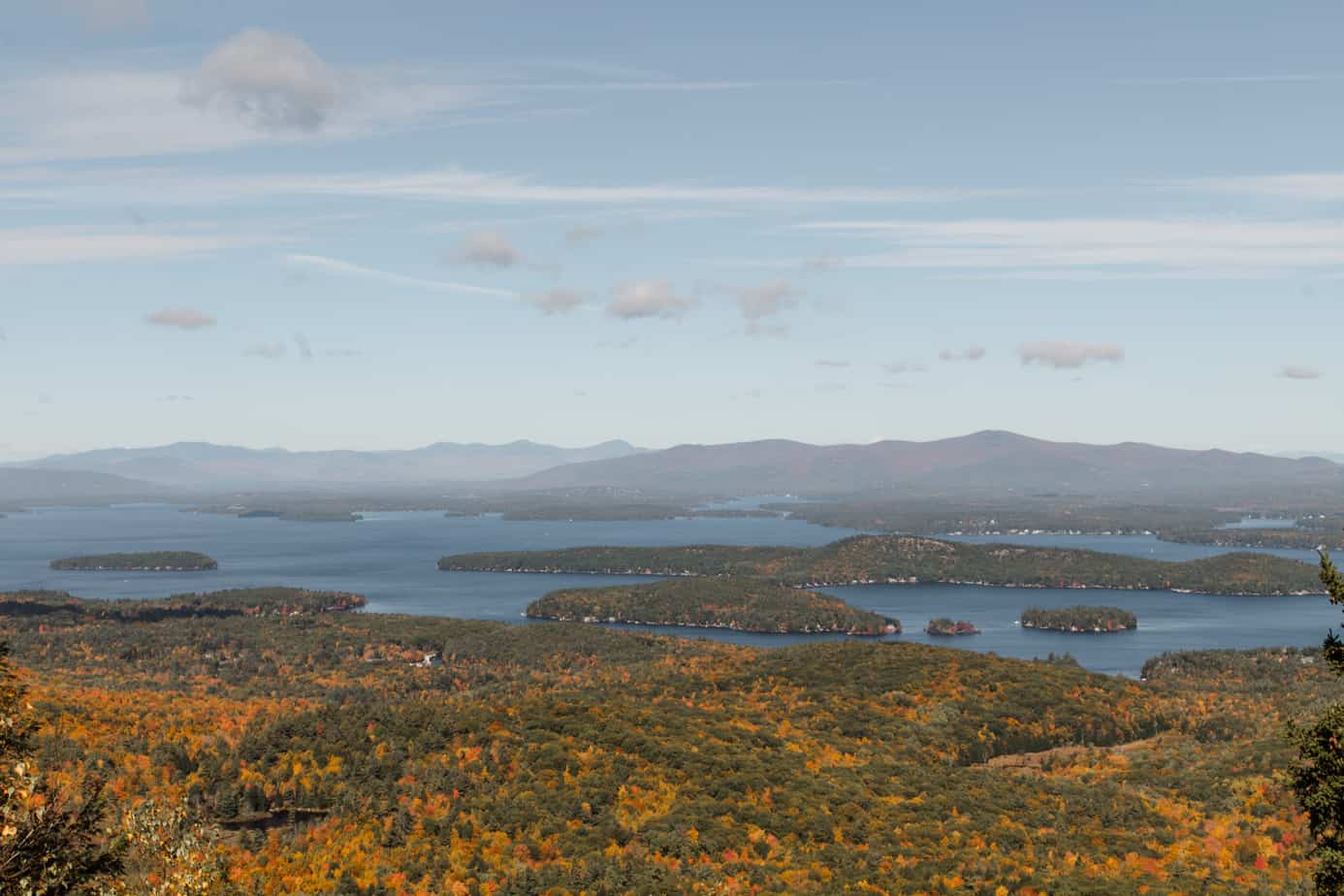 Get outside and go explore the mountains
You'll be happy to know that you don't need to buy a plane ticket out west to hike and get beautiful mountainous views – we have them here too. We have the White Mountains, and other smaller mountains all around the state. Once you get to the top, you'll be awed by the painted looking colors beneath you. The trees turn to red, orange, yellow, or green – allowing it to be one of the most beautiful views you'll ever see.
There are different hiking levels of difficulty, so make sure you check those out before you choose your destination. Here are a few of my favorite New Hampshire hiking trails.
Mount Major – Alton, NH

Artist Bluff – Franconia, NH

Franconia Ridge Loop – Franconia Notch, NH

Mount Chocorua – Near Conway, NH
Take a drive along the Kancamagus Highway
The Kancamagus is easily one of the most scenic places in NH and it's a main road – imagine that! In the Fall, the colors are breathtaking, so leaf peeping is an absolute must. Don't be afraid to stop and take it all in every once in a while.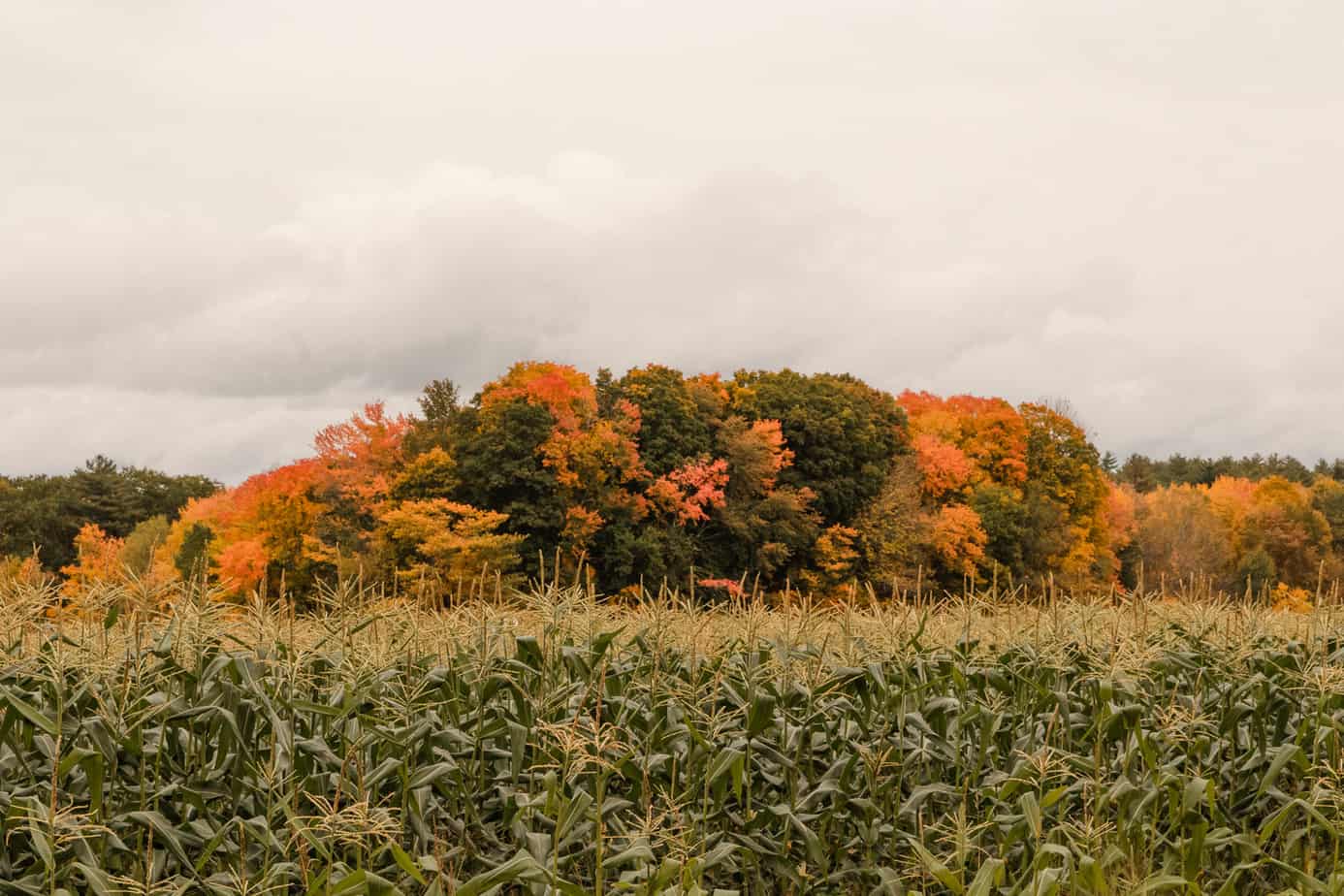 Have breakfast at Polly's Pancakes
You have to have seen real maple syrup at the grocery stores. Maybe this is where you've seen hints of New Hampshire, since normally it's plastered all over the bottle. Then you know that maple syrup is kind of New Hampshire's thing. If you're a pancake person who also enjoys pure maple syrup, then you cannot miss Polly's. It's been a family-owned restaurant for decades.
While it is a bigger place, the small town family vibe still exists. Their menu consists of several options including the ability to mix and match your pancake choice. There is real maple syrup and maple syrup butter on the table waiting for you – for free. Can it get any better than that?
Bring out the child in you and head to the fair
Fairs aren't the most glamorous, but you'll have a blast seeing all the locals, eating tons of fried dough and hitting up your favorite childhood rides. I personally used to love going to the fairs to meet up with friends, eat and play games.
Don't be afraid to spend a dollar or two to try and win a stuffed animal! Also get out of your comfort zone, smile, laugh and be a kid again. Some of the best fairs in NH are:
Sandwich Fair

Deerfield Fair

Hopkinton State Fair
Get lost in a corn maze
It may sound silly, but these are actually extremely fun! There are a few corn mazes around the state, and it's a simple activity that you could add to your list. I would also recommend checking to see if they have any haunted hayrides there before you go! They do a great job making it spooky during Halloween time. Here are a few to research:
Beans and Greens – Gilford, NH

Moulton Farm – Meredith, NH

Riverview Farm – Plainfield, NH

Coppal House Farm – Lee, NH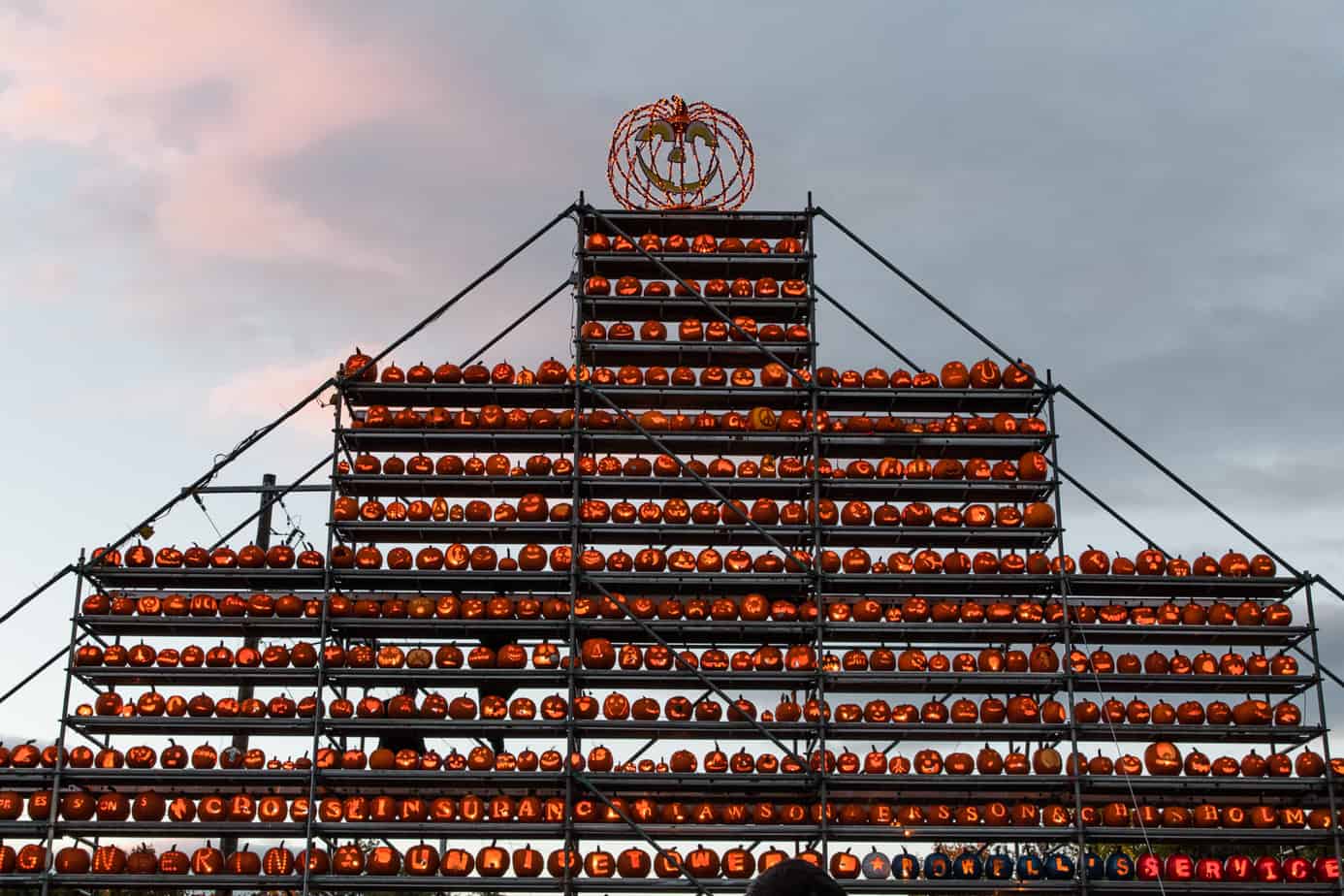 Wander downtown Laconia at Pumpkin Fest
Pumpkin Fest recently moved from Keene to Laconia. Laconia is normally known for Bike Week, but the town has a lot more to offer than that. It has mountains, the biggest lake in NH, good restaurants and now Pumpkin Fest. I
t's an entertaining event that includes and not limited to a 10k/5k run and walk, a tower of pumpkins, street vendors, beer garden, live performers and bungee jumping. I wouldn't say this is an all-day event, but if you are exploring in the area during the weekend that it's on, it would be fun to stop by.
Chase some waterfalls then have a picnic
NH has some amazing waterfalls that will keep you busy for hours. Most of them are just short walks from the parking lot and don't require extensive hiking. Turn off your phone, pick a waterfall, grab a sandwich and go have a picnic under it. Just make sure to pick up all your garbage and not leave anything behind. Here are some stunning waterfalls you can visit:
Diana's Baths – Conway

Glen Ellis Falls – Pinkham Notch

Beede Falls – Sandwich

Profile Falls – Bristol
Stay at an epic Airbnb
Airbnbs are my jam. Not only am I helping and supporting local businesses, it also makes me feel more at home than a hotel would. I also love that I am able to pick and choose the type of place I want to stay at. For example, I could stay at a treehouse, a house in the mountains or a luxury cabin. Here are a few I've stayed in and recommend and others that are on my bucket list.
Explore charming towns and cities
There's a lot of cute towns and cities that are perfect for wandering about after exploring the outdoors. They all have shops, good restaurants, or entertainment nearby. These are a few of my favorites.
Littleton – this small town in my eyes is a hidden gem. With a population of a little over 5,000 people, you wouldn't think there would be much there. However, it has the sweetest downtown with a river running alongside it. It also has a historic covered bridge to visit.
Portsmouth – this may be an obvious one, but it cannot be missed. Portsmouth is in a great location on the border of Maine and Massachusetts. The downtown has a generous variety of options to do, see and eat. It is also right next to Rye, which is a beautiful town on the ocean. I would add driving along the water to your driving route to see all of the mansions.
Jackson – I recommend staying in this town for at least one night. It has one of the best restaurants I've ever eaten at, and a quaint downtown area. It's close to several mountains for hiking and a central location to explore more of the white mountain locations.
Meredith – Right on the lake, Meredith has transformed its downtown to satisfy the summer owners. It is beautifully redone with all white exterior, shops, and delicious restaurants nearby.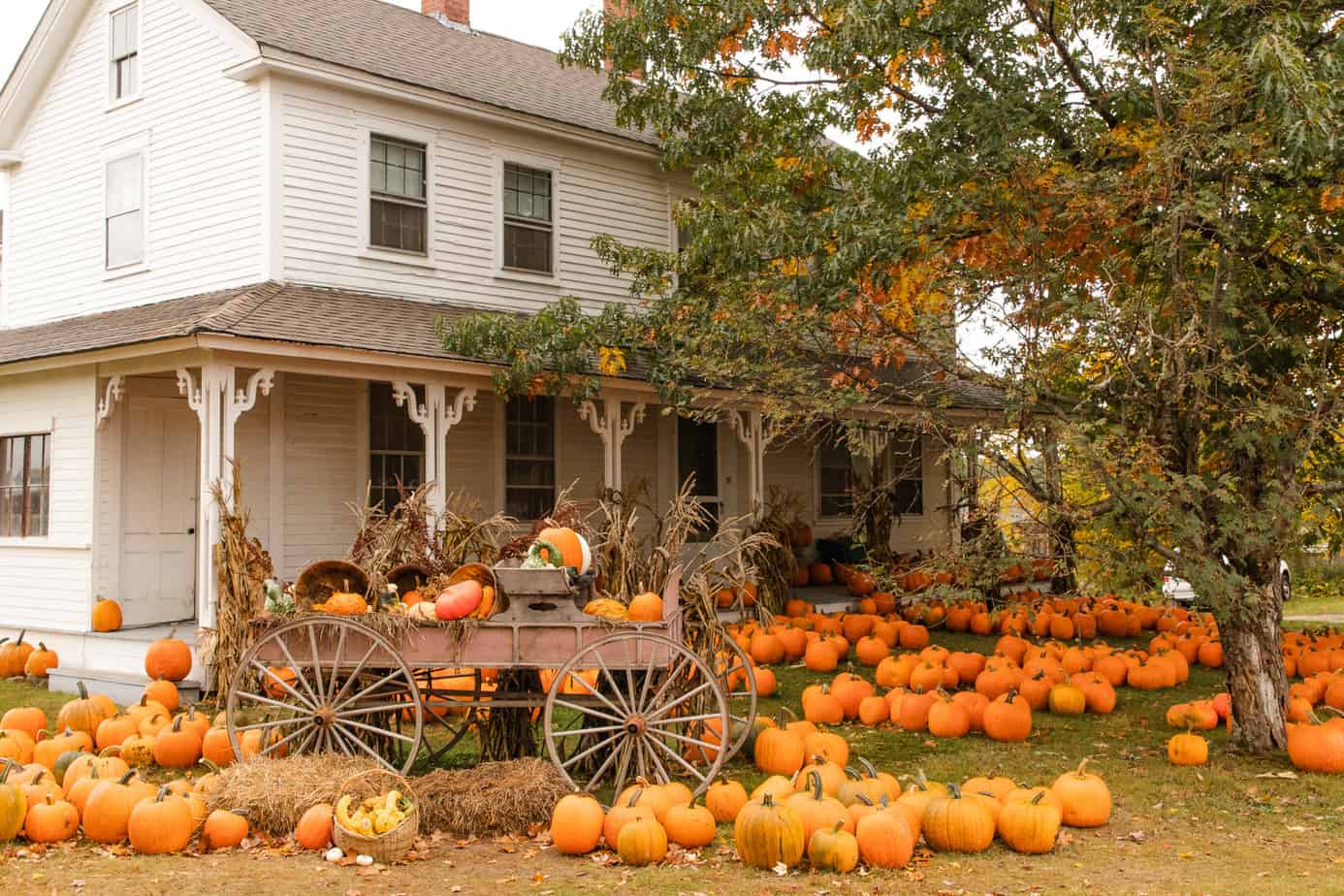 Last but not least, visit pumpkin patches
I'm not sure why this isn't as popular as apple picking. Pumpkin patches are always decked out for the holiday season, and always a great spot for pictures. There are pumpkin patches all over the state. One of my favorites is Moulton Farm. They often have live entertainment outside along with their apple cider donuts, hot cider and all the pumpkins surrounding you. (PS: The Two Drifters think this is perfect for a romantic fall date!)
_____
Now you see there is a variety of activities to do and sites to see in the Live Free or Die state. Get prepared, start your Fall bucket list, and add some of these must do's to it!
---
About the Author: Kelsey, otherwise known as the Tiny Traveler, is a New England based travel blogger writing about her adventures throughout the globe. Her ultimate goal is to inspire others to step out of their comfort zone to see the world. She does this by being upfront with trip costs, how to save and budget and helpful travel tips and tricks. When she's not traveling, you'll find her photographing adventurous couples, crushing pancakes smothered in real maple syrup or reading a good self-love book. You can find her on facebook, instagram or her blog.
---