This post may contain affiliate links. Read our disclosure page for full details.
Brasov, we fell in love with you. After spending two months in this fairy tale city, we developed this essential guide of things to do in Brasov (and beyond!)
Looking for things to do in Brasov, Romania? If you aren't already aware, Romania is an amazing travel destination. Although millions of people live there, it's remained under the radar for a long time for many international travelers.
The same might be said for other Eastern European countries –particularly those which were long under the umbrella of communism. It's surprising since places like Romania, Bulgaria, and Moldova are so culturally vibrant and scenically beautiful.
Fortunately the word has spread and recent years have seen an explosion in tourism to Eastern Europe (Prague, for instance, really took off in the 90s), and many of our fellow travel bloggers have already shared their love for these awesome places.
It wasn't just reading blog posts that inspired me. For one reason or another (it may have had to do with reading Dracula, I admit) I'd had a particular pull towards visiting Romania for a few years. Autumn of 2016 turned out to be the ideal time for us to visit this intriguing country.
We spent a week or so in a remote northern village called Baita, and then headed to the "big city." The rest of our Romanian travels were based in Brasov, an amazing city that has earned a permanent place in our hearts, and certainly one of the most beautiful places in Romania.
Making plans for things to do in Brasov? We'll help you build a great itinerary with this guide.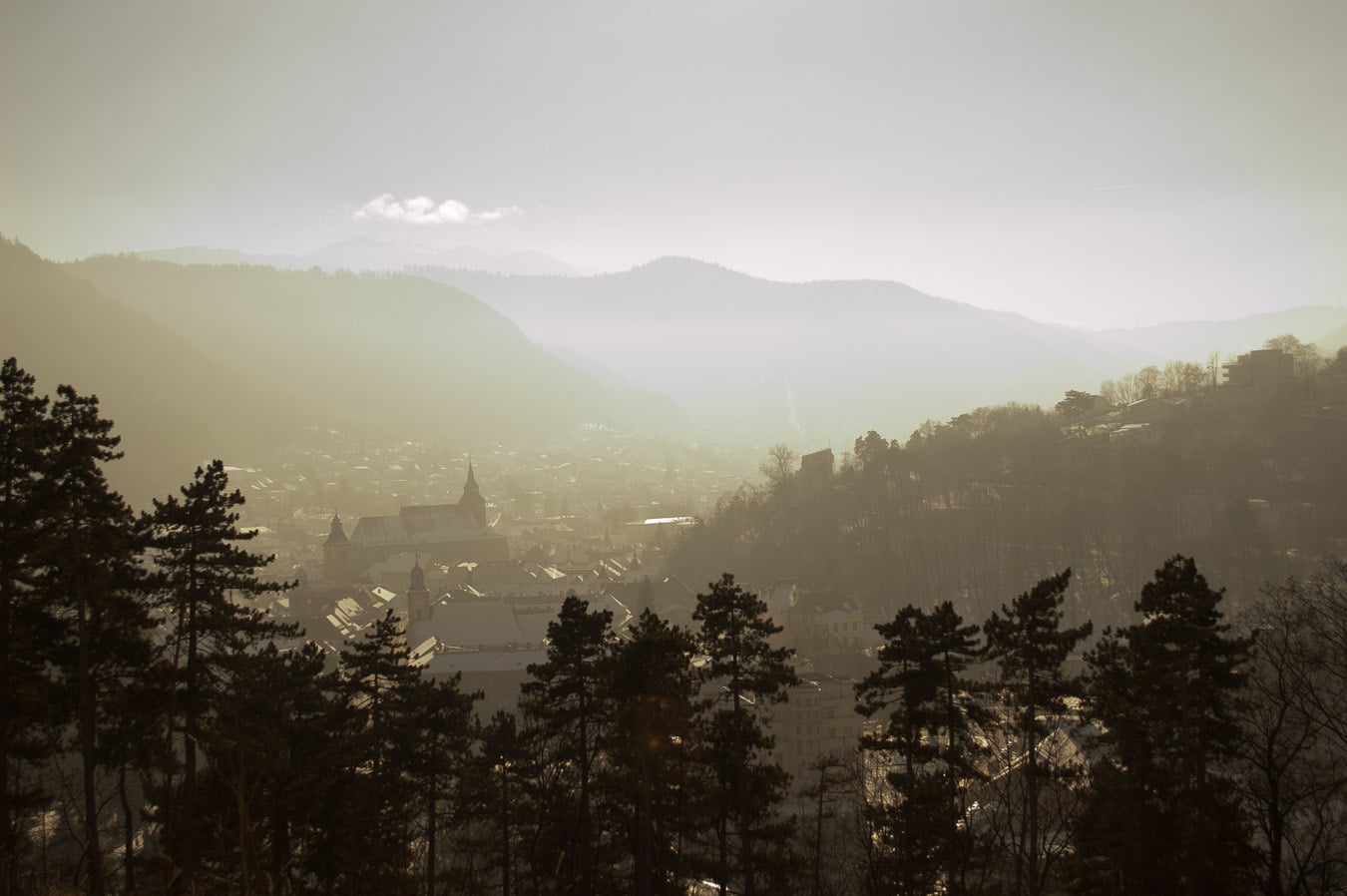 If Brasov is on your upcoming itinerary (or even if you just want to dream a bit) we hope this travel guide will help you have the best stay possible.
The Ultimate Travel Guide to Brasov, Romania
Brasov is located in Transylvania amidst the Carpathian Mountains. The 7th largest city in Romania, Brasov is home to 275,000 people. With lots to see and endless things to do in Brasov (plus great restaurants and accommodation options), it is actually one of the most tourist-heavy destinations in Romania.
Visiting during December and January, it didn't feel very touristy to us, though it seemed that many Romanians came from elsewhere to spend a weekend in Brasov. The Christmas market was bustling and the weekends were busy. But we rarely heard any English and didn't spot many "tourist" types.
For that reason, the winter season might be the PERFECT time to visit Brasov. Even Bran Castle (aka "Dracula's Castle) was not extremely crowded. Some of our Instagram followers commented on our photos of Bran Castle, telling us how empty it looked compared to the overload of the summer months.
Cold, cozy, and slightly empty? Winter in Brasov just might be the way to go.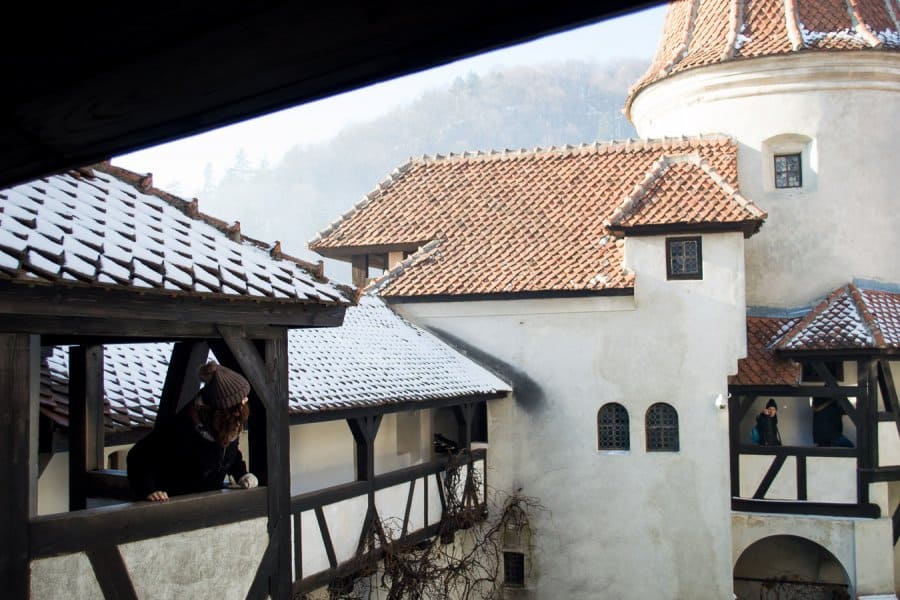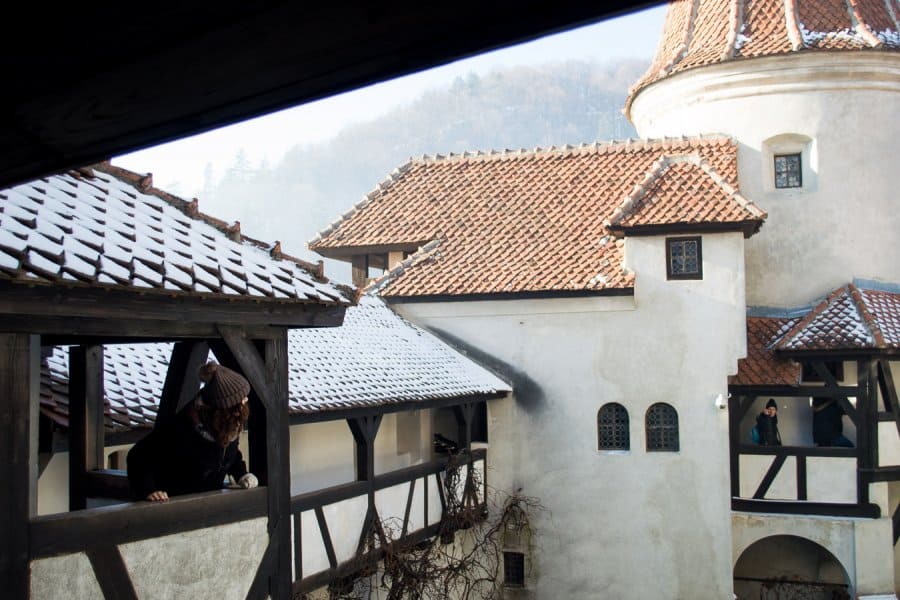 Getting to Brasov
It's fairly easy to get to Brasov. Most travelers will arrive via Bucharest, which is the country's main airport. Several different airlines fly to Bucharest. Our flight was on WizzAir from Edinburgh—a budget airline that cost us under $30 each for our flight. (Just remember that budget airlines in Europe, as well as regular airlines, increasingly, charge fees for checked baggage. For each of us to bring our luggage cost more than the ticket price itself!)
Once you've arrived in Bucharest, you might want to spend a few days exploring the "big city." Otherwise, it's time to head north, traveling from Bucharest to Brasov.
The best way to get to Brasov is by train. Trains depart for Brasov and points beyond approximately every 2 hours from Bucharest and sometimes more frequently in early-afternoon. You'll leave from Bucuresti Nord train station and get off at Gara Brasov. You can check this website for a timetable (there's a button to click for English) and a link to purchase tickets.
The IR trains tend to be faster (and perhaps nicer). You can show up at the train station prior to departure and purchase a ticket at the window. We never had a problem doing this. It's worth it to brush up on the Romanian words for ticket and seat before you go. 🙂
If you do hop on a train last minute, you might be able to buy a ticket on board, which happened to us once, but the prices are higher and you'll need to be sure to have cash.
Your ticket will give you an assigned seat (Plecare) in a numbered car. Make sure to heed announcements regarding which platform your train will depart from. We've heard that Romanian trains are unreliable, but we only experienced one delay in half a dozen trains we took.
Train prices for Bucharest to Brasov run approximately 45 LEI or $10 USD.
Alternately, consider renting a car and embarking on an amazing Romanian road trip. This is a great place for that, with one of the ultimate road trip bucket list roads: the winding Transfăgărășan Highway.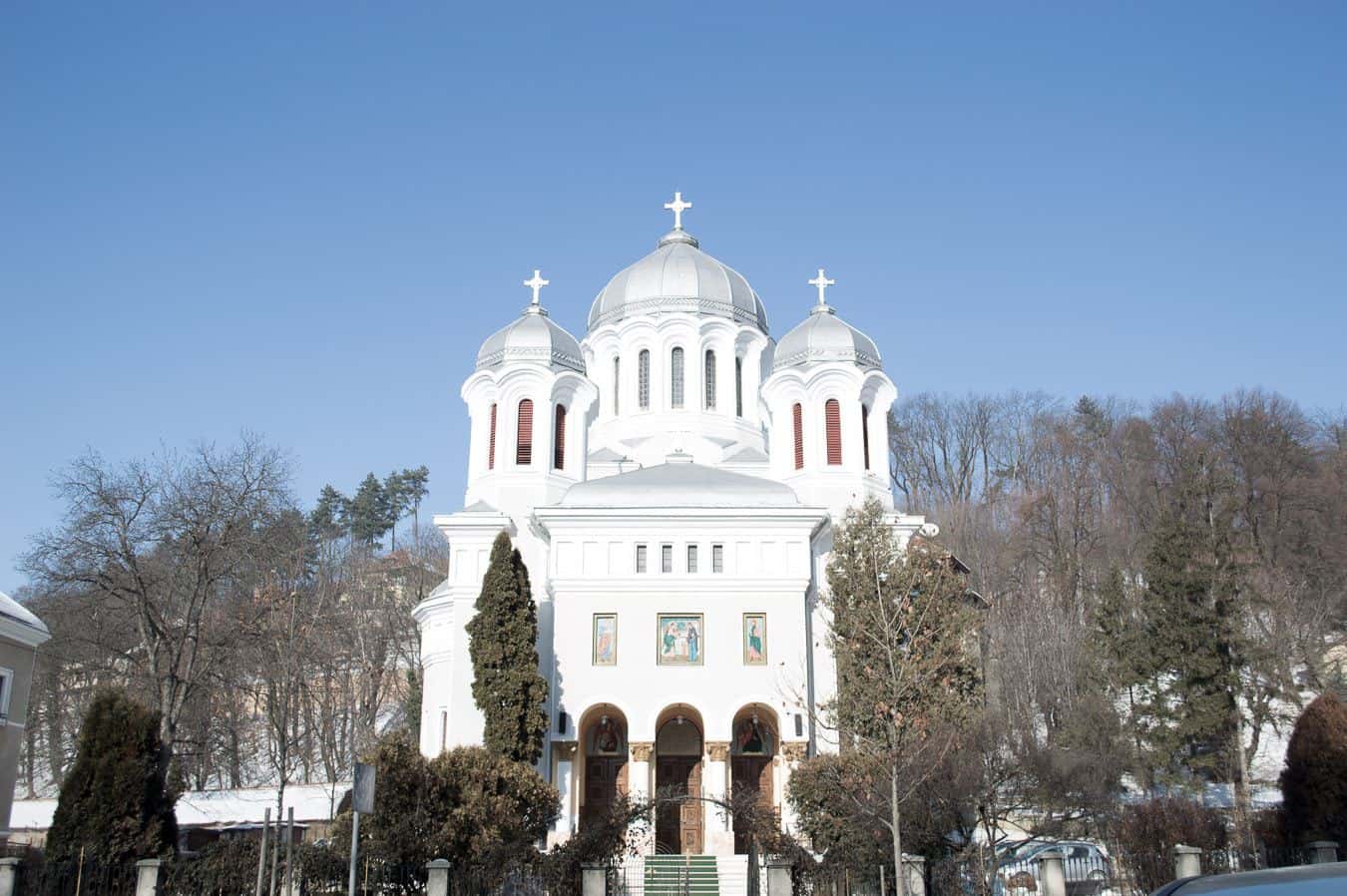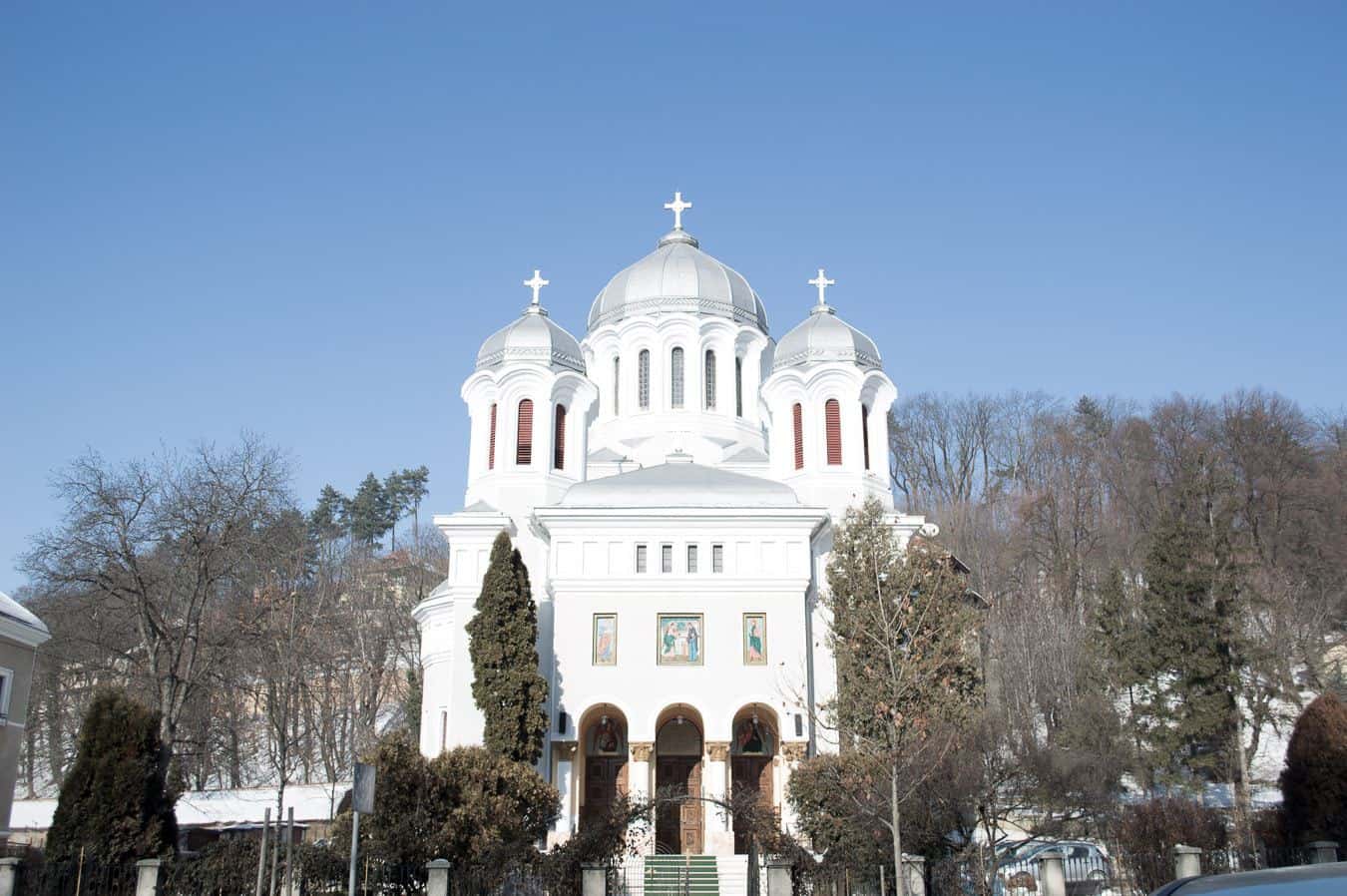 Taking a Bus to Brasov
You could also opt for the bus. We experienced the Romanian bus system in depth, heading from Brasov up to Targu Mures, Reghin, and beyond. The information for buses seems to be less reliable and accurate than for trains. Nevertheless, this website should provide some of the details you need.
You'll find buses generally right next to train stations in Romanian cities, but there are often additional bus stations you might need to locate. Pay the driver when you board the bus (and enjoy the super inexpensive ticket prices!).
Be prepared for small minivan type buses most of the time, and some challenges when it comes to schedules, finding your bus, etc. Taking the bus is a great option to save money, but as train travel is so affordable here, we suggest choosing the train when possible.
If you're not arriving via Bucharest, bus might be a more plausible option than train. Investigate the timetables using the links we shared, and when in doubt, ask at your accommodation or check with locals.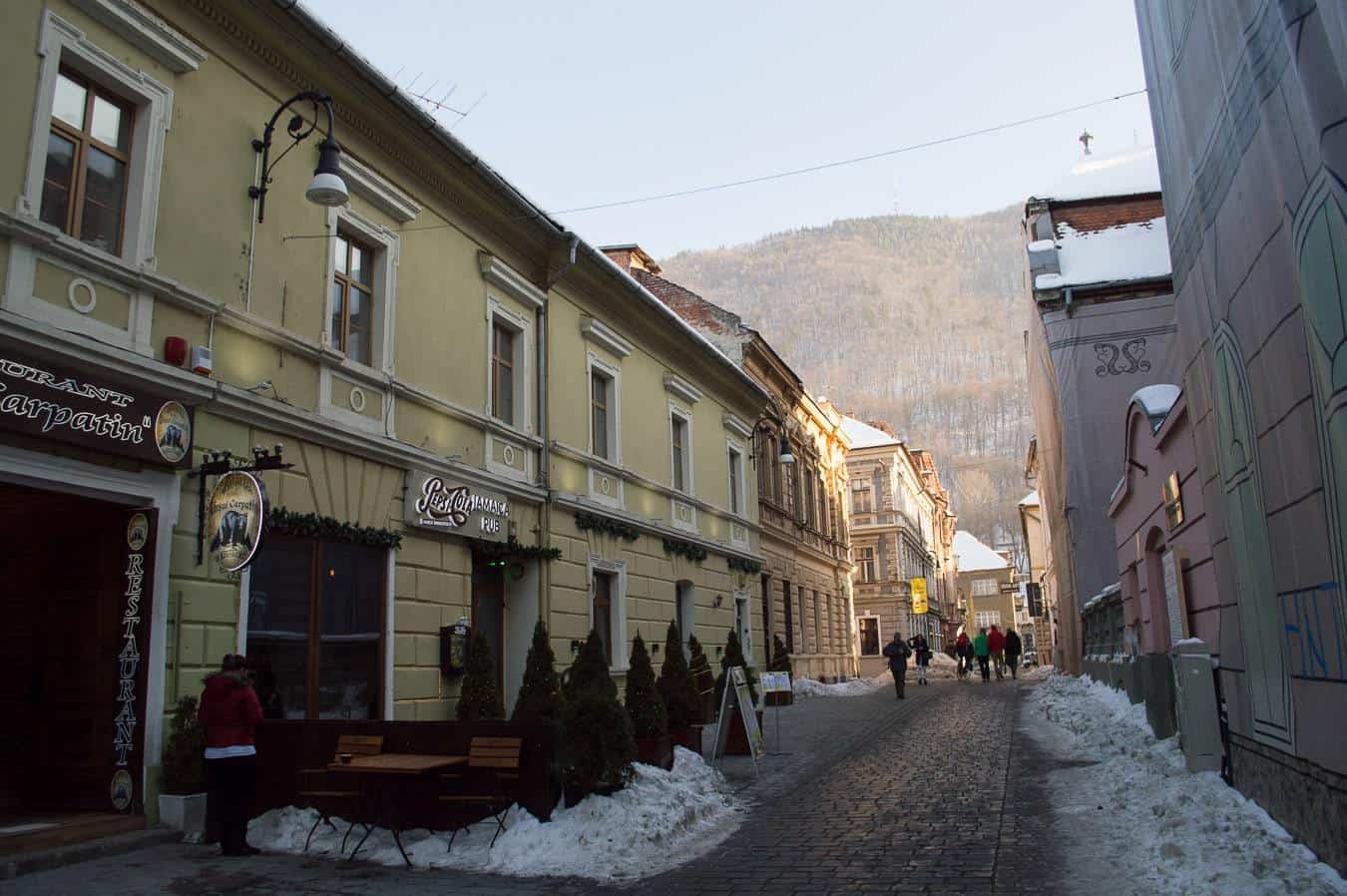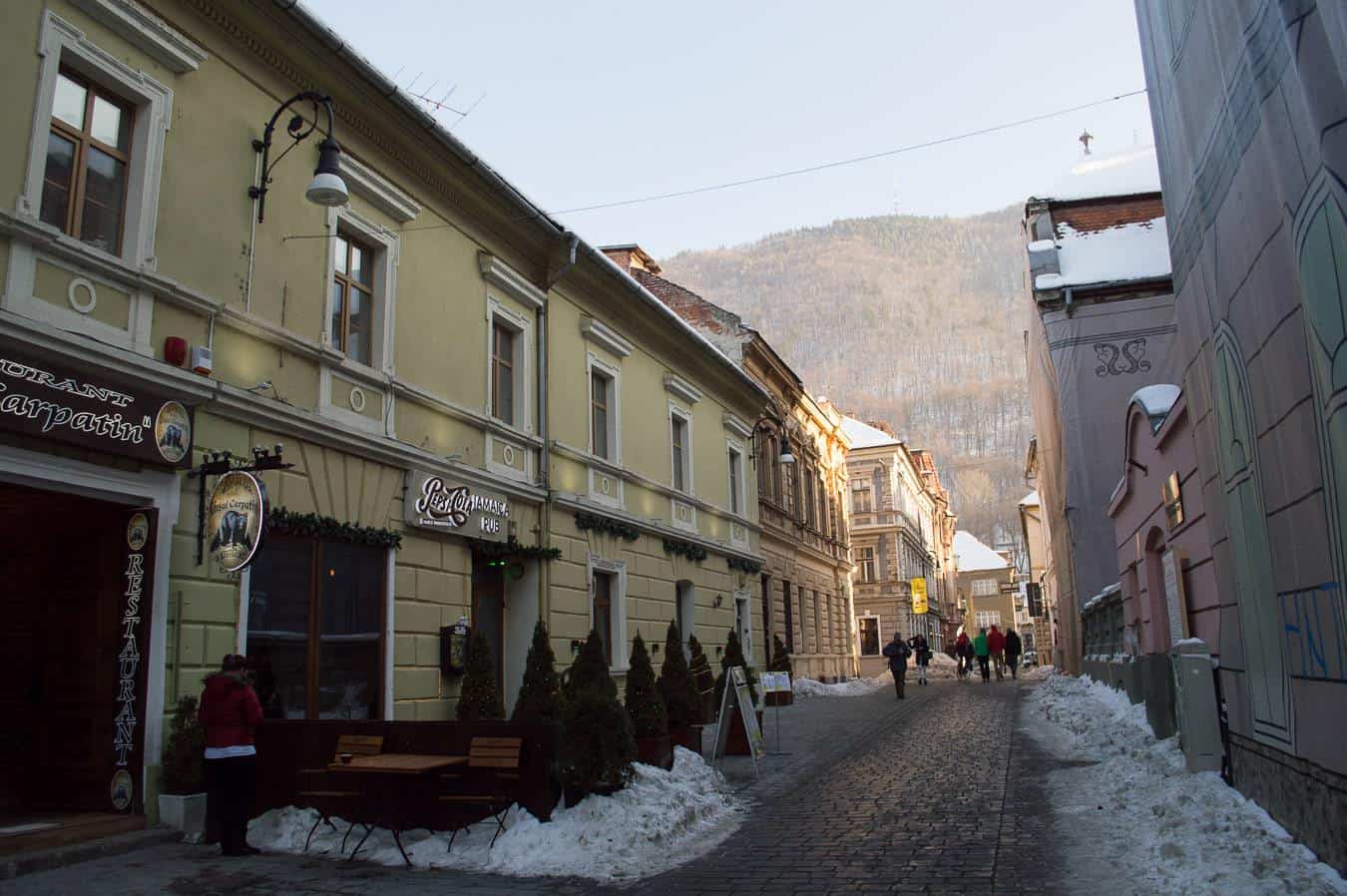 Finding Your Way Around Brasov
Hooray, you made it to Brasov! This sizable city actually feels pretty small, so you'll be finding your way around in no time.
When you arrive in town, you will likely be at Gara Brasov, the main rail station. Head out the doors and go ahead and pick a taxi. The drivers here tend to be honest (especially with companies Bratax and Martax). If you're heading to the city centre (which you likely are), a taxi ride should cost you approximately 8 LEI or $2 USD. *Note: Not sure the official rule, but we tipped taxi drivers a lei or two per ride.
One driver, however, tried to take us for 30 LEI claiming it was a "flat rate" to the city centre. After spending two months in Brasov, we'd learned what a taxi ride to the centre should cost, and it is NOT 30 LEI. I called his bluff and we took a bus home instead.
The local bus system is fairly straightforward, too, and tickets run 4 LEI or $1 for 2 rides. That's a deal! Buy your tickets before boarding the bus, at electronic ticket boxes around the city (usually placed near major bus stops) and validate using the machine when you get on.
Once you're in the city centre, where most accommodation is located, nearly all the major sites are within walking distance. If you need to travel somewhere a bit farther, taxis are super easy to find.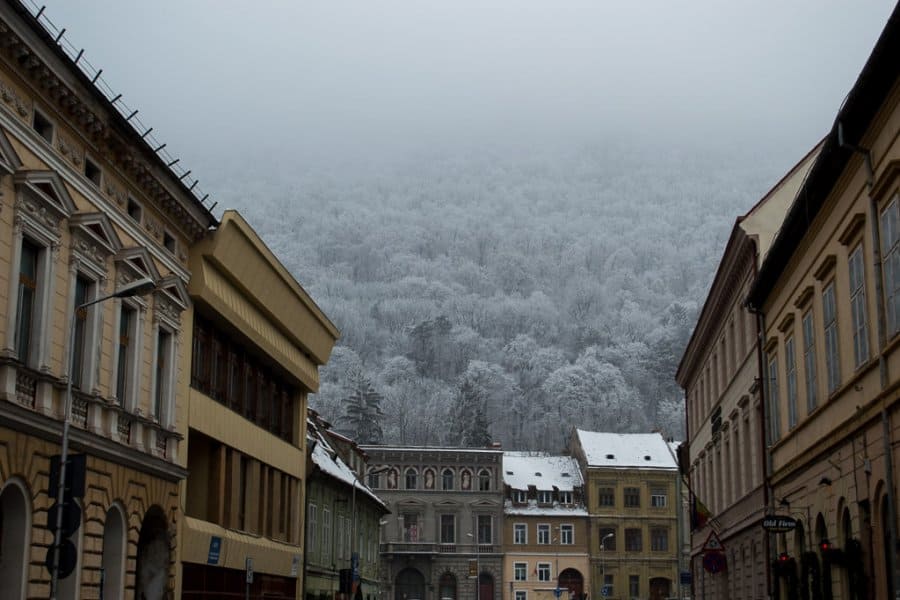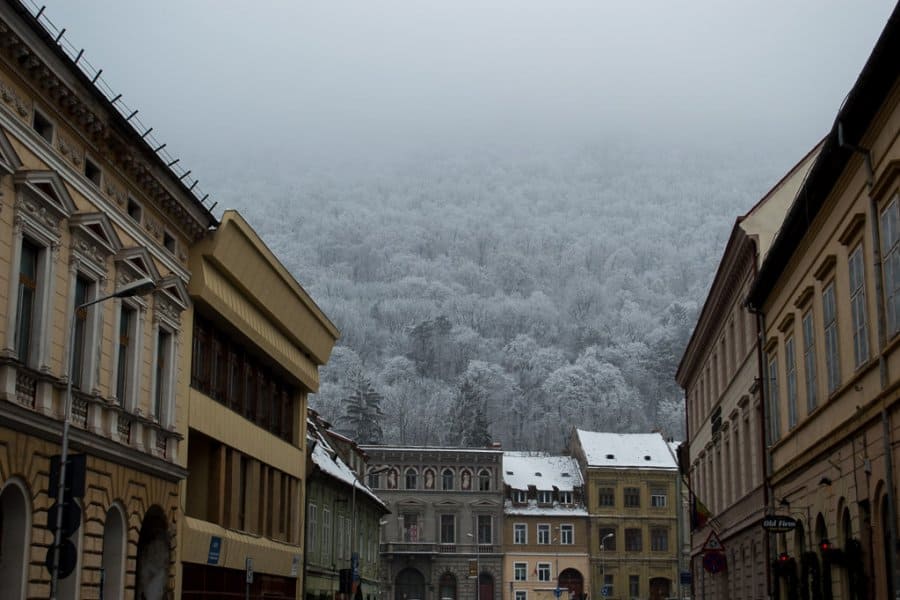 Things to Do in Brasov
As you plan what to do in Brasov, you certainly won't find yourself bored, especially if you happen to like cute European towns with an old-time feel. Voila! Brasov will delight. There's plenty to do in the city and nearby.
While we've tried to come up with a comprehensive list, we weren't able to do everything the region has to offer, and there's likely even more to do and explore that we haven't included. Nevertheless, here are some of the not-to-be-missed things to do in Brasov, Romania.
Climb up to the Black & White Towers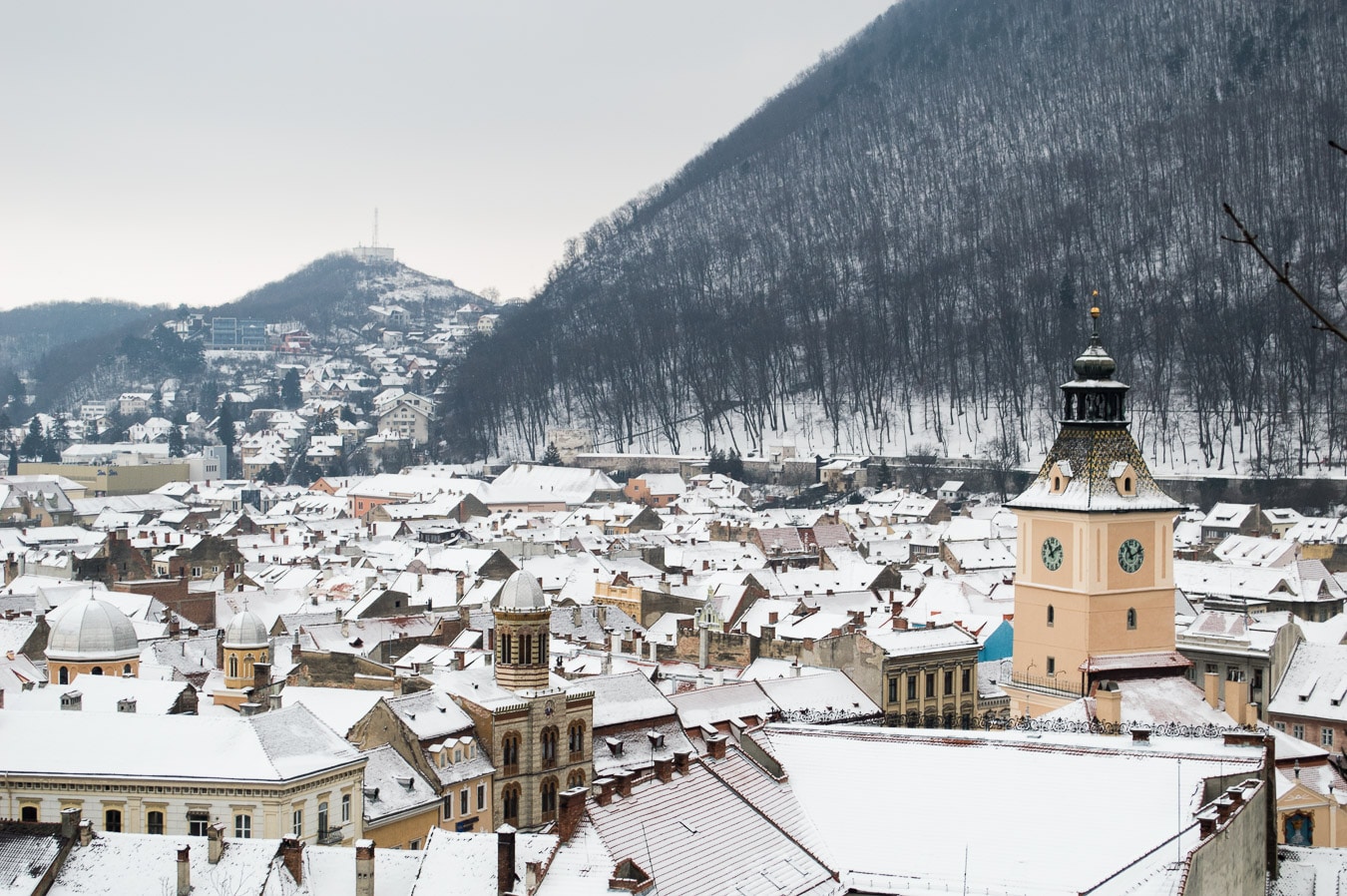 European cities look so enchanting from above, don't they? In Brasov, there are high points in all directions surrounding the old town. You can go up any one of these to have a birds-eye view of the colorful roofs and towering mountains.
Our personal favorite spots are from the White Tower and the Black Tower. These 15th century watchtowers were originally built for defense, affording good views over Brasov. Today they provide those same views for visitors.
Walk along the outside of the city walls and along the canal to find the towers (just a street over from Strada Muresenilor). It's a very quick yet steep walk from the old centre and the reward is an expansive look out over the Piata Sfatului and beyond. We think seeing the snow covered roofs really add to the charm—another great reason to travel to Romania in winter.
Ride the Cable Car Up Tampa Mountain
Mount Tampa is a distinctive sight in Brasov, showcasing the garish, yet somehow perfect Hollywood-style BRASOV sign. The 3,000 ft mountain gently spoons the old town and it is very pretty in all seasons.
According to lots of blogs we read, riding the Tampa Mountain cable car is one of the top tourist attractions in Brasov, and a must-have experience. Is it essential? We don't know. We never did it!
For some reason, during our entire 2 months in Brasov we never found time to ride the cable car. Feels a bit silly that we didn't do so, but from what I hear, the views are worth it! 🙂
The cable car seems to run frequently, probably most days in summer time, but I've found it difficult to locate exact specifics online. From a few sources, it seems the cable car runs until 4:30pm and a round trip ticket costs around 16 LEI or $4 USD.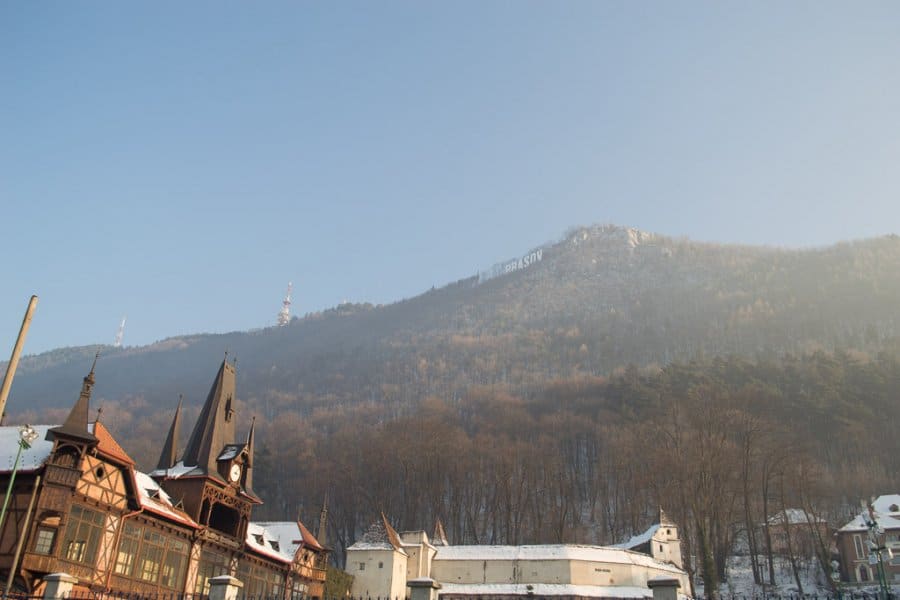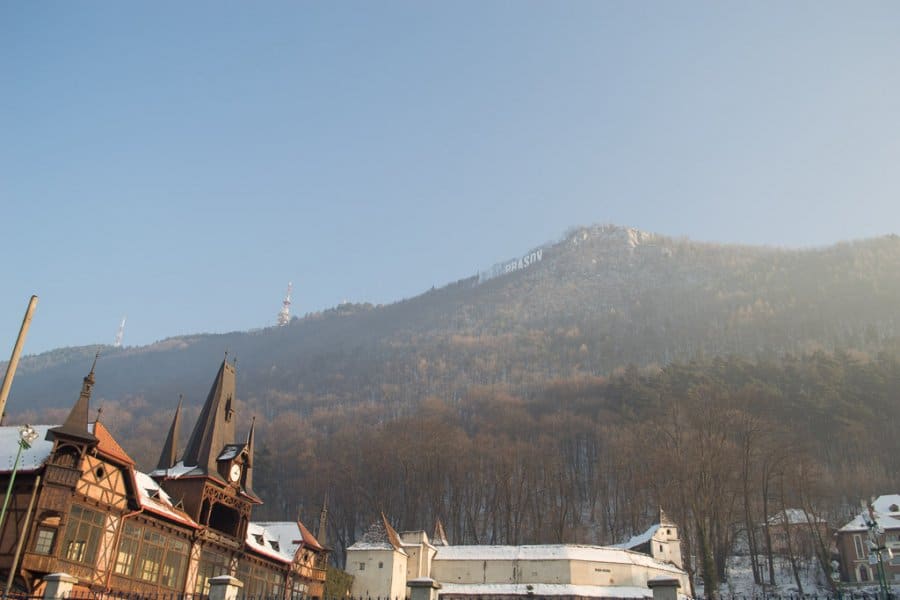 Hike Up Tampa Mountain
If you're not going to take the cable car, you have the option of several hiking trails up Tampa Mountain. In the summer months, riding the car up and then hiking the trails back down (or vice versa) would be a great choice. Keep your eyes peeled for local wildlife; a sign in the park along the base of Tampa let us know that animals could be in the vicinity.
Not in the mood for a hike? Consider a stroll in the woodsy park and check out more views over the old town. The Gabony's Steps trail (marked by a yellow triangle) is recommended for the best panoramic views. This 1.8 mile trail contains some slightly strenuous sections, however.
Check out the view from the old citadel.

The old citadel overlooking the city is a sweet spot that gives you great views over Brasov in all directions. Head up towards the citadel and the winding streets will take you there fairly easily.
Plan your timing right and you might be in for a swoon-worthy sunset.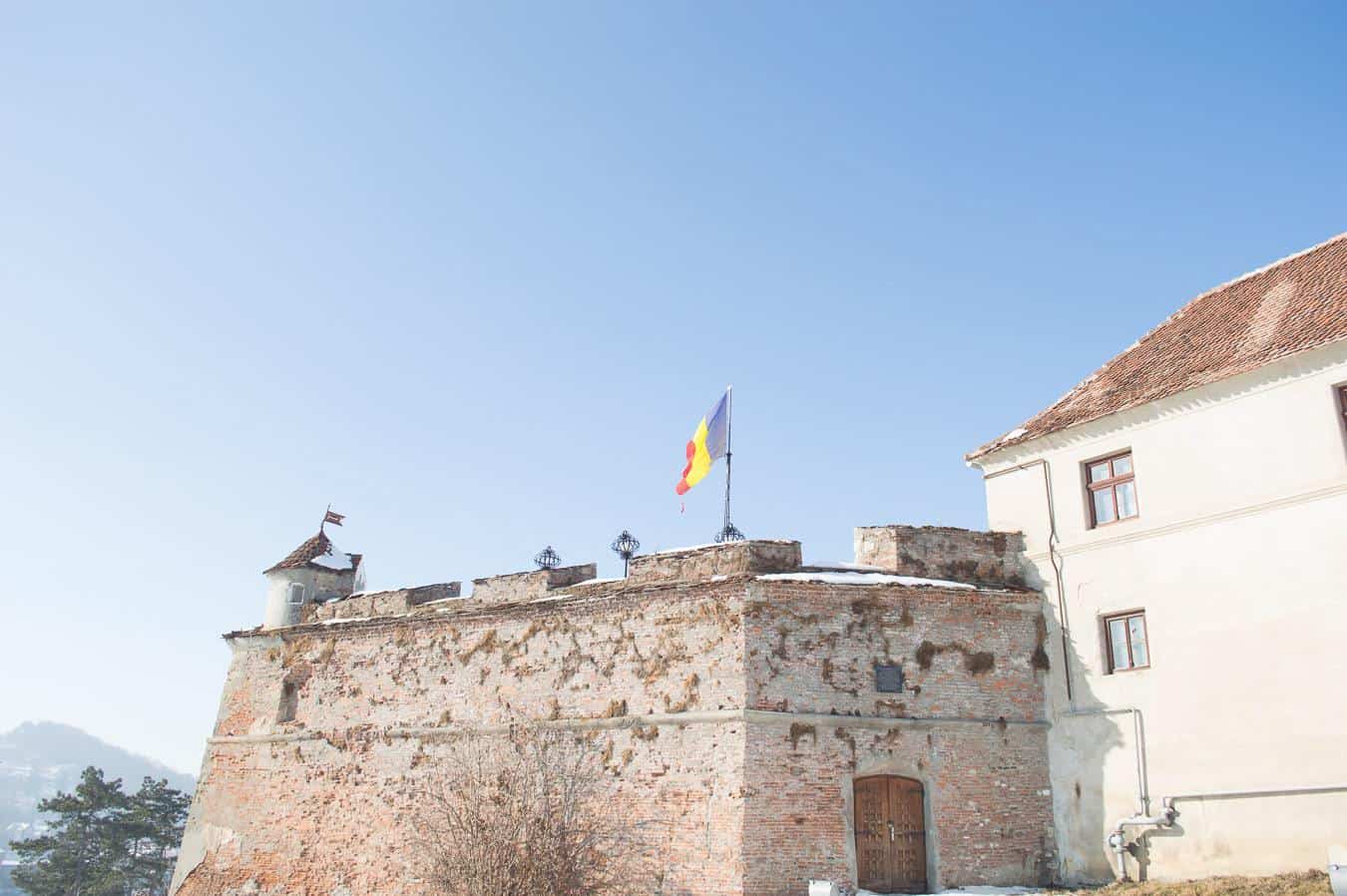 Explore the Edges of the Old Town
Saxon-settled Brasov was first constructed as a fortified town. Many remnants of this past still exist today, such as the Black and White Towers. Walls, bastions, towers, and other elements were strategically placed surrounding Brasov, and most are in solid condition.
As you explore the edges of the old town, you'll encounter many of these spots and have the amazing sense of a preserved Medieval city.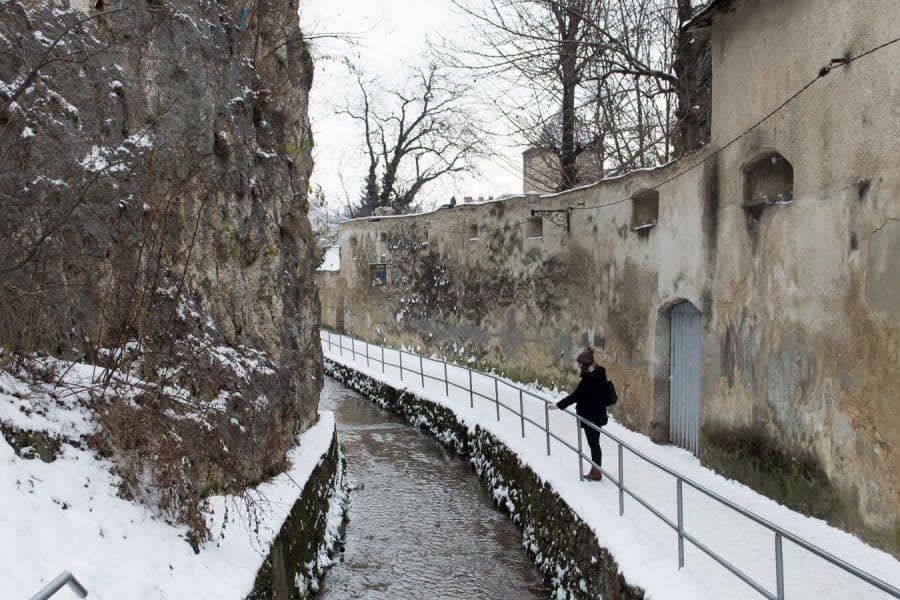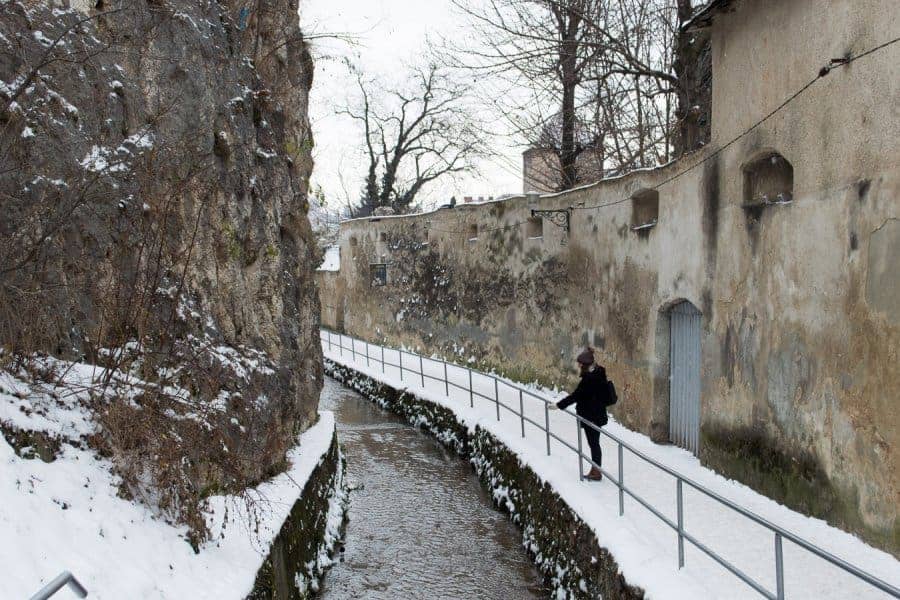 While we prefer to simply wander with a small guidebook or historical brochure in hand, you might want to delve deeper into the history of Brasov.
A free walking tour of Brasov runs every day at 3pm and can give you the insight you're after. Getting a quick education into the background of the city is truly one of the best things to do in Brasov.
Visit the First Romanian School
Learning is great! Celebrate early Romanian education by visiting the first school, first built in 1495. The Prima Scoala Romaneasca is located in the Schei area of Brasov and houses a museum boasting several rooms of displays, books, and other historic items.
Entry fee is 5 lei.
Check out the City's Historic Sites
Are you a history buff wondering what to see in Brasov? You'll get a more well-informed tour of historic Brasov if you opt to take the free walking tour, but if not, you can hit up more of these interesting sites on your own.
We enjoyed stopping by Strada Sforii/Rope Street, aka. "the narrowest street in Europe" and the iconic Yekaterina's Gate. Both these spots are found along Strada Poarta Schei, a street which leads to the Schei section of town.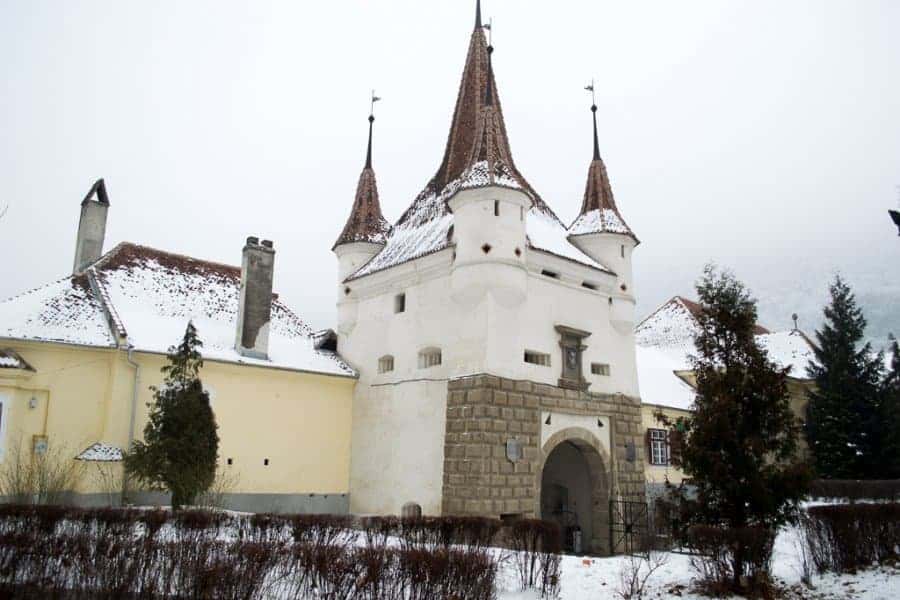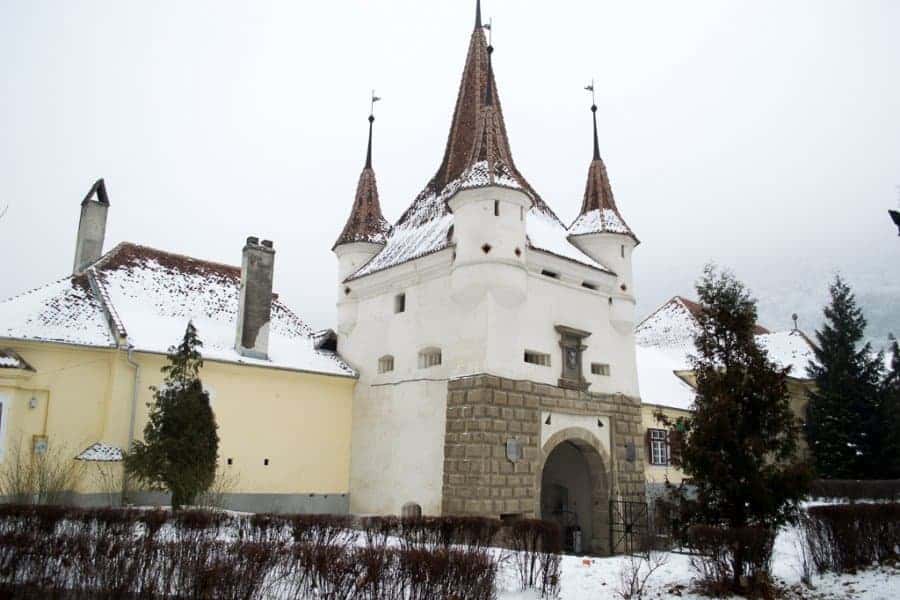 Wanna get your ski on? Well-known Romanian ski resort Poiana Brasov is very close to the city itself and is another of the major Brasov attractions. There are ski trails for everyone, and judging by the number of boots, skis, and snowboards we saw being lugged through town, it's hugely popular. T
he winter season at Poiana Brasov runs December through April. You can get to the resort via bus. From Brasov train station take the #4 and then the #20. Or, take the #20 straight from Livada Postei bus stop.
Check out this detailed guide to Poiana Brasov.
Go Inside the Towering Black Church
Do you love churches as much as we do? Even if you're not a cathedral fan, don't miss the inside of the Biserica Neagra or the Black Church. This is a must for things to do around Brasov.
The church stands tall in the old town, just in the western corner of the main Council Square, and can be seen as a dominating figure in the Brasov skyline.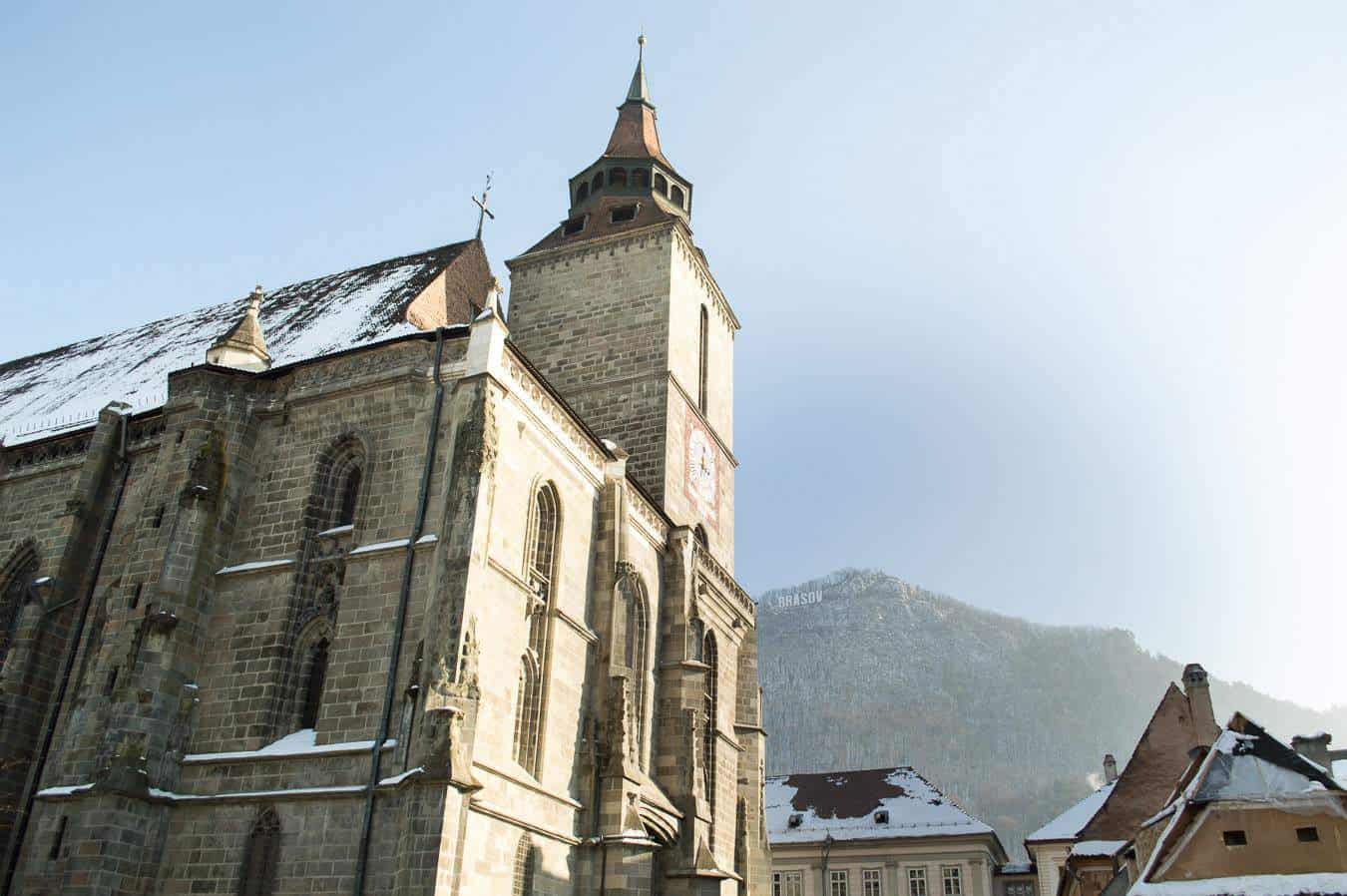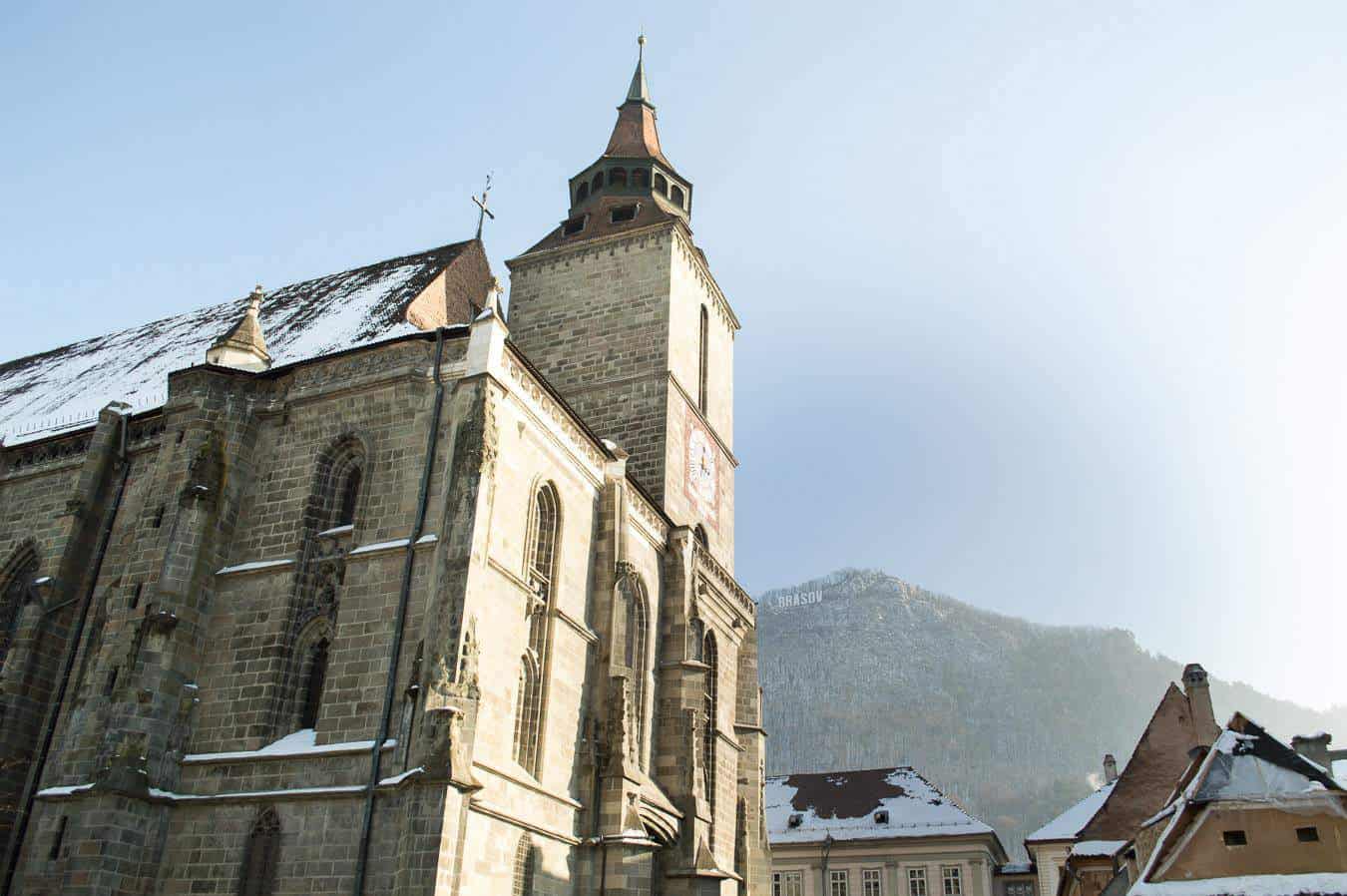 The gothic Black Church was constructed in the early 15th century and has the distinction of being the largest church in Romania. It also boasts a 7 ton church bell, also the biggest in the country. The name comes from the blackening of the walls which occurred during the fire of 1689, necessitating a bit of an interior makeover.
Though not the most resplendent of interiors, popping inside the church is worth the 9 lei entry fee. There is a vastness and a beautiful baroque look inside that makes the Black Church very intriguing. There's also a massive 4,000 pipe organ to check out, or to listen to during concerts (held thrice weekly in the summertime).
Please note you cannot take photos inside the church.
Get Active at Parc Aventura
Who doesn't love an obstacle course in the trees? You can find exactly that at Parc Aventura. This would make for an awesome day out for families, couples, and backpackers alike.
And prices are amazingly reasonable. (40 lei for 3 hours of climbing? That's such a bargain).
People Watch in Piata Sfatului
The central square of the Centrul Vechi in Brasov is stunning. Every time I walked through it, I felt my breath catch a little bit. It's just so darn sweet and European.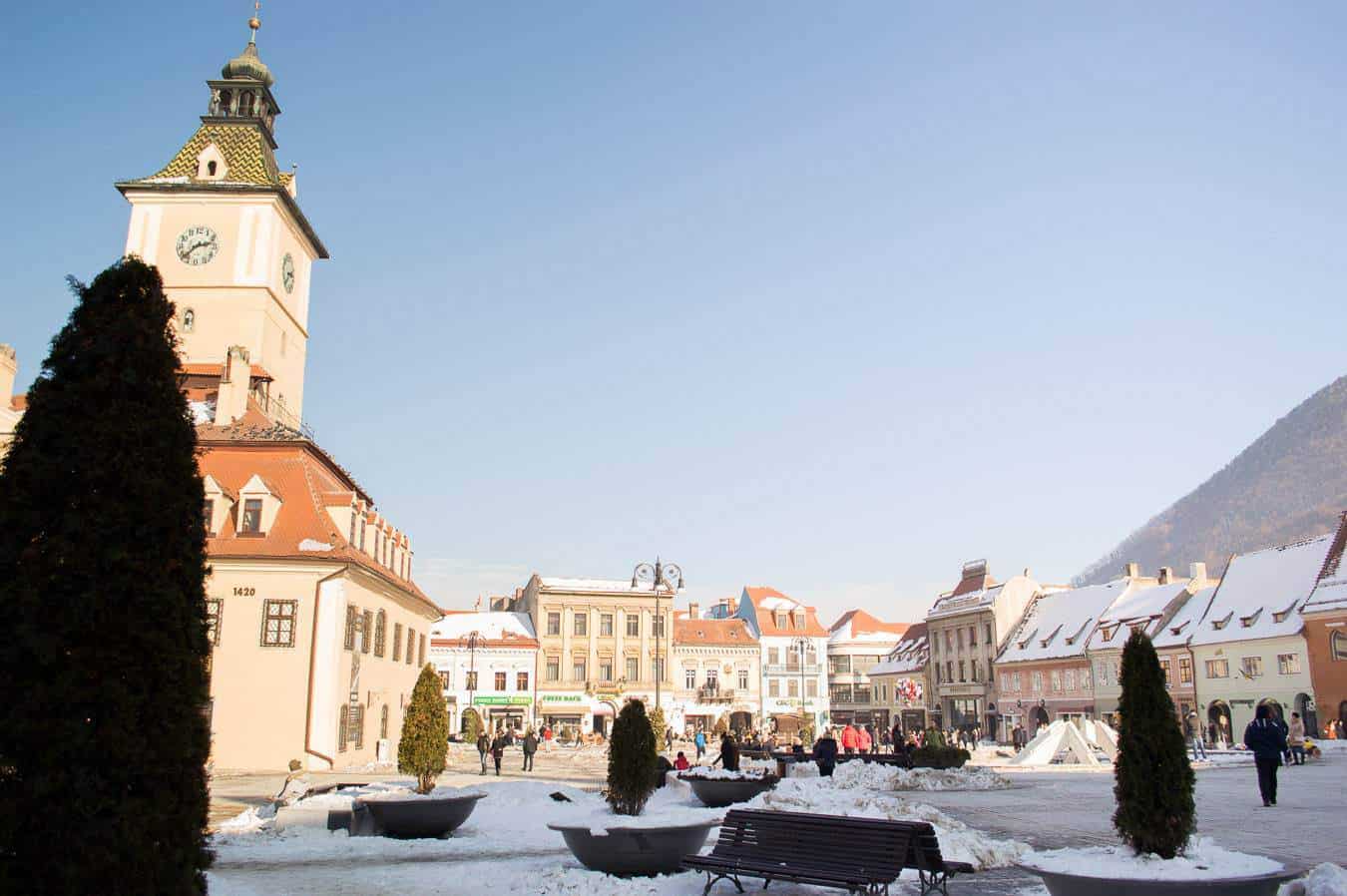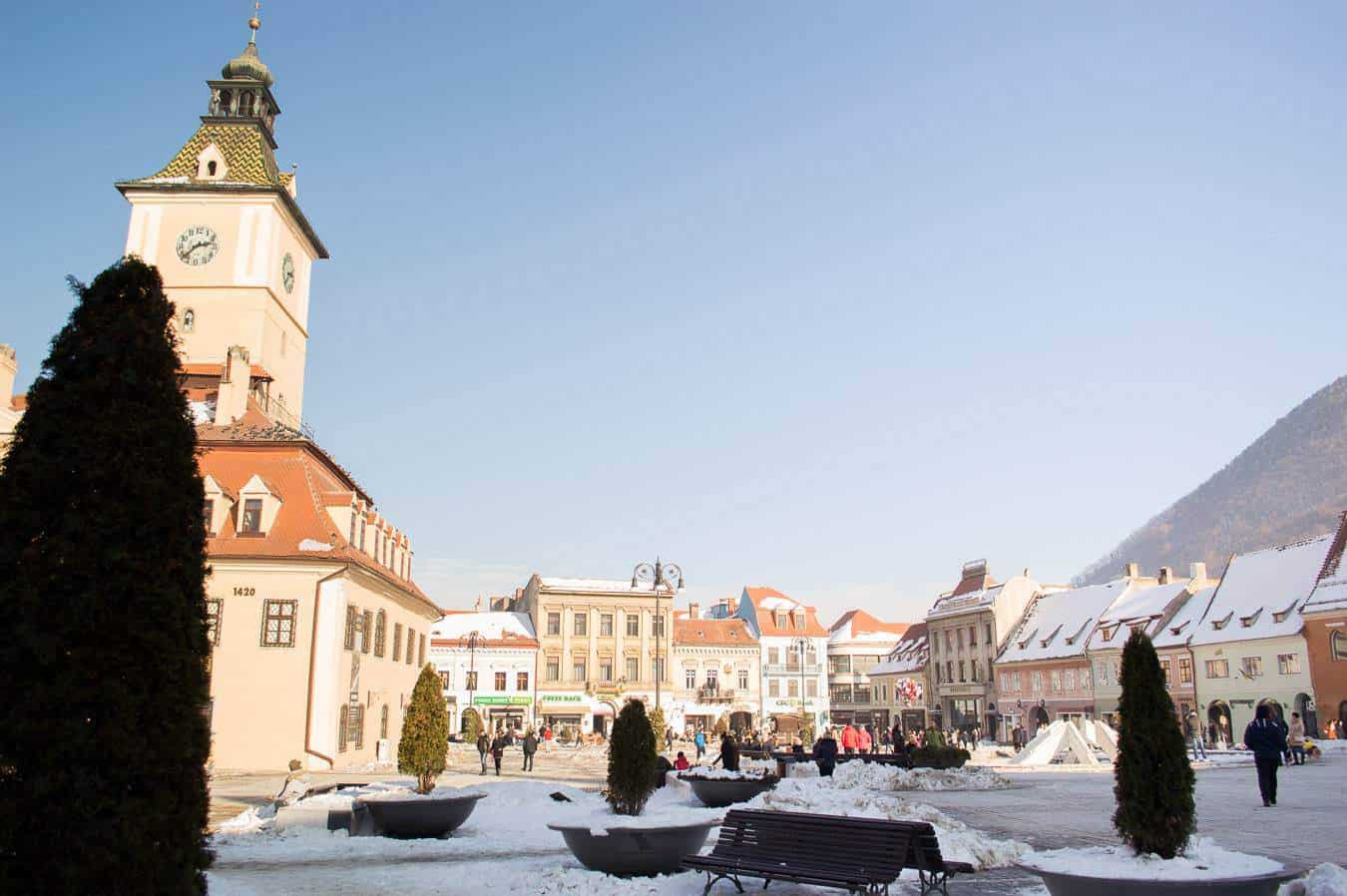 Brasov's old town is pretty & pastel. (Check out these other colorful towns in Europe!) While you're traveling in Brasov, you should make sure to spend some time relaxing in the Council Square. It's one of the best Brasov tourist attractions in my opinion.
It's a top spot for people watching and the cafes with outdoor seating give you a great excuse to kick back with a beverage and simply watch the world go by.
But, fair warning, watch out for the pigeons. There are a lot of pigeons.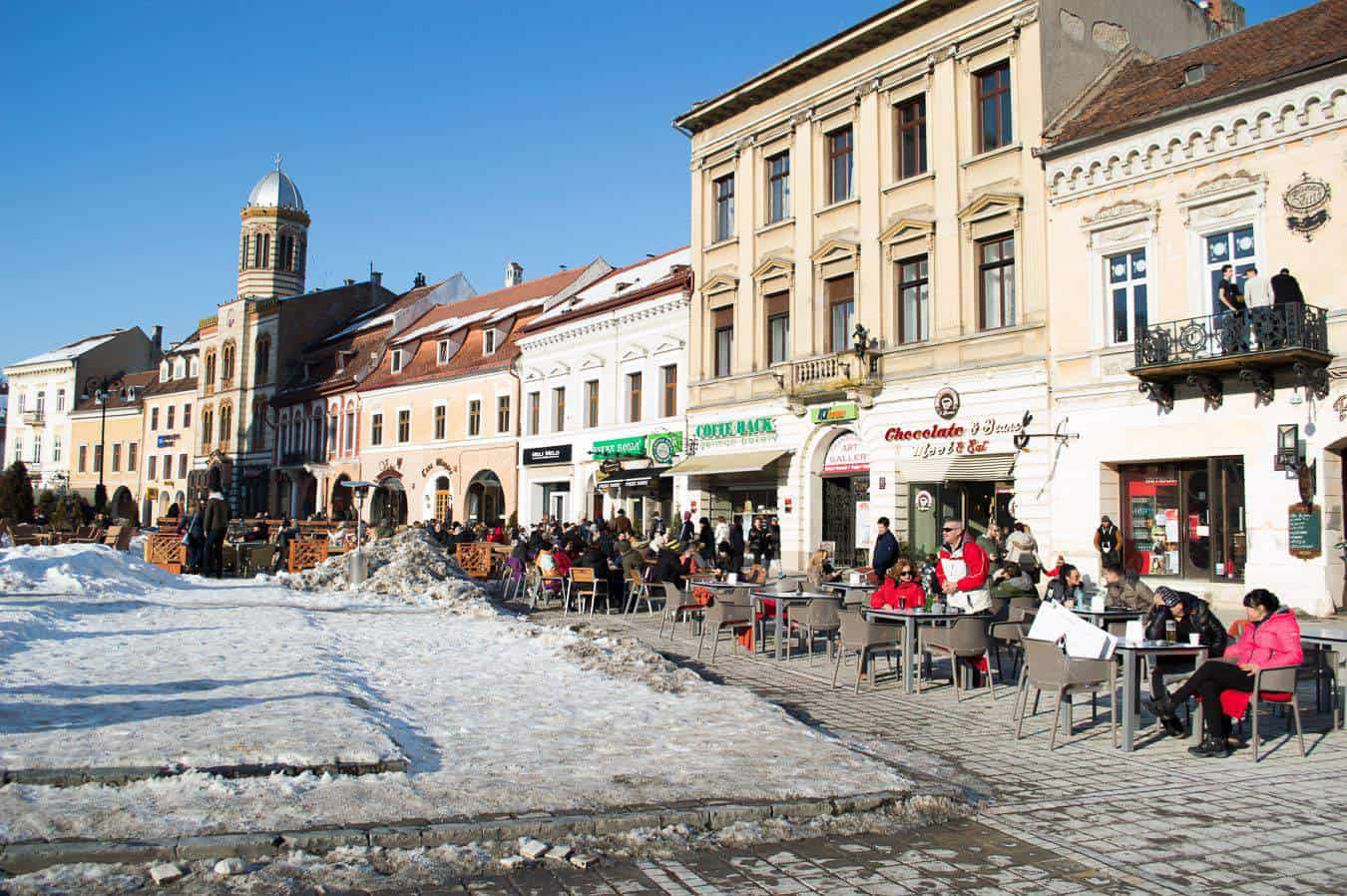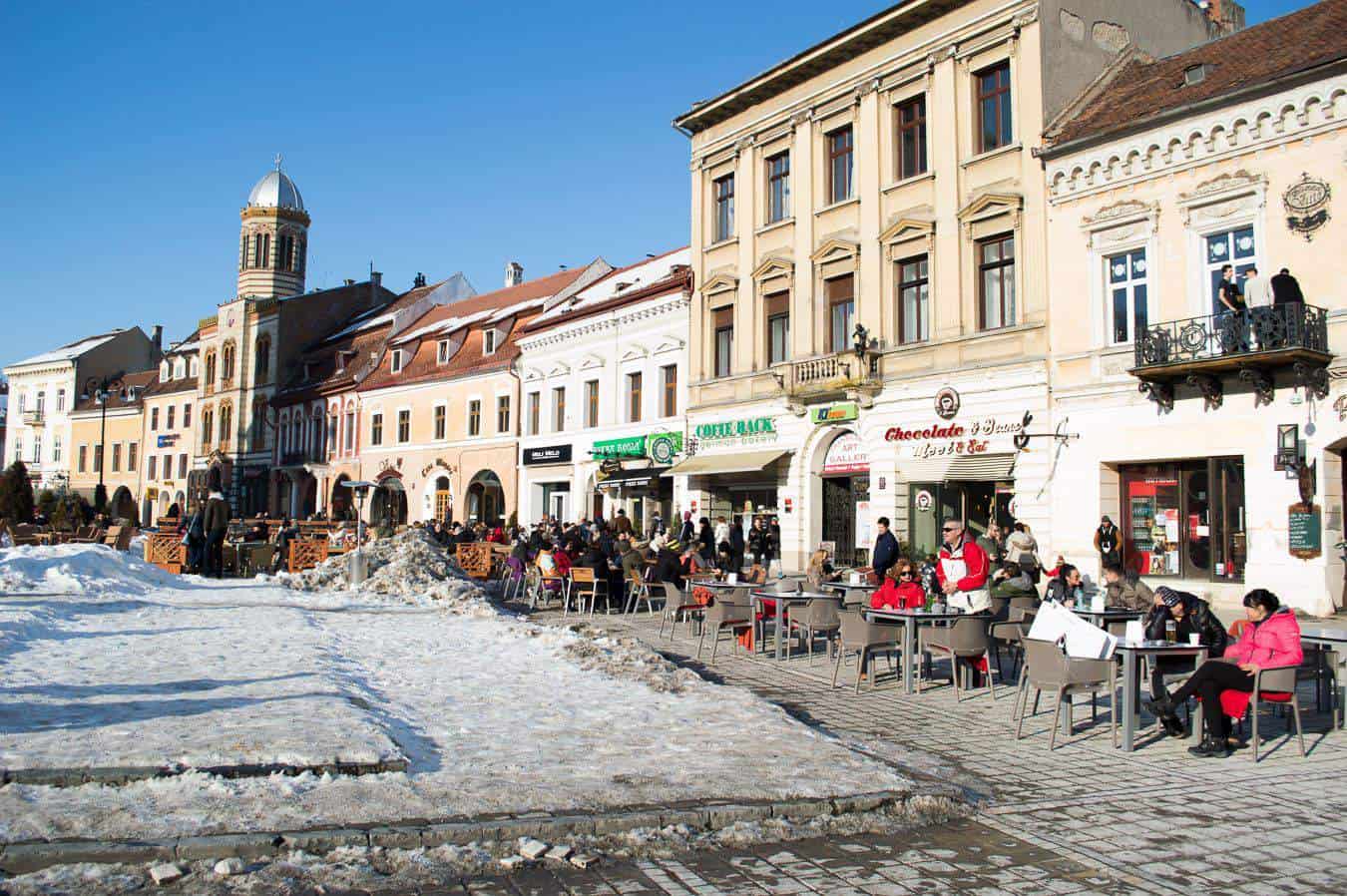 –Things to Do Outside of Brasov–
Brasov is undeniably lovely, and in between your activities, dining, and exploration, you'll be very satisfied. But there are some great attractions just a ways from the city itself. Most notably, two of Romania's most beautiful castles.
Visit Bran Castle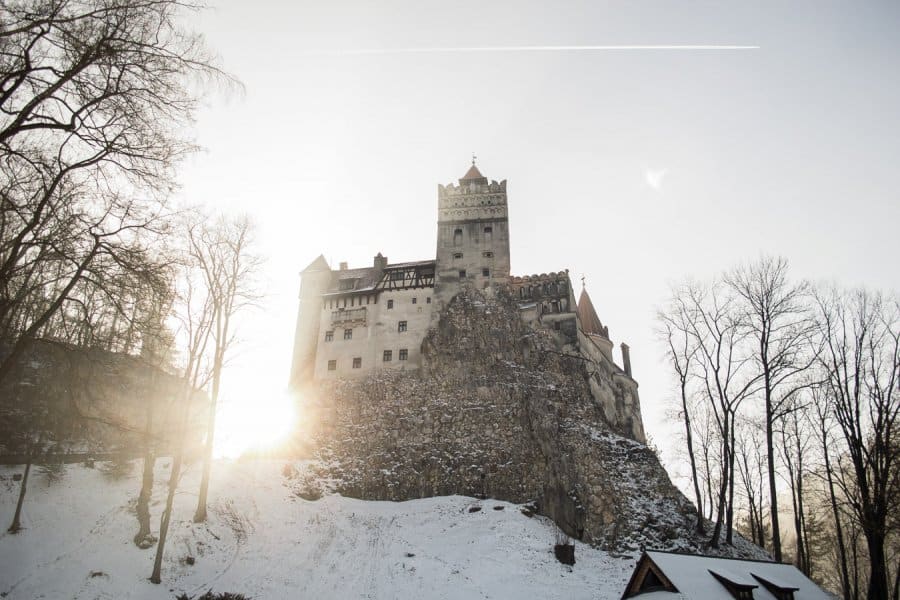 Bran Castle is one of the biggest tourist attractions in Romania. You can't visit Brasov without stopping at what is commonly known as "Dracula's Castle."
Situated in nearby Bran, Romania (within Transylvania) there's really no true connection with Dracula at Bran Castle. Vlad the Impaler (a historical figure on which Dracula is at least loosely based) *may or may not* have once stayed in Bran Castle. However, he never officially lived there.
The strongest connection with Bram Stoker's famous novel is the suggestion that he likely used Bran Castle as inspiration for Dracula's home in the novel, as it matches the description most accurately. Even so, the Castelul Bran will forever be associated with vampires and with Dracula.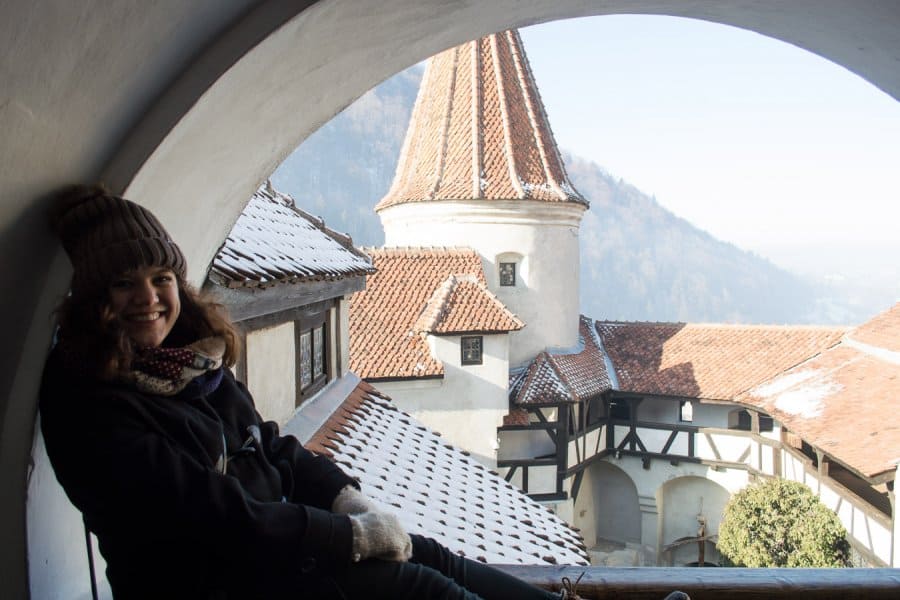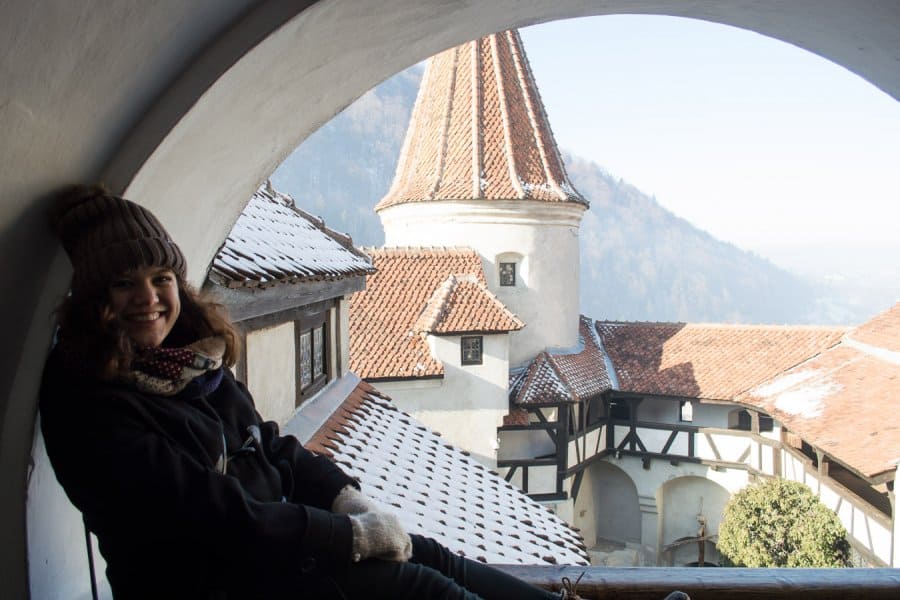 Despite somewhat ominous connections, Bran Castle is far from scary. It's a lovely little castle that is somewhat plain on the interior (aside from this cool central courtyard). It's a maze of rooms which is fun to walk around in, punctuated by some historic information displayed on the walls.
There is apparently a "torture exhibit" however, (maybe an homage to Vlad the Impaler's favorite methods of cruelty) but it costs extra to visit and I would actually pay NOT to go into such an exhibit. LOL.
Bran itself is a tiny, cute little village. You might want to take an hour to walk around before or after your visit to the castle.
Oh, and if you haven't yet purchased any Romania souvenirs, Bran has you covered. The pathway leading up to the castle is lined with dozens of vendors selling memorabilia—and yep, plenty of it is Dracula themed!
If you're wondering when the best time to visit Romania is, the lack of crowds at one of the most popular tourist places in Romania suggests that winter may be your top option.
Entry cost: 35 lei // Castle Open Daily
How to Get to Bran Castle from Brasov
To get from Brasov to Bran Castle: The best way to travel from Brasov to Bran is by bus.
Hourly service from Autogara 2 will bring you there in around an hour. You can take a bus or taxi to Autogara 2 (it's a bus station in a somewhat random part of town) and then locate the bus labeled for Bran & Rasnov. Bring cash to purchase your tickets from the driver. Only one way tickets are sold and they cost approximately 15 lei per person.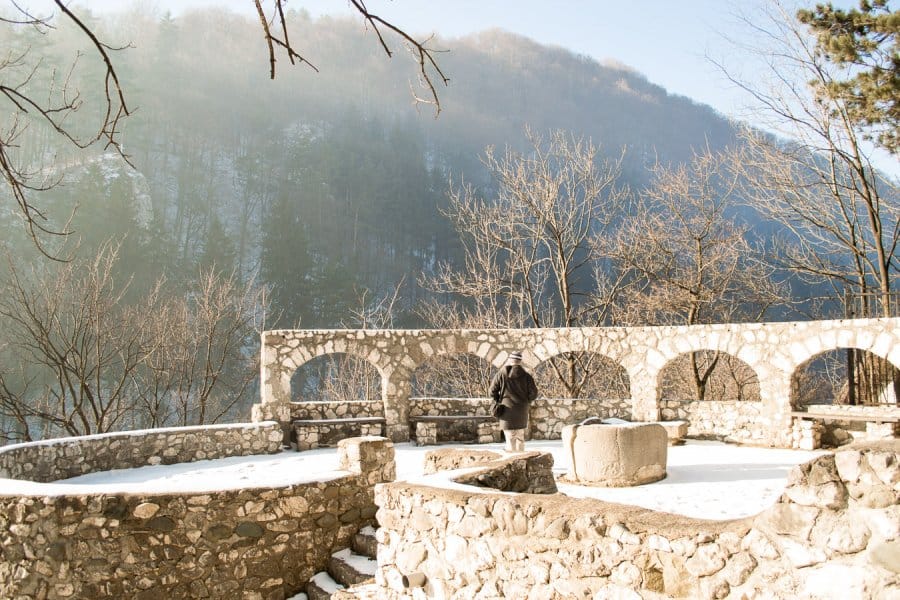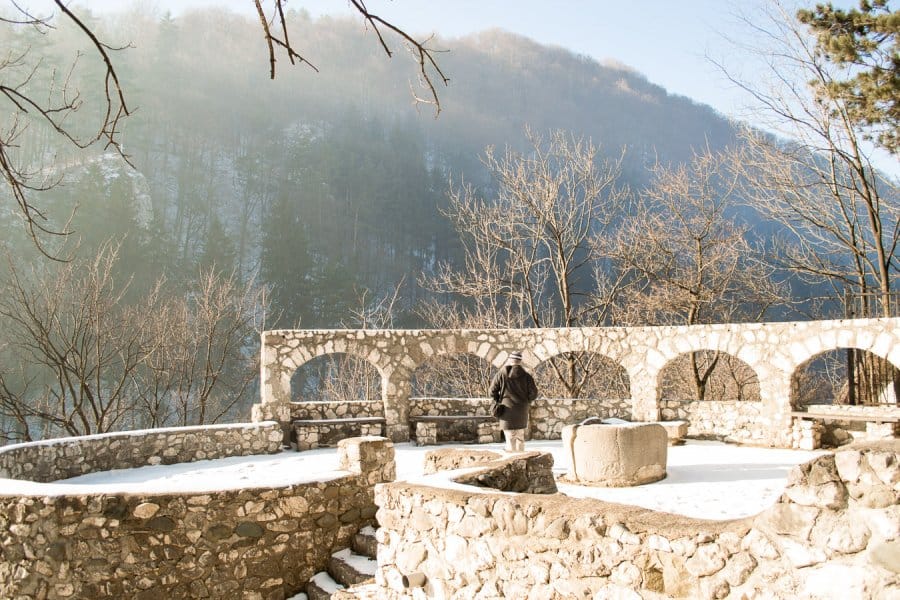 Spend a day in Sinaia and tour the Peles Castle
Many people told us that Peles Castle blows Bran Castle out of the water. While we absolutely loved the simplicity of Bran and it's looming position on a rocky outcropping, Peles Castle is truly the more magnificent of the two.
The exterior architecture is magical and the interior is so luxurious and unique. While we definitely suggest seeing both castles, if you only have time for one, you might want to choose Peles.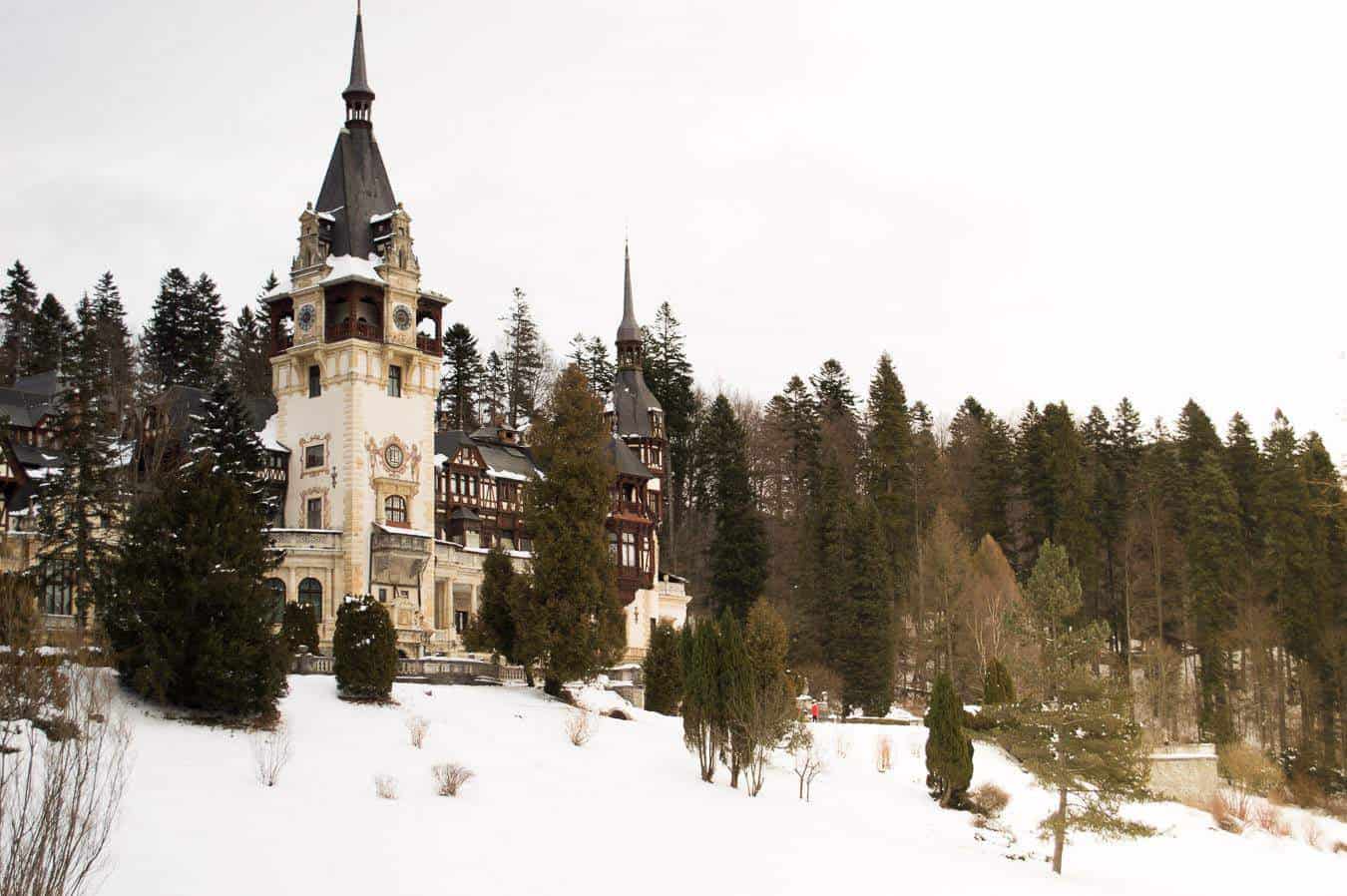 How to Get to Peles Castle from Brasov
It's not difficult at all to visit Peles Castle. You'll travel from Brasov to Sinaia. Trains run regularly to the south with stops at Sinaia, where Peles is located.
Grab a taxi from there to the castle or go for a bit of a walk. Signs will point you in the right direction.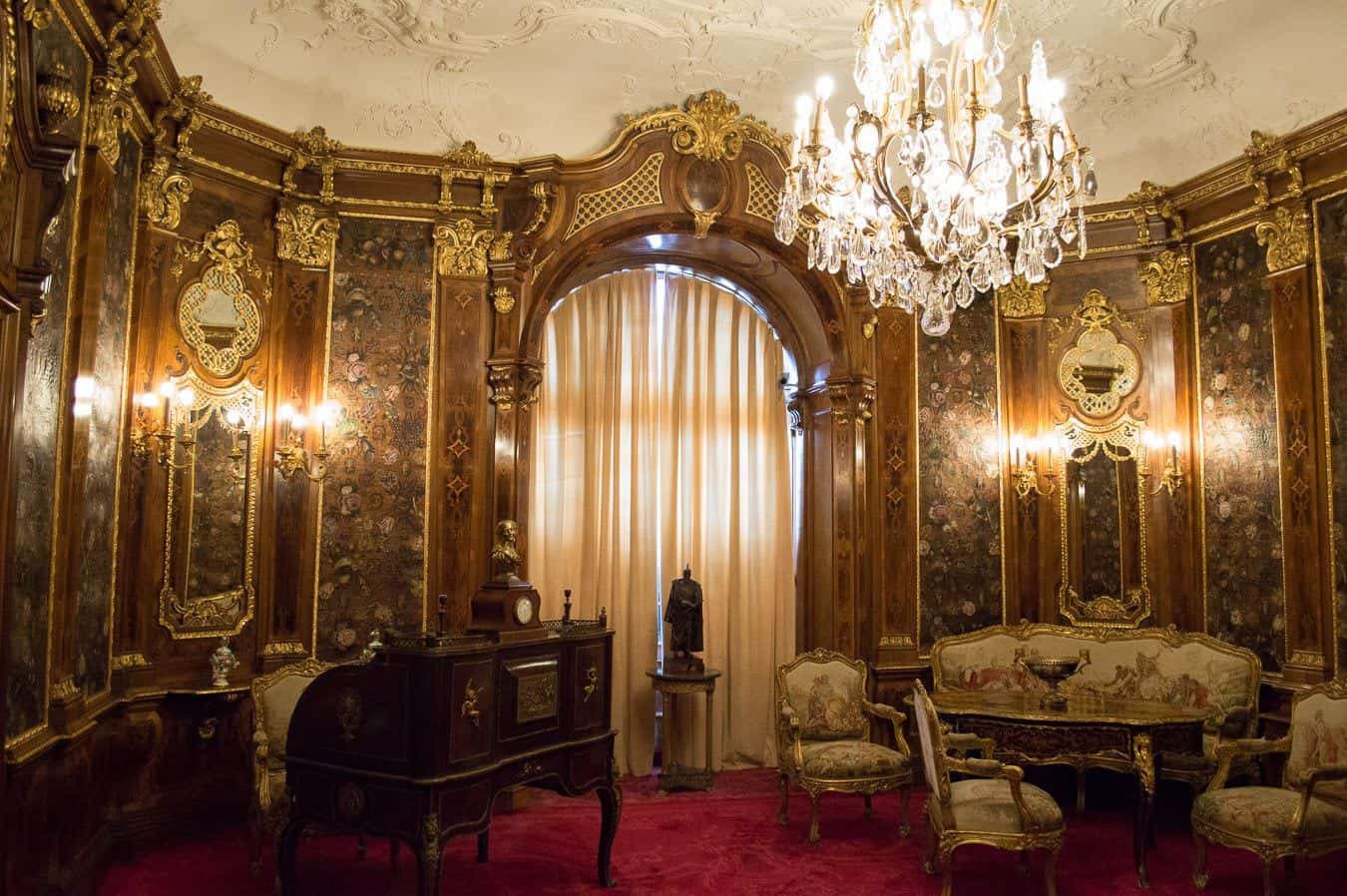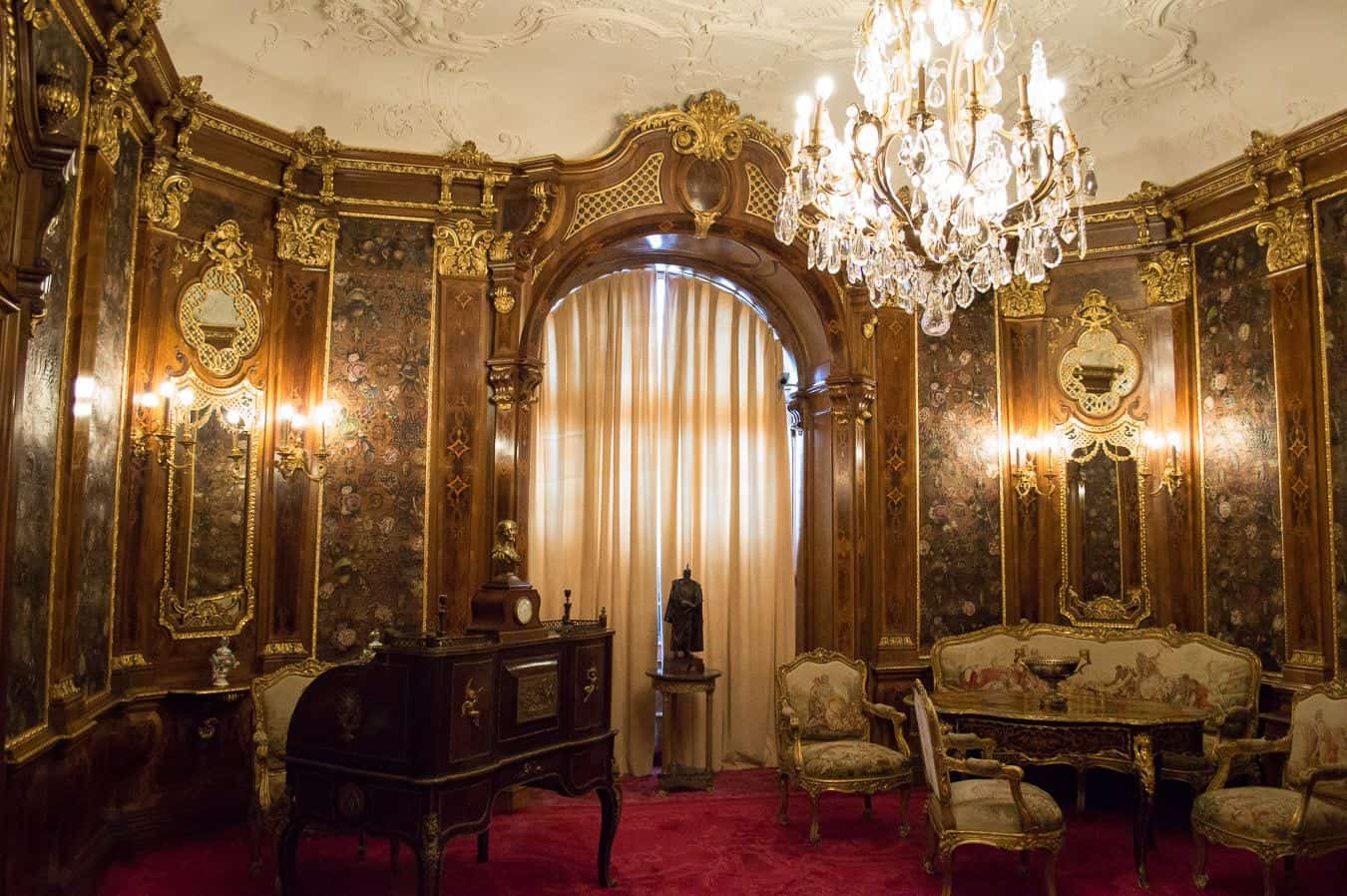 The castle was built in the 1870s and 80s for King Carol I. There are so many styles of decor within the range of rooms in Peles.
The castle is huge and gorgeous. Our photos showcase just a bit of how lovely the rooms are and how intricate and ornate the details.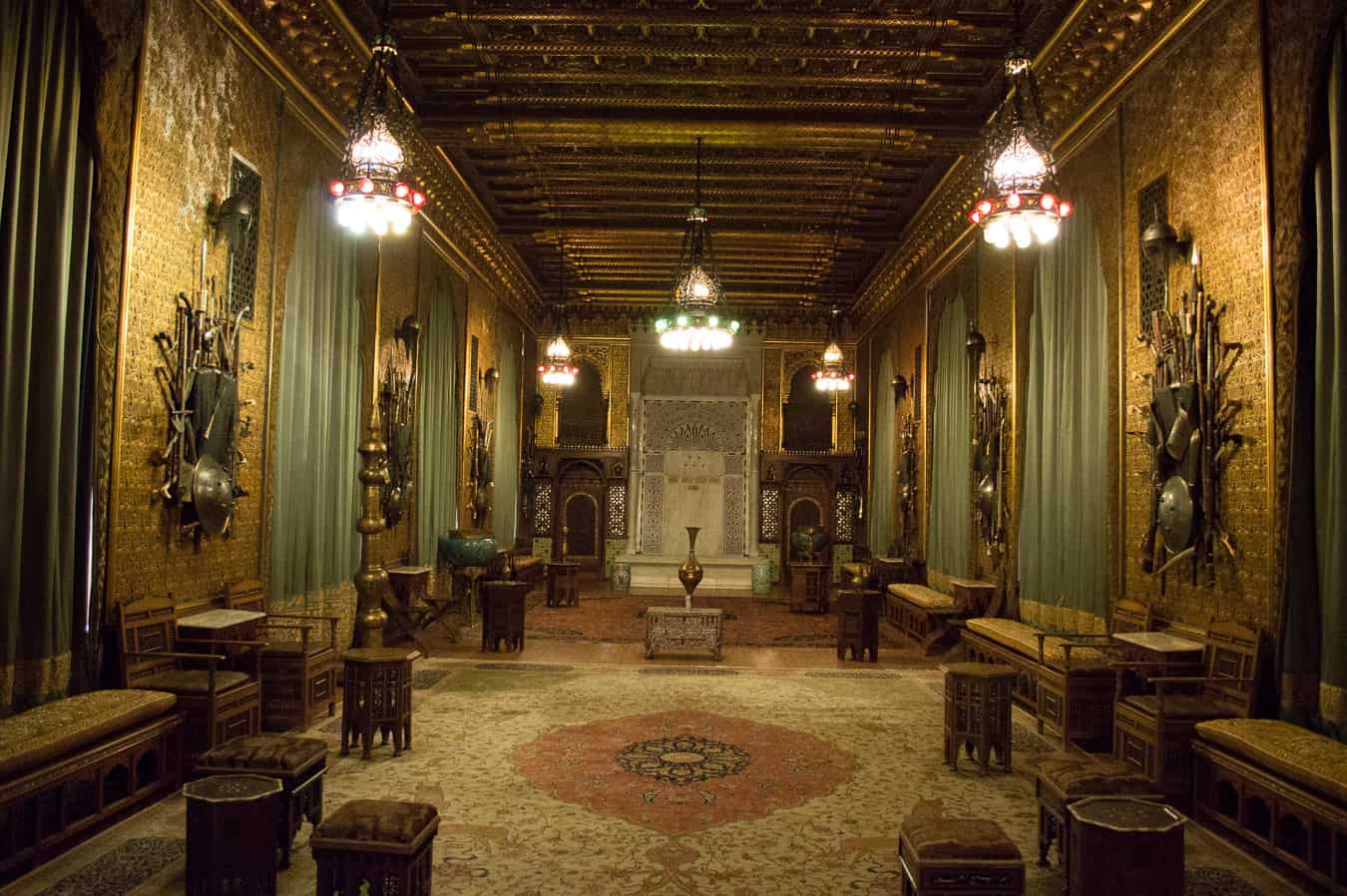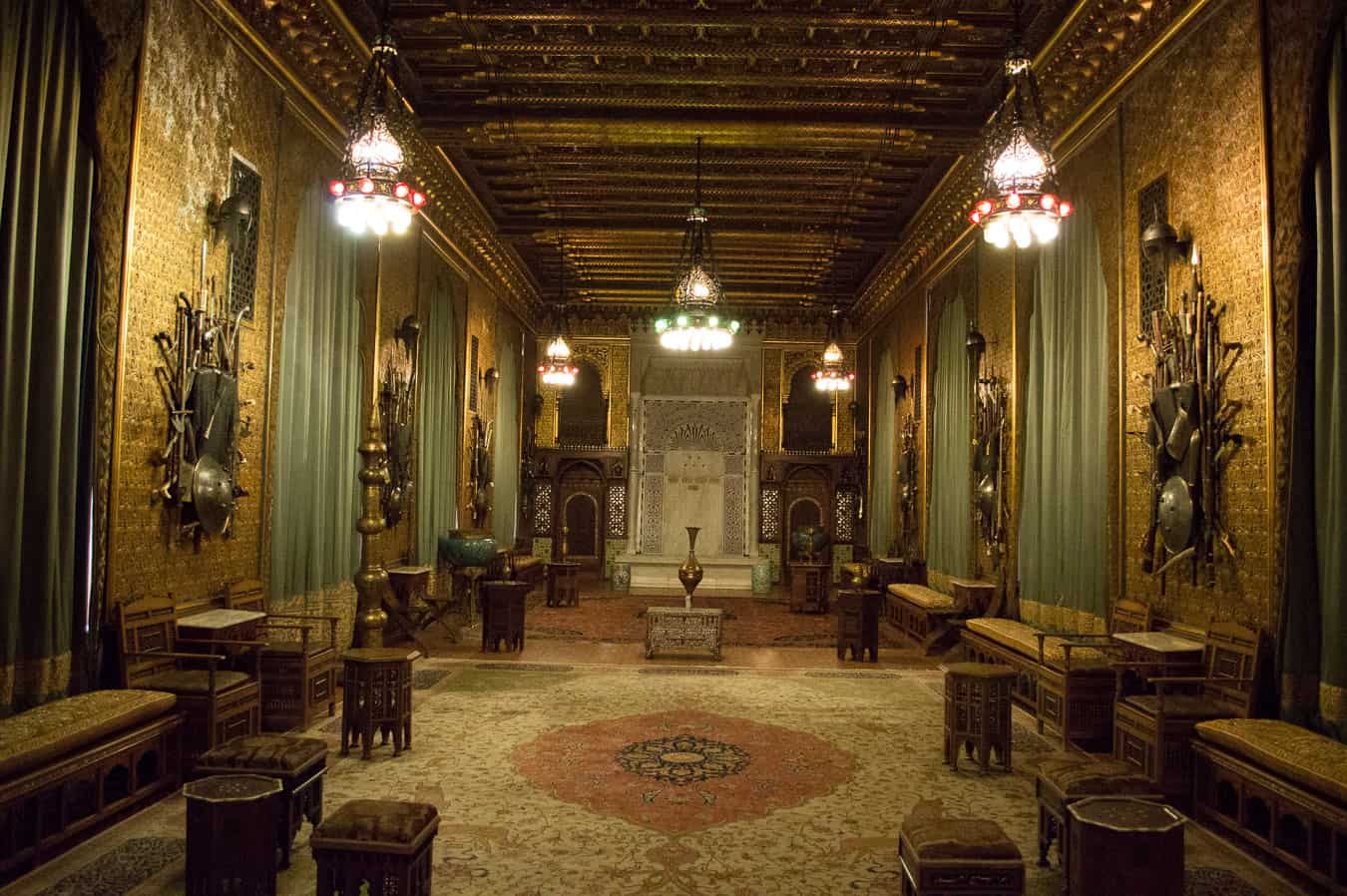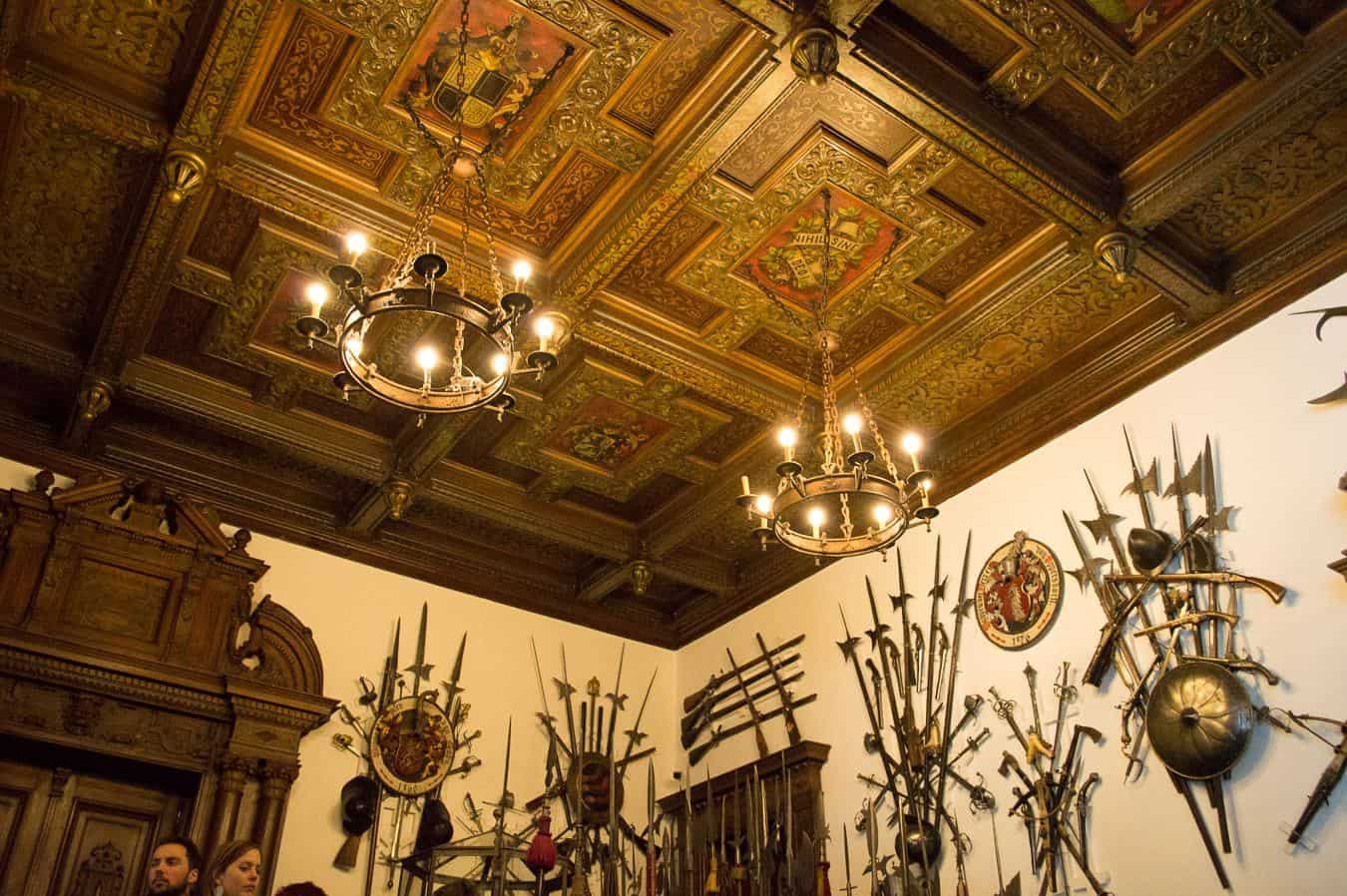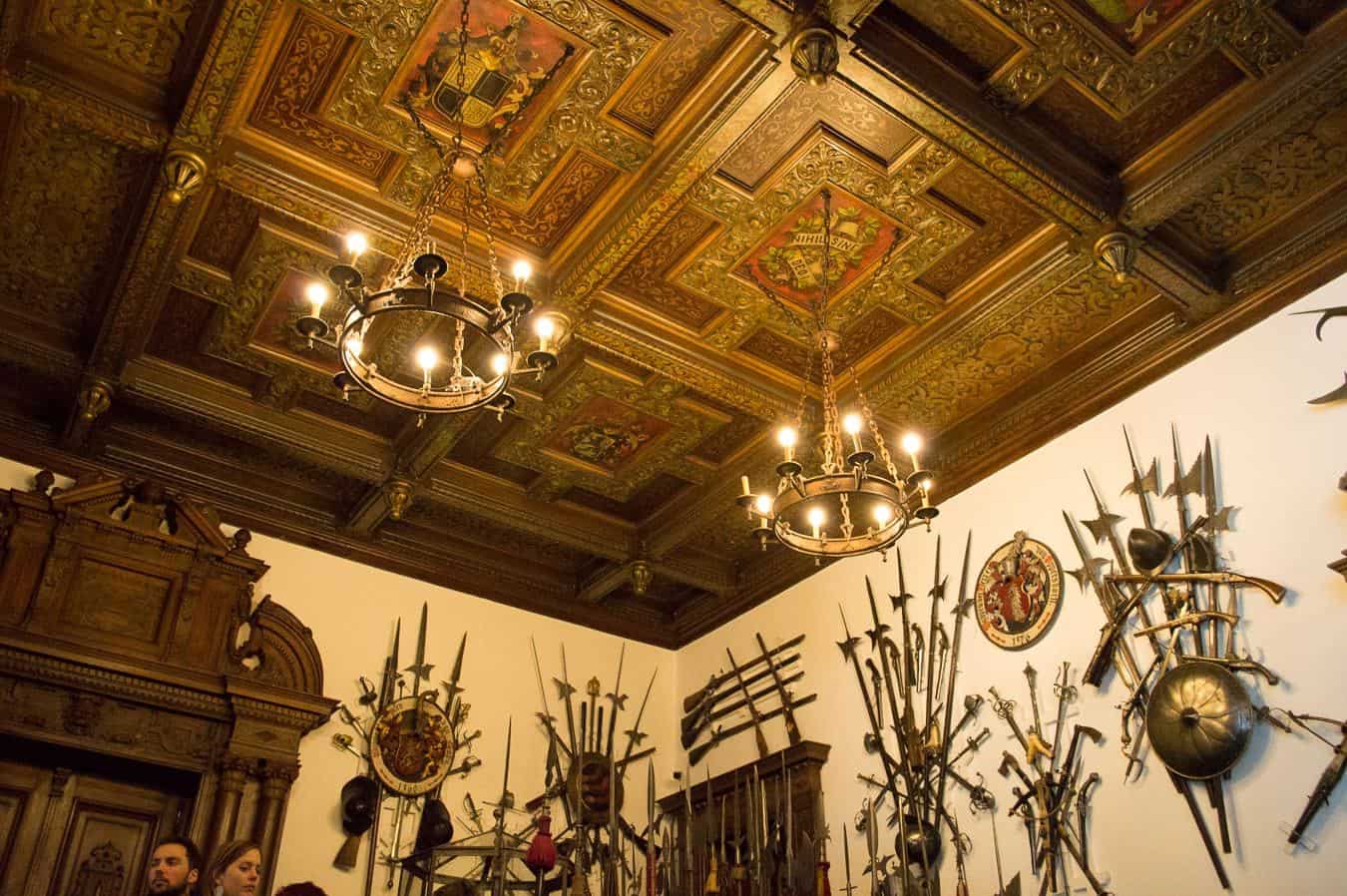 While Romania is great for budget travel, Peles Castle is a fairly expensive tourist attraction.
Adult tickets are 50 lei for the two-floor tour. You can take a tour of just the first floor for a reduced rate, but we liked the additional rooms you get to see.
If you'd like to take photos on your tour, there's also an extra fee that must be paid (around 30 lei).
See the Bears at the Libearty Bear Sanctuary
If you love supporting wildlife ventures, the Libearty Bear Sanctuary should be on your list. These bears have been rescued from situations where they've been exploited and are now living their lives in the safe, well-kept grounds of the sanctuary in Zarnesti.
You can visit the sanctuary to see the bears during feeding times. You must contact the organization to book your space and to ensure the tours are running (they only occur in the morning hours). Fellow bloggers from Nomad is Beautiful have a lovely write-up of their visit to the Brasov bear sanctuary.

Spending Christmas in Brasov
Though Brasov looks gorgeously lush in the summertime photos we've seen, I'm not sure anything can compare to the fairytale splendor of a Romanian winter.
With fewer tourists, lower prices, and the allure of Christmas markets and hot wine, Brasov makes for a wonderful winter destination.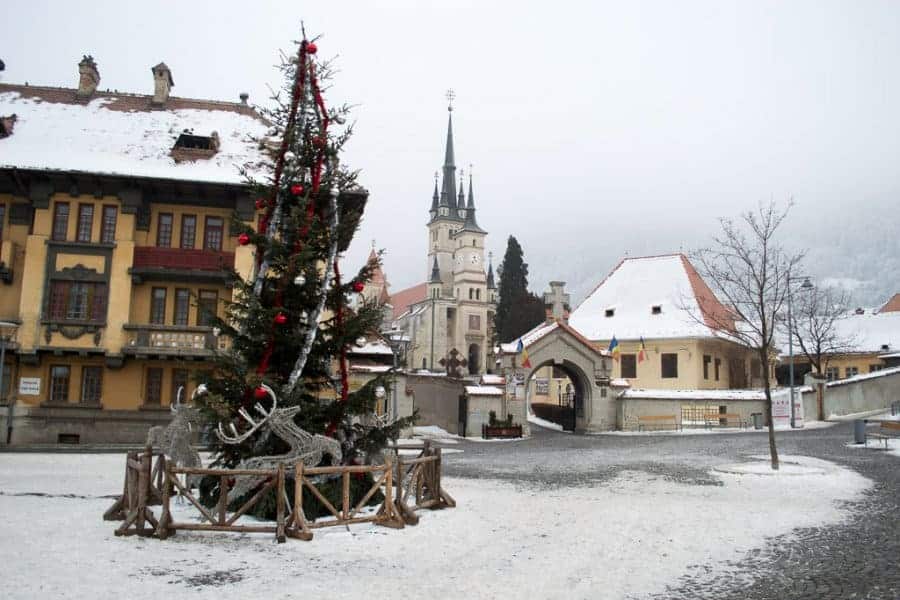 We spent Christmas 2016 in Brasov, and it was festive and beautiful. The Brasov Christmas Market opens on December 6th and runs for about one month into early January. It's centrally located in the Piata Sfatului where rows of cozy wooden huts hold delicious treats, handmade crafts, and steaming "vin fiert."
The Christmas market is always a bustle of activity, with families enjoying the season. You'll want to try the hot wine/vin fiert of course, but also sample the hot tuica. This is a mulled brandy drink which is unique to Romania. The plum brandy is STRONG and the small cup will certainly warm you from head to toe.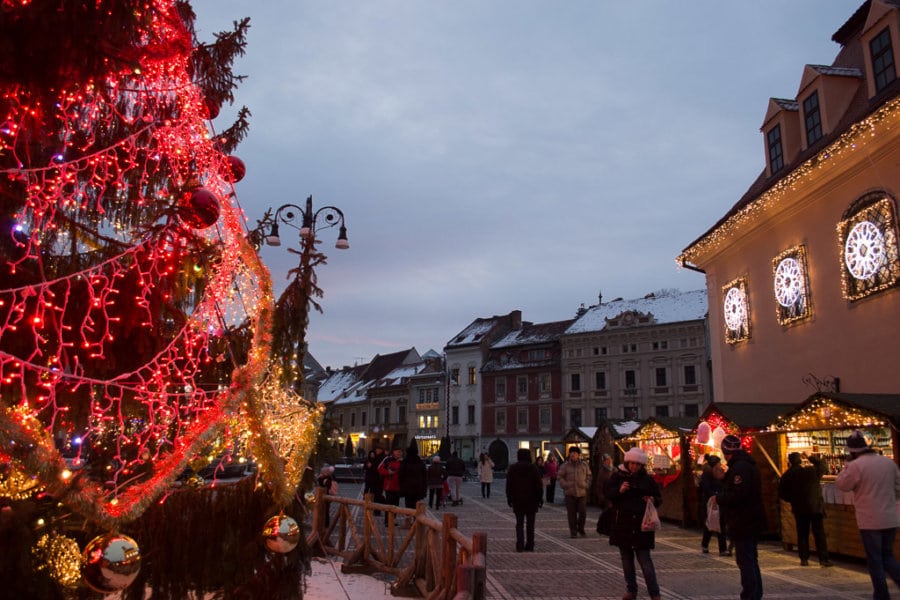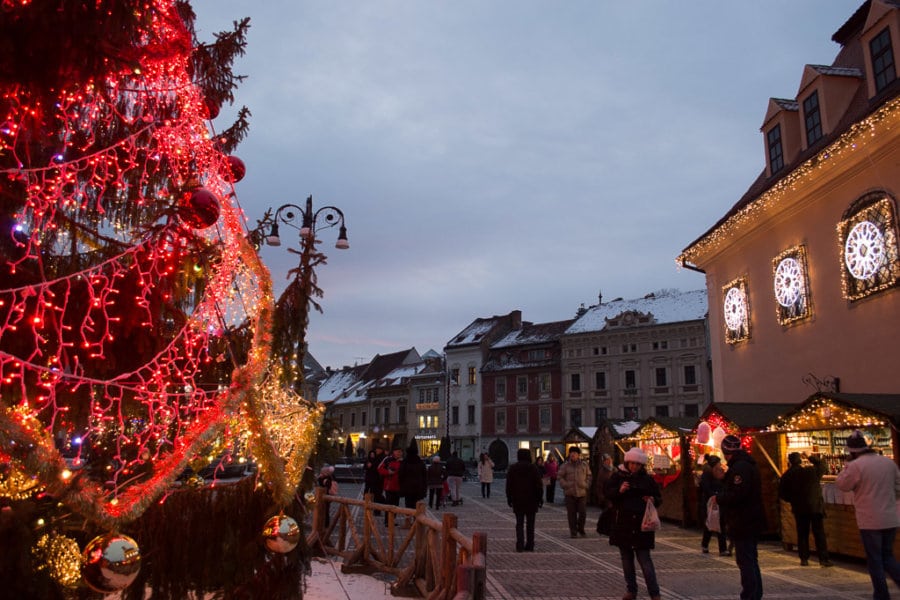 Got a sweet tooth? You'll find an array of desserts to satisfy your craving. Kürtőskalács, a Hungarian inspired spit cake, gogosi donuts, and much, much more.
There is often live music in the Council Square/ Piata Sfatului, and on the opening night of the Christmas market we enjoyed a massive concert. The entire square was packed and a big stage had been set up. There was energetic pop music, strobe lights, and a huge crowd. It was incredibly fun. There were similar events on New Years, too.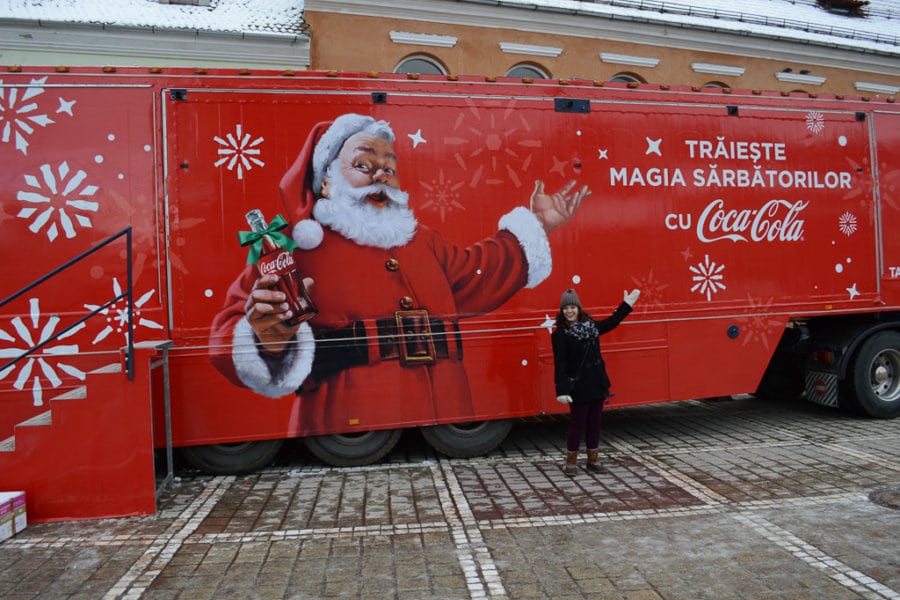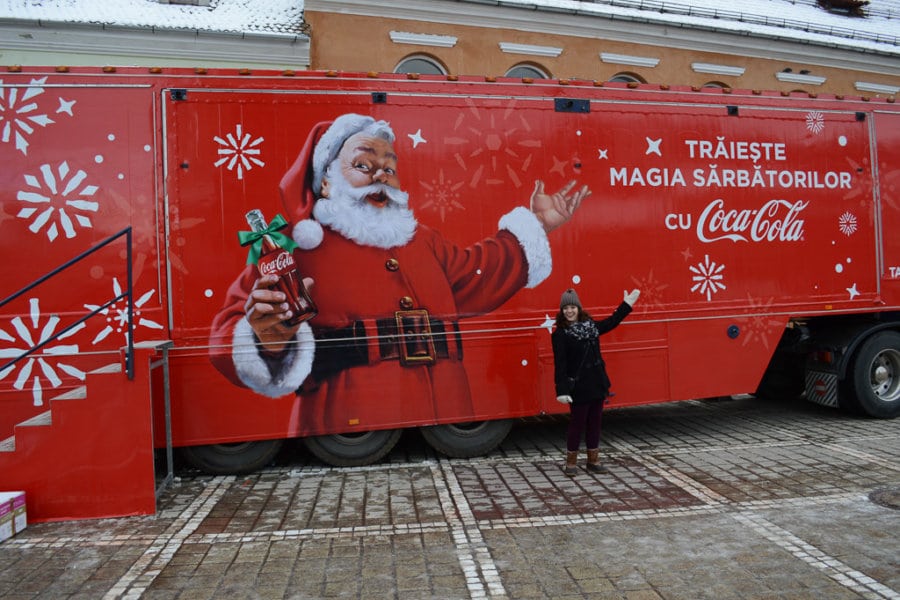 Curious about the winter weather in Brasov? Yes, it's cold. There's no denying that. We found December much more pleasant than January. Perhaps it's because of the Christmas season, but December felt warmer and more bearable. There was plenty of snow constantly dusting the hills and yet temperatures were not unseemingly cold. If memory serves, days were in the upper 20's and low 30s.
Despite the chill, however, Romania was very sunny!
We noticed right away that the sun was shining regularly—a stark contrast to gloomy Scotland where we'd been for a month just before heading to Romania. And while we adore Scotland, the constant damp of the UK makes it seem colder somehow. The weather gets to your bones. Romania, though technically colder, had a dryer climate that made it more enjoyable to me, weatherwise.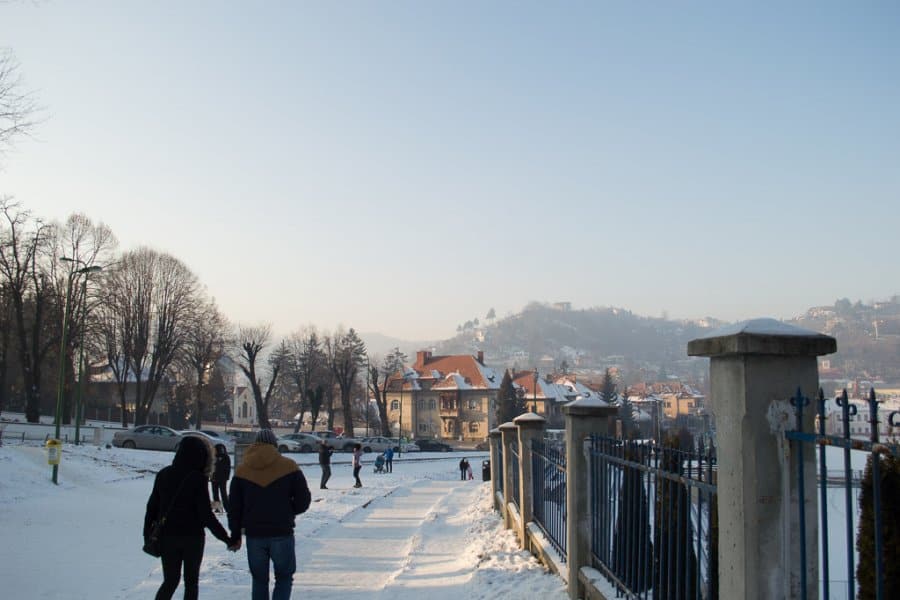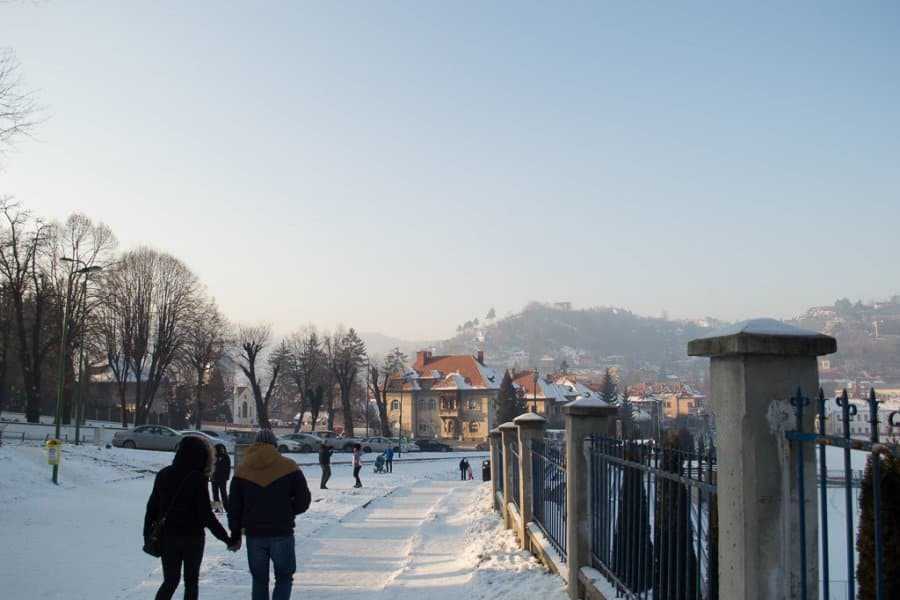 January however, saw a break in snowfall and colder temperatures, often with wind. It was still fine for walking about a bit, but not as mild as December. When packing for Brasov, be sure to include a good coat, cozy wrap around scarf, and a winter hat and mittens.
If you're thinking of spending Christmas in Brasov, we highly recommend it.
There are frequent parades in the streets, often with participants dressed in full bear furs or costumed like other strange, folkloric creatures. They carry bells and other noisy instruments and definitely cause you to stop and take notice! We even caught a few of these people preparing to march outside our AirBnb window on Christmas morning.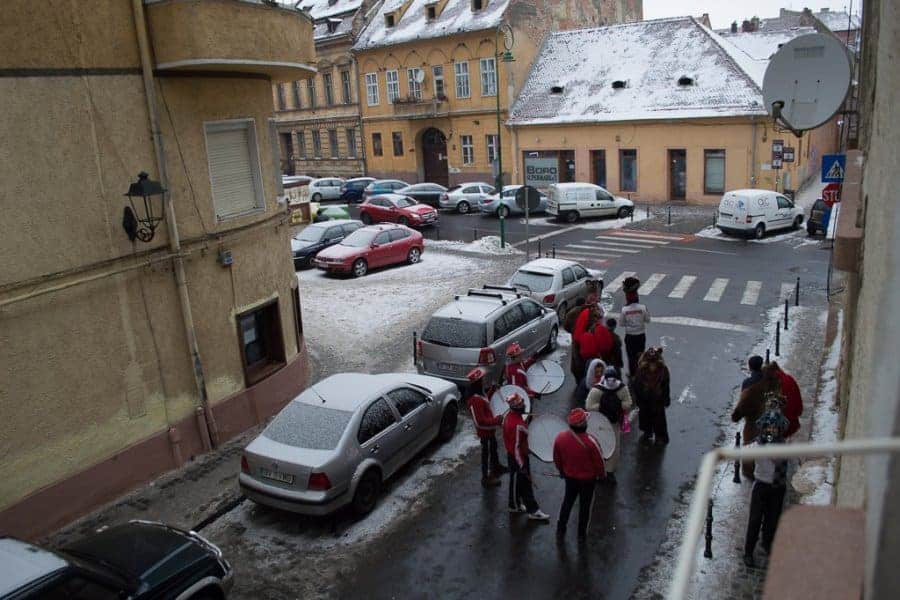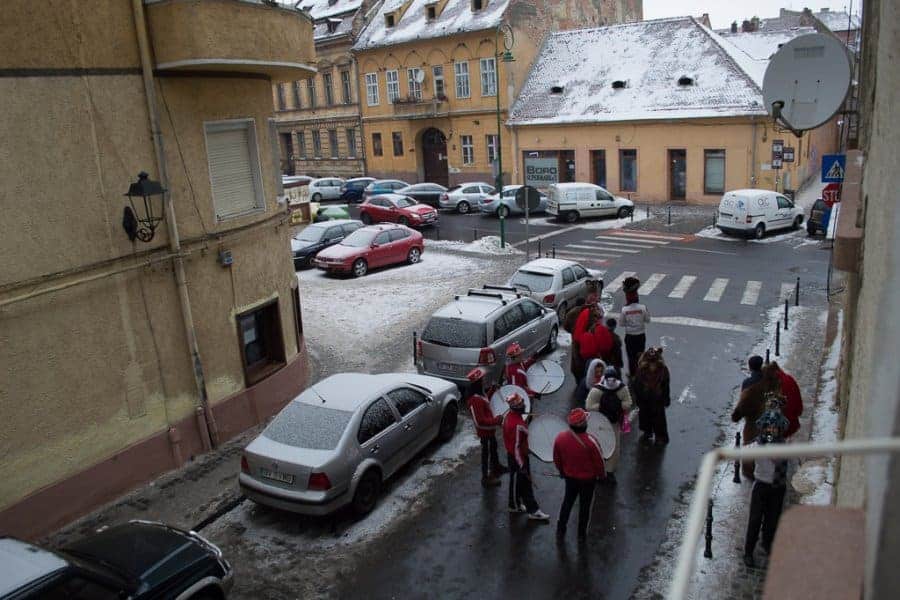 Click here to read more information on these fascinating yuletide traditions.
Where to Eat in Brasov
Oh Brasov, you are delicious! While planning what to do in Brasov, Romania, you are going to work up an appetite. Fortunately, there are plenty of great places to eat.
With many wonderful restaurants in Brasov, we tried a fair share, but honestly barely scratched the surface. Here are a few old town spots we definitely recommend.
And if you need help knowing what to order, take a look at this guide to some classic Romanian dishes.
Le Ceaun
Le Ceaun is amazing, and somehow it seems to be missed by tourists despite its presence in the old centre. This local favorite offers daily stews cooked in traditional cauldrons —hence the meaning behind the name of the restaurant. But they also have a big menu with plenty more to enjoy.
We had polenta, sausages, veggies, and more; such deliciousness I can't even remember. With hearty dishes, big flavors, and low prices, Le Ceaun is a must-dine. This place is very small, so get there early to get a table for lunch.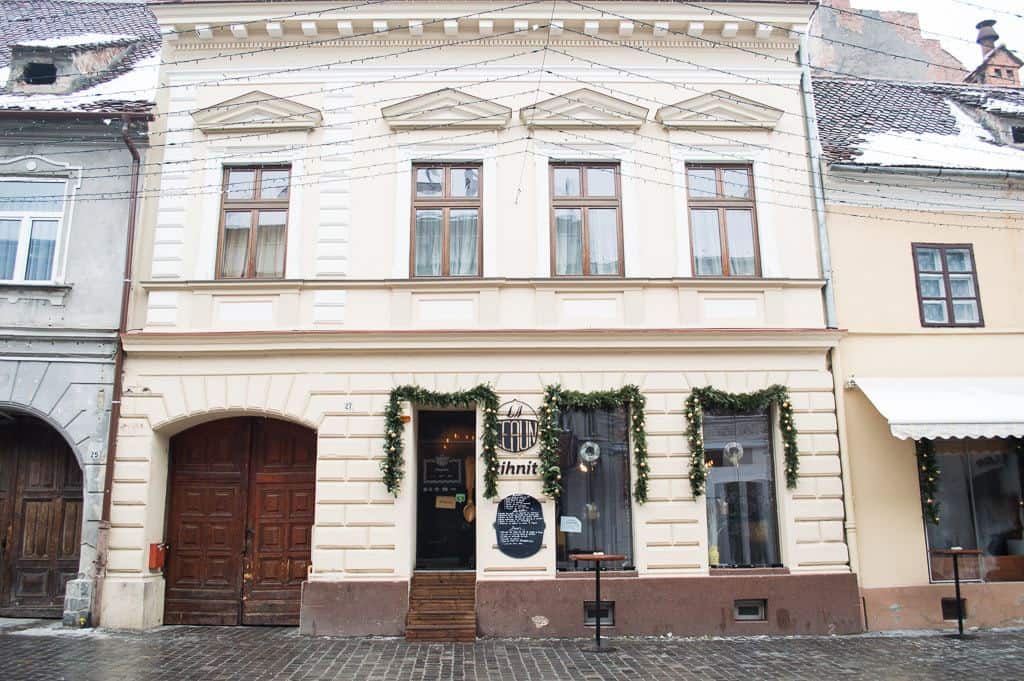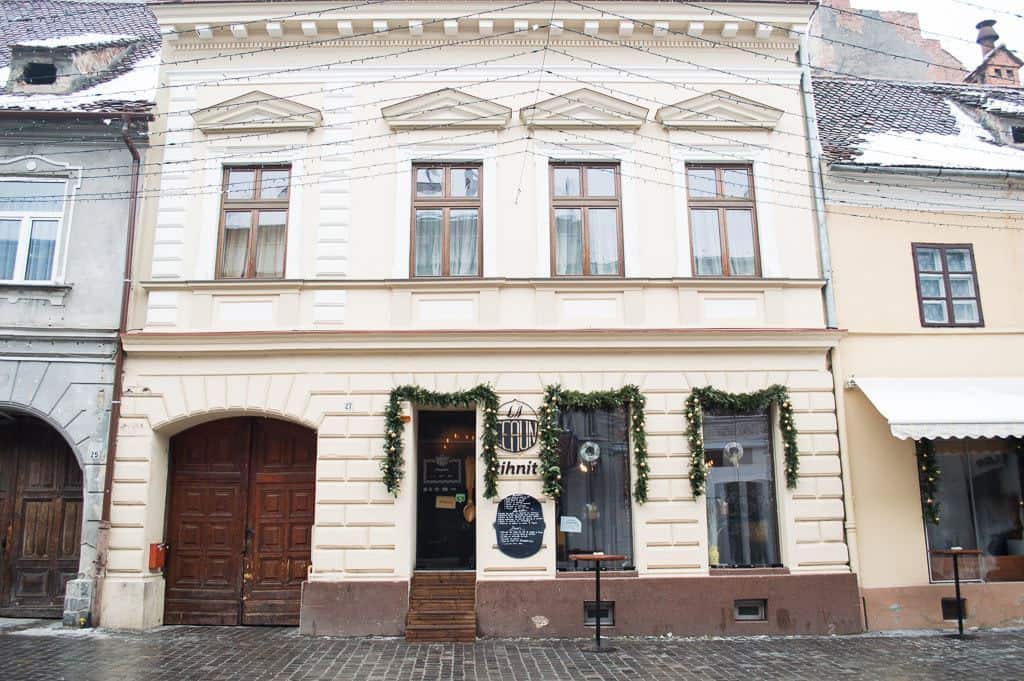 Restaurant Ursul Carpatin
If you're wondering where to eat in Brasov that offers a traditional Romanian cuisine experience, we think Ursul Carpatin fits the bill. This was probably where we had the best meal during our time in Brasov.
The exterior of the restaurant is very inviting, with a warm, fire lit entryway that beckons you upstairs. It's a surprisingly big space once you're inside, furnished with the reds and blacks of Romanian decor. Order their big sampler dish if you want to try a spread of Romanian fare, or tuck in to a chicken stew.
Simone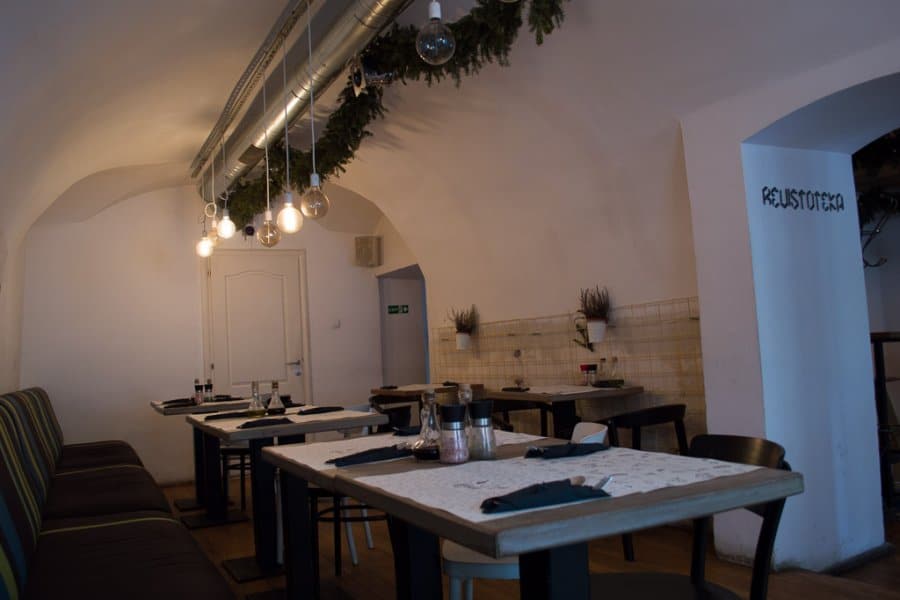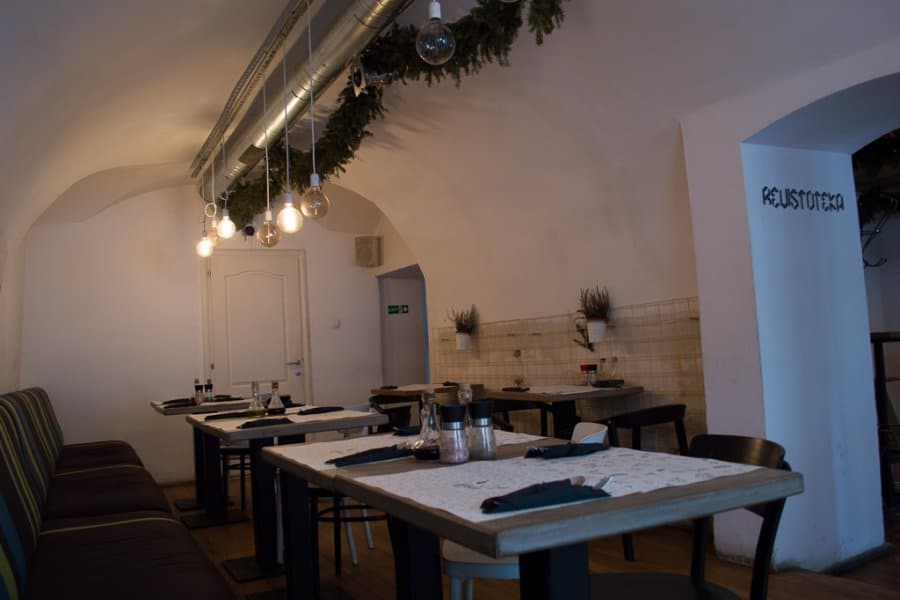 Simone is a top choice for a vegetarian restaurant in Brasov. They have a delicious daily menu with fresh choices. There's also salads, curries, pastas, and more, and it's all really, really yummy.
If you're not a vegetarian, they've also got a couple of meat options. Don't forget about cocktails, tea, and more. We recommend the veggie burger, green curry, and the quesadilla with meat.
This place seems to be a classic. I'd read it recommended as a great spot in Brasov. It didn't disappoint. If you're looking for traditional Romanian cuisine, this is a solid choice.
Hof Cafe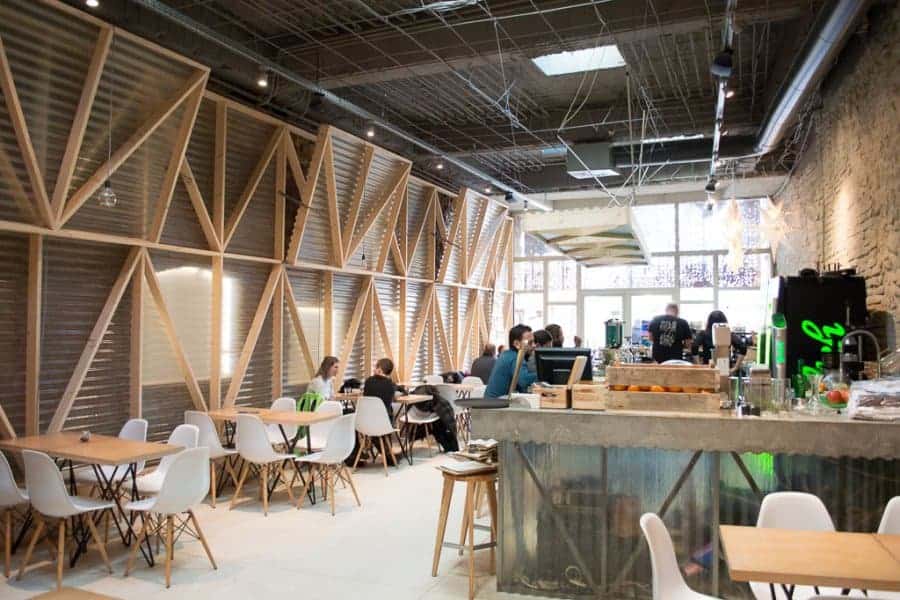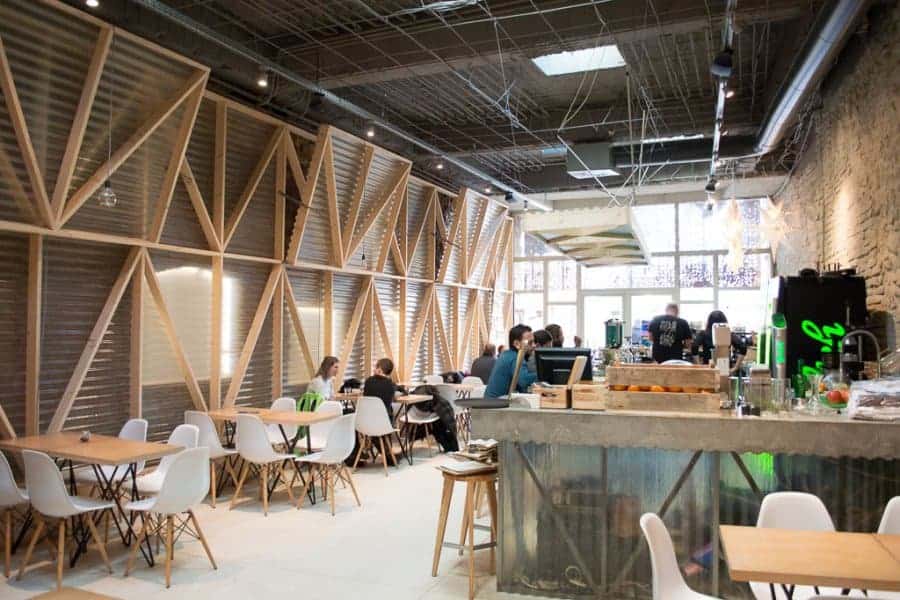 Hof Cafe is located directly in Piata Sfatului and is an excellent place for a quick bite. We ate here frequently while getting some work done on the super fast WiFi.
There are sandwiches, soups, and fresh, delicious crepes. Top it off with a great latte or other beverage and you'll be truly satisfied.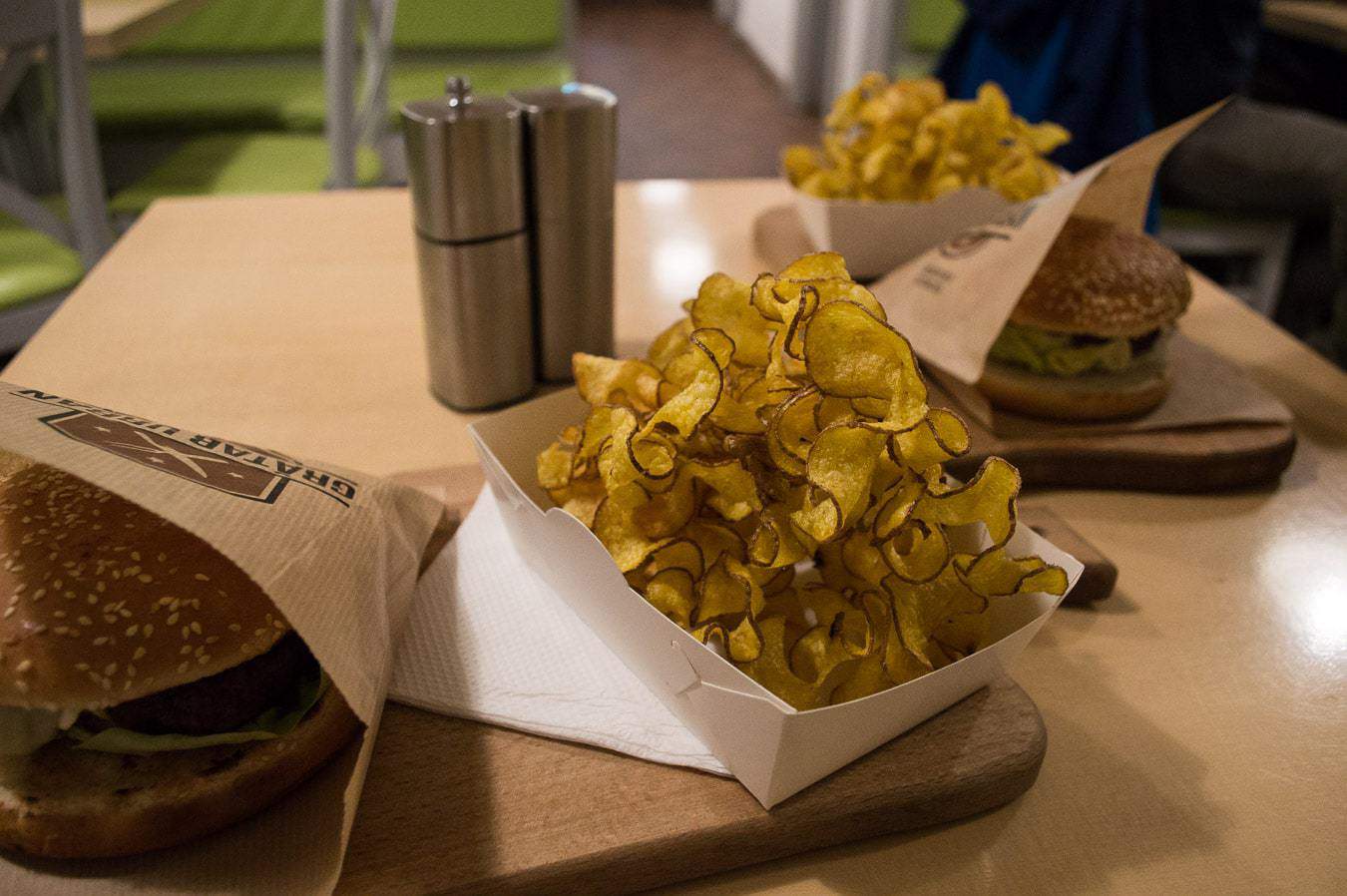 Craving a burger? Gratar is THE place to go. This restaurant is on Strada Michael Weiss and offers unique and tasty burger options paired with crispy potato chips.
You have to try the burger with brie and blueberry sauce. Sound a little odd? It's an amazing combination!
The Bistro Albert is the most romantic Brasov restaurant we dined in. Set in an old wine cellar of sorts, this place immediately will wow you as you walk down the stairs.
The candlelit entryway offers just a brief taste of what's to come. Our dinner was excellent, but the best part of all was the delicious chocolate lava cake dessert.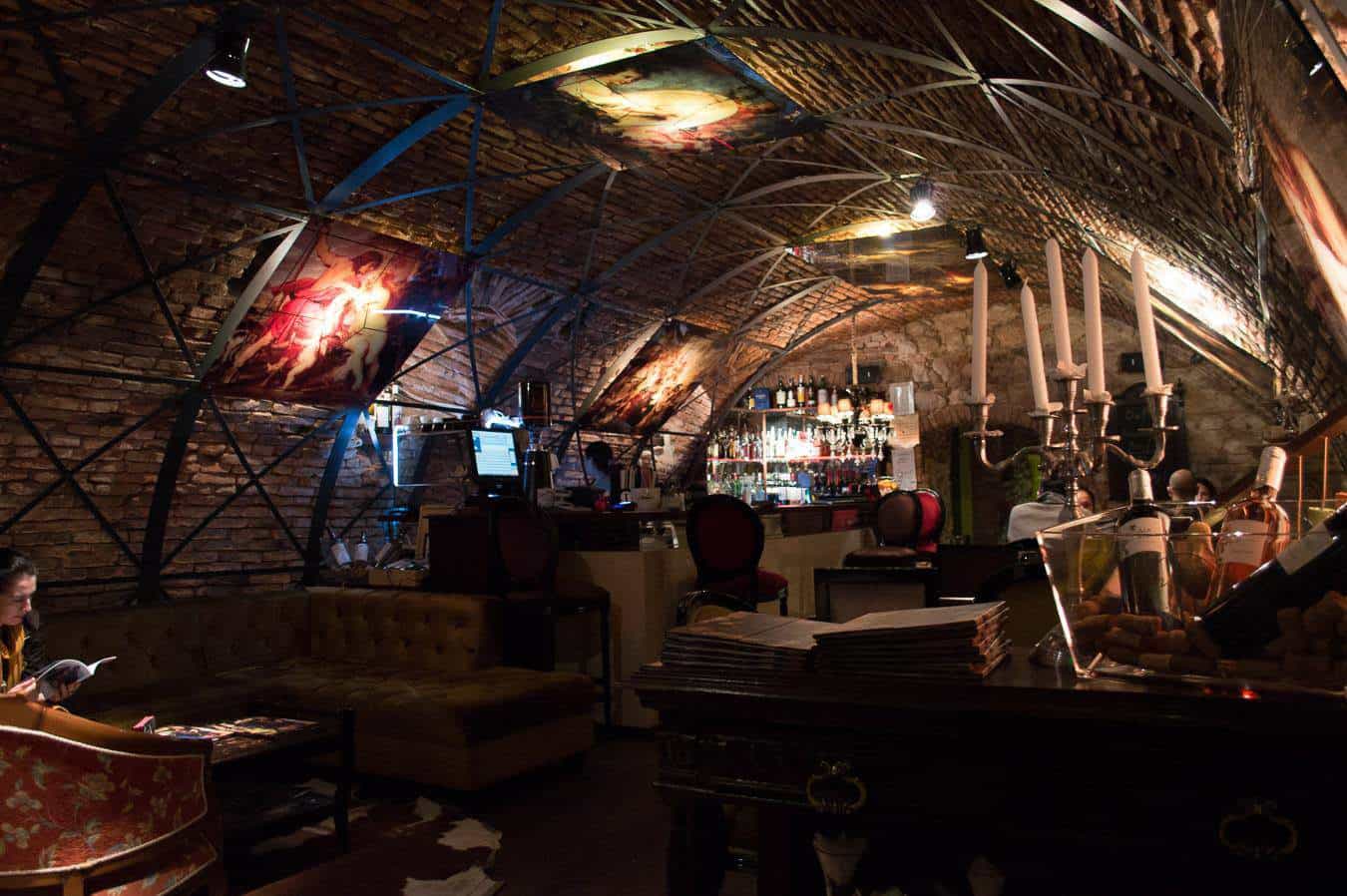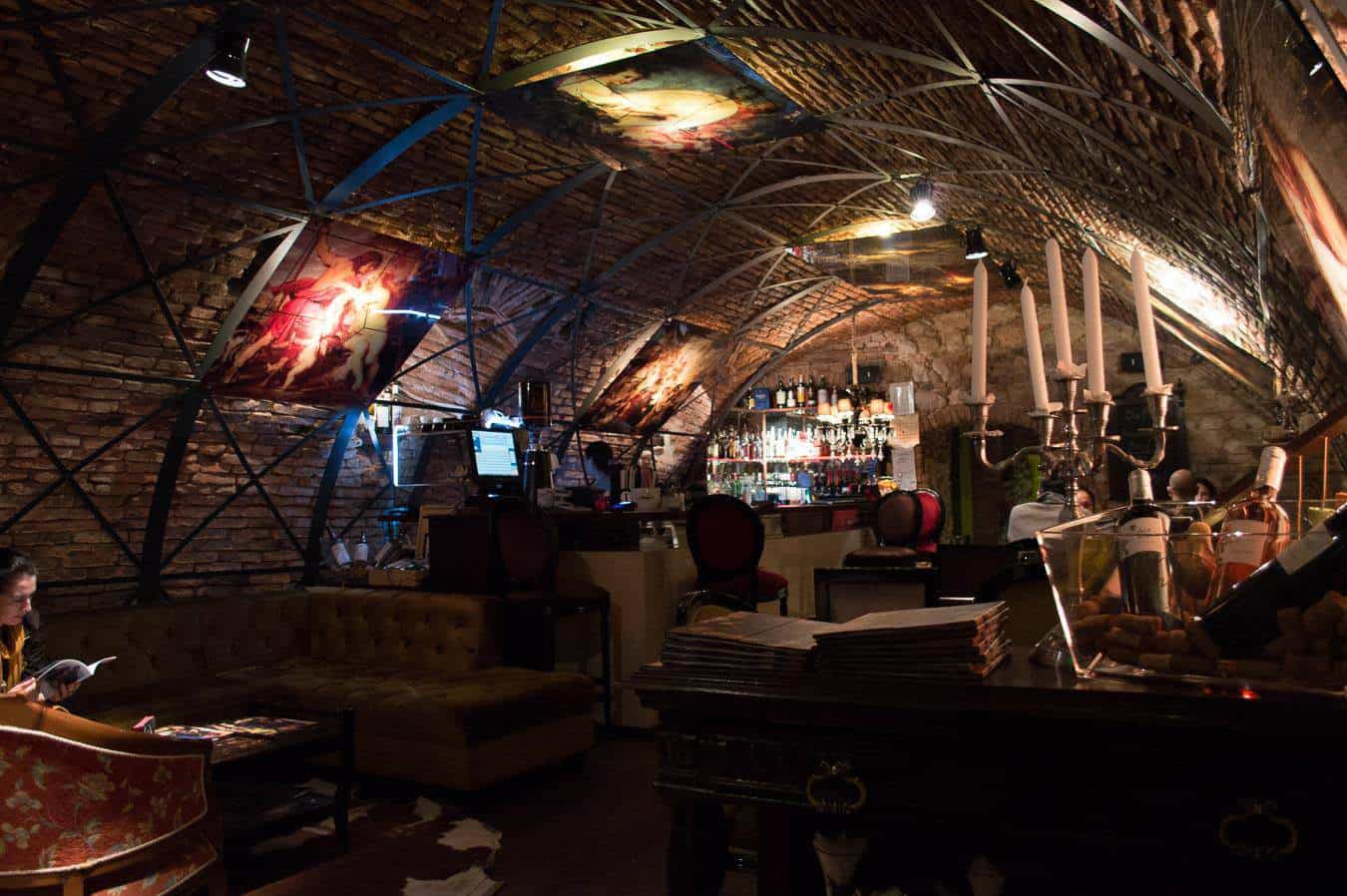 ↠Just want a great cup of coffee? Here's our list of Brasov's best coffee shops.↞
Did we catch all the great activities in Brasov? Did we miss one of the top things to do?
If there's something we forgot to add to our list, let us know. Whether you are there for a few days or a few months, we hope you'll have a fabulous visit to this wonderful city.
---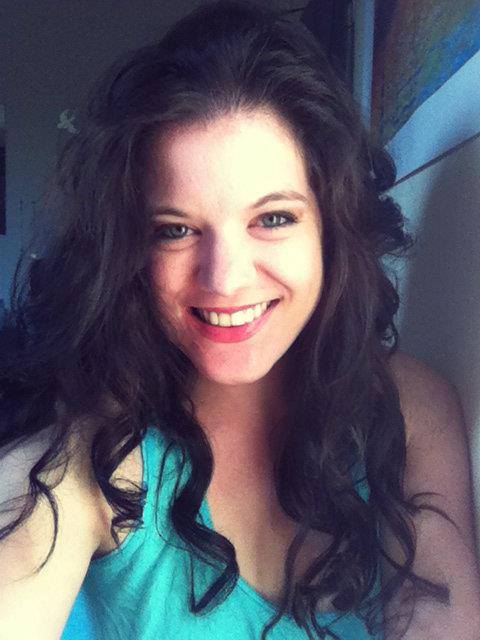 Amy Hartle is the author of Do You Love Me? How To Stop Seeking Reassurance in Relationships, a book on reassurance seeking and relationship anxiety. Both her book and this blog are born of personal experience; Amy shares expert relationship advice from the lessons learned during her own 10+ years with her husband, as well as couples travel tips and romantic getaway recommendations, all gleaned while traveling the world together.