This post may contain affiliate links. Read our disclosure page for full details.
Love is about more than poetry and flowers. In 2019, it might also include a couple of mobile apps! We're always aiming to share our top tips for the couples lifestyle, so we thought we'd share some of our favorite couple-centric apps. Some are designed specifically for two people, while others we think just work extra well for those in relationships. Check out our list of the best apps for couples below.
Kindu
Kindu is a clever app for partners that focuses on adventures in and out of the bedroom. Kindu says their goal is to "inspire intimacy in a fun flirty way" and the app seems great for this.
You sign up for an account and username (which remains totally anonymous) and then you can link up to your partner's account. Then have fun answering questions separately about your desires, preferences, or date ideas.
If you both say yes or maybe to an idea, you'll be able to store it for later use.
Depending upon how "spicy" you want the app to be, you can choose three levels of risque-ness: Vanilla, Cinnamon, and Red Hot Chili Pepper.
My Love
There's not much to this simple app, but it is a cute addition to your device nonetheless. This app is a relationship counter that lets you know exactly how long you've been in a relationship with your significant other.
It's nice to pop into the app and check out just how many weeks, months, and days you've been in love. (2161 days for us, btw). You can set up the app to notify you on special days, too.
Forgetful with anniversaries? My Love can help you out!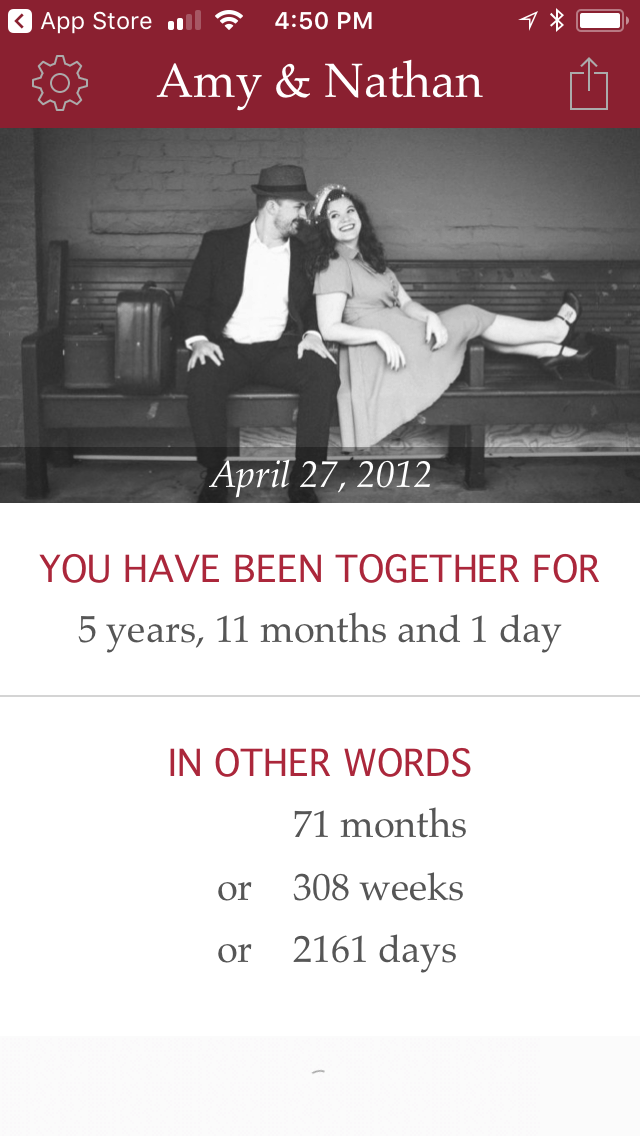 Couple
This app is lovely. I have to share that, while writing this today, I re-downloaded the app onto my phone. It seems I hadn't used it in many years, but I clearly remembered using it back when Nathan and I were long distance.
Somehow, I remembered my login information and suddenly, I was in a time capsule of our relationship. Nathan & I hadn't written any messages to each other in this app since 2014, but they were all still there. Adorable drawings. Sweet, flirty text messages back and forth. What a gift!
I got so emotional going through them and started crying. When I had scrolled back all the way back to the top, wouldn't you know it, it said Nathan & Amy paired March 28, 2013, exactly FIVE YEARS ago to THE DAY that I write this post. I love that serendipity.
So needless to say, Couple scores major points because it has kept some of our amazing memories all these years. The app is really sweet. It's essentially a personalized messaging portal for couples, allowing you the option to make shared lists, draw pictures, and more.
It also has a cute feature called Thumbkiss, that allows you and your partner to touch your screens at the same time and feel a vibration when your thumbs 'touch.' It's a sweet little virtual moment of love, and that alone makes this the ideal app for couples in a long distance relationship.
Desire
Desire is a fun, playful app for couples. Bright and colorful, this app is built essentially to let you 'dare' your significant other to do something.
As you dare one another, you earn points. You can choose your dare from several existing categories, or purchase additional categories. Within each category, you'll see dares ranging from tame and romantic to pretty wild.
Unfortunately, you have to earn enough points to unlock the wildest dares. These are labeled 'Spicy' and you can't see what they are until you earn them! This app could be a fun one for the couple looking for some creativity on date night. But you can also play back and forth endlessly, so you've always got some dares going.
Definitely adds some spontaneity to your love story.
Desire is not just a sexy couples app either, it's got some sweet date ideas for couples. The mild cards have some genuinely romantic suggestions, so there's a nice balance here.
YNAB
Looking for the best budget app for couples? I'm obsessed with You Need a Budget, aka YNAB. This is primarily a desktop-based budgeting program but oh my goodness is it helpful.
YNAB is the tool you need if you've never budgeted before but you KNOW you need to. There are other good budgeting apps, like Mint, that are great for a basic overview of your financial situation. But for those of us who need to go a little more down to the bare bones or who want to start with the basics, YNAB ticks all the boxes.
The tool is built on a simple premise: Every dollar needs a job.
When you have money coming into your account, it goes in the 'To Be Budgeted' category. Then you create your various categories and allocate money to each one.
I prefer this approach, especially as a freelancer, because I can deal immediately with the money I *actually* have. Other budgeting apps presume a given income each month, but if yours varies (such as for a freelancer or blogger) this flexibility is most welcome.
The first time you use YNAB it will probably look intimidating. It has the guise of a massive spreadsheet and can feel overwhelming. But it's really not so bad at all, and if I can use it, I promise you can too.
Here's a really good video on the basics of this awesome app. I'm now a convert and I can tell it's already helping us be smarter with our money.
You can try YNAB free for 34 days, but you might end up subscribing like we did! It's important to note that sharing your budget through YNAB basically involves using the same login details on two separate devices. Beyond that, there's not yet an easy way to merge two separate budgets.
So this might be the best budgeting app for married couples, or those sharing finances 100%.
PS: this is our referral link, so if you end up subscribing we get a free month! Weeee! Thanks!
You can also download the app for your mobile device.
Glow
Ok, ladies. Have you already got an app that lets you track your period? If you don't have one, I can't recommend finding one enough! Whether you're married, single, trying to get pregnant, trying NOT to get pregnant, there are countless benefits to regularly tracking your cycle. There are dozens of great choices available, so find which one fits your lifestyle.
I've tried several of the popular choices and I have a few favorites so far. One of these is Glow. When it comes to useful apps for couples, this one is perfect, as you can share your cycle details with a partner.
Your other half can know exactly what you're dealing with and when, which is very helpful for a myriad of reasons. If you're actively trying to get pregnant, this could be especially advantageous.
While Glow does not have my favorite interface (I think it's a tad cartoony), I feel like, out of the various free apps, it offers the most comprehensive input, from symptoms to temperature, and more. The app adjusts with you too, based on what you log. T
hat intuitive aspect is super helpful, and it personalizes things more to you than other apps do. For those who use FAM (Fertility Awareness Method) this app complements that approach very well. (Side note, FAM is something fantastic I thnik that all women should learn about, and if you don't know what it is I suggest you check out this book….)
Do you have a favorite app you use as a couple? Tell us what it is in the comments, and we might add it to our list!
---
Read These Next:
---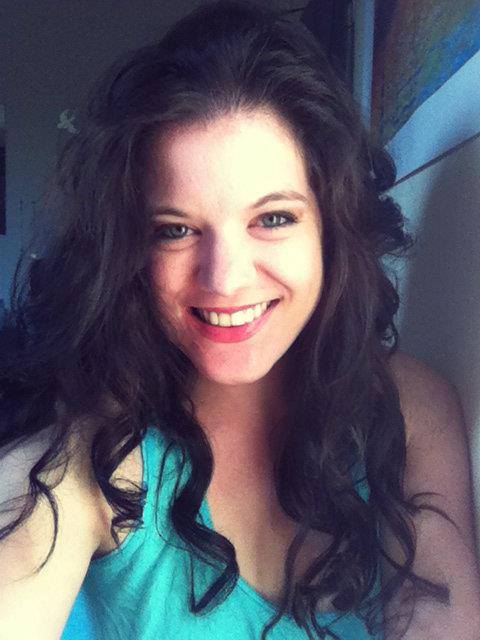 Amy Hartle is the author of Do You Love Me? How To Stop Seeking Reassurance in Relationships, a book on reassurance seeking and relationship anxiety. Both her book and this blog are born of personal experience; Amy shares expert relationship advice from the lessons learned during her own 10+ years with her husband, as well as couples travel tips and romantic getaway recommendations, all gleaned while traveling the world together.