This post may contain affiliate links. Read our disclosure page for full details.
A few weekends ago, one drifter (Amy here!) left our home in New Hampshire for a Maine getaway. This was to be a girl's weekend—a sister's getaway to the coast of Maine, with my sister Krista who I hadn't seen in several years. Such an event needed to be special, deserved to be an occasion and a celebration. To that end, we needed to choose the perfect Maine accommodation to suit our plans.
Krista is a huge lover of the ocean, and has been visiting Maine for years. During nearly all of her visits she has stayed with her husband at the York Harbor Inn, located in York Beach, ME. She has fallen in love with this inn and even calls it her "home away from home." Clearly, there could be no better option for our sister's weekend. We made plans to head to York.
It didn't take long after my arrival to fall in love with the place myself. (In fact, I may have still been parking the car when I declared the place magnificent!) And even in spite of some rainy weather, we had a fabulous stay. Looking for places to stay in York, Maine? Here are 5 reasons the York Harbor Inn should be at the top of your list.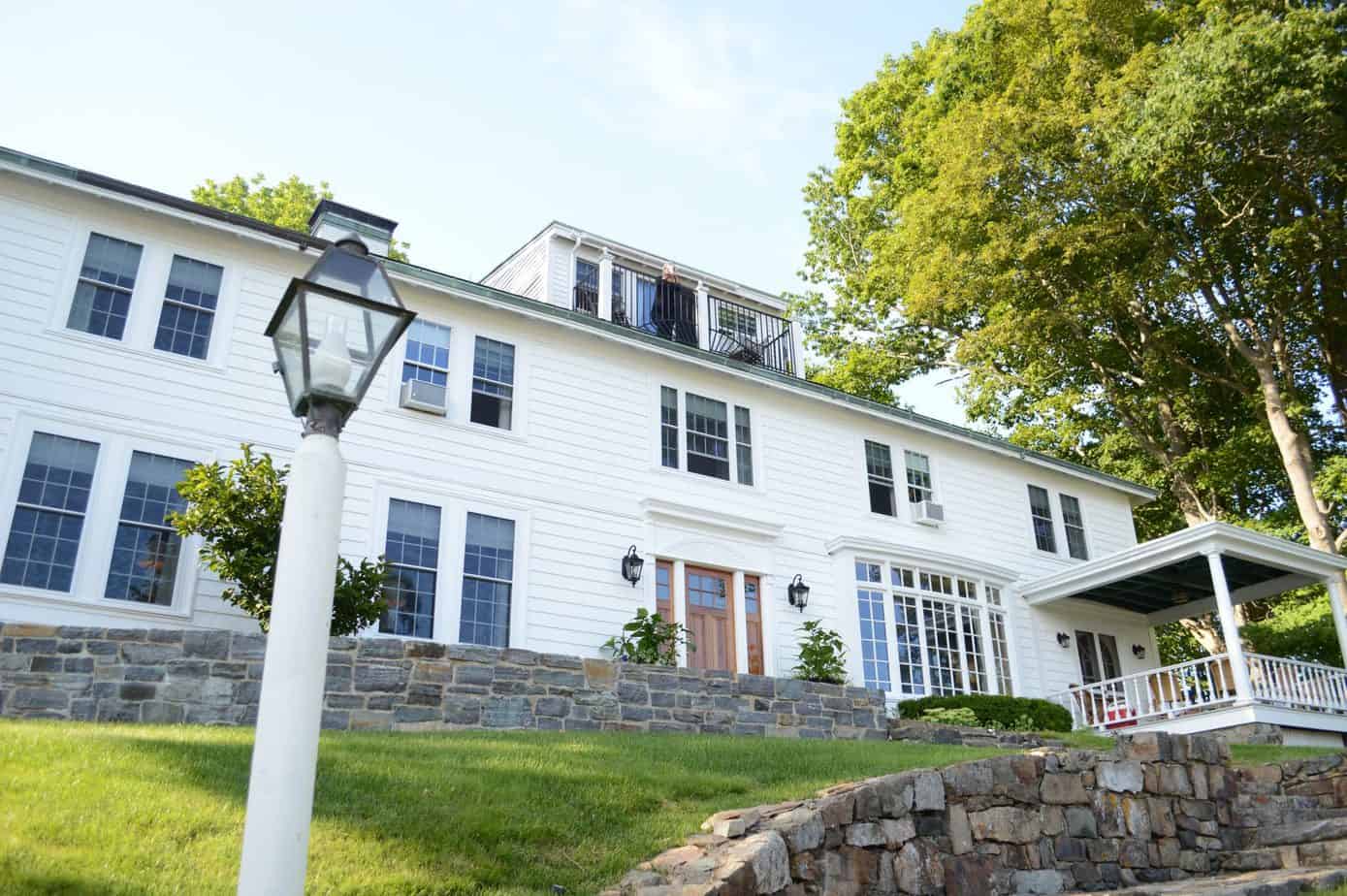 It's simple Maine luxury
The best kinds of hotels and inns are those that strike the perfect balance of luxurious and homey. The York Harbor Inn does this really well. The inn is actually comprised of several different smaller inns dotted around a stretch of the coast. We stayed in the Harbor Cliffs Inn which is directly next to the main building. This is a gorgeous mansion overlooking the sea.
Apparently an old ship captain's home, this inn feels so much like you're staying in your own beautiful beach house. It is really quiet and private, with public spaces to relax and unwind.
You could sit with a book for hours on the screened porch and watch the swell of the ocean. Or on a cold day, you can curl up by the fire on a plump couch—AND still see the water through the huge picture window. There's also a small kitchen in the inn should you need it.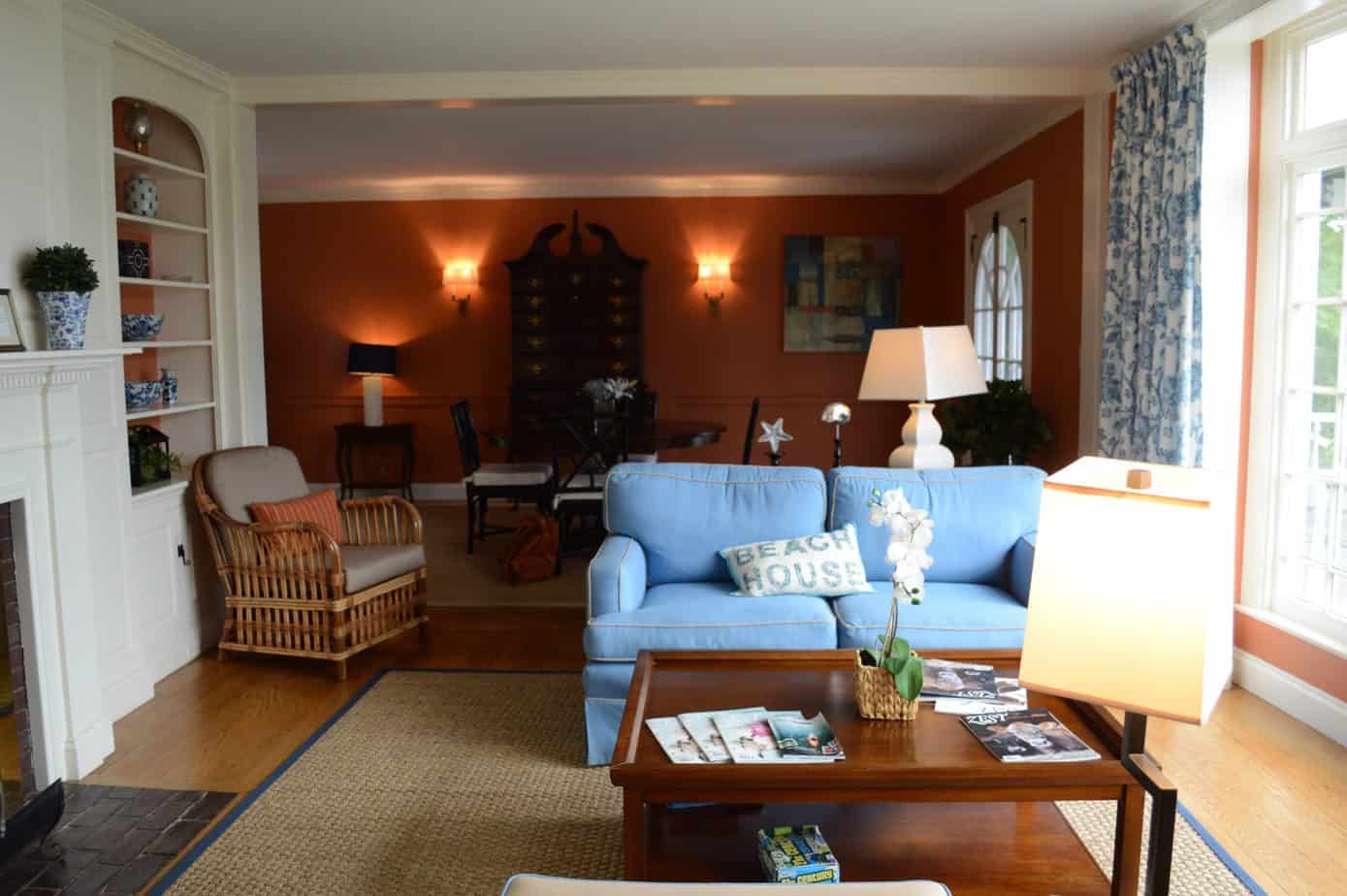 Crowds? What crowds?
Even in the height of summer when we visited, York remains a laidback town that seems somehow undiscovered. If you're looking for action, you might prefer the busier areas of Orchard Beach or even Ogunquit, but for a real getaway, York Beach is the destination you'll want.
From the York Harbor Inn it is just a quick stroll down to the beach. When the tide is low, the beach is wide enough to accommodate many, but it still doesn't get overly crowded. Admittedly, Maine's waters are quite chilly, so you'll likely spend more time sunning than soaking.
If you want to get out and explore nature, there's a nice path along the rocky coast to be tread. Looking for a longer walk? Check out the unique "Wiggly Bridge."
Amazing food & drink right at your doorstep
No need to search for restaurants in York, Maine during your stay, because delicious food is literally steps away. During our visit, we dined at the 1637 Restaurant. Situated at the front of the main lodgings, this cozy restaurant has views of the sea while you enjoy your meal. And enjoy it you will!
Krista and I started off toasting to our sisters weekend with cocktails. My pick was the Martha's Garden, boasting gin, elderflower liqueur, prosecco, and fresh strawberries. Très summery!
And the food—divine, and so fresh. Whether you're ordering a traditional haddock sandwich (our late night snack choice!) or a filet topped with lobster, all the options are excellent. Standouts from our meal included the artichoke dip as a starter and the Colligan Filet (8 oz of hand-cut filet topped with a crab cake, fresh Maine lobster meat, and Béarnaise Sauce. Epic.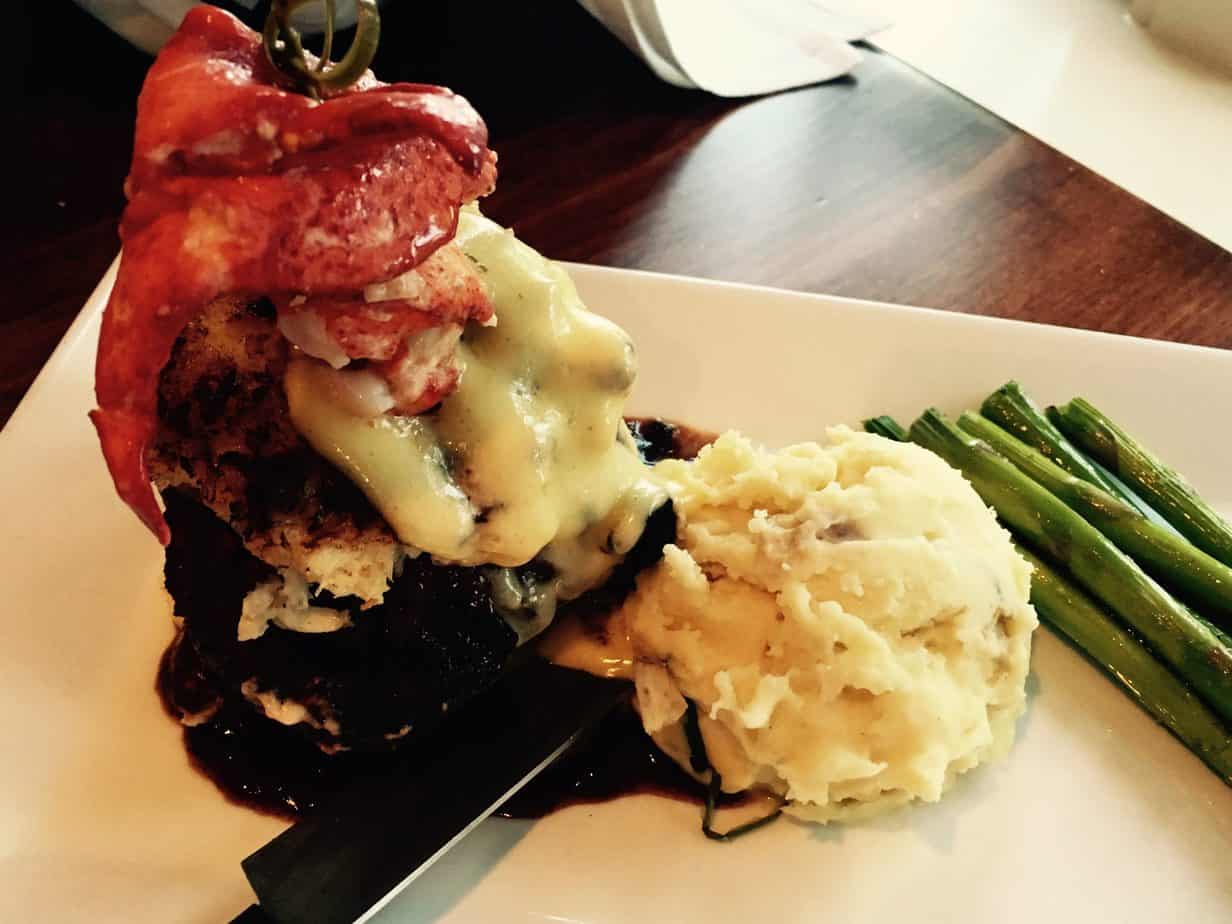 Sadly, I cannot report on the dessert as I was far too full. But Krista assures me they are equally decadent and wonderful.
If the 1637 Restaurant is full, or if you're looking for a more unique experience, you can order from the same menu "below decks" in the Ship's Cellar Pub.
You can fall asleep to the soothing sound of the ocean waves
There are many hotels on the beach in Maine but can they offer the same gentle sound of the waves hitting the shore? I doubt it. Should you choose to stay at the York Harbor Inn, I urge you to book room 307. This is at the tippy-top of the Harbor Cliffs Inn, accessible via a spiral staircase. Climb to the room and you'll find your own secret hideaway. Best of all, you've got a balcony that offers the "best views in the entire inn" —straight from the mouths of several inn staff members. The view is lovely and when you sleep with the windows open in the evenings, you're greeted with that idyllic whoosh of the Maine sea brushing up against the shoreline. In other words, you'll be sleeping like a baby.
Room 307, like the other guest rooms, is also decorated with nautical touches and outfitted with a supremely comfortable bed. For a romantic Maine getaway, this would be the perfect room. A toasty fireplace and expansive whirlpool tub give it those couples extras. But don't worry, we sisters each took our own turn in the bubbly tub. It's a must!
A Maine escape that's not too far away
A final reason that York Harbor Inn is a great choice is that York Beach is in a prime location. Maine has a massive coastline, and while you could head further north to explore more distant reaches, York is just over the border from New Hampshire. This makes it easy to get to from Boston and other points south, and it is even one of the closest Maine beaches to Vermont. When you need a carefree coastal escape, York, Maine will be there for you.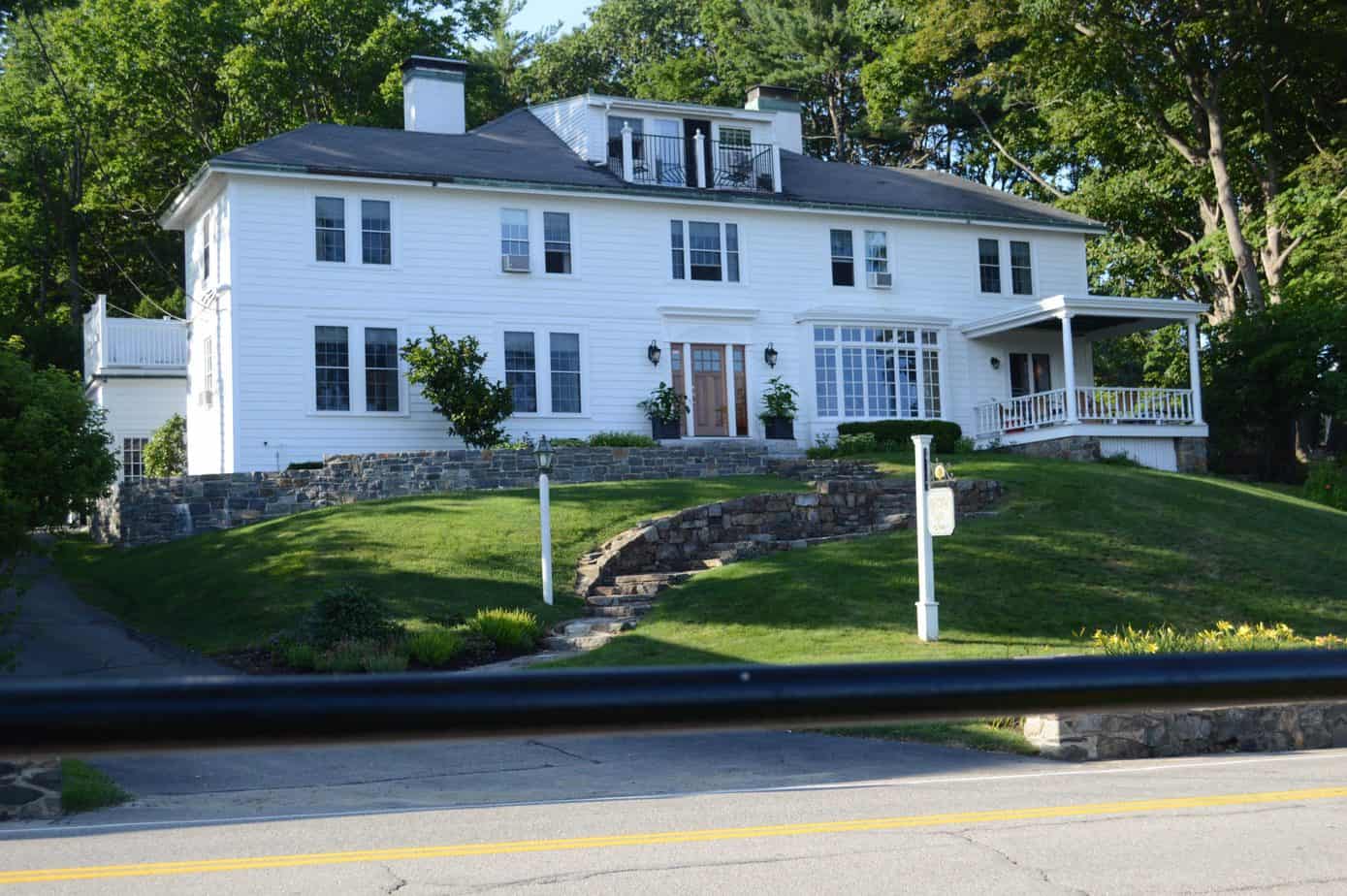 ---
Want to have your own magical stay in Maine? You absolutely should!
*Our stay in York was graciously sponsored by the York Harbor Inn. As always, all opinions are our own and reflect our true experience. This post also contains affiliate links. Should you make a booking or purchase through one of these links, Two Drifters will receive a small commission from the purchase—at NO extra cost to you. We thank you for your support.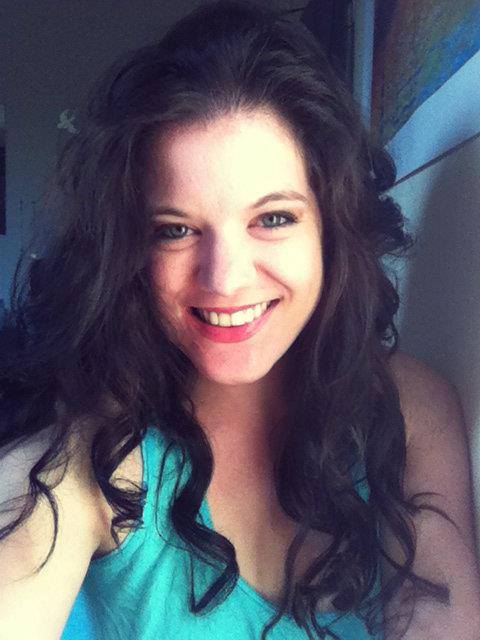 Amy Hartle is the author of Do You Love Me? How To Stop Seeking Reassurance in Relationships, a book on reassurance seeking and relationship anxiety. Both her book and this blog are born of personal experience; Amy shares expert relationship advice from the lessons learned during her own 10+ years with her husband, as well as couples travel tips and romantic getaway recommendations, all gleaned while traveling the world together.