This post may contain affiliate links. Read our disclosure page for full details.
Heidelberg is a beautiful city located in the southwest of Germany. Popular among tourists this picturesque place is the perfect romantic getaway for couples looking for peace and quiet. The city lies on the Neckar River against a backdrop of the rolling hills of the Odenwald forest. This area is considered the "Mediterranean of Germany" with a favourable climate and beautiful scenery. It's known for its wine production and historic architecture.
If you're looking for romantic things to do in Germany with your significant other then Heidelberg should be high on your list. The city has a small-town feel about it and there are plenty of opportunities for romantic activities. You'll get to explore the incredible nature as well as experience Germany's unique culture. Spend a weekend in Heidelberg or even a full week; you'll want to come back for more soon!
When to go to Heidelberg
You should visit Heidelberg sometime between the months of May and September when the weather is warm and your chances of having lots of sun will be high. The German summer is often hot with temperatures as high as 30°C but it tends to cool down in the evenings. A lot of the things to do in Heidelberg take place outside so having good weather is key. You'll want to be able to sit outside so coming here during the summer is the best choice.
Even though summer is our favourite time to visit Heidelberg can also be very beautiful during the wintertime, especially just before Christmas when you can experience the traditional Christmas markets. Make sure you pack warm clothes though as you might encounter snow and temperatures below freezing.
How to get to Heidelberg
The easiest way to get to Heidelberg is to fly to the nearby city of Frankfurt which has a large international airport. It's one of the main flight hubs in Europe so you'll find a lot of connections. It takes around an hour to go from Frankfurt to Heidelberg either by car or train. Take a train to the nearby city Mannheim and then another one to Heidelberg. The journey is fairly easy to manage and will be the most affordable option for getting to Heidelberg. You can also take a taxi but expect to pay at least 100€ for the journey.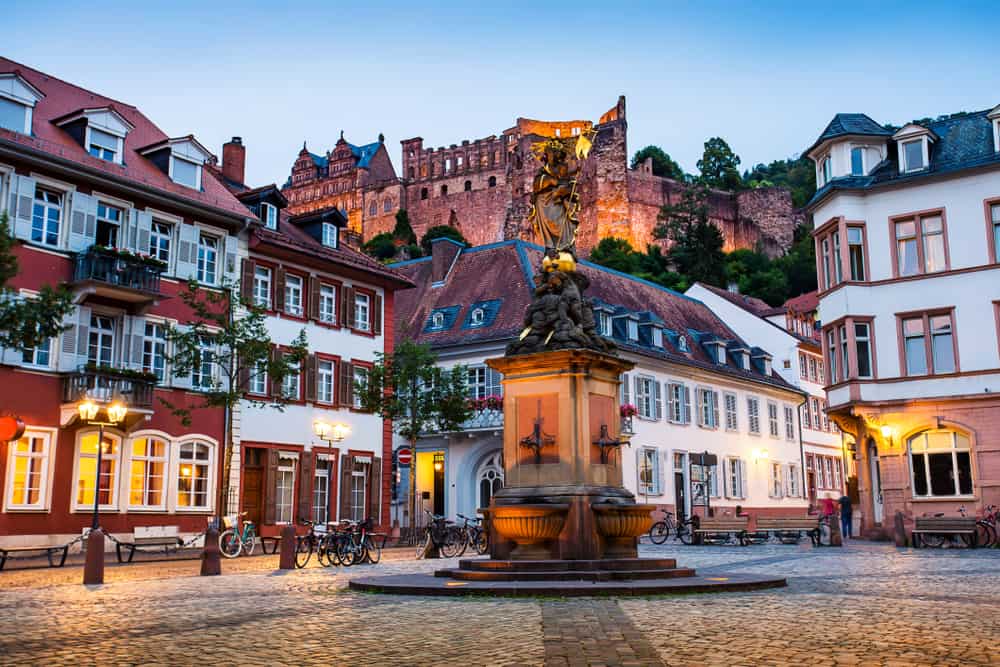 Is Heidelberg an affordable city to visit?
Heidelberg is a very popular tourist destination so it won't be the most affordable. Your largest expense will be your hotel costs per night which can be well over 100€ if you want to stay at an upscale hotel. If you're looking for something more budget-friendly renting an Airbnb apartment might be a better option. Definitely look for places a little outside of town to save money.
Heidelberg has a lot of stunning hotels with both modern and traditional options available for those who want to splurge. The money is well worth it. A romantic weekend in Heidelberg will be an unforgettable experience.
Find travel destinations for every budget here.
10 Romantic Things to do in Heidelberg
Here are our favorite romantic things to do in Heidelberg, Germany.
1. Visit the Heidelberg Castle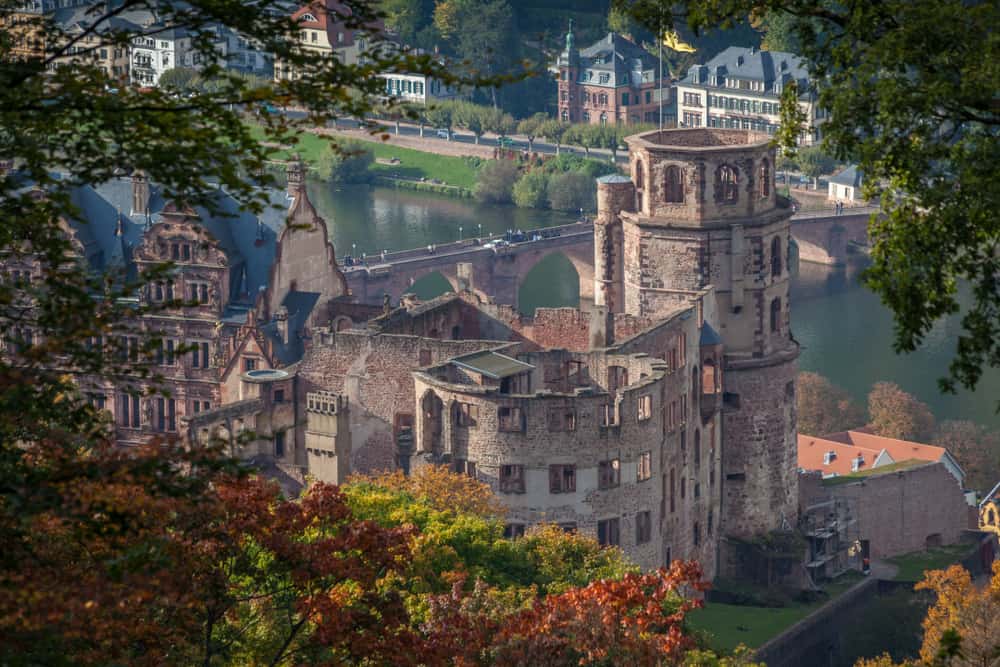 The Heidelberg Castle is one of Germany's most famous castle ruins and is a hotspot for tourists from all around the world. It's one of Europe's most visited historic sites so make sure you come early to get the best experience. The castle was constructed in the early 13th century and destroyed multiple times throughout history.
It has been restored partially and is an incredibly beautiful place to visit. Go for a walk around the castle grounds and find a secluded spot for a picnic. The entrance fee is 9€ per person and coming here is an absolute must during your time in Heidelberg.
2. Hike in the vineyards
Heidelberg is surrounded by beautiful vineyards which stretch over the hills. A great way to get to know the area and enjoy the incredible views is to go on a walk through the vineyards and maybe even take a bottle of wine with you for the way.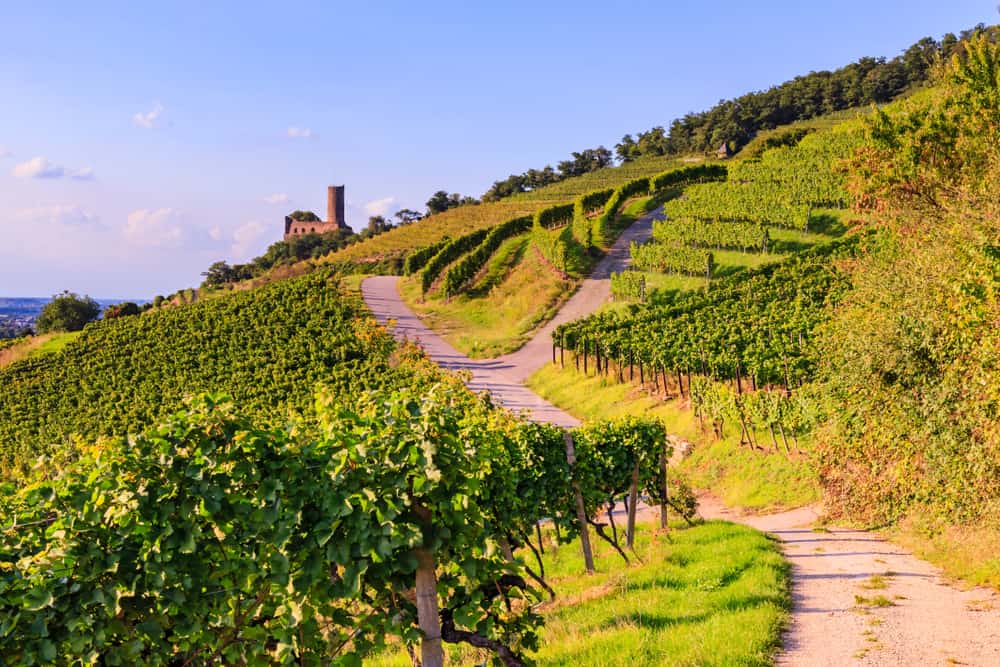 This is a great walk for a picnic so pack a lunch and find the perfect spot for a break along the way. You can walk as little or as much as you like but it's highly recommended to go as far up as possible to get the best views. Enjoy some local wine or maybe even stop by a winery on the way and take some home with you as a way to remember your romantic trip.
3. Walk across the Old Bridge
This 18th-century bridge is one of the main attractions in Heidelberg and the subject of many photos. Come here for a stroll across the river, beautiful views and a different perspective of the city. This place is especially pretty during sunset or on a warm summer evening. Take some pictures and experience the beauty of Heidelberg.
Don't miss out on the Liebesstein which is a place where lovers leave a lock with their initials carved in it. This dedicated wall for love locks is very popular and you should definitely place you own there as a romantic gesture.
4. Go for a bike ride
Heidelberg sits in a very rural area of Germany so once you leave the city behind this is the perfect place to go for a bike ride. You can either join a tour group or just rent bikes and set off on your own. There are plenty of bike paths to choose from and a lot to see on the way. Explore local villages and the vineyards and don't forget to take some photos while you are biking. What's more romantic than a bike ride on a sunny day? Maybe you can even pick some flowers and gift them to your partner.
5. Take the Funicular
A great way to avoid the long walk up to the Heidelberg Castle is to simply take the funicular. This slanted tram takes millions of tourists up to the King's Seat mountain every year. The impressive mountain is the best lookout point in the area and offers stunning views. The funicular costs just 6€ one way or 9€ for a return ticket and is well worth the money. Get closer and enjoy a romantic ride on this impressive historic tram.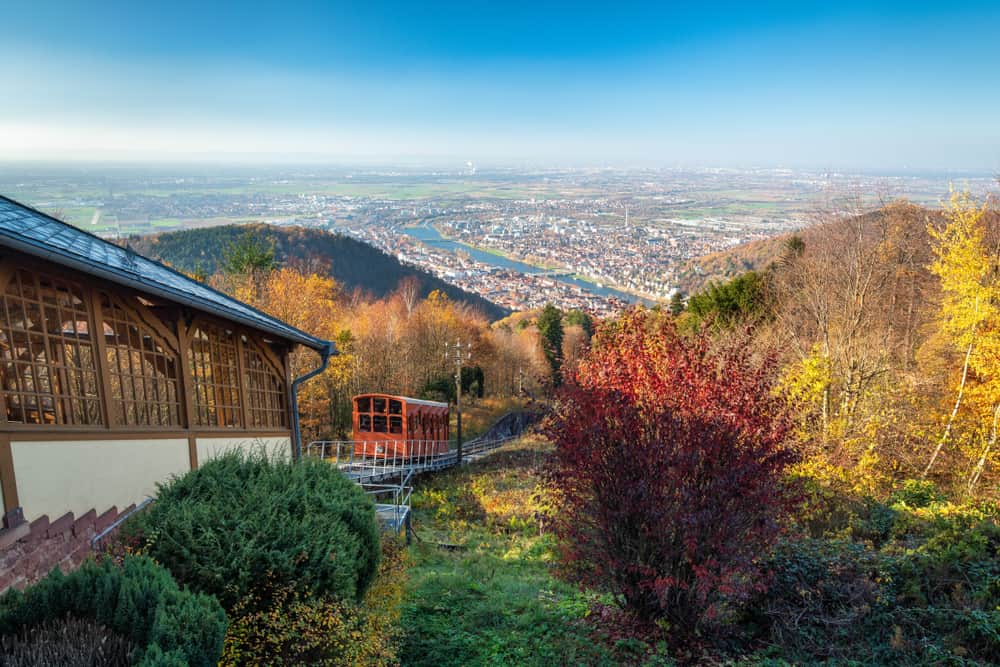 6. Sit in a traditional cafe
One of the most romantic things to do in Heidelberg is to try out all the little bakeries, cafes and restaurants that are located in the old town of the city. Most offer outdoor seating which is the perfect place to people-watch and appreciate the beauty of this city. Enjoy some of the best local snacks like the famous "student's kiss", which is a delicious chocolate praline. You'll love the lively atmosphere and the large selection of little lunch places and cafes.
7. Explore the old town
Heidelberg's old town is full of historic buildings, cobblestone roads and traditional shops. You could walk around here for hours, stopping in little souvenir shops and taking photos. You'll love places like the Chocolaterie St Anna which is a little chocolate shop selling incredible goodies which are the perfect romantic gift for your partner. Don't forget to stop by the famous House of the Knight which is a gorgeous Renaissance-style hotel perfect for a photo opportunity.
8. Walk the Philosopher's Walk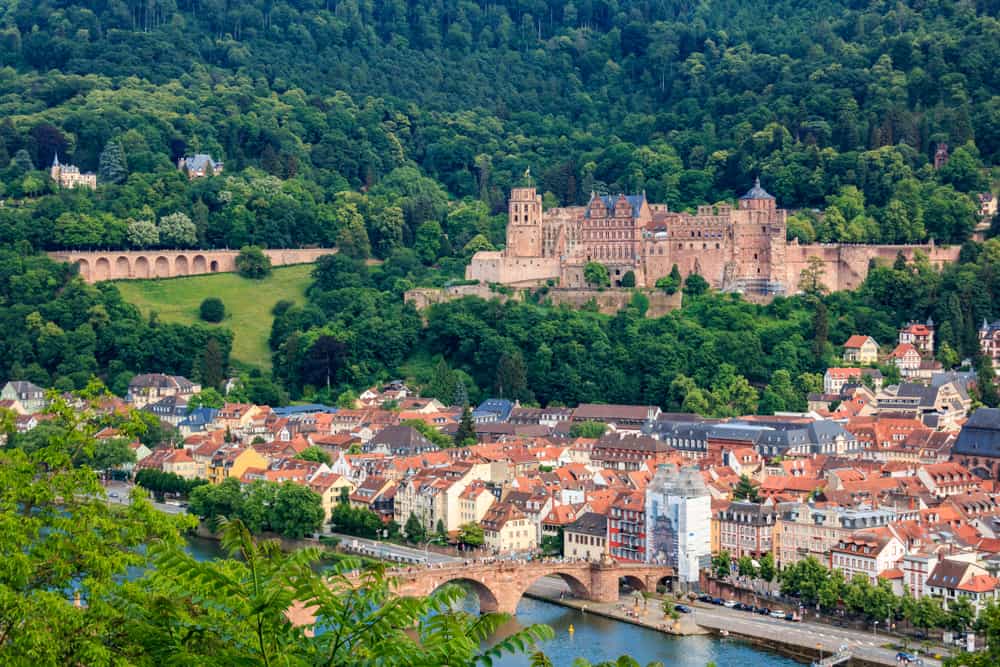 The Philosopher's Walk is a beautiful little path that takes you along the river banks and up into the vineyards. It was named after the philosophers and academics that used to live in Heidelberg during the romantic period and used this path to gather inspiration and clear their heads. You'll feel transported back in time and find yourself falling in love, not only with your partner but also the city of Heidelberg. Let yourself get lost on this narrow path and experience the beauty of Heidelberg and its many romantic things to do.
9. Neckarwiese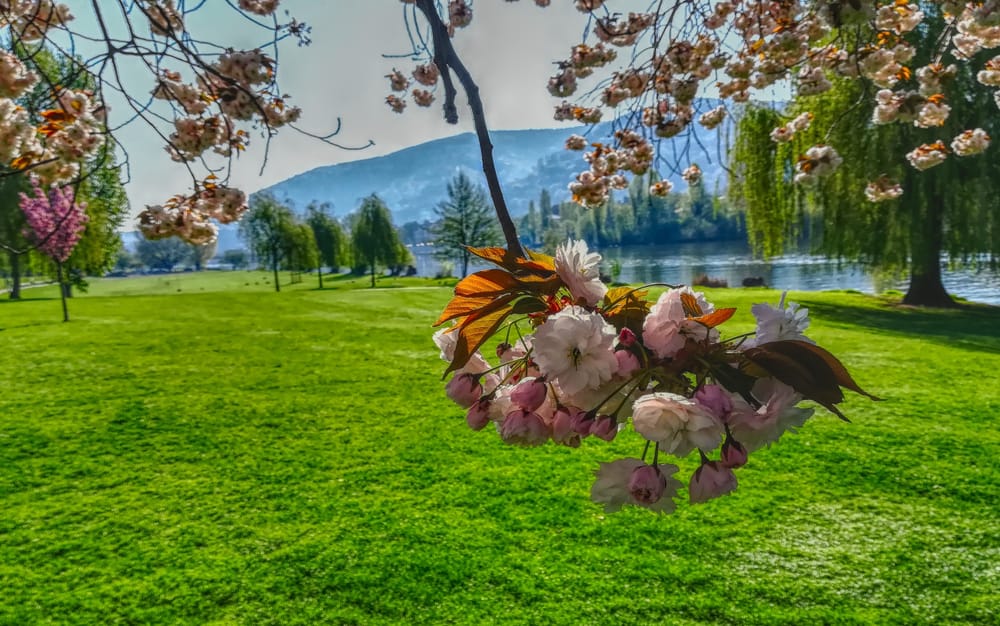 The Neckarwiese is a park that sits right next to the Neckar River which flows through the city of Heidelberg. During the warmer months, this is a popular spot amongst students, couples and families alike who come here for picnics or just to enjoy the sun. Spend an afternoon here and watch as boats pass by on the river. Take a blanket and cuddle up on the lawn or share a bottle of traditional German wine. Experience Heidelberg like a local and fall in love by the water.
Having a warm jacket with you is always advisable even if the place you are travelling to is warm. Here are 18 other things every traveller needs and should be adding to their packing list.
10. Botanical Gardens
The Botanical Gardens are a fantastic spot in Heidelberg to escape the busy city centre and get back in touch with nature. Go for a romantic walk, explore the many greenhouses or get yourself an ice cream to enjoy. The botanical gardens belong to the university so they are well-kept and a fun place to spend an afternoon. Add this beautiful place to your itinerary for the best romantic places around Heidelberg.
---
About the Author: Victoria Heinz is a travel blogger and freelance writer from Germany. She escaped the 9 to 5 and found her passion in writing and photography. After starting her own blog Guide your Travel she now writes for all types of websites and can usually be found somewhere at the beach.
---
You might also like:
---