This post may contain affiliate links. Read our disclosure page for full details.
This piece on romantic places in Thailand is a guest post by Judith of Temples and Markets.
Thailand is one of my favorite destinations to visit and to write about, but I don't think it gets enough credit as a destination for romance!
Of course, Thailand is a perfect destination for family holidays, for historical experiences, for beach and festival fun but there are so many opportunities for couples to connect and reconnect.
Whether you're looking for a honeymoon destination, a babymoon getaway or simply somewhere to reignite the romance, Thailand has something for everyone. Not only are the crystal blue waters and the tropical weather of Thailand perfect, you can experience luxury on a budget and throw in a bit of adventure and escape to the hills, if you're a nature lover.
Here are four places in Thailand I highly recommend for a romantic getaway.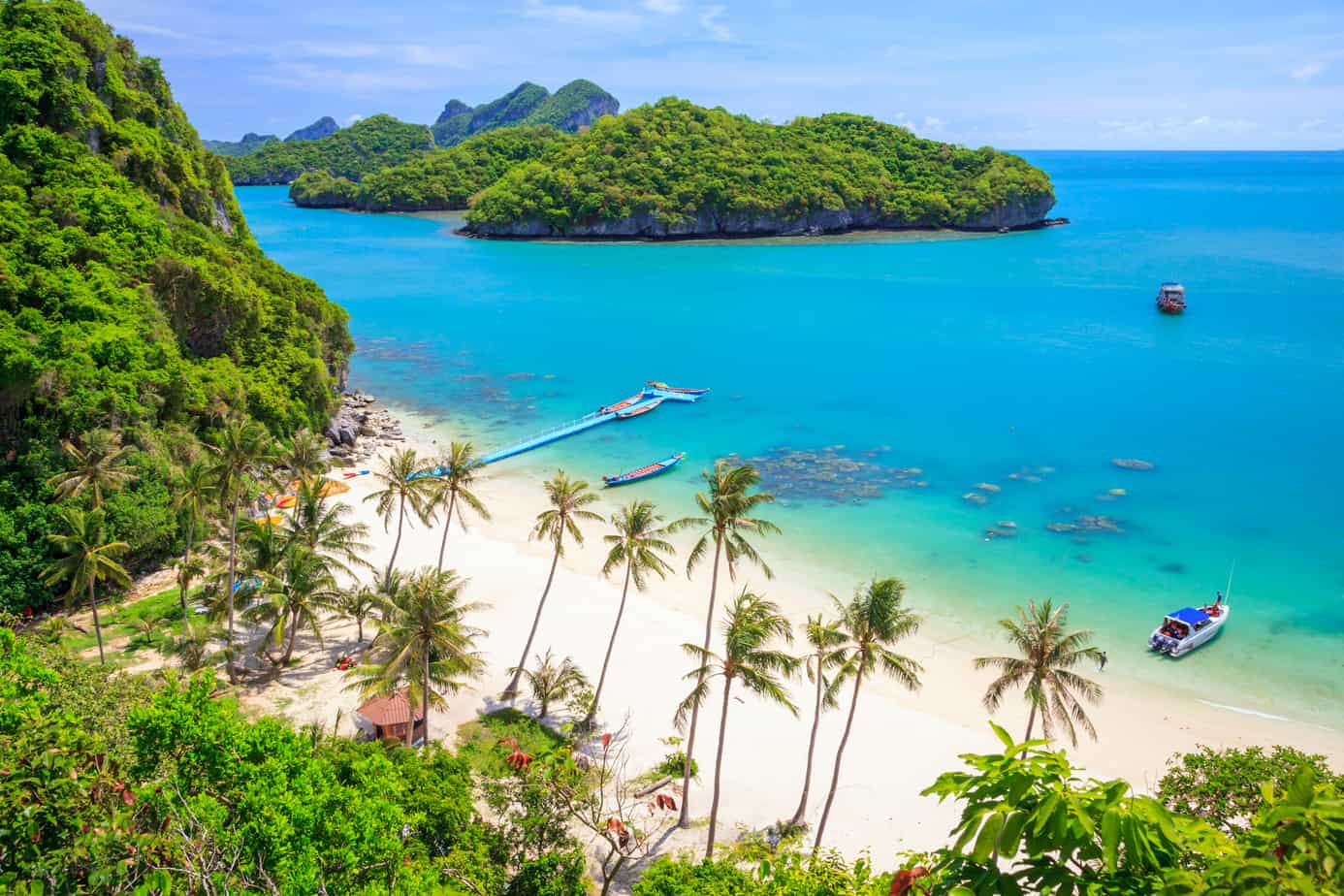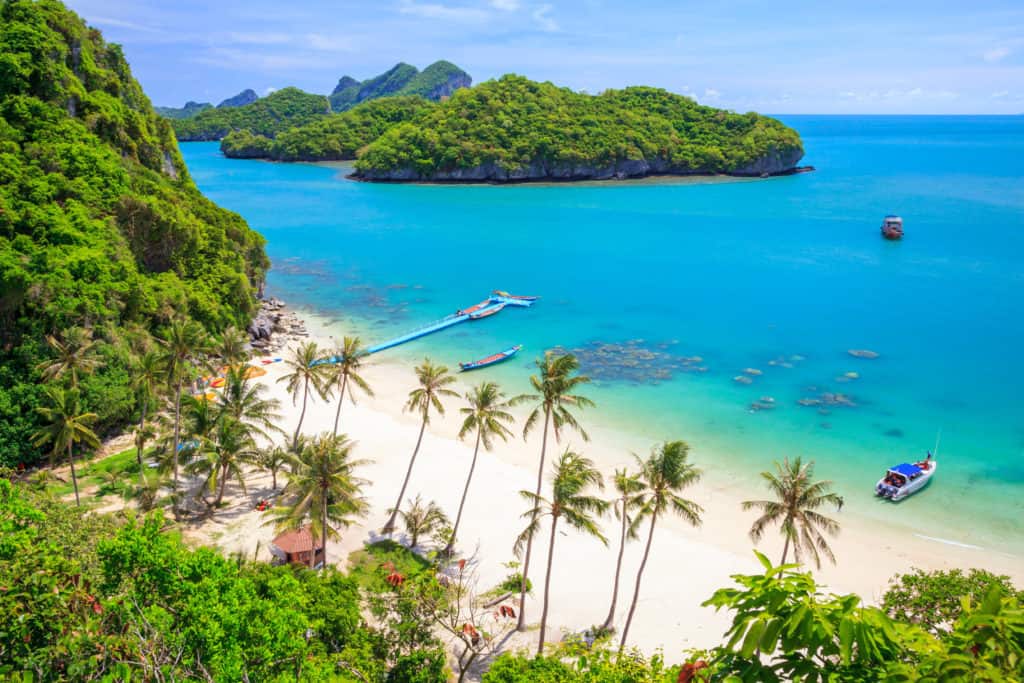 Romance in Koh Samui
You can't go past the most popular romantic getaway destination in Thailand – Koh Samui. It was previously more of a backpacker destination but has since been dominated by luxurious resorts as well as yoga and wellness retreats.
Koh Samui is famous for its beaches and there are plenty to choose from. It's the perfect place to enjoy the simple things like relaxing and enjoying the sea breezes, swaying coconut trees and rolling hills.
If you're more the adventurous type, Ko Samui, being part of the Angthong Marine National Park, has plenty of water activities including diving, snorkelling and kayaking.
Where to stay in Koh Samui
For beaches, spa treatments and cocktails, try Sheraton Samui Resort.
For great views and accommodation nestled in the mountains, try Le Meridien Koh Samui Resort & Spa.
Beachside luxury and pampering are available at the Anantara Koh Samui Resort.

Romance in Krabi
Pair seclusion, nature and blissfulness with a bit of adventure and you have Krabi. Krabi is very close to Phuket but much less popular so you can enjoy a slower pace. (Here's a gorgeous Krabi hotel to consider).
In Krabi, you'll be able to experience the unspoiled archipelagos of secluded islands, beautiful beaches, sparkling blue waters, rugged limestone karsts, isolated coves and lush green forests; you'll be fully immersed in nature.
When you've had enough relaxing for the day, island hopping is a must do while in Krabi. Take a tour to Ao Thalane village where you can enjoy an unforgettable kayaking experience.
And you simply can't miss a visit to the secret lagoons at Bor Thor, the perfect spot to pop the question or perhaps take a little moment to express your love or share a gift.
If you're keen to take it up a notch, Song Praek River is the place to go for river rafting, and the nearby Phi Phi Islands are the perfect destination for lovers of deep sea scuba diving.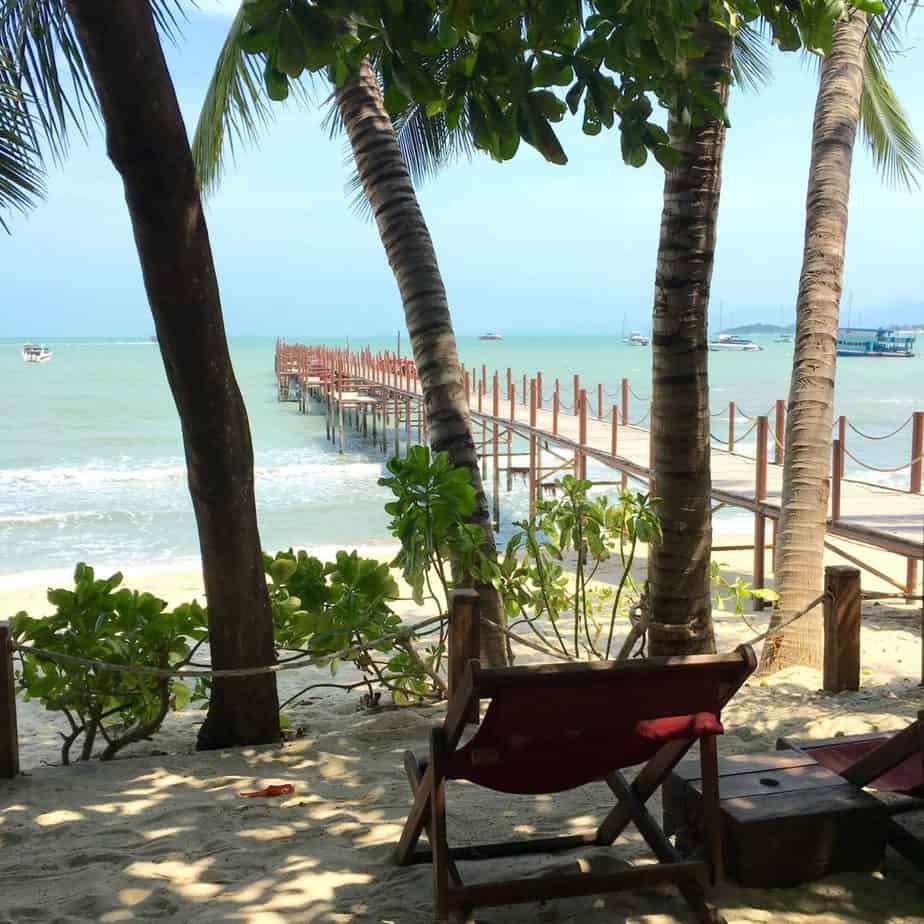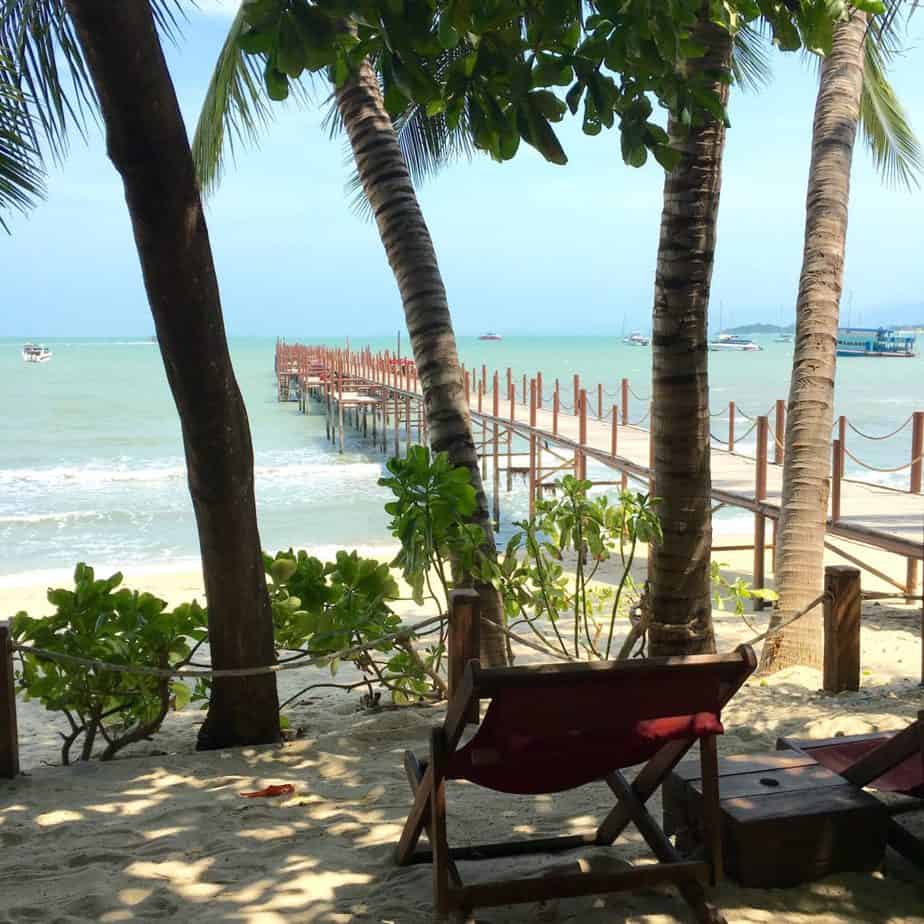 Lastly, wind down your adventure-filled day with a gorgeous walk on the Tab Kak Hang Nak Hill Nature Trail. This is one of the most romantic walks you'll experience with spectacular views.
Or why not soak your weary limbs in the natural hot springs at Emerald Pool or Klong Thom Hot Springs.
Where to stay in Krabi
For panoramic views and amazing sunsets, try Moonlight Exotic Bay Resort.
Perfect for honeymooners, surrounded by limestone cliffs and only accessible by boat, try Railay Bay Resort & Spa.
For more social and adventurous couples check out the sandy beaches, spa and leisure facilities of the Dusit Thani Krabi Beach Resort.
Romance in Phuket
If you're happy with a less secluded destination that still has plenty of romantic opportunities, Phuket is one of Thailand's most popular destinations for romance because it offers almost every experience a couple could want.
Although Phuket is regularly sprinkled with travellers, you can still find less busy beaches and hideaways. Smaller beaches like Kata Beach, Nai Hark beach and Surin Beach are a lot quieter and relaxed – a perfect spot to lounge on the beach, read a book and snorkel.
Phuket is well known for its crystal clear waters and great snorkelling and diving opportunities. Island hopping to surrounding islands including Similan Islands, Coral Islands and Racha Islands is definitely worth a day trip.
For a truly romantic experience, I'd highly recommend a sunset cruise through Phang Nga Bay aboard a Chinese junk or canoe. Not only will you get to experience a magical sunset with your beloved, the island from the water is a sight to see.
Where to stay in Phuket
For seclusion and luxury, try Trisara Villas. For one of the most exclusive hotels in Phuket, try Sri Panwa.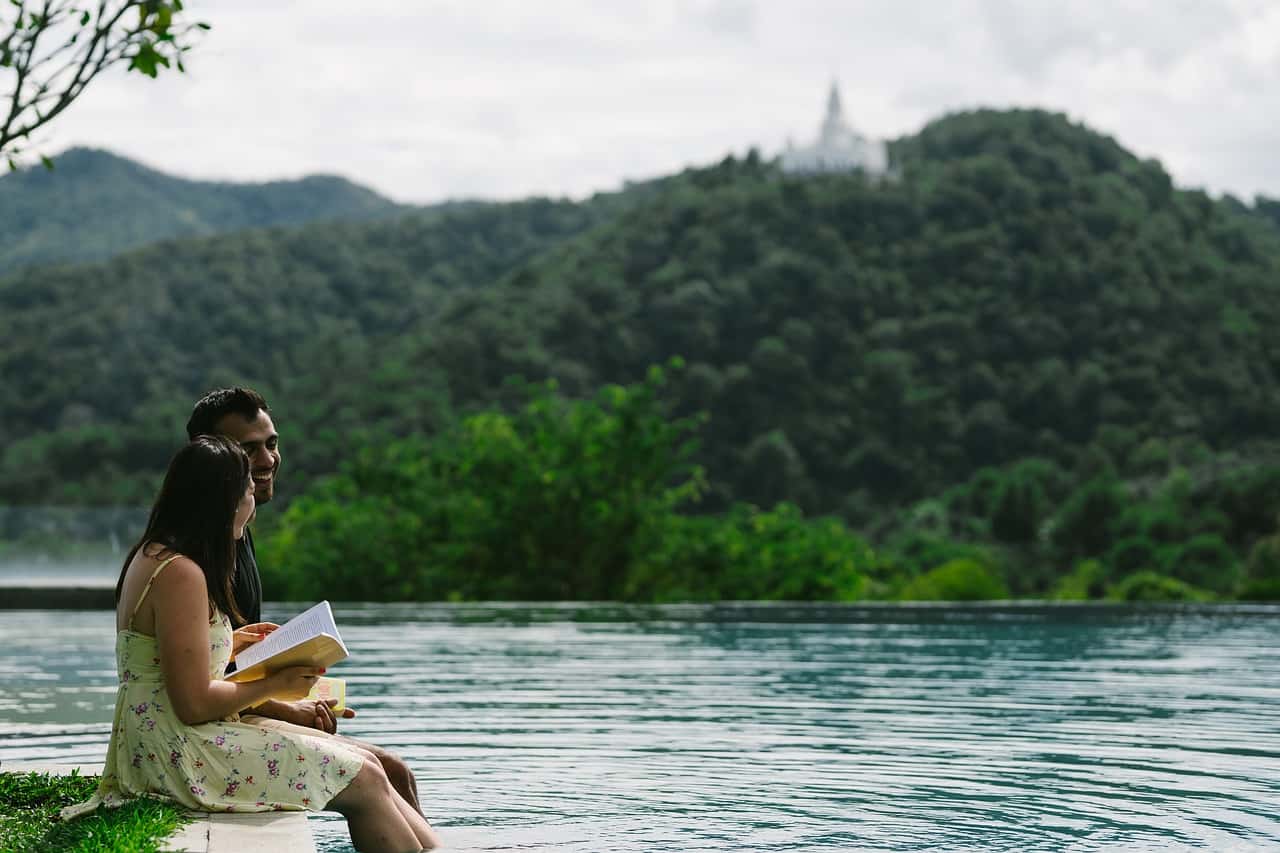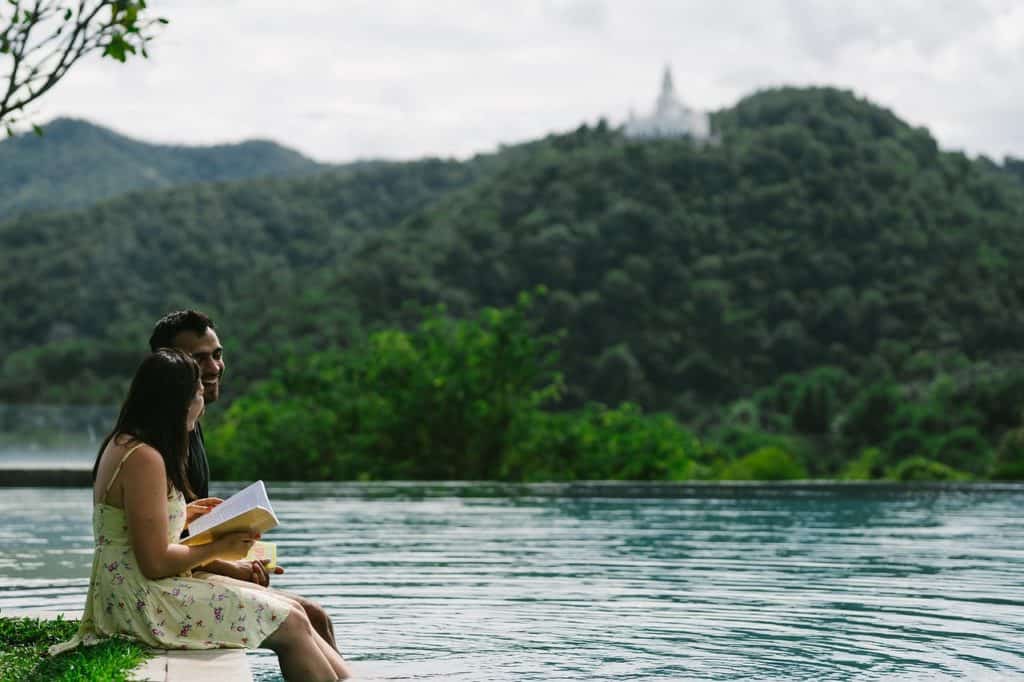 Romance in Chiang Mai
Visiting Chiang Mai is certainly a tree change, going from the turquoise blue waters and sandy beaches to a wilderness exploding with greenery. Chiang Mai is the perfect destination for lovers of nature and adventure.
There are mountain treks across green terrain and rugged trails lined with temples and shrines. There's also river rafting, great food, delightful little boutiques scattered about and an all-round vibrant feel.
Where to stay in Chiang Mai
For a luxury hotel on 60 acres of green tropical land, try Dhara Dhevi Chiang Mai.
For a boutique-style luxury resort on the Ping River, try Ratilanna Riverside Spa Resort Chiang Mai.
**Heading elsewhere in Thailand? Here's a beautiful, romantic place to stay on Koh Yao Noi.
---
There's no doubt, there are plenty of places to heat up the romance in Thailand, no matter your taste. Whether romance to you is about relaxation, adventure or a little bit of luxury, Thailand has something for everyone and every budget.
About the Author: Judith is an avid traveller who has spent many years in South East Asia with her growing family and Thailand has become one of her favourite holiday destinations, as you can see in her blog. Judith is passionate about empowering Thai locals to earn a living wage through her ethical gift store Temples and Markets. You can read the story of one of her local sources, a company creating ethical employment opportunities for local women and families.
---