This post may contain affiliate links. Read our disclosure page for full details.
Are you looking for fun outdoor date ideas for the next time you go out? Studies show that being outside reduces stress and improves mood… that's pretty on point for how most of us hope our date feels after going out with us, right?
Planning an outdoor date is a great way to show your significant other that you can think outside of the proverbial dating box, so check out this list of outdoor date ideas for your next romantic rendezvous!
Stroll Through the Park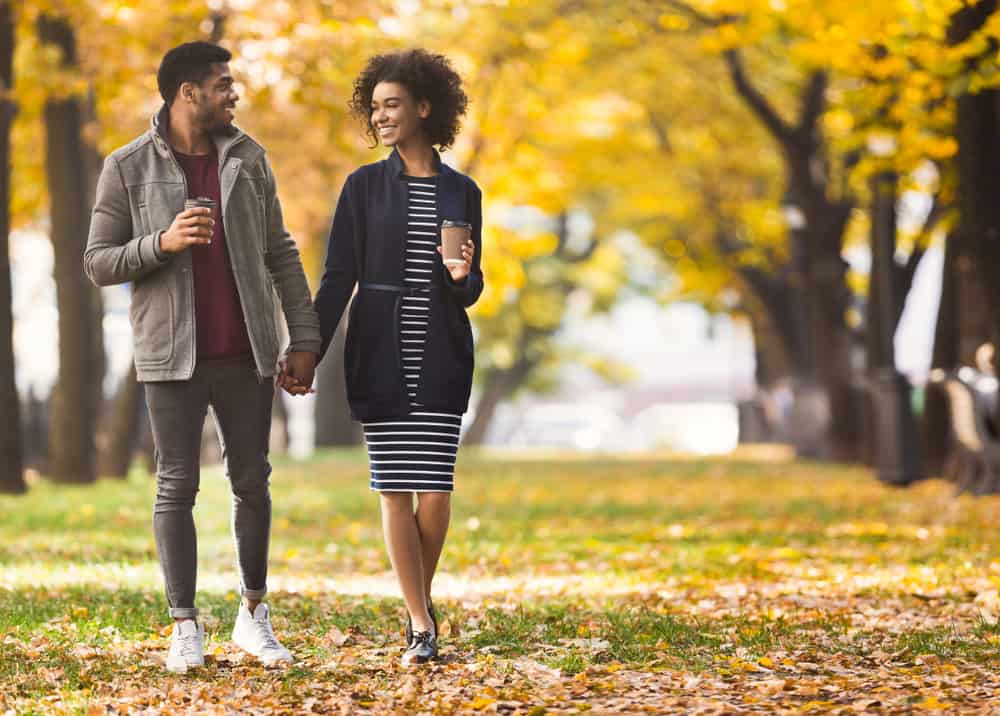 K, this one is easy! Most cities and towns have at least one park that offers a lot of great natural eye candy and plenty of space to privately meander together in public, making it an ideal choice for a first date. If you choose this outdoor date idea for a first date, you also have the added advantage of there being plenty to point to and talk about, too, hopefully cutting down on any of those awkward first date silences! Bonus points if you are on this outdoor date in the park while fall foliage is blazing or spring flowers are blooming.
Stargaze Together
Are you looking for an ultra-romantic outdoor date idea? Look no further, because here it is: stargazing. Because you do have to drive a bit away from the lights of the city for optimal stargazing, this outdoor date idea has that feel of "getting away together" even if you're just driving out to the country to park near a cornfield! Bring lawn chairs to sit on or a hammock to snuggle in, a blanket to cuddle up close under, and a bottle of their favorite wine and you're all set to engage in one of the most romantic outdoor date activities there is!
Get Wild at the Zoo
So maybe you and your date won't actually get wild, but you will definitely enjoy checking out all the wild animals together! Outdoor dates at the zoo are a kind of playful way to get to know each other, lots of opportunities for cheeky date questions like, "if you could be any kind of animal, what would you be?" Plus, it's basically planned out for you, all you have to do is show up and make your way around the park.
Visit a Pumpkin Patch
This is a fun fall outdoor date idea; when it comes to wholesome outdoor date ideas, pumpkin patches are definitely at the top of the list! Many offer petting zoos and cute little baked good stands and maybe even a glass or two of spiced apple cider, so planning a date at a pumpkin patch can be a great date idea for those early days of a relationship where you're both kind of still feeling each other out! Plus, it leads well to a second date, because you'll have to carve those pumpkins you just got, right?
Ride Together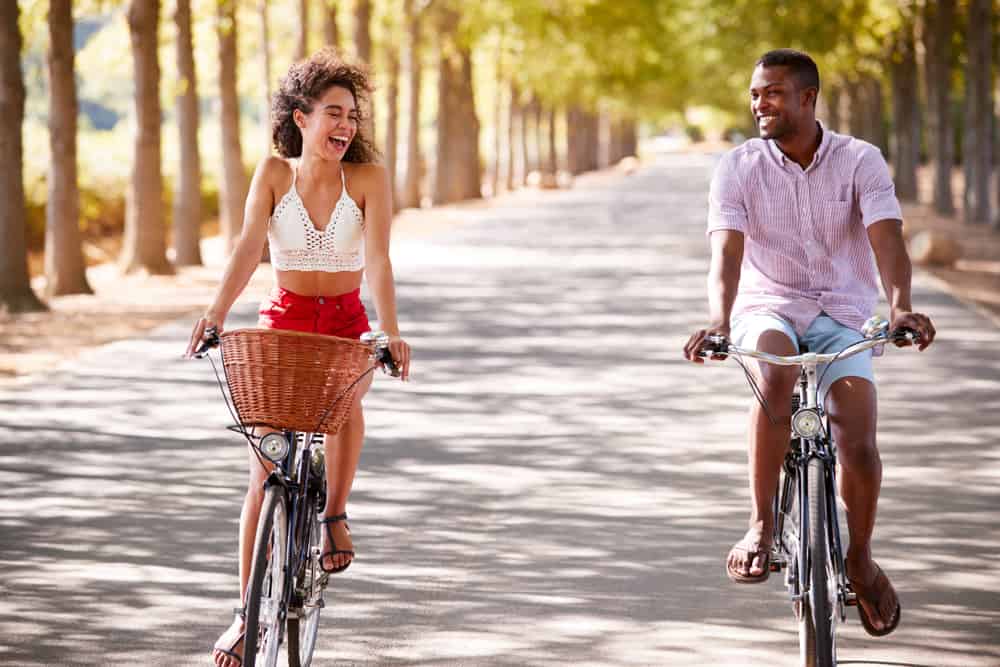 Planning a bike riding date is a cute way to get out and get a little exercise together! Most cities have bike rentals you can easily sign up for if you and your date don't have your own, and you can plan your route depending on what kind of an outdoor date you're looking for. Do you want to have a nice morning ride through a park and then end at a coffee shop? Would you rather go for distance and plan a multi-mile ride around your town together, ending at a cafe where you can hash out your bike stats while sipping on a glass of wine? If you ride long enough, you and your date are probably going to get those feel-good endorphins flowing… nothing wrong with ending a good outdoor date a little sweaty, right?
Go Chasing Waterfalls!
When we think of outdoor date settings, waterfalls are always right up at the top of that list, right? Stunning natural scenery can be a bit of an aphrodisiac, so that's a bonus, too! If you're looking for a great outdoor date idea that will give your date plenty to oooh and aaaah over, plan a visit to a waterfall! Most areas have at least one local-ish waterfall, unless you live in the desert, in which case you might have to settle for a manmade water feature at a park for a similar effect!
Take the Doggos Out
If you and/or your date don't have pups of your own, most animal shelters are always looking for volunteer dog walkers! Not only will you and your date be doing a great service for these sweet shelter dogs, but you'll also have the added benefit of getting a lovely walk yourselves. Who knows, you two might just meet the love of your lives, and they might be two-legged or four-legged!
Get Sticky with S'mores Together
For a fun outdoor date idea after dark, make it a s'mores-over-the-fire date! Whether it's a bonfire on the beach or a firepit in your backyard, chatting around a fire while you enjoy the sticky goodness of a hot and gooey s'more is just one of those simple pleasures in life, isn't it? It's also pretty easy to throw together, so if you're looking for a lovely low-maintenance outdoor date, making s'mores by the fire could be it!
Ride Off into the Sunset Together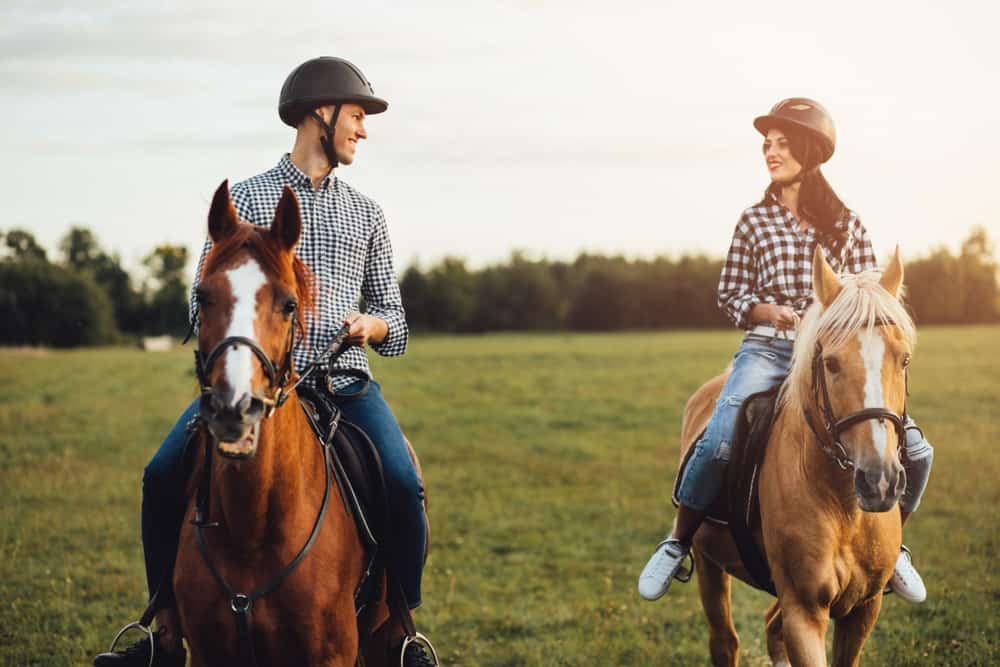 K, doesn't have to be a sunset ride, but going horseback riding together is a fantastic outdoor date idea if you're going for something that is unique and romantic! Most areas have horseback riding opportunities within a relatively easy driving distance, so look around to see what's available in your area. Horses are known for their ability to put people at ease, so maybe you'll find your date really opens up to you while you two are on horseback!
Get Out on the Water!
There are so many cute outdoor date ideas that get you out on the water! Are you on the coast where you two can go on a whale watching tour? Are you in an area with lots of lakes where you two can put a canoe in the water and row around together? Or maybe there's a river nearby that's perfect for tubing in the summer! Whatever you end up doing, being out on the water is always a fun outdoor date idea!
Take a Hike
When it comes to outdoor date ideas, hiking can be absolutely ideal! Be sure to check in with your date to find out what kind of a hike they are up for, but if you guys can hike yourselves to a spot with a great scenic payoff, it will be a date neither of you will soon forget! Bring plenty of snacks and water so you can fuel up along the way, and if you just so happen to have a bottle of your date's favorite beverage ready to be opened when you reach the end, well, that could be the perfect cap to a cute hiking date!
Watch the Sunset/Sunrise
A classic romantic outdoor date is watching the sunset or rise together! It can be as simple as spreading out a blanket and stretching out together to watch Mother Nature paint the sky, or as involved as traveling to a great scenic lookout point and having a little picnic action. Whether you're getting to know each other as you watch the sun set or you're waking up to a sun rise after a glorious night spent with the one you love, this classic outdoor date is about as timeless as it gets!
Strip Down to your Swimsuits!
Not only is swimming a super fun outdoor date activity, but it's also kinda the perfect way to get a glimpse at your date's goods, hehe! Swimming in a community pool, lake, beach, or wherever is a blast, but if you'd like to kick up the heat a bit, consider looking for a jacuzzi! Is there a hotel or airbnb near you that has a jacuzzi where you two can soak under the stars? Probably not a first, second, or third date idea, but it could be a perfect outdoor date idea for an established couple!
Play Together!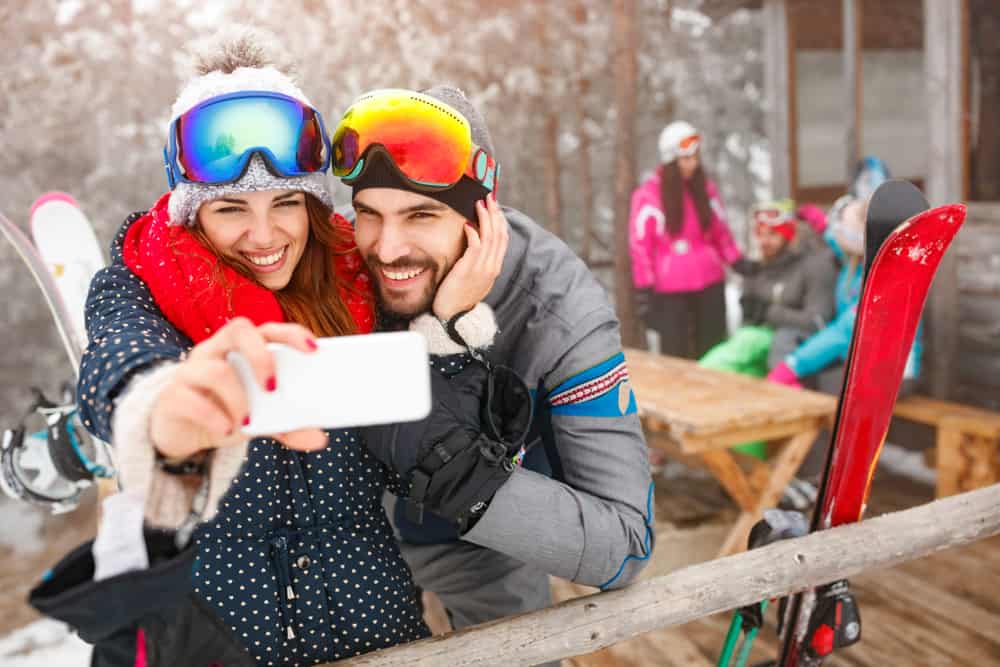 Are you looking for a fun, sporty outdoor date? Tennis, golf, rock climbing, skiing, and snowboarding are just a few sporty outdoor date ideas! If your date isn't really a sporty type but you're still looking for something you two can do outdoors that's a little physical and playfully competitive, play a game of mini golf! Even the least sporty among us usually enjoy trying to knock our ball through whimsical little lighthouses and cartoon characters' mouths, right?
Drive-In Together
When it comes to cute vintage outdoor date ideas, going to a drive-in movie still takes the cake! Technically, yes, you're in a car, so if you're committed to the outdoor aspect, look around your area for cool Movie in the Park or Movie on the Beach opportunities, or you can even create your own outdoor movie night with a projector and a few bags of microwave popcorn! You could also rent a convertible (if you don't already have one, we don't know your life!) and get that retro feel that you get at an actual drive-in movie and still keep it "outdoors."
Hit the Farmer's Market
For a quaint outdoor date idea, consider going to a farmer's market together! Not only can you two walk up and down the aisles hunting the best local goodies in your area, but there are often bands playing and great local art being displayed, so it kinda incorporates all kinds of dates, right? You never know, you two might just bond over falling for the same handcrafted gourmet treats!
Camp Out
This outdoor date idea is probably best suited for those that have been going out for a while and feel comfortable staying the night together, but if you're looking for the ultimate outdoor date idea, camping out is it! Being able to spend a good chunk of time together out enjoying nature and sleeping under the stars is about as beautiful an outdoor date experience as a person could ask for, right?
Get Lost Together
This is another great outdoor date idea for autumn, especially, because you can typically find some kind of cool maze experience; think corn maze, sunflower maze, hay maze, or even just a topiary maze, basically anything where you and your date can have that fun experience of "getting lost" and working together to find your way out! If you're looking for romantic outdoor date ideas, getting lost in a maze of golden sunflowers sounds pretty darn romantic, doesn't it?
Take a Long Walk on the Beach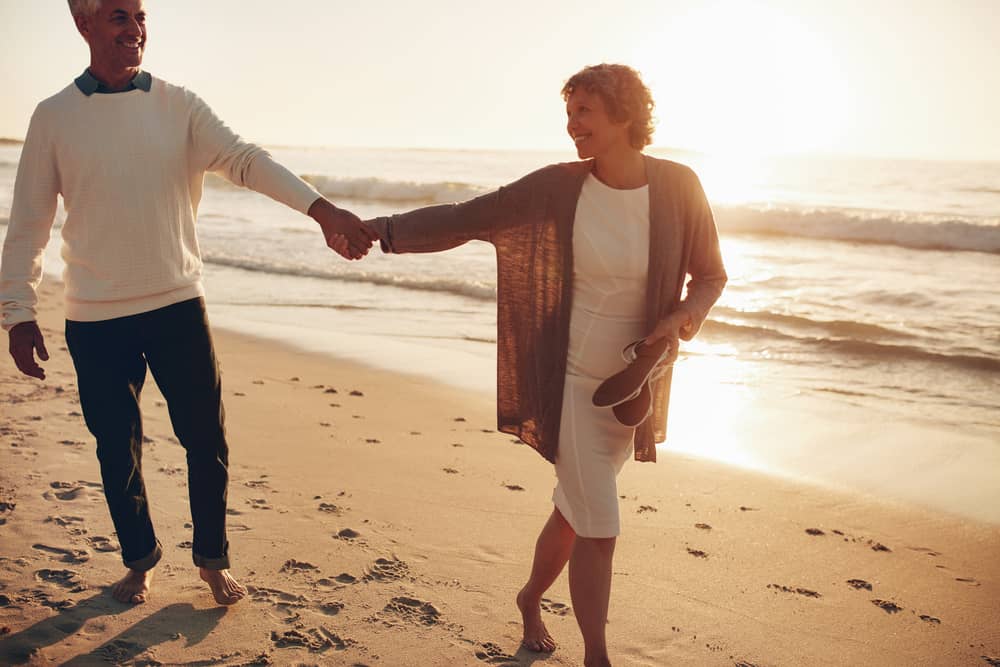 What could be a more romantic outdoor date idea than a long walk on the beach, right? The best part is you don't even have to live in a coastal area to pull this one off, a lovely stroll near any kind of body of water will do nicely! There's something psychologically calming about being near water for most people, so a pleasant walk along the nearest river, creek, pond, fountain, or wherever will make for a great setting for some sweet date chatting!
Listen to Live Music
There are so many great outdoor music venues scattered all around the world, surely you can find a great spot near you for some outdoor entertainment! Even if you're not lucky enough to live near the Waikiki Shell or Red Rocks in Colorado, local Arts in the Parks events and Summer Concert Series are pretty common all around the USA, so look around to see what's happening near you for a great outdoor concert date!
Cloud Watch
Sometimes it's the simplest plans that deliver the best results, and an easy peasy outdoor date idea like cloud watching is exactly that! Very similar to stargazing, it can be as simple or as complicated as you make it. All you really need is a good spot to lean back and look up on a day with some white fluffy clouds in the sky, but if you bring along your date's favorite snacks and beverages and maybe have a great playlist all lined up, your cloud watching outdoor date will be a fun, sweet time for all! Plus, you kinda learn a lot about a person by hearing what they see in the clouds… like an ultimate Rorschach test, right?
Tour a Vineyard
If you'd like to set up an outdoor date that's a little laidback but still a little sophisticated, consider touring a vineyard together! Not only will you two probably learn a bit about that vineyard and the grapes it grows and the great blends it creates, but you'll also learn a lot about each other in the process, especially if you indulge in a little wine tasting! In wine there is truth, right?
Frolic in a Flower Field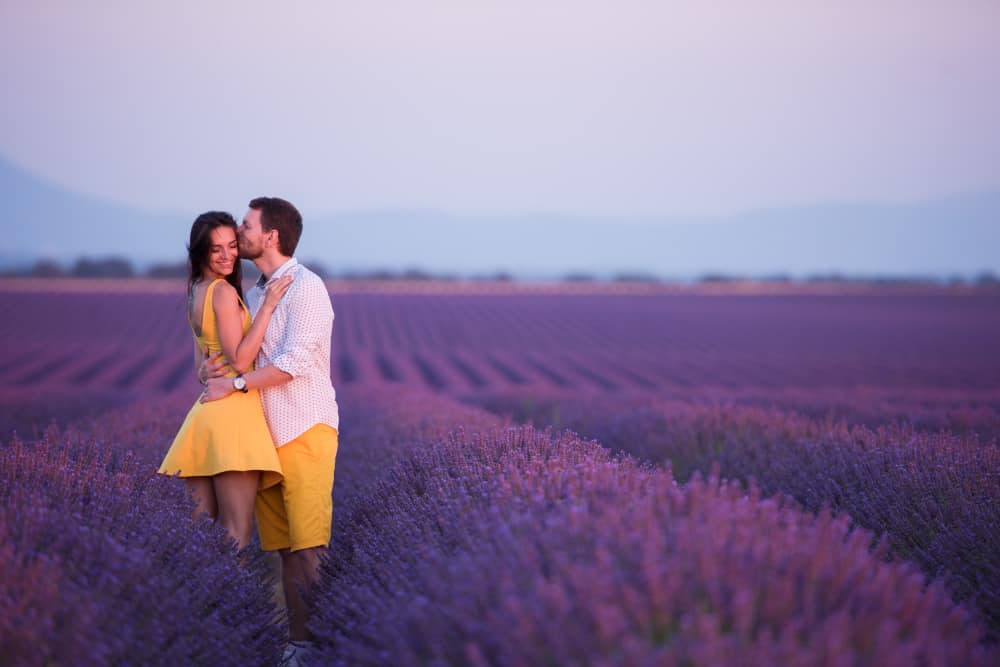 Are you looking for a sweet outdoor date that will provide lots of fun photo opportunities? Consider visiting a flower field! Spring, summer, or fall, you can typically find something blooming near where you are! Whether you're visiting a wildflower meadow or a carefully manicured tulip field, walking through a flower field is a wonderfully innocent date idea and perfect for a first or a hundredth date!
Go the Distance Together!
Are you looking for a great outdoor date activity to get the blood pumping and the muscles firing? Consider running a marathon together! If you and your date are looking for something a little less physically intensive, look for a walkathon to sign up for together. Extra points if you're participating for charity or an awareness campaign because who doesn't want to associate their date with all the feel-goods that come along with participating in a charity event?
Plan a Picturesque Picnic
When it comes to classic outdoor date ideas, picnics might just be number one on the list! Not only is it oh so easy to pull off, but there's really nothing sweeter than spreading out a blanket in the park or on the beach and pulling treats out of a little basket to surprise your date with. It's also easy to pair with other fun outdoor date ideas, like going to an outdoor music event, watching the sunset, or chasing waterfalls. Picnics are good, wholesome date fun!
When you're looking for great date ideas, it's always helpful to tailor the date to the person you're taking out, so double check before signing your date up for a 5k that they are interested in and up for the challenge. The best part about outdoor dates is that they're easy fun and can be modified to fit a first date or a married date!
Happy Dating!
You might also like: