This post may contain affiliate links. Read our disclosure page for full details.
Coffee is amazing. Coffee is life. What more is there to say? Sixteen other coffee lovers shared their favorite spots to grab a cup in the USA and Canada. Is your fave on the list? These are some of the best coffee shops in the USA. Who's ready for a latte?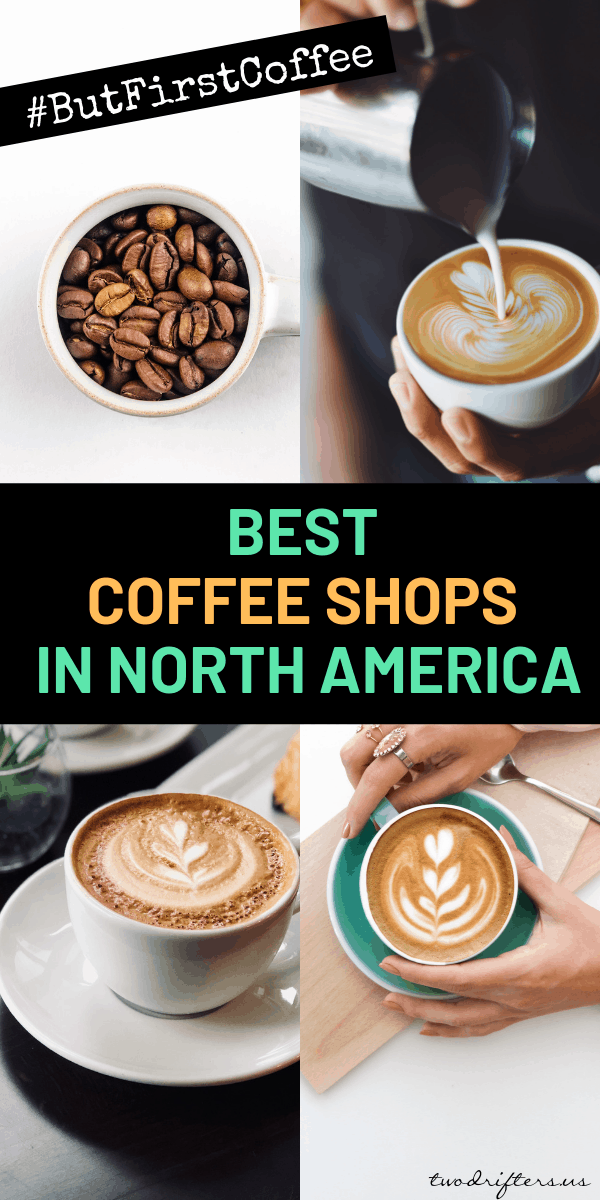 ---
August First – Burlington, Vermont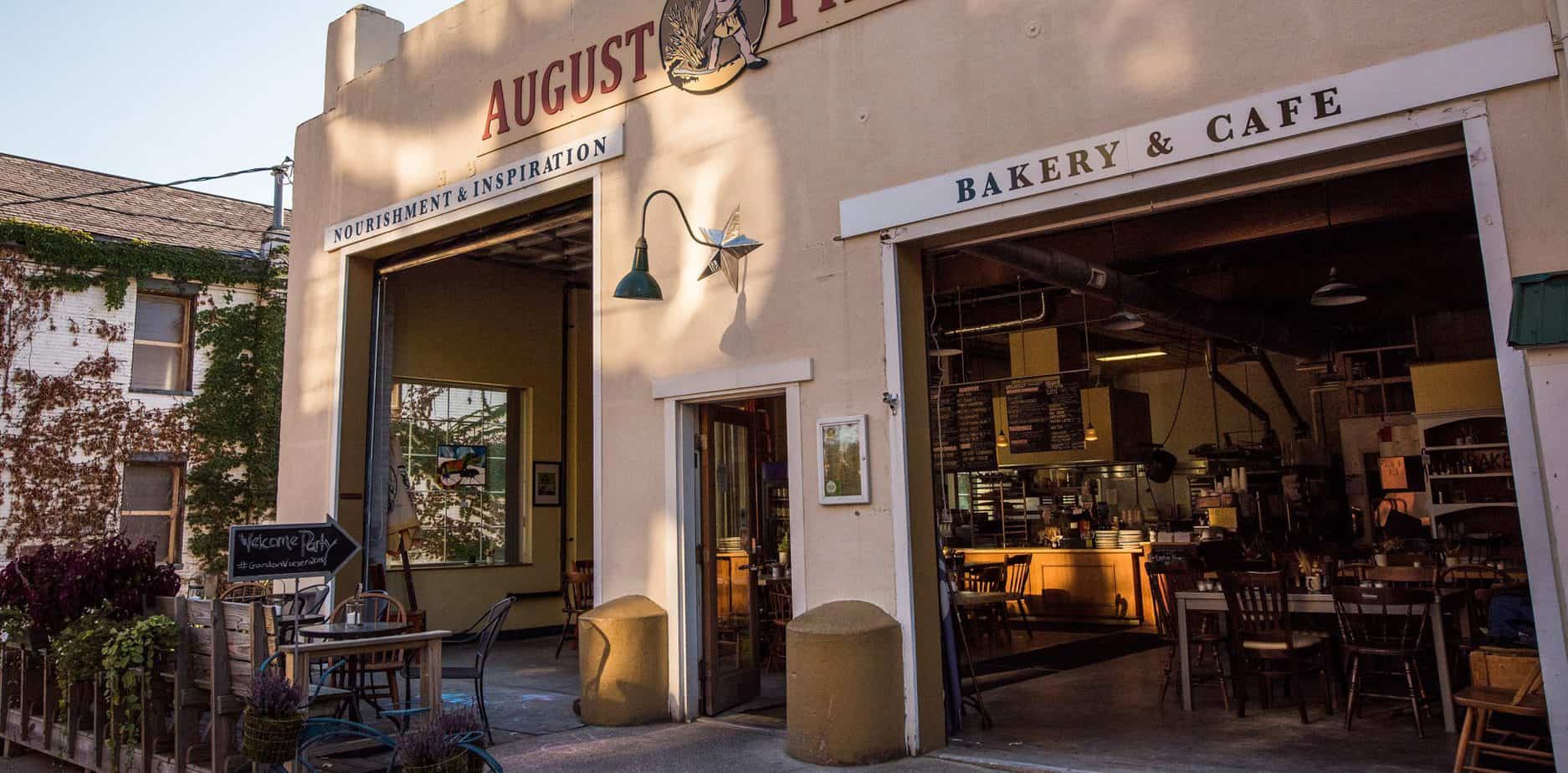 Located in a large renovated garage space in downtown Burlington, this locally owned bakery and café serves up the perfect cup of coffee any time of day. Their coffee is a custom blend made by local roasters Brio Coffeeworks. You will find real Vermont maple syrup in their lattes and steamers which can be made with cow, soy or almond milk. Worth noting, August First is a laptop free space encouraging patrons to connect to each other rather than their devices.
---
Amelie's French Bakery & Cafe – Charlotte, North Carolina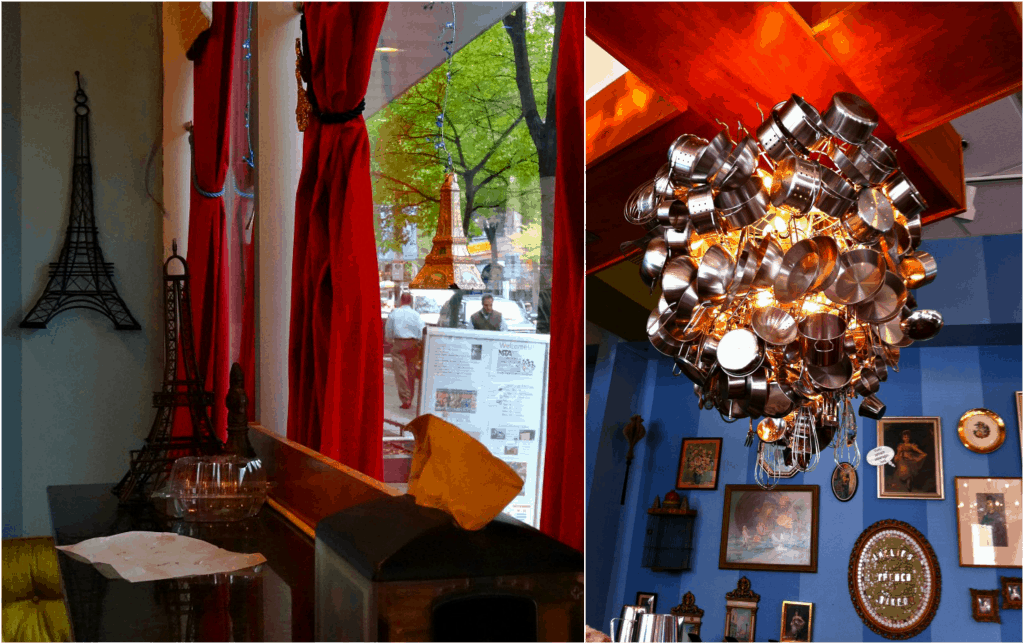 For me the best coffee shop in the USA is Amelie's French Bakery & Café in Charlotte, North Carolina. While there are actually two locations in the city my favourite spot is the one right in the heart of downtown Charlotte. Here lies this perfect little Parisian gem. When I visited the city for my first solo trip I immediately fell in love with Amelie's Café.
Not only did I feel like I'd been transported across the sea to a quaint little café in Paris, but the aroma of fresh coffee and bake goods made my mouth water. It has a chic style, with a picture-perfect chandler made of kitchen utensils hanging centre stage, antique paintings on the wall, Eiffel Towers all around, and even the baristas that look like something out of a French magazine. And be sure to try the almond croissant, it will have you coming back again and again!
-Stephanie of The World as I See It
---
Peet's – Berkeley, California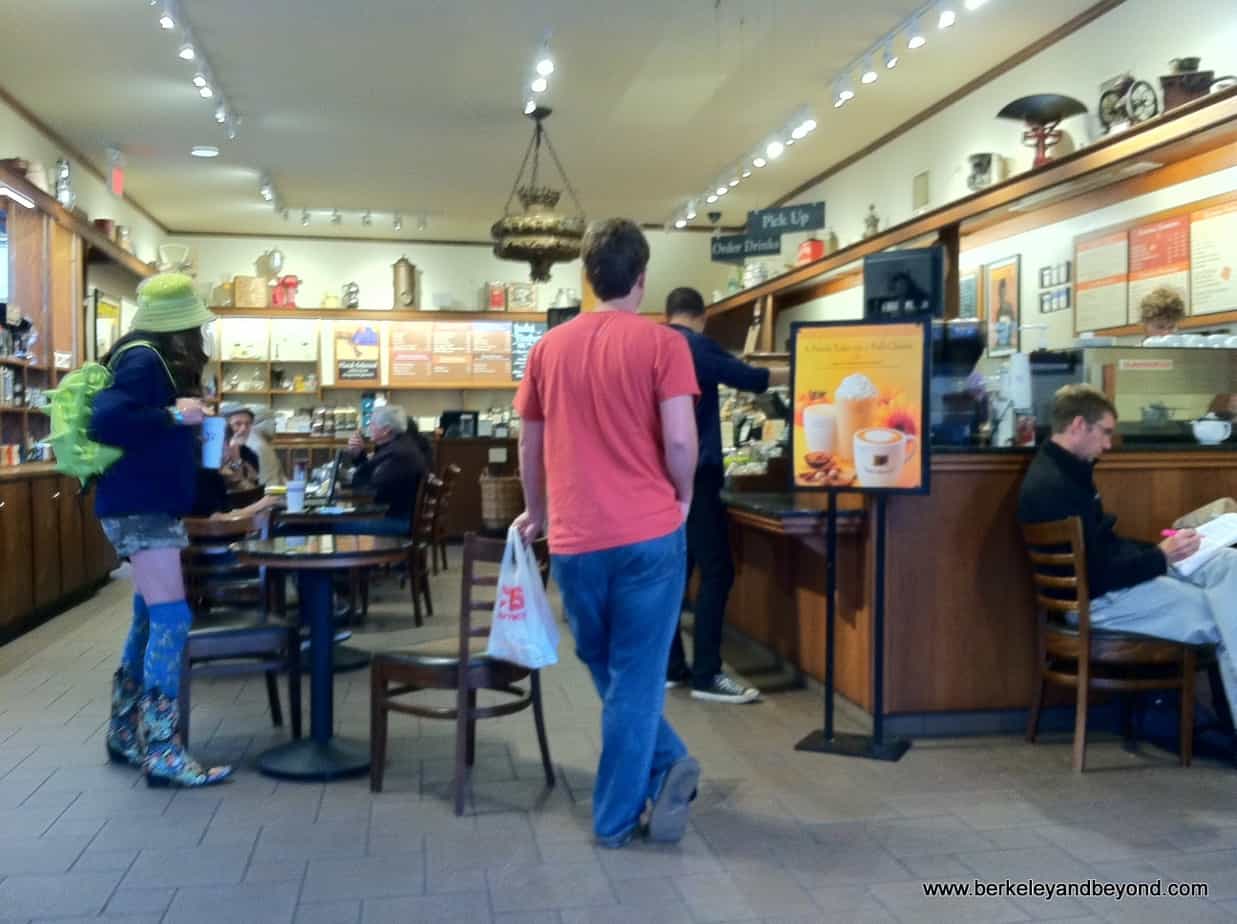 Peet's in Berkeley was the first coffeehouse in the U.S. to import specialty varieties and to dark-roast whole beans. It was a radical move in a radical town and in 1966 it touched off a revolution among coffee drinkers. Now Peet's outlets are all over the place, throughout the U.S., but the original Peet's coffeehouse remains on Vine Street in the middle of the trendy Gourmet Ghetto. Nowadays, I often order a frou-frou frozen coffee drink–a "why bother" made with decaf. Peet's has something for everyone.
---
Fraiche Cup – Bremerton, Washington
In the Pacific Northwest there is a coffee shop on every corner. My favorite overlooks downtown Bremerton, Washington located on the coast of the Puget Sound. In the Winter, overstuffed armchairs suck you into plush cushions while you work on your laptop and sip perfectly made peppermint mochas.
In the Summer, you splay out on metal patio furniture and appreciate the breeze coming off the ocean and enjoy iced caramel macchiatos as you people watch.
Fraiche Cup is a cozy shop decorated with mismatched furniture sets, homemade products boasting of our local football teams, and historical images of the town mounted to the walls. All the food is made there in the shop that day. It is my small-town haven where the baristas know how I take my coffee, and we do a happy dance when I make it in for double punch days.
Despite fierce competition here in the PNW, Fraiche Cup is the best shop in America and closest to my heart.
-Mercae of Upper Left Culture
---
modcup coffee co. – Jersey City, New Jersey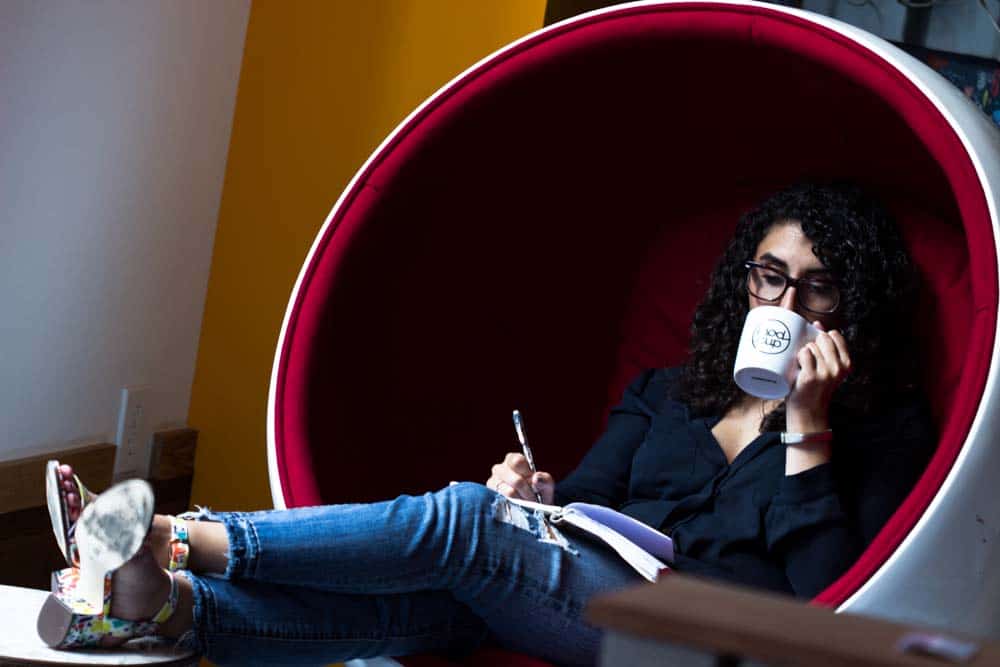 modcup coffee co. is Jersey City's not so hidden secret. modcup started 4 years ago when the owners, Travas Clifton and Justin Hicks took a gamble and opened a roastery in Jersey City Heights. They started selling coffee from a cart at the farmer's market and at the pier in Hoboken. Jersey City Heights was so thirsty for a coffee shop they would always sell out. Now they have multiple locations with different atmospheres, a food truck, and are always looking for the next market.
What makes this roastery so special is that they work directly with farmers, use all of the coffee (bean and cherry), as they learn they share it with us, and they really make you feel welcome in their shop. They have multiple collaborations with local businesses included a coffee beer "Modern Cup of Sole" from Departed Soles, a coffee gelato with Bucket and Bay Craft Gelato Co, and a coffee soap with Taproot Organics. They also roast coffee for a number of businesses in the area so you may not know that you are drinking their magic.
If you are ever in Jersey City please look them up and tell them Growing in Jersey City sent you.
---
The Eclectic Cafe & Vinyl – Charleston, South Carolina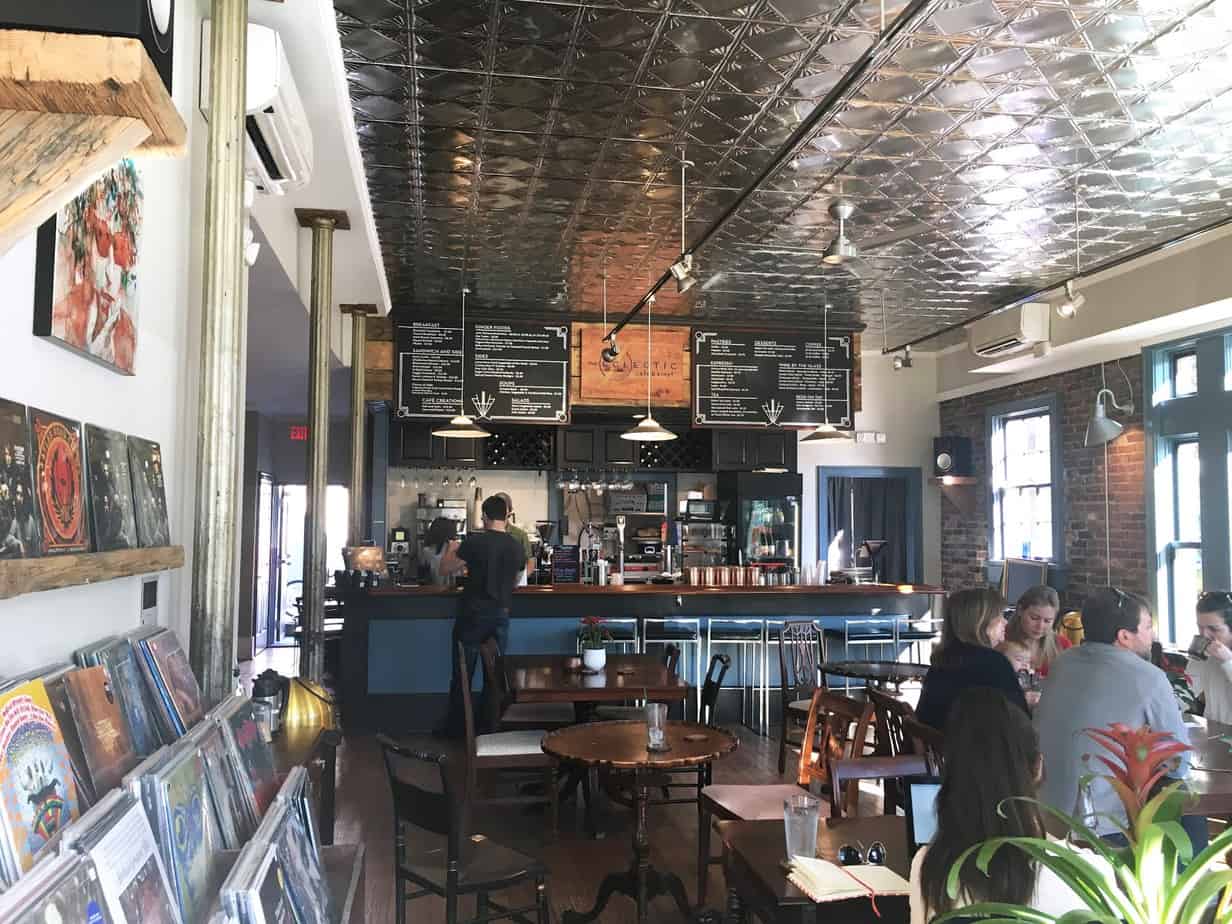 The Eclectic Cafe & Vinyl is a little bit off the beaten path, both literally and figuratively. The cafe sits at the corner of Ashley Avenue and Spring Street in downtown Charleston, SC. At first glance, you might not even recognize it as a coffee shop at all. But a sign outside lets you know their offerings: breakfast, lunch, coffee, espresso, and an in-store library. While they do have wall of books as a lending library, the in-store library actually refers to their record collection. The owners have a love of vinyl, and have incorporated it into the cafe.
Not a coffee drinker? Not to worry. The Eclectic also serves beer & wine. This great spot also boasts small bites and plates with fresh, local ingredients, a listening station where you can sample records, and a spiced dirty chai that's the best-kept secret on the menu.
---
Commissary Coffee – Los Angeles, California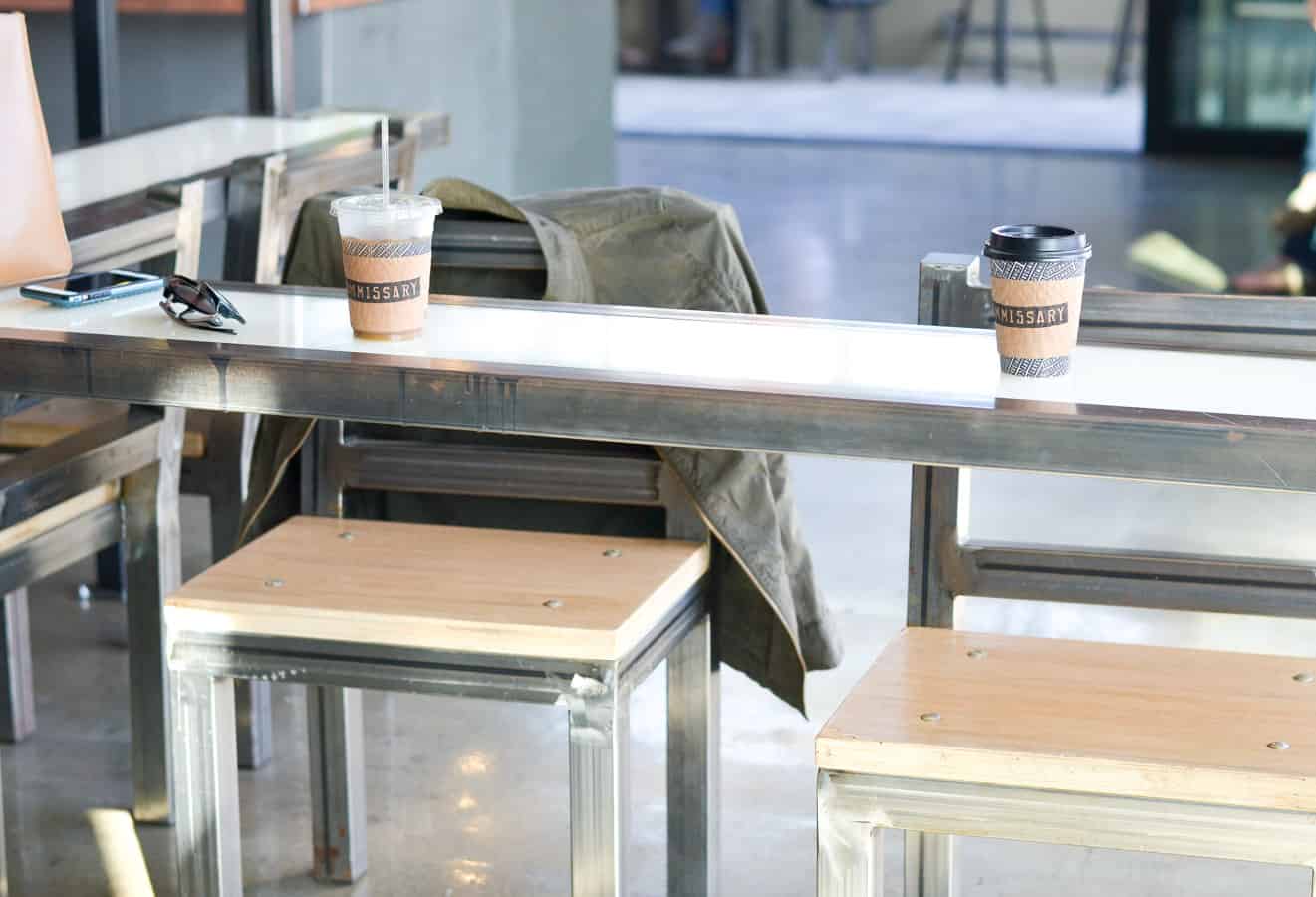 LA is bursting with coffee shops so finding the one that you jive with (and isn't across the city) is mandatory. One of my favorites is Commissary Coffee. They have four locations around LA and each one is a little different. With an industrial ambiance, they don't do anything too over the top except their coffee and baked morsels of course! I love their iced americanos and cappuccinos, so you can bet their espresso is wonderful. Need a treat? Try their morning bun in the morning or their chocolate chip cookie stuffed with TCHO chocolate chunks in the afternoon. They have decent seating, wifi, and an eclectic mix of music depending on the time and day! Need another reason to stop by? They have their own food truck on Sunday mornings parked just out front. You can get your breakfast burrito and eat it too!
---
Leaves Cafe – Montreal, Quebec
Do not let the fact that this coffee shop is vegan distract you. The almond milk latte is as good as milk latte. Strong without being bitter, the perfect ratio of coffee and milk. All of their pastries are vegan, and again- they are delicious. (I am not a vegan just for the record.) Leaves Cafe is small and quaint with seven tables and a handful of bar sitting and wifi. They sell small succulents in adorable paper cups printed with their logo. The baristas are warm and welcoming. Located on a charming side street this fun find is close to shopping on Rue de Saint Catherine.
---
Compass Coffee – Washington, D.C.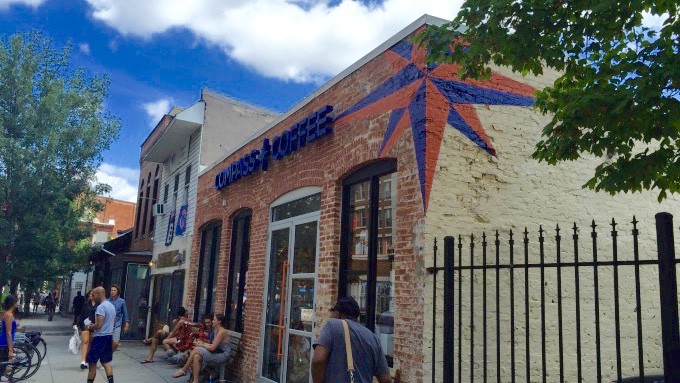 I knew I was going to like this coffee shop when I laid eyes on the building. Located in the Shaw neighborhood of Washington D.C., this beautiful brick building features an orange and blue compass painted on the side.
Walking in, I discover a roomy and bright cafe with a friendly feel. I head to the counter to order and the wide variety on the menu board makes my decision harder. While waiting for my order, my eyes were drawn to a unique display of Compass Coffee branded tins. Each tin is filled with coffee that has been roasted on location at their "CoffeeLab".
I ordered a pour over and a cortado. The cortado is becoming my new favorite drink. Both were so delicious and made to perfection. While enjoying my drinks, I was pleasantly surprised with a complimentary cappuccino from the barista after he discovered that "The Cappuccino Traveler" was in the house.
It is interesting that Compass Coffee was founded by veterans, two former marines, with the motto, "Nothing fancy, nothing too crazy or hard to pronounce, just really good coffee."
You may be thinking, "Crystal, what makes this coffee shop stand out from the rest?"
-The coffee is roasted on site
-The synergy and the founder's mission is felt throughout.
-The decor is simple, bright and friendly
I appreciate the pride you can feel behind the beans. Their motto appears on the wall and coffee cups and believe me, it really is, "Real Good Coffee".
---
Upstart Crow – San Diego, California
"Coffee. A magical substance that every blogger chick needs daily to get through life.
Or, if we're being honest, a must-have basically just needed for every Insta photo.
Agree??
Well, I have the cutest spot to get your morning/afternoon coffee fix and your Insta pics. Head to San Diego's Seaport Village and visit Upstart Crow.
Not only does it serve the good stuff, but it's this amazing bookstore/shop with a ton of vintage-ish random things you can buy (napkins with funny quotes, Parisian styled pillows and vanities, old phones, mugs, wall decor..), and of course books.
Lots and lots of books. Old books, new books. You name it, they have it.
Think: Belle's bookstore in Beauty and the Beast.
In love.
Definitely check it out and take some cute flat lays, work on your laptop at one of the mosaic tiled patio tables, and just casually sip on your iced vanilla latte while people watching. The best! Enjoy!
---
Milano Espresso Bar – Toronto, Ontario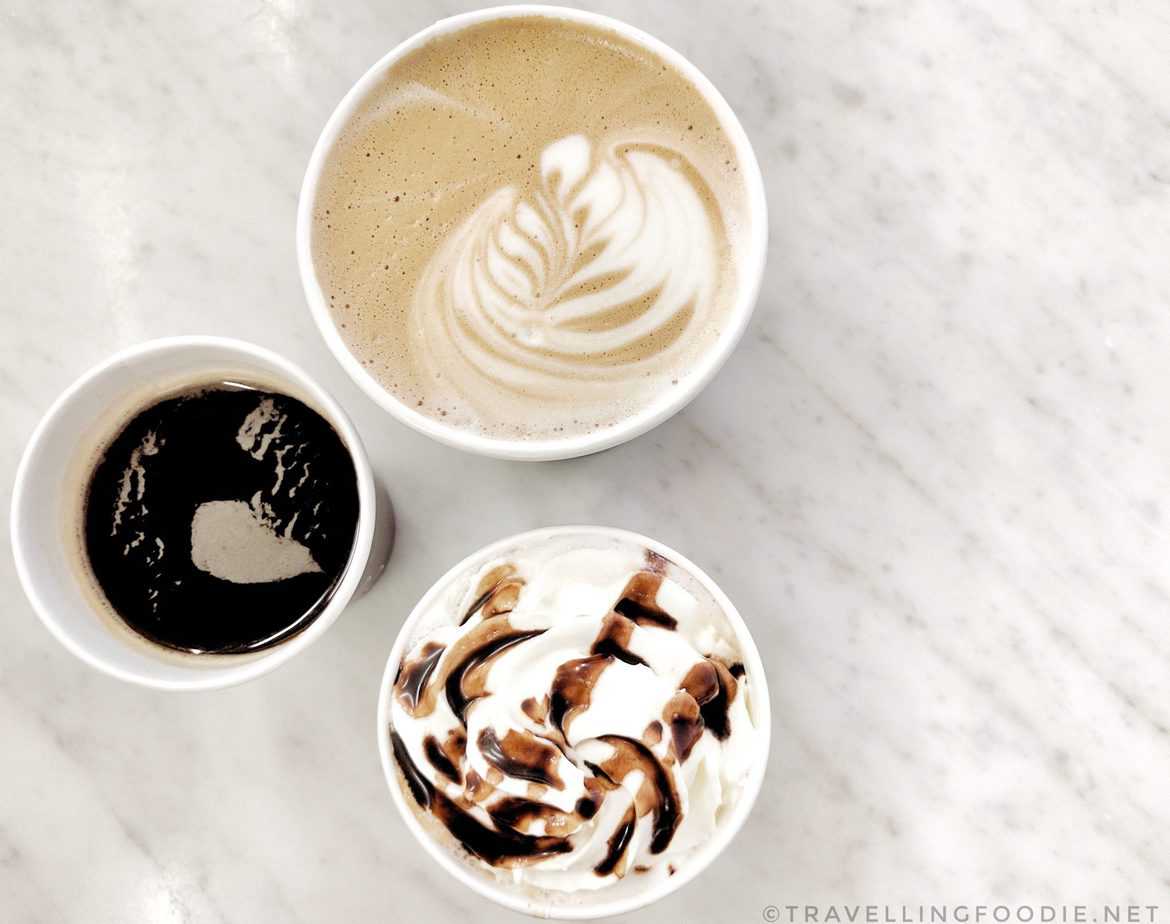 Located in the Entertainment District of Toronto, Milano Coffee brings 75 years of Italian roasting and blending expertise into cup of coffee. The café is small with limited seating but it is bright and airy with minimalistic decor.
My favourite drink here is the Hedgehog Mocha, which has 2 shots of expresso, chocolate, and a shot of hazelnut, topped with whipped cream. It's a strong drink but at the same time gives a nutty sweetness, which isn't overly sweet, thanks to the chocolate and hazelnut.
I love the fact that their espresso is very low in acidity because their espressos contain up to 13 different origin coffees to bring that perfect balance.
Another great thing about this cafe is they also serve Bar Ape artisan handcrafted gelato bars, which anyone visiting must try as it's one of the best ice creams in Toronto! The café only carry three flavours which change regularly.
---
Hokulea at Four Seasons – Kapolei, Hawaii
I've spent a good deal of time in a good number of coffee shops in the last decade or so, but Hokulea at the Four Seasons Oahu will likely remain near the top until the end of time. I mean, look at that view! One of the best "office" views that I've ever seen.
The large patio has comfortable chairs + couches, tables, umbrella's and even outlets in the floor! Inside seating isn't too bad, either, so I usually opt for an indoor table with partial sun so that I can see my computer screen more clearly!
They recently raised their prices, causing this to become a "special occasion workplace" for me but when I need a pick-me-up nothing beats a double espresso + some sun at Hokulea.
---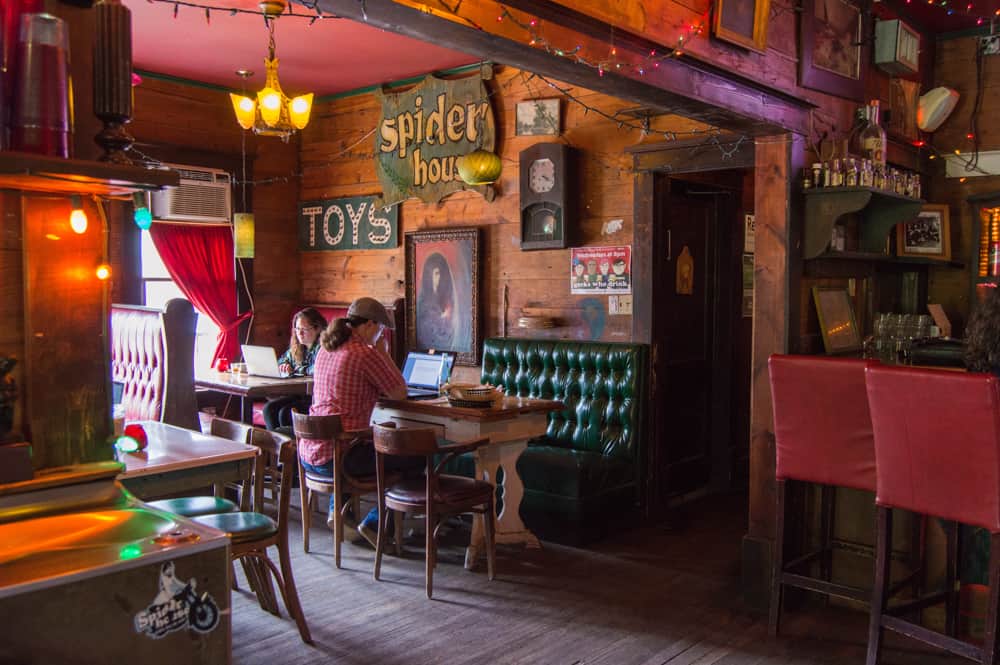 They say, "Keep Austin Weird", and Spider House Café certainly lives up to this slogan. A sculpture of a boy peeing inside a real size bathtub is not something you expect to see in the garden of a coffee shop, but here it is staring right at you. You might also spot statues of angels sitting on the bar counter, with their faces painted "KISS frontman" style and bodies decorated with Christmas lights. You will probably take a minute (or fifteen) to photograph all the oddities around before ordering a cup of coffee, but the staff and regulars are used to it. The place boasts a good variety of beers on tap and specialty cocktails if you prefer something stronger than coffee.
---
Tandem Coffee – Portland, Maine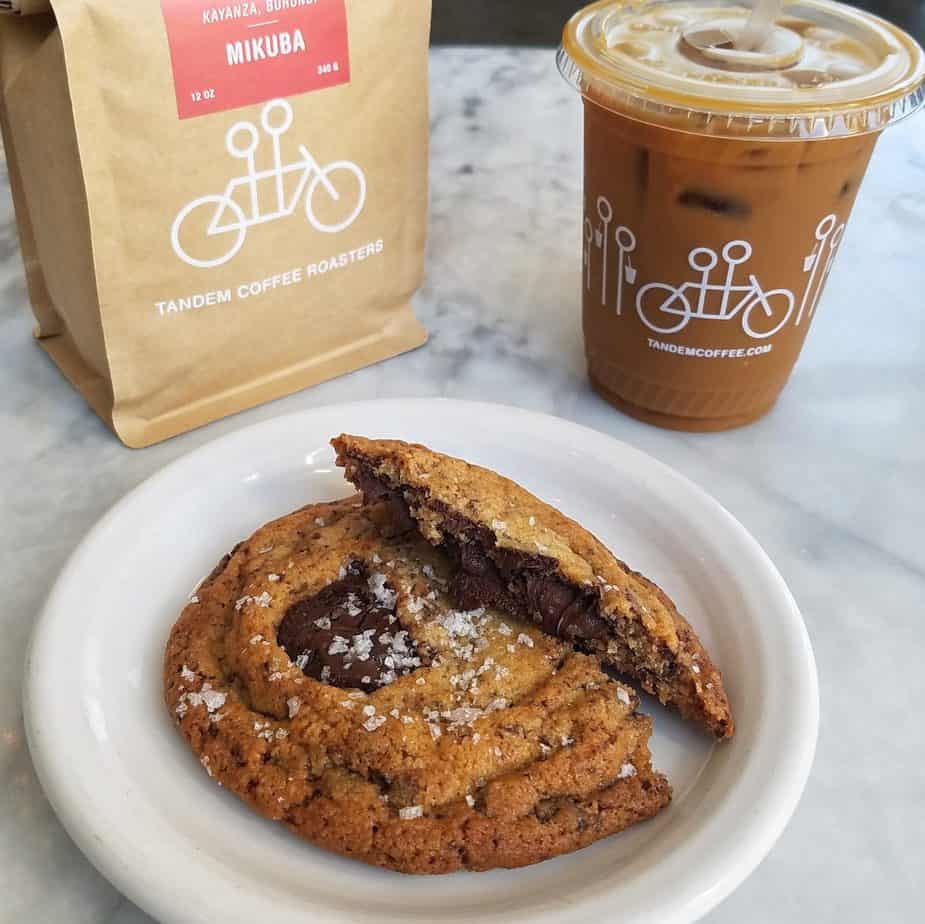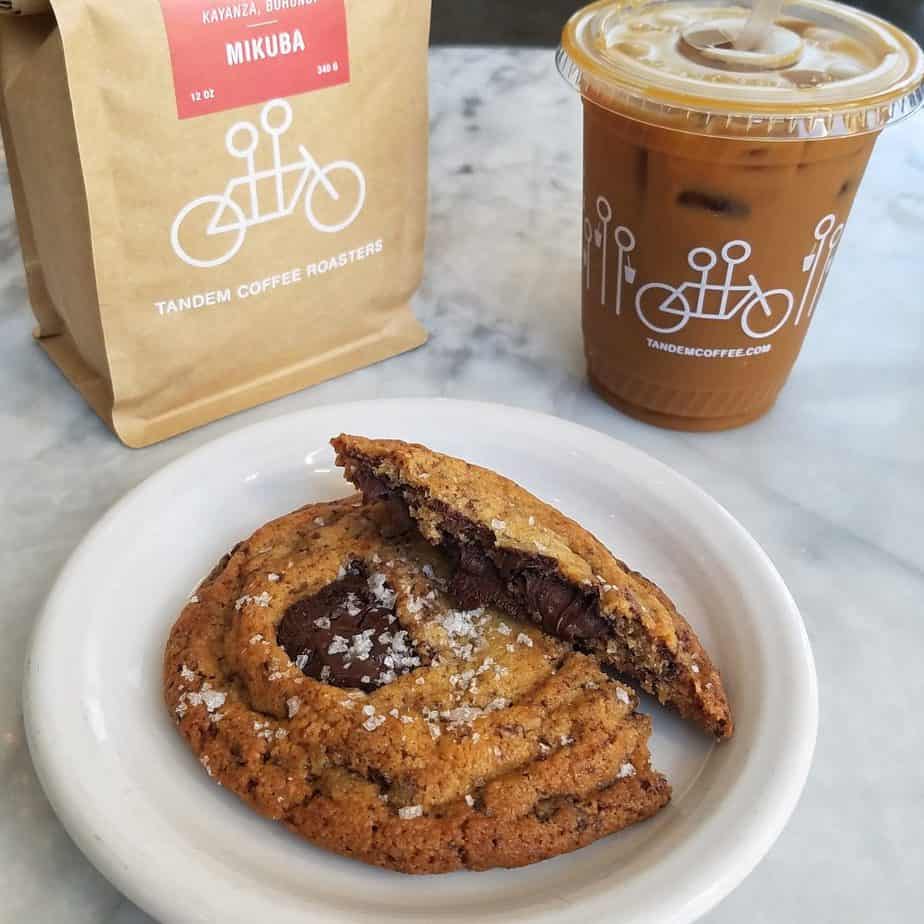 Tandem is by far my favorite place for a little caffeine fix and a quick bite when I'm in Portland, Maine. With two locations, a roastery in East Bayside and a bakery in an old garage just outside the bustling business district in the West End. Each unique in it's own way, you can visit one for breakfast and one for your afternoon pick-me-up without any judgment!
When it comes to Tandem, you go for the Malt Iced Coffee and you stay for the EPIC Chocolate Chip Cookies that are stuffed with more chocolate and topped with sea salt!
If you're not up for cookies, try the pistachio coffee cake or on of their savory options, the breakfast sandwiches rock! And you definitely can't leave without a bag of one of their locally roasted coffees! My favorite of which is the Mikuba, it has notes of maple candy, raspberry jam, and black tea. It's pretty much coffee perfection!
---
Tatte Bakery – Boston, Massachusetts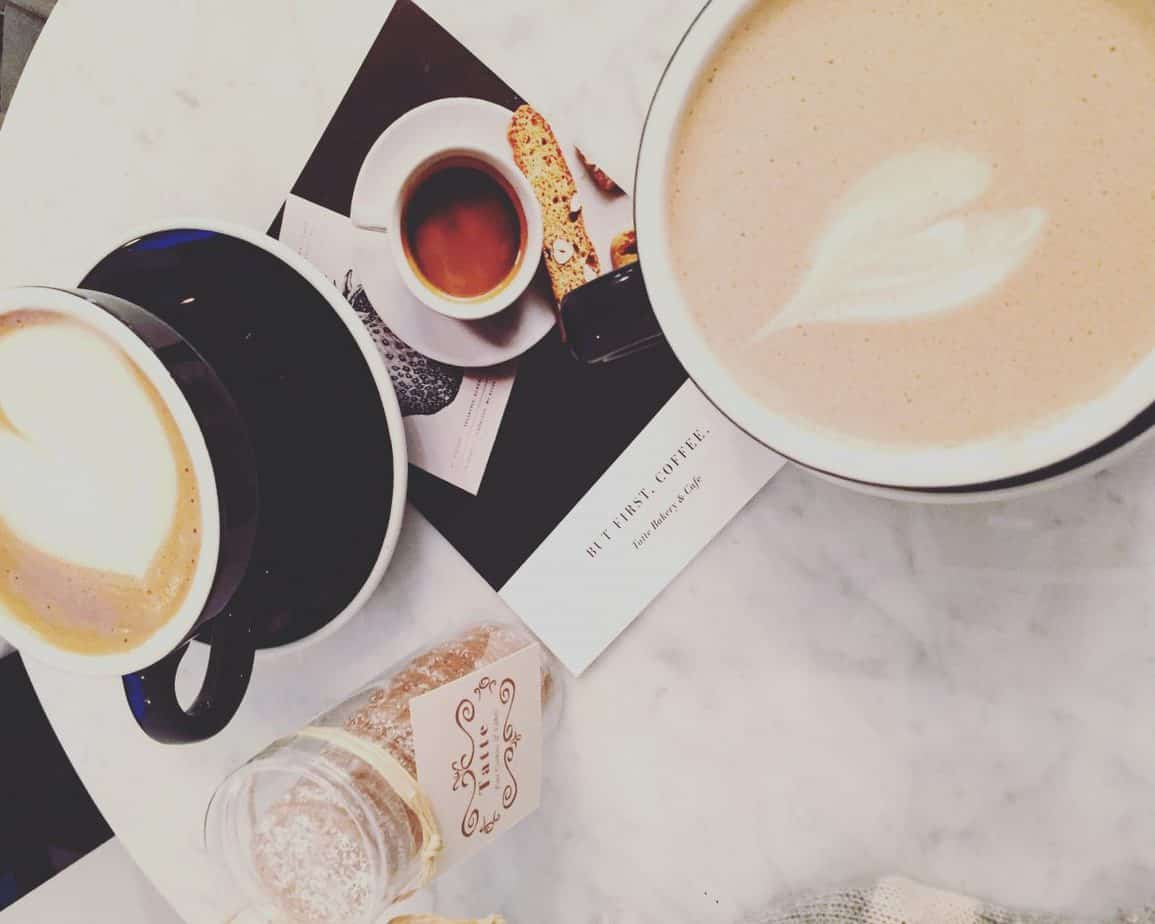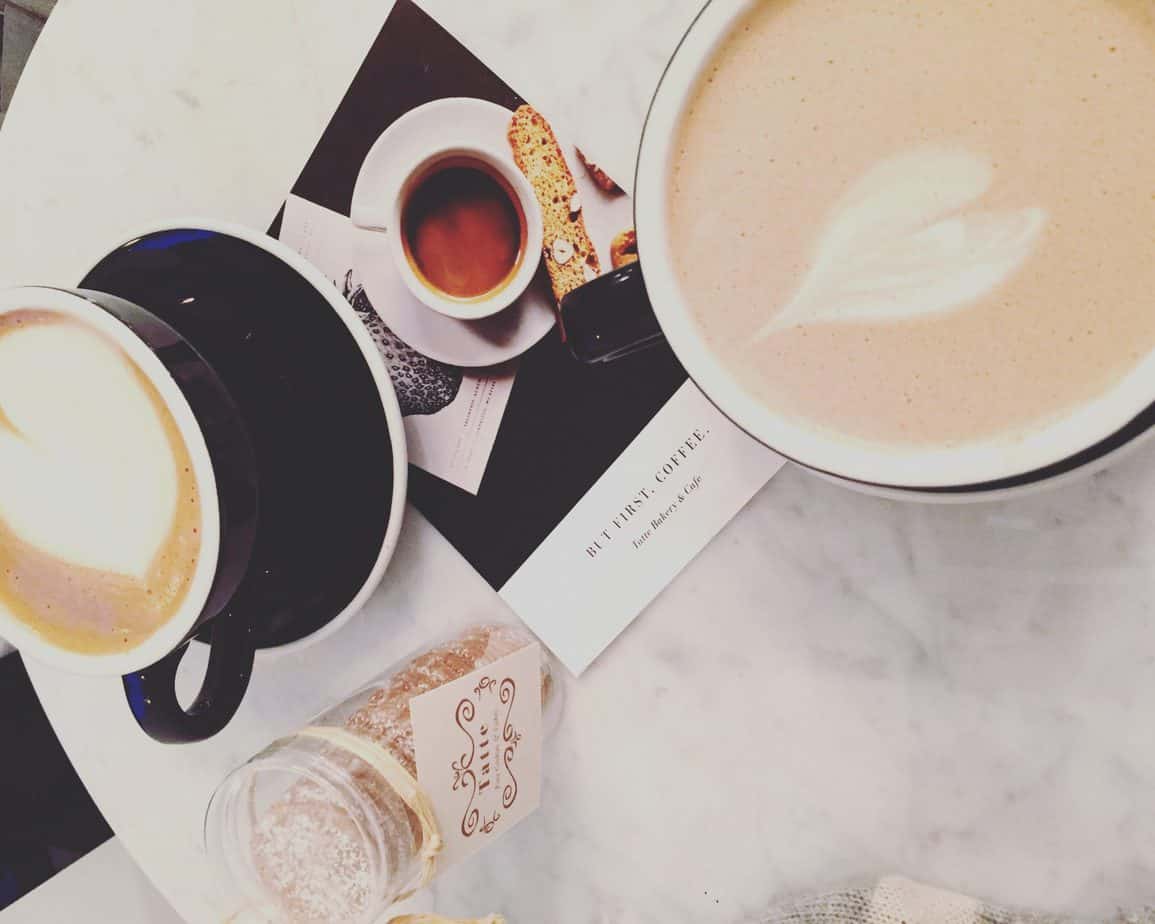 Tatte was the site of my first experience of Shakshuka, a comforting Israeli tomato stew with poached eggs, fresh herbs, and brioche to dip in it. I am a regular at this pastry heaven, where they have halva roses, pistachio croissants, pear almond muffins, tartes, the best brownies to heal a bad day, and Stumptown coffee drinks. Their hot chocolate, made with melted Belgian chocolate and the perfect ratio of hot milk, is my favorite in all of Boston.
Each location boasts its own unique décor elements with tile (the one in Harvard Square is particularly inspirational – it tells you to Dream Everyday), light, and fresh flowers. Tatte is always bustling with people of all ages enjoying the ambiance at the bar, community and marble top tables over edible delights blending Israeli-French elements into creative pastries. Besides pastries, be sure to try their labneh fruit cup, shakshuka, mint lemonade, and hot chocolate.
---


Do you have a favorite shop? What do you think are the best coffee shops in the USA & Canada? Weigh in below!
You might also like: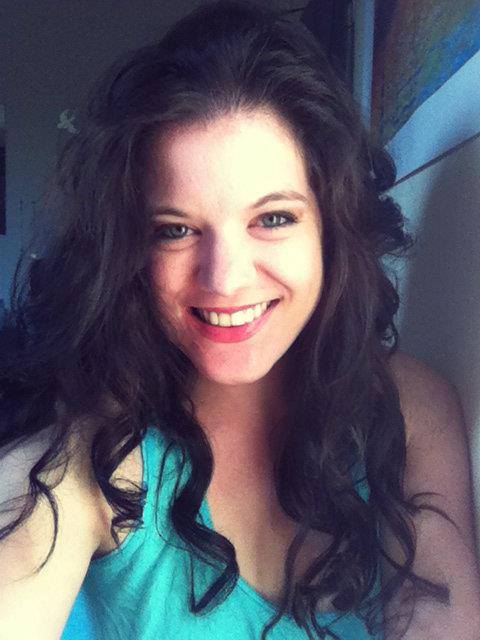 Amy Hartle is the author of Do You Love Me? How To Stop Seeking Reassurance in Relationships, a book on reassurance seeking and relationship anxiety. Both her book and this blog are born of personal experience; Amy shares expert relationship advice from the lessons learned during her own 10+ years with her husband, as well as couples travel tips and romantic getaway recommendations, all gleaned while traveling the world together.