This post may contain affiliate links. Read our disclosure page for full details.
There are so many fantastic date ideas for couples out there, but most of them are for those who live in the same town or even the same house. But what about long-distance couples? In this post, we share some fabulous long distance date ideas to help you feel close even when you're far apart.
This a guest post from Karis of Don't Dream, Just Travel.
My husband and I have been doing long distance for a few years, and that means we've gone through lots of long distance date ideas. It all started when we began dating while living in Kenya, and continued over 3 continents! I'm a musician and he runs his own business, so our work often takes us all over the world.
We had been dating with periods of long distance when he proposed, and now, in our first year of marriage we are still often apart, but getting closer and closer to the day when we will finally be together much more, in the same country, city, and home!
We found that maintaining a happy relationship while long distance is doable, and I want to share some of our ideas on staying close as a couple, despite being cities or oceans apart. Some of these are long distance "dates", while others are just general tips for long-distance relationships.
Planning to do things together even while far apart is a great way to stay close even when you're separated. Ready to get inspired? Read on for 12+ great long distance dates.
Why date nights are important in a long distance relationship
First, a quick interjection to talk about why planning dates can be an important factor in any relationship, but especially a long distance one.
First of all, every intimate relationship requires time and effort. When you're not in the same physical location, this can get more challenging. (Which, of course, is why it is extra important). When you set aside time to engage in long distance activities with your partner, you are showing that they are worth your time. You are making your relationship a priority. So the simple act of showing up sends your partner a message that they matter to you and that your relationship matters.
Second, one of our top pieces of relationship advice for couples is to spend quality time together. While physical togetherness may be ideal, don't let that stop you from connecting with your partner. In this day and age, you can take advantage of all the amazing technology offered to us to video chat, talk easily and from anywhere on the phone, watch a movie together, play a game remotely, and more. There's so much that you can do to feel closer and bridge the distance.
Finally, scheduling time to spend one-on-one is especially vital in this type of situation because you really need that extra interaction as a couple. Distance is hard, let's be honest. By making every effort to minimize your absence and close the space between you, you're giving your love a much-needed boost of affection and intimacy.
So, what are those things to do in a long distance relationship for date night? We've got a few suggestions for you:
12+ Fun, Sweet, and Romantic Long Distance Date Ideas
Long-distance dinner date – cooking together even when you're far apart
Long distance dates don't always have to be crazy, unique, or exciting. One thing we both enjoy doing is regular dinner dates. This can be a very cheap option for those of us on a budget (hello, freelance musicians!), and is a nice way to incorporate a semblance of normality to long distance relationship life.
Both of us love cooking, so if time permitted and we both happened to be in the same time zone, we could cook and eat dinner together via Skype or FaceTime.
This can also work in other time zones if you calculate properly. At one point, I was in New York City and he was in Nairobi. I would eat lunch with him while he would be having dinner!
If you can, planning a few dinner dates where you both have a night in, cook or order in, and then have a nice video chat over dinner, can almost make it feel like you are in the same room together.
Need menu inspiration? Check out this list of romantic dinner recipes for two.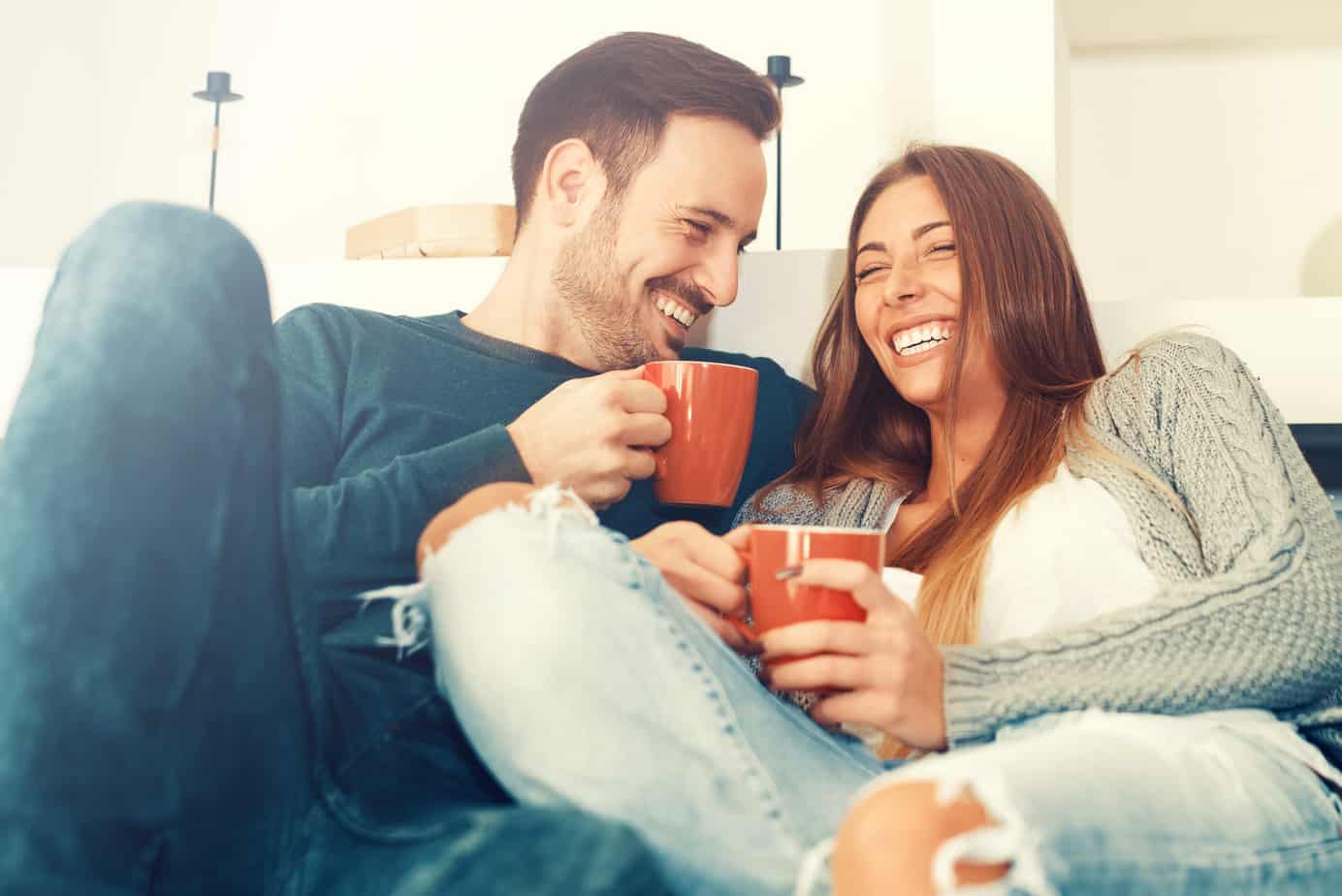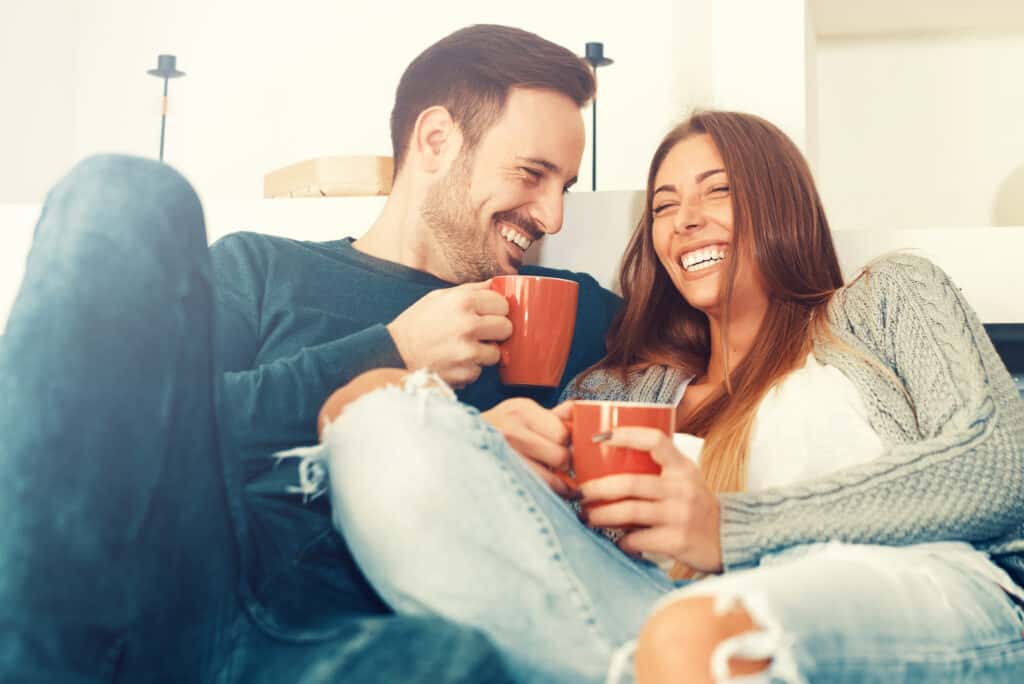 Mix-it-up dinner dates – surprise delivery meals
Another idea for a dinner date would be to order each other's dinners one night. If you are able to call or order take-out online and have it delivered to each other's houses, you can surprise each other with their favorite food, or a new food you want them to try.
My husband once ordered me sushi (one of my favorite foods) in Germany, while he was in Africa. He also has managed to send me flowers wherever I have been in the world on every Valentine's Day since we started dating. The wonders of the Internet and Google for setting up lovely long distance date surprises!
Go shopping "together"
Most of the above long distance date ideas revolve around eating – so here are some activities outside of that for you to try!
Go shopping together – and I don't mean online shopping. Once again, your trusty phone will be the best tool for your relationship.
Let your significant other know you are going shopping, and take some shots on your phone of outfits you think they might like.
Before you leave the store or make your purchases, ask which ones they like best. When you finally see each other in person again, make sure you wear one or two of those new outfits and see if they notice!
This option isn't for everyone, of course! Not everyone enjoys shopping, but it's always nice to get your significant other's opinion on new clothes.
Watch a movie or play a game together online
Have I mentioned how great technology is for long-distance couples? Get online and get connected! You can talk to one another in an instant using all of the modern video chat software available, or do something interactive like play a game or watch a movie together at the same time. (Here are a bunch of different games you can play on Zoom!) Long distance relationships can be just as fun as you set them up to be.
Create and keep a list of things to do together
Because we travel so much, we are often exploring our new locations and coming up with new date ideas for when we are together in person. (Find some inspiration on the Two Drifters' massive couples bucket list!)
I will usually email my husband when I see something particularly interesting, tell him about it, bookmark it, add it to our calendars for when we are together, and try to do that one thing or visit that one place when we are together.
For example, here in Berlin there are many beautiful Christmas markets going up all over the city. Some are more beautiful than others so I am taking note as to which ones I want to visit with my husband when he arrives for Christmas. Planning what you'll do when you're finally together is one of the most run things a long distance couple can do together.
Keep a travel journal together, or fill out a shared book
Usually, people keep their own travel journals, but my husband and I have found it is particularly fun to keep a travel journal of our journeys together.
We take turns writing about what we have done and our thoughts on particular places in one journal. Our plan is to keep track of where we have traveled together so that one day our children or grandchildren can read about where we have traveled.
It is also great to have a record of things that you have done and places you have visited because as time goes on, those memories start to fade and it's lovely to have these remembrances of your long distance relationship.
If you aren't together very much but still like the idea of keeping a travel journal (or just a plain journal) together, you could have a shared Google Doc where you write about somewhere you have been.
To keep your thoughts ordered you could each pick a color to write in so that when you look back at it you know who was talking about which place!
Not into travel? No problem, you can also keep a regular journal. For an added old-fashioned touch, consider getting a physical book that you can send back and forth to one another as you fill it out.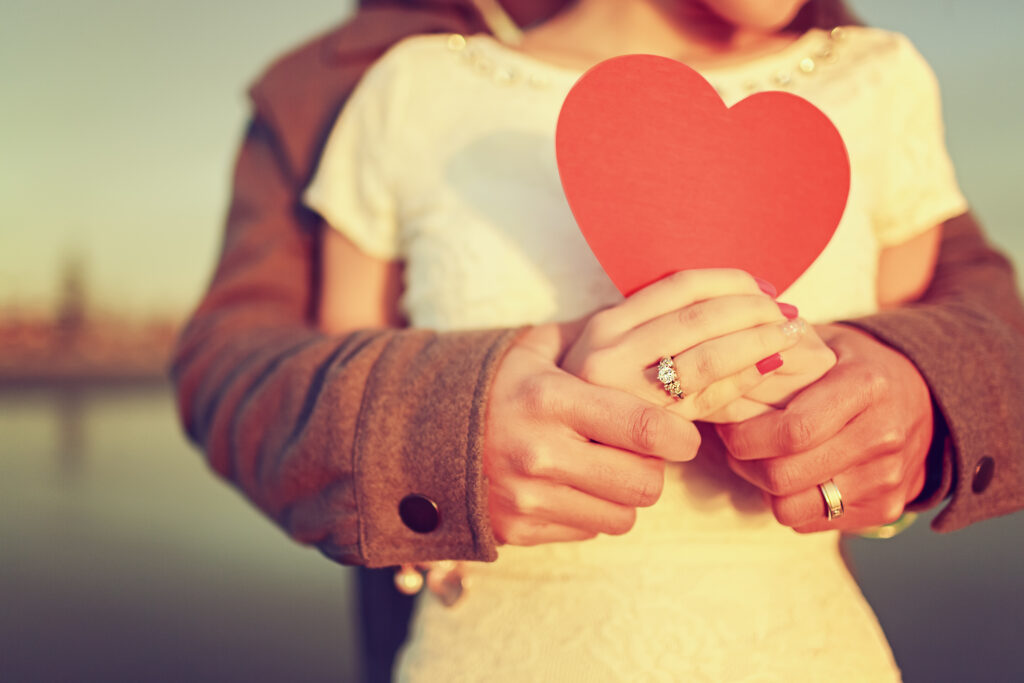 Write one another physical letters – especially love letters
Handwritten letters that are delivered via snail mail are also a great way to surprise your significant other every once in a while.
You don't always have to send a letter, either. Photos, funny postcards, newspaper clippings, dried flowers, or any small thing that could travel easily in an envelope and mean something to you and your partner are great ways of staying physically in touch.
You can also hide notes for your partner to find when you are apart. A well-placed sticky note or a hidden note under a pillow can be a sweet surprise! Or consider writing a whole series of "open when" letters!
You could also have friends unexpectedly deliver notes for you, when your partner is least expecting it.
Whenever my husband leaves for a trip after we have been together, I nearly always write a note to him and hide it in his luggage. It's a fun way for him to be reminded of how much I love and miss him and to look forward to the next time we are together. It's a sweet long distance relationship tradition.
Once when I was visiting him in Kenya, I had to head to the airport after he left for work. In that time I put sticky notes all over his apartment for him to find when he returned home, reminding him of how much I loved him.
Plan future romantic trips together
Something we have a lot of fun doing is planning future trips together. When you are in a long distance relationship part of the fun is planning when you will actually be together!
We often like to go on adventurous trips to other parts of the world. We have been trekking in Nepal, exploring the ruins of Angkor Wat, and hiking in Israel. All of these trips took a lot of planning, and we often will share the research and booking flights and hotels, planning everything out over a Skype date and via email.
Get creative and "go out" for your date night
Take advantage of technology! If you have a great phone plan, you can also "go out" on a date via Skype, FaceTime, or WhatsApp. If you have a nice park you can walk around, comment on the things around you that you see, and show your significant other if your camera is on.
You can even plan a Skype picnic! Set your phone up somewhere where your partner can enjoy the views around you while you snack. This is a sweet and simple long distance date idea.
Do something crazy and unexpected, at least once
Once, my husband told me that he was sending something to the apartment and I needed to be there to receive it.
We regularly receive packages at the apartment, so my first thought was that he had ordered a package. When I asked, he dodged the question, so my next thought was that maybe he had ordered flowers.
When the day came, the doorbell rang when he said it would and I ran downstairs to open the door. Through the glass I could see flowers so thought my guess was accurate, but when I opened the door I found my husband!
He planned a random, crazy weekend trip from Nairobi to Berlin for only 2 days, but it was the best surprise of my life (besides when he proposed, of course)! Surprising each other like this is a wonderfully sweet long distance relationship idea!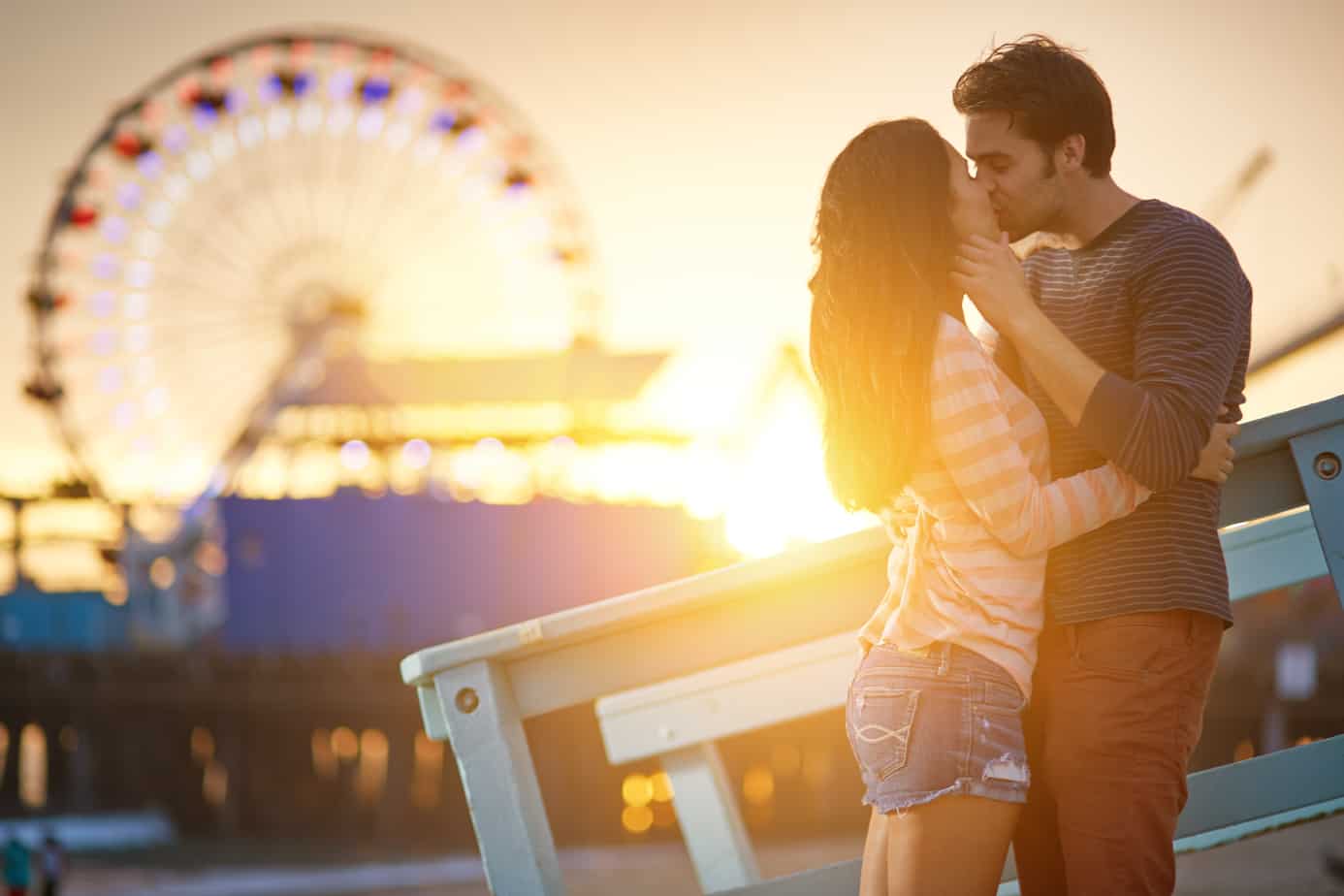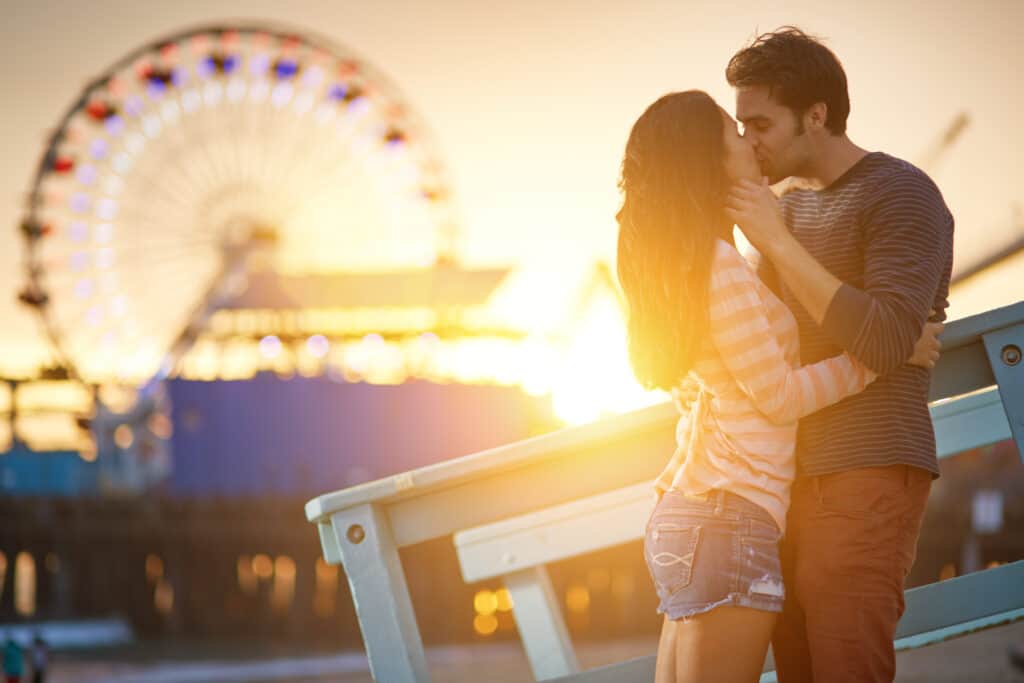 Holiday date ideas for long-distance love
Plan Skype dates around holidays and make a theme out of your date. If it is Thanksgiving, make sure you both eat Thanksgiving-themed meals, and maybe both wear some autumn colors and decorate the room behind you with colored leaves or pumpkins.
If it is Valentine's Day, wear red during your Skype date, put hearts up behind you for the video call, or any number of Valentine's related things (if you are both into Valentine's Day, of course!). (See more ideas for Valentine's Day dates here). Don't skip celebrating holidays together just because you're doing the long distance relationship thing!
Send him or her something sweet
Send your significant other jokes or funny photos of you or things that make you both laugh at various points of the day. I find this is most effective when I know that my husband has had an especially busy day at work and needs a little break.
Sending texts full of encouragement and love are also heartening to receive. Even if you can't be together all the time, knowing that your significant other is thinking of you lightens the situation until you can see each other again. Long distance date ideas like this are a beautiful way to stay connected! Sending sweet messages right before bed is a sweet way to connect, too.
A Few More Tips for Long-Distance Relationships
Long distance dating is entirely possible, but make sure that you are both making time to actually see each other in person.
One of the best pieces of advice we ever received for our long distance relationship was to make sure that we have a goal that we are working towards together. Shared goals are a beautiful way to stay close to each other in long distance relationships.
At one point in our relationship, this goal was to see each other in person every 3 months. Now it's to see each other for a few weeks every month. Very soon we will be able to say we are no longer in a long-distance relationship and will be in one place, together!
If you have any more creative long distance date night ideas to share for those of us in long-distance love stories, we would love to hear from you!
About the Author: Karis is a classical musician based in Germany and runs a travel blog called Don't Dream, Just Travel. She has been traveling the world since a young age, and spent 9 years working as a musician in East Africa, where she met her husband. Despite being in different time zones and on different continents, they are now happily married and will hopefully no longer be in a long distance relationship soon! You can follow Karis and her adventures on Instagram, Facebook, Twitter, and the blog.
---
You might also like these date ideas:
---