This post may contain affiliate links. Read our disclosure page for full details.
Did you know leather anniversary gifts are the traditional option for the 3rd anniversary?
Anniversary gifts can be tricky–should they be aimed at one spouse or applicable to both? As the Two Drifters approached the third anniversary of our wedding, we started thinking about the myriad possibilities to commemorate this, our third year as a married couple.
We've done some digging, and it turns out there are a world of options out there for anniversary gifts. Since the traditional theme of the third anniversary is leather, we have assembled a list of 18 possible leather items to give to your partner.
Many of them you will enjoy as well. So dig in with us and have fun shopping! Also, congratulations!
Psst! Check out the whole list of traditional anniversary gifts by year.
Frames and Pictures
Available in both this shade and a lighter one, this leather personalized plaque commemorates your anniversary in a lovely and timeless manner. The stitching on the edges is so cool that you won't even need a frame.
Looking for leather anniversary gifts for her? This could be a nice choice.
In its beautiful frame, this leather engraving of the lyrics from your first dance song puts those carefully chosen words into a meaningful shape for display. The inclusion of your names at the bottom will help to remind you how special your union is.
To keep things simple but still beautiful, use this personalized, engraved photo frame. Perfect for wedding or anniversary photos!
For the musically or artistically inclined, a framed custom music note sheet might be just the thing.
Whether you choose to display your wedding song or some other special tune, you will always have its notes on display.
Last but certainly not least, consider having one of your most treasured photographs engraved in leather and framed.
This old-fashioned look will give your marriage a head start on going down in history!
Scrapbooks and Journals
To chronicle the many adventures of you and your spouse on your journey through life, you can't beat this Our Adventure photo scrapbook. It's all happening!
Your husband deserves something amazing. When searching for leather anniversary gifts for him, consider something like this leather journal.
Beautiful and bound with a leather strap, this thing exudes inspiration and will encourage your spouse's introspective nature or creative ambitions.
For a more classic scrapbooking look, this vintage album is just the thing. It comes with a beautiful tie that is sealed with a heart to keep your memories safe!
Bags
This hanging toiletry bag is billed as being for men, but there's no clear reason why anyone couldn't make use of its handy storage capacity and stylish looks. Practical and aesthetically pleasing!
For a romantic weekend getaway or vacation, why not bring along this BYO wine bag?
With room for six bottles and handy leather straps, you will be all set with a selection of tasty beverages!
Personal Accessories
Speaking of beverages, try this pint sleeve on for size. It will give your partner a comfortable hold on their beer or cider and help keep their hands warm!
For a small, daily reminder of your love and support, get your spouse a custom keychain. Whether it's your names, the date of your wedding, or both, your partner will think of you with each use of their keys!
To make her happy and remind her of your devotion, this heart bracelet will be just the trick. Its beautiful steel heart and leather bindings are both charming and stylish.
For all you cat lovers, or lovers of cat lovers, why not give your loved one a clutch wallet decorated with felines? One look at these cute kitties could cheer them up on a stressful day.
Miscellaneous Gifts
To give you both a reminder of your marriage during the holiday season, this heart-shaped ornament will add a little more love to your Christmas tree.
If you and your spouse like to keep your gifts small and simple, this might be just what the doctor ordered.
This could be an excellent choice if shopping for another couple, too. But if you need even more 3rd anniversary gift ideas for your favorite couple, check out these possibilities:
This adorable set of personalized coasters will serve you and your guests well. At the same time, they will be a lovely and sturdy reminder of your wedding.
While unorthodox, we find this bouquet of leather roses to be cute, creative, and unique. Their permanence is the perfect reminder to your spouse that your love is here to stay.
As wisdom goes, you could do a lot worse than listening to St. Augustine, and this handy leather desk tray is engraved with one of his more memorable quotes: "Love is the beauty of the soul." (Read more pretty romantic quotes here).
While you store items in the tray to reduce the clutter on your desk or by your entryway, those words will always be waiting at the bottom.
They will remind you and your partner of the reason you are together: love.
---
Read these next: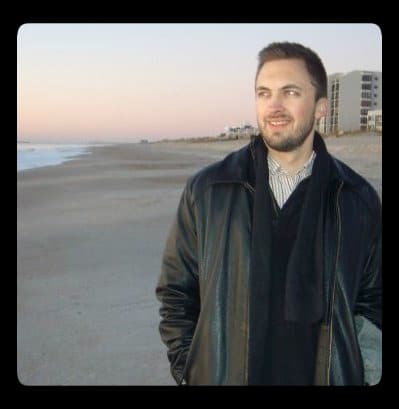 Nathan is one half of newlywed travel couple Two Drifters, and typically found behind the camera lens. However, he loves writing too, and works as a freelance editor when not focusing on crafting works of fiction.