---
*Links in this article may be affiliate links, from which we may earn commission. See our
Privacy Policy
for full details.
---
This month's travel and adventure couple are Kristina and Gaspard of I Left Home.
Hi! Please introduce yourselves.
My name is Kristina; I am a 25-year- old Canadian-born traveller! I grew up travelling, my family left Toronto when I was 7 years old, and since then I've lived and travelled all over the world! I've visited over 20 countries and (so far) lived in over four. I returned "home" – to Canada – for university, thinking I would settle there, but of course a Bachelors and a Masters degree later I got extremely stir crazy and here I am travelling again!
My boyfriend Gaspard is 34 from France, and left home about 14 years ago to become a full-time traveller. He is a writer and photographer, and has written a series of travel books: Ticket to Thailand, Ticket to Vietnam, and Ticket to New York. He's written for several others as well, including Lonely Planet! He uses his work as a means to continue his travels.
We are both SCUBA instructors, and through our work in diving, we met, and our story began…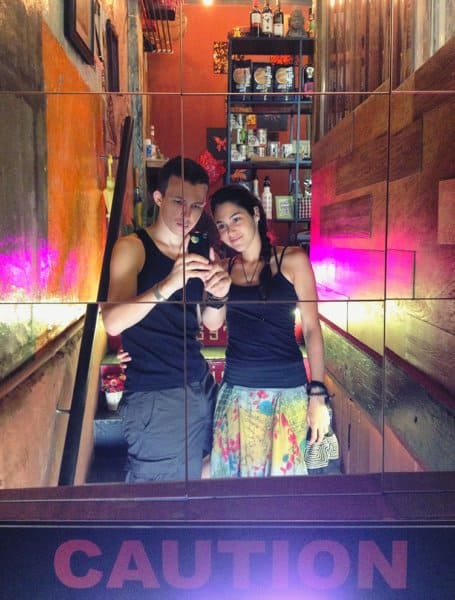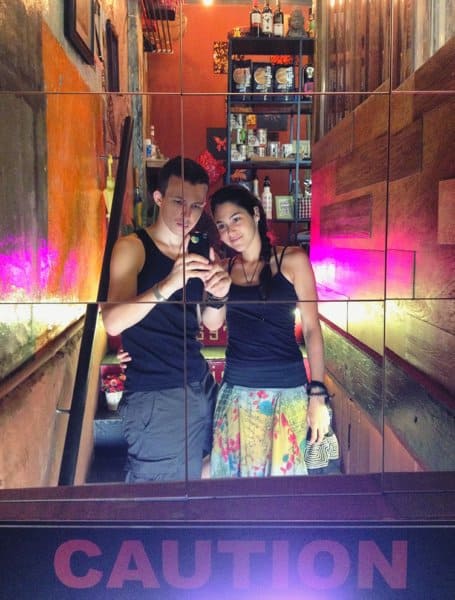 When did you first start traveling together?
We met almost two years ago, on a small island named Gili Trawangan – off of Lombok, Indonesia – while we were both on our separate travel journeys. I, Kristina, was in the middle of my Masters degree (in Creative Arts Therapies) and was on my annual holiday there where I go with family to relax, SCUBA dive, and also help out at the dive shop when they need extra instructors. Gaspard was working there for the summer season as one of the regular instructors at the dive shop.
We only started travelling together almost a year after, once I finished my degree. We started our travel through Southeast Asia in September 2015.
How would you describe your travel style?
Slow and contemplative. We don't like rushing through a location. We rather stick around in one place, have a small routine, get to know the local rhythm. We don't always go through all the typical touristic attractions, we like to explore a place on our own, get lost, find our own adventure.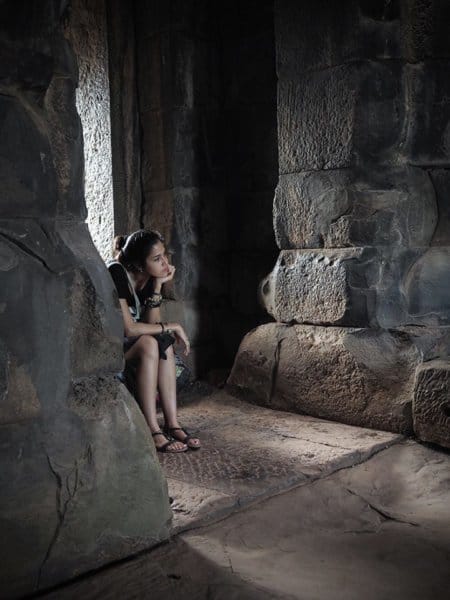 What has been the most rewarding part of traveling as a couple?
Before this year, we were long-distance. I was in Montreal and Gaspard was working in Paris and visiting me as much as possible. It was very uncertain how things would work out for us – we spent a lot of time coming up with ideas and plans that would allow our lives to connect. Luck was on our side and we both had the opportunity to arrange our travel around Asia. It was at that time that we started the blog I Left Home and it became a project that we work on together while we travel, and another way for us to be together.
The most rewarding part of our travels has been how it has allowed us to create opportunities to continue to be together as a couple as well as experience our love of travel and adventure together.
What has been the most challenging part of traveling as a couple?
Essentially, travelling is our lifestyle and it has also been a way for us to continue our lives together. Things that create a risk to that like financial and familial obstacles have been the biggest challenge. So far, all the stressors that have come our way have been resolved and we are continuing on our journey happy and strong.
Have you ever had a fight on the road/while traveling, and how did you handle it?
We never really fought while on the road! We've fought once or twice between travels, and I think the biggest reason behind those moments were the outside stressors that were affecting our situation. We believe that travelling has really allowed us to grow positively as a couple, and whenever we have differences they don't result in fights but have become a time where we listen to each other's views.
Can you share your funniest, most humorous experience traveling together?
I turned 25 while we were travelling up north in Thailand. We were in Chiang Rai for the day and Gaspard arranged the whole day to celebrate. That morning Gaspard blindfolded me and put me on the motorbike where he drove me to a love hotel! Suddenly I was sitting in an underwater Little Mermaid themed suite when Gaspard finally uncovered my eyes! It was such a fantastic and hilarious surprise!
There was a karaoke machine where we sang "Under the Sea", we ate carrot cake – my favourite – and designed by Gaspard himself! – The bedroom ceiling was painted with a scene where Ariel was laying provocatively, and the bed was a seashell! We even had a Jacuzzi; Ariel sat there watching us, topless. It was so fantastic! We went bowling, we spent time in the arcade, and Gaspard played a toy vending machine and won me a sparkly plastic ring! It was such a playful and very funny day!
Where have you been that you would recommend as the top destination for couples travel?
We recommend Mae Salong! It is up north in Thailand, in the Golden Triangle. It is a small village in the hills with a Chinese heritage. It's like no other place in Thailand, and is still very much "off the beaten path." We saw two or three other foreigners in the area. The rest were locals who worked the tea, coffee, and rice fields in the hills. The hill tribe women would come into the village at sunrise to sell their goods, and leave mid-day. It is an extremely mysterious and romantic place. We will definitely return one day soon!
How long have you two been together?
We have been together for a year and a half!
Do you think your relationship would be different if you didn't travel?
It would be extremely different, very stressful. Because of our situation travelling has allowed us to really become a couple. Before that we were long-distance, working hard to make our lives come together. Being in Asia has allowed us to create opportunities to be a couple as well as have a place where we can bring our individual lives and works in one place as well.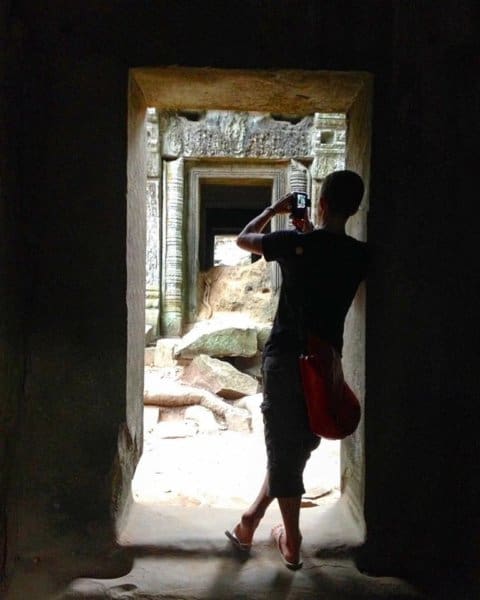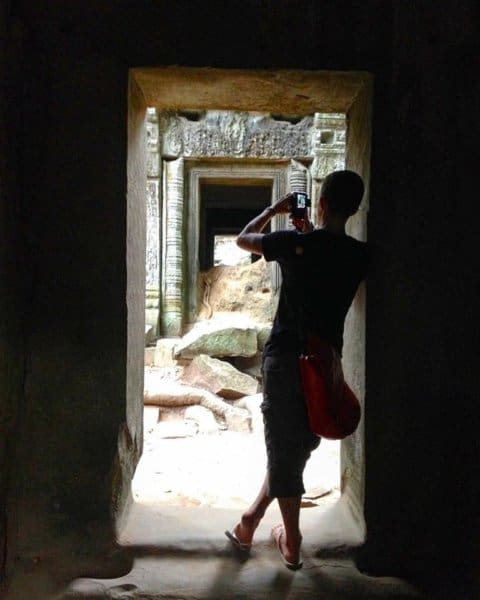 How do you define love?
Love is feeling a connection with another person that is special, strong, like no other. Love is having found someone who you feel safe with, who will help you fight through your battles, and accept you for who you are – good and bad.Love allows you to stand as an individual but stand beside someone as well. Our love includes playfulness, adventure, travel (of course), and creativity to continue to build our life as close to our dreams as possible!
What do you think is the glue that keeps relationships together?
Having projects together as well as separate is important. We share and enjoy things together, but we also have our own work as well. We travel and spend a lot of time together; we work on the blog together. Gaspard has other work coming from the publishing company in France, and I am continuing to pursue my career in ESL teaching and hoping to establish my therapy practice as well. We compliment each other and support each other.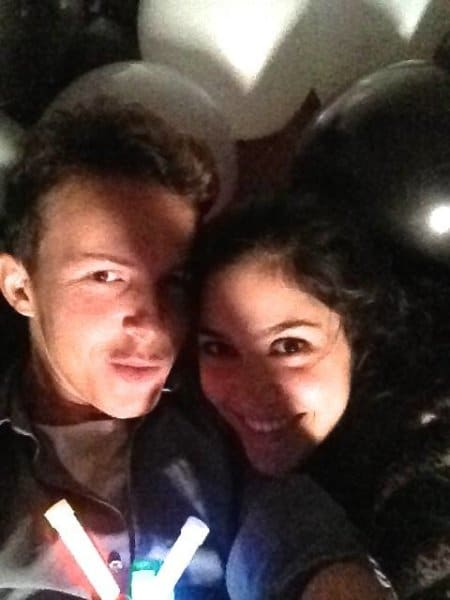 What advice do you have for couples considering traveling together?
Travelling really makes you grow as a couple! Travelling puts you in a situation that you'd never have in daily life. You will learn so much about each other, and grow from it. Travelling is a sure way of creating adventure, and keeping things fresh. Travelling is the most romantic thing you could do together, because you create such special memories. You see each other in your best and worst moments, but because of that your love will grow deeper.
————————-
Thanks so much you two. You can keep up with Kristina and Gaspard's exciting adventures on their blog, and be sure to take a look at the awesome and unique interviews they have of other travelers.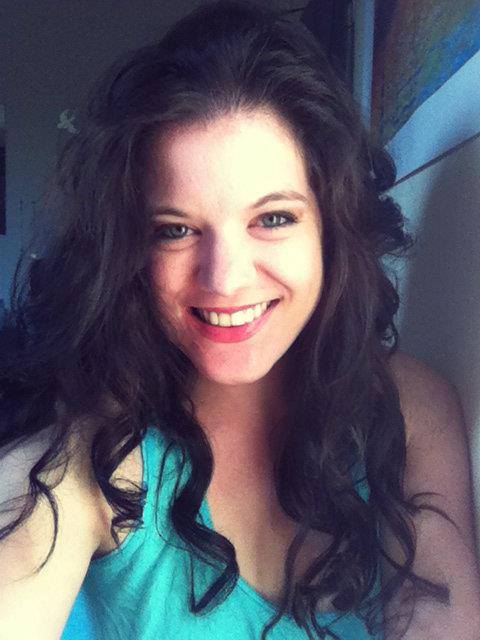 Amy Hartle is the co-founder and owner of Two Drifters, where she blogs about romantic and couples travel, relationships, honeymoons, and more. With a Master's in English and a BA in Musical Theatre, Amy loves to write quality content as well as to entertain, and she hopes to do a bit of both here on the blog! Amy is happily married to her husband Nathan, and when not working on their sites, Amy & Nathan can be found cuddling, reading, and enjoying delicious lattes.