This post may contain affiliate links. Read our disclosure page for full details.
How much time do you need to see the Great Ocean Road? Can you drive it in just one day?
Ideally, you'll have several days available to you, so that you can experience the GOR to its fullest. This is a gorgeous area of Australia, and it's worth the time if you can spend it.
But maybe time is tight? Perhaps you're doing a few quick day trips from Melbourne by car and are hoping to see the famous 12 Apostles and the other sites of the road.
Well, then, rest assured that you can drive the Great Ocean Road in one day. Of course, 2 or 3 days is better, but you're on a time crunch!
In September of 2014, winding down an epic road trip from Broome, Western Australia to Melbourne, we were headed straight towards the Great Ocean Road.
This 151-mile stretch across the southeastern coast of Victoria is renowned as one of the most scenic drives in the world. We knew we had to make time for it.
Our schedule was tight as we had a housesitting assignment to get to, but we discovered the length of the Great Ocean Road wasn't excessive, and we figured it would definitely be doable for a day or two.
While we saw the most popular Great Ocean Road sites within 24 hours, you can (and should!) spend much more time exploring the amazing coastal formations and heading inland to some of the beautiful national parks.
For more on touring the Great Ocean Road, take a look at this comprehensive post and website!
Planning Your Great Ocean Road Itinerary
The majority of travelers along the Great Ocean Road begin in Melbourne, heading west to where the GOR officially begins in Geelong, about 45 minutes from Melbourne. Many visitors take bus tours and day trips, but from what we've heard, these can feel very rushed and impersonal.
Instead, we recommend creating your own Great Ocean Road self drive tour to save you money and avoid the crowds. If you don't have your own vehicle (or if you haven't bought a campervan, like we did), hiring a car from Melbourne could be a good option.
(And of course, be sure to spend some time in Melbourne and enjoy all the fabulous things to do!)
Our Australian adventure had us coming from Adelaide, so we actually started the Great Ocean Road heading eastward. You can start the drive at either end of the road, but one problem we found was that by heading east, it was difficult to quickly pull off at one of the countless roadside photo ops.
Since you're driving on the left, it's much easier to pull off when heading westward.
However, one benefit of beginning from the west end of the road is that when you begin your drive early in the morning, the famous Twelve Apostles is one of the first stops on your route. This means you'll be one of the first to arrive. Can you say photo opportunity??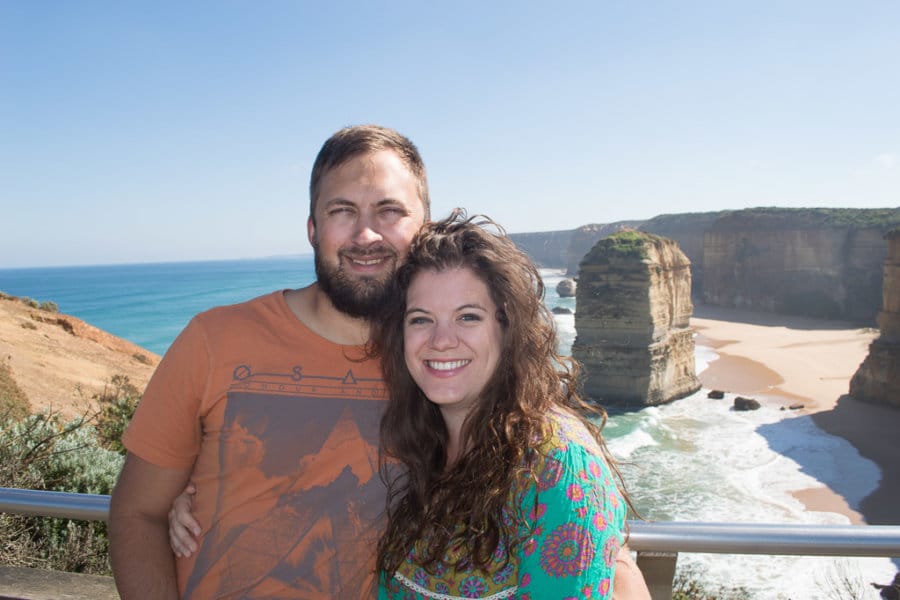 Starting Your Drive
To drive the Great Ocean Road in a day, you're going to have to resist the urge to sleep in. Get up early and get moving!
Rise by 6 if you can, or earlier if you're hoping to catch a sunrise. Since we were coming from the western end of the road, we were actually the only people at the first couple of stops.
Bonus Stop: Cape Bridgewater
We had heard some conflicting information about the official start of the Great Ocean Road, but one source reported that it begins in Cape Bridgewater, so the day before our official Great Ocean Road itinerary, we headed off to explore Cape Bridgewater, setting out on a cliffside hike leading to a colony of Australian fur seals.
We had really high hopes when setting out on this hike. One of our brochures warned that this was a steep, strenuous walk, but we were undaunted.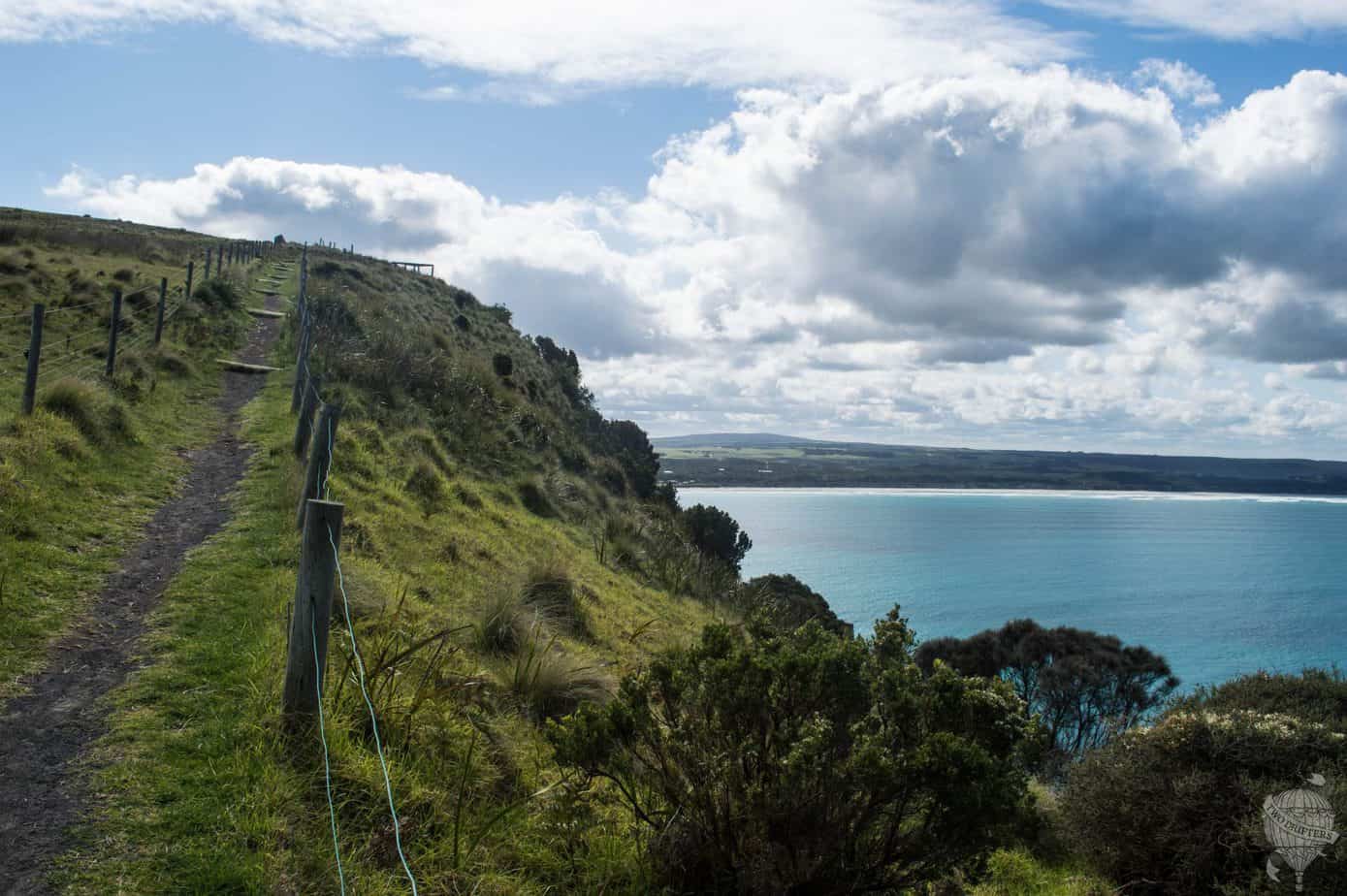 The walk was absolutely lovely, the leafy trail hugging the cliffs and continually opening out onto spectacular views of the turquoise ocean. It was a bright, sunny day with a cool breeze: ideal for hiking. But the brochure was right: that hill was steep. Certain sections of the trail had us huffing and puffing, as we climbed one crest after another.
About an hour's walk (and after slogging up the final, intense hill) finally brought us to the seal viewing area. Unfortunately, the seals looked to be MILES below us and there were only 3 of them altogether! That was certainly a bit disappointing. The brochure said we'd see up to 100 seals! I guess we're lucky we saw any at all.
And, in the end, it was a beautiful 2 hour walk. But now, onto the official Great Ocean Road sites.
Stop One: The Bay of Martyrs
This is a less well-known spot on the Great Ocean Road, but we found it to be really amazing. Rugged cliffs and a wide-stretching beach round out a spot that many consider to be equally spectacular as the 12 Apostles —well, at least according to TripAdvisor reviews.
This was our first Great Ocean Road viewpoint, and it really did take our breath away. We also had beautiful weather.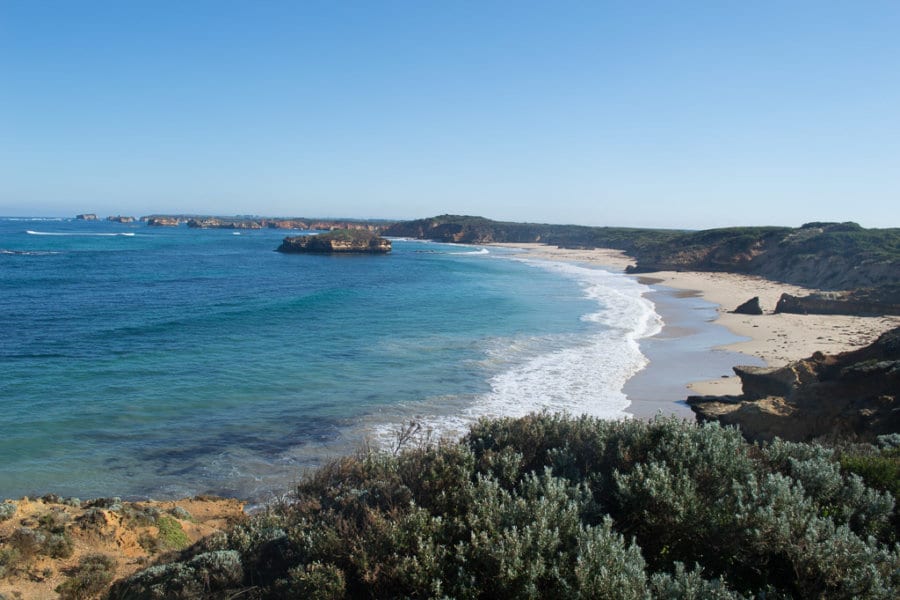 We also checked out the Grotto, which was a fabulous spot that you have to check out up close. And it was early enough that no one was there yet! We took the opportunity to grab a romantic self-timer shot.
We skipped a few other lookouts on the road, as we wanted to make good time that day and were keen to get to the 12 Apostles–the pearl of the Great Ocean Road.
Stop 2: The Twelve Apostles
The 12 Apostles, giant limestone formations standing impressively amidst the swirling ocean waters, truly are a sight to behold. They seem majestic and powerful (even if there are no longer 12), and you instantly understand why this phenomenon is a photographer's dream.
Unfortunately, it was the dream of 200 other photographers-cum-tourists. The 12 Apostles was really crowded, and that detracted from our full enjoyment of the place. It was difficult to snap photos or even move about the extensive boardwalks.
Apparently, you have to get there super early to beat the crowds!
Stop 3: Loch Ard Gorge
Loch Ard Gorge was far and away our favorite part of the GOR. The crowds here were also a bit tight, but we made sure to get down on the sand and enjoy the views up close.
The cliffs of the gorge rise straight up from the blue water, seeming to trap you on your own private beach. It's really something.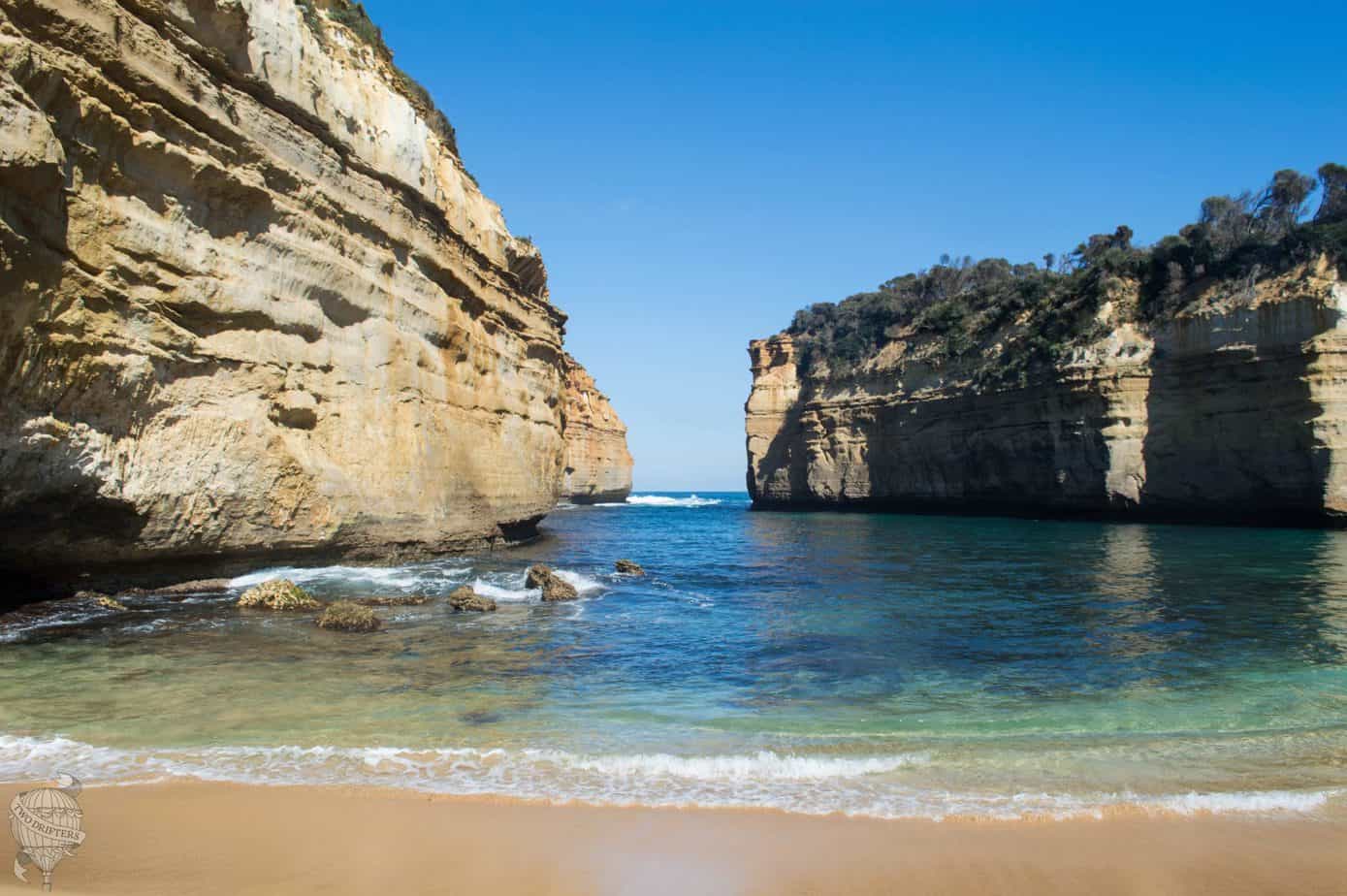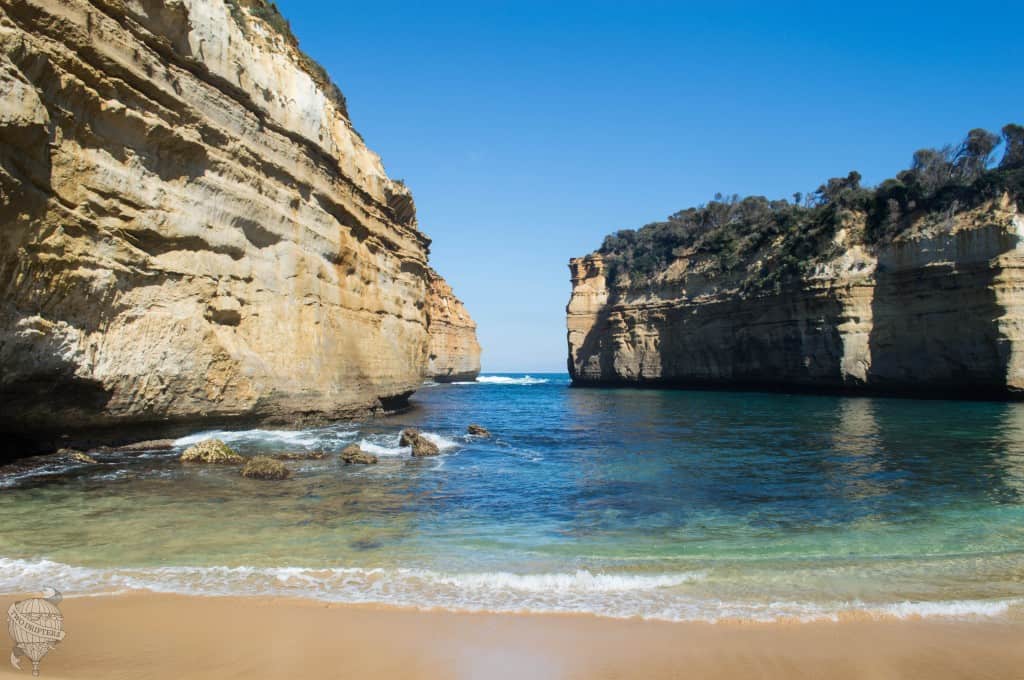 Stop 4: A Random Overlook
Now, we'd pictured the Great Ocean Road to be 100% coastal. We didn't realize how greatly the scenery changes in that short time. Well, we were so pleasantly surprised!
After the 12 Apostles, the road began to curve inland and steadily uphill. Soon we found ourselves in lush forests with incredibly tall trees. It was really unexpected and beautiful!
We absolutely loved the portions of the road, the ones we hadn't expected to see. As we drove through rustic meadows and up into the hills, we finally had to pull over and photograph the verdant, rolling landscape all around us.
One particular region, with its sheep dotted hills, looked invitingly European, almost like the mountains of Austria, and yet beyond the hills you could just spot the sapphire ocean.
We snapped a few photos here and just stood enjoying the view. As we got back in our campervan to head on our way, a curious blue fairy wren stopped by to say hello. So perfect.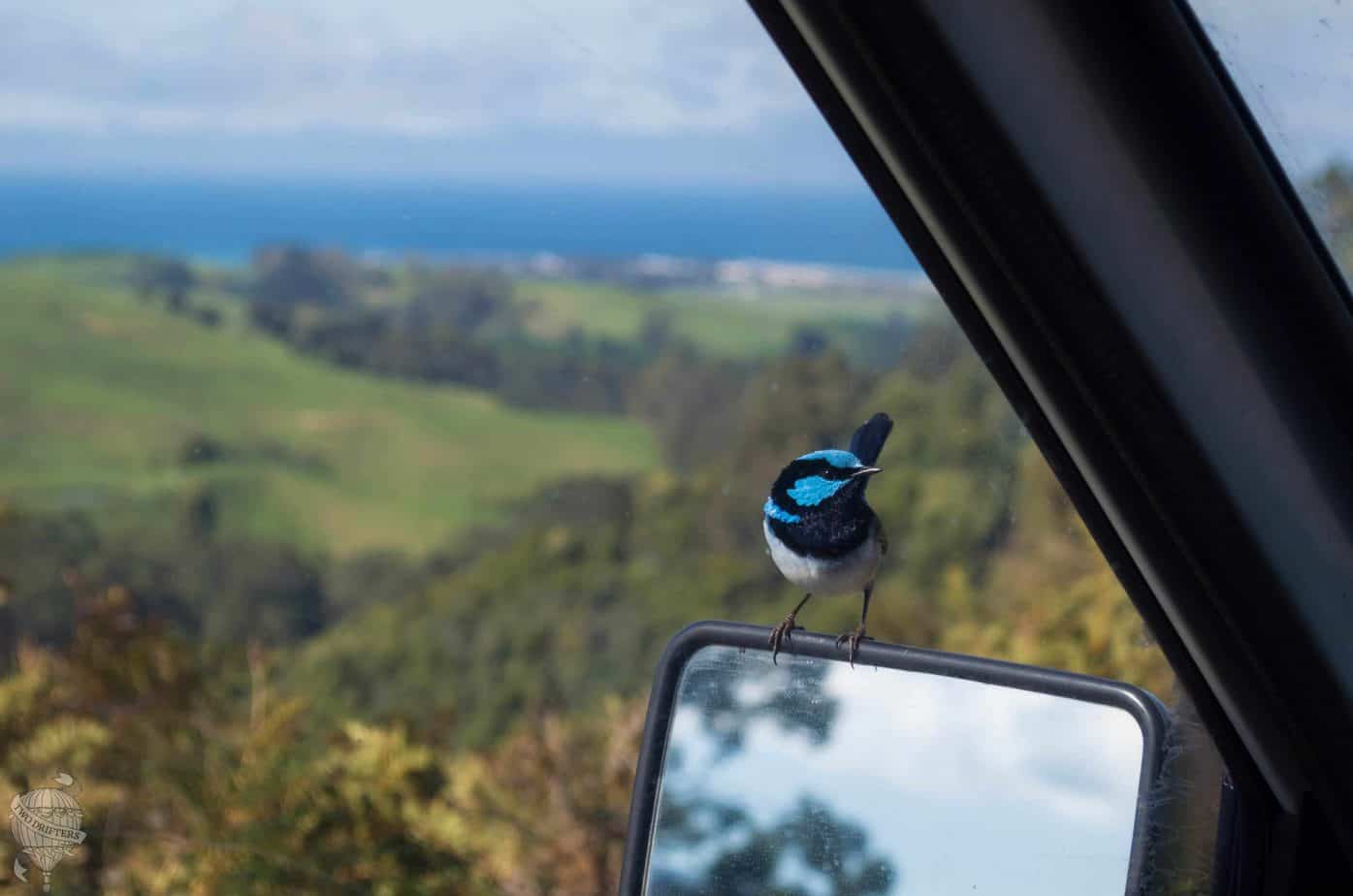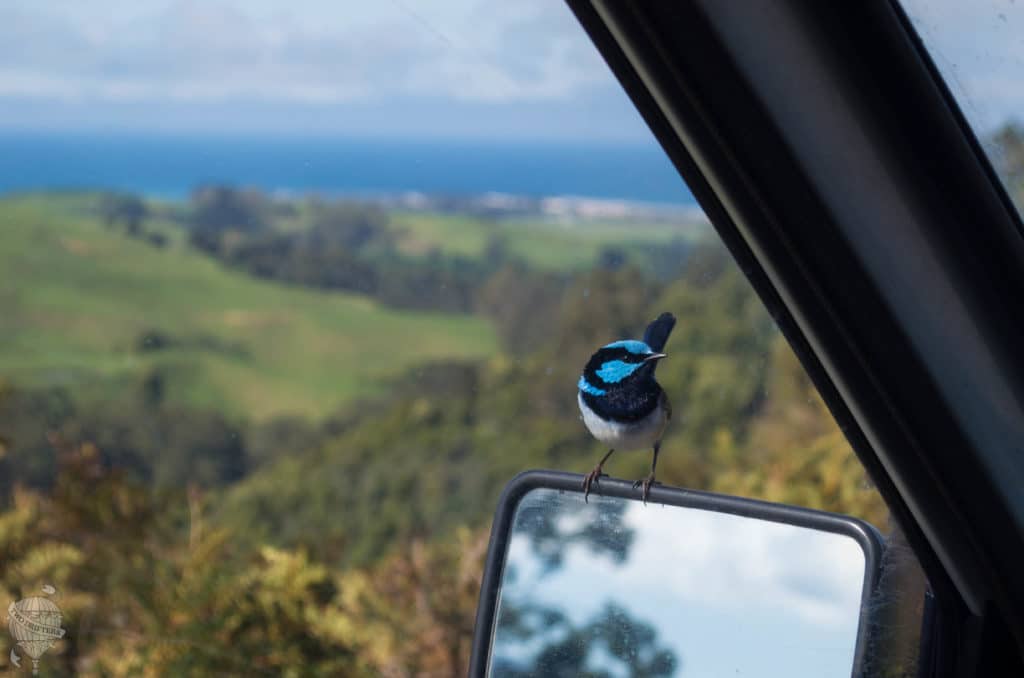 It's around this point in the drive that you might decide to head inland towards the Great Otway National Park. Sadly, we skipped this part of the Great Ocean Road due to our time crunch, and we really regret it.
The rainforest boasts waterfalls, tree-top walks, and great hiking opportunities. Jelly Journeys has a great guide to Otway complete with stunning photos.
Stop 5: Apollo Bay
Next you will want to stop in Apollo Bay. It's probably lunch time, and this a a great seaside town in which to take a break. Food and drink will revive you, or perhaps a refreshing dip in the sea. Have an extra hour or two? Hire a sea kayak and go for a paddle.
On your way out of town, consider heading up to Mariner's Lookout. This is a scenic spot you can climb to to see some captivating views over the ocean.
Stop 6: Kennet River
Heading further on our one day Great Ocean Road tour, we made our way into the town of Kennet River. We followed a tip from fellow bloggers to look for some wild koalas there. Arriving at the appointed road, we found a crowd of people standing around.
We got out to look and realized the people were feeding a huge flock of parrots, bedecked in red, purple, blue, and green feathers. We joined in and soon the parrots were crowded round us, flying up to sit on our shoulders.
After a few minutes, we noticed a lone koala hanging out in a nearby tree!
Let's be honest, you'll probably want to hold or snuggle a koala while you're in Australia. How can you resist? They have the most adorable faces. Can you tell koalas are one of my favorite animals?
While we didn't get a chance to do this down under, here's a suggestion of where you can cuddle a koala in Australia—and it's not too far from the Great Ocean Road!
Stop 7: Anywhere between Apollo Bay and Lorne
The Great Ocean Road is gorgeous, but somehow, between Apollo Bay and Lorne it becomes it's most picturesque. As you drive, feel free to stop at many of the roadside pulloffs to take photos of the spectacular scenery.
Be careful and alert driving here, however. The road is busy and curvy with many fellow sightseers pulling off to take in the views.
Stop 8: Lorne
Lorne is a wonderful small town, and a perfect place to end your 1 day Great Ocean Road tour, if you'd like. That's what we did on our journey, as we'd taken in most of the sights and the day was growing late.
Here you'll find some tremendous dining options and most places have great ocean views. We had such a great meal in Lorne, but we also remember that the bill was enormous. If you're not yet accustomed to Australia's high food prices, start saving now. This meal was our big splurge of our Australia trip—a budget adventure where we'd often eaten cans of tuna for meals—and we had several courses and a bottle of wine.
Luckily it was near the end of our journey! But my, what a delicious meal it was!
You can stay in Lorne for the night at a number of accommodation options. A few highly rated possibilities include Great Ocean Road Cottages or Cumberland Lorne Resort
Stop 9: Torquay
Should you choose to continue on, you can make it to Torquay, the final stop on the Great Ocean Road. Here you'll find famous Bells Beach and its excellent surfing. A surfing lesson is a great idea for newbies, or you can simply chill on the beach and watch the experts ride the tide.
Need lodging? The RACV Torquay Resort is a great choice for where to stay on the Great Ocean Road.
Voila! You've seen the entirety of the world famous Great Ocean Road. Now it's off for some well-deserved rest!
Have you visited the Great Ocean Road? What was your favorite spot?
If you decide you want to take a tour of the Great Ocean Road, check out these options:
---
Want to save this post for later? Pin to your favorite Pinterest board!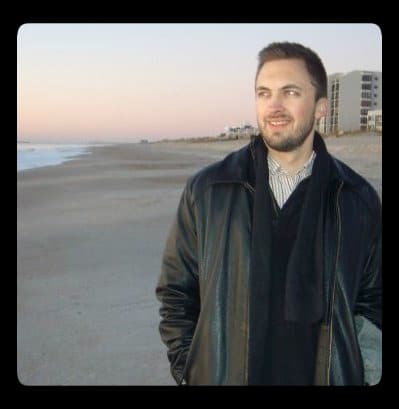 Nathan is one half of newlywed travel couple Two Drifters, and typically found behind the camera lens. However, he loves writing too, and works as a freelance editor when not focusing on crafting works of fiction.