This post may contain affiliate links. Read our disclosure page for full details.
On a regular day, you'd never find my husband and I dressing alike. We're cheesy, but we're not THAT cheesy.
Halloween, on the other hand, is a different story. The spooky holiday is the perfect opportunity to dress up with your significant other and step out as an amazing duo. Do you feel the same way?
To help you pick out the perfect costumes, we've compiled a list of the best couples Halloween costumes for 2020.
Whether you'd prefer to buy a ready-made costume or DIY something awesome, read on and get inspired by these couples costume ideas.
PS: Shopping for your costumes or making them yourselves make for great fall date ideas and especially for Halloween date ideas!
The Best Couples Halloween Costumes for 2020
Cute & Cheesy Halloween Costumes for Couples
There's something so adorable about a cheeky twosome. This year for Halloween, embrace your coupleness with something that screams "we come as a pair!"

Do you and your significant other go together like peanut butter and jelly? Want a super-easy costume?Just grab this PB&J set and toss it over your regular clothes. Boom! Instead couple sandwich.
Also great if you're searching for cheap couples Halloween costumes since it comes as a set.
Not a fan of PB&J? Have a nut allergy? There are options for milk & cookie, cheese & cracker, and other classic pairings.

Are you two a sickeningly sweet couple attached at the hip? Show everyone your true feelings with these puzzle piece costumes. This is another one that comes as a set. Click here to buy!
You know you're a nerdy couple, go on, admit to it loud and proud! With this candy-inspired costume you'll make a sweet pair.
Popular/Trendy Couples Halloween Costumes
Scoops Ahoy – Stranger Things Duo
If you haven't seen Stranger Things season 3, I don't know what you've been doing with your life.
As soon as I saw Steve and Robin's dorky Scoops Ahoy uniforms, I knew they would make for an amazing couple Halloween costume. Sure enough, Spirit Halloween had the same idea as me, and you can go as this iconic duo this year.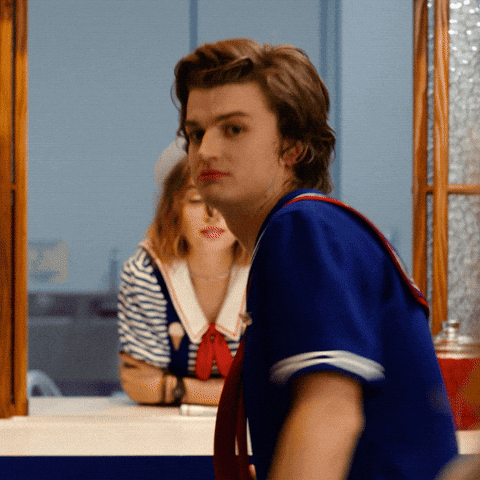 Not into the sailor outfit? Check out all the Stranger Things options!
A Pair of Avengers
Superheroes are all the rage. You can put together a rocking couples or group costume by grabbing some of the options at Spirit Halloween. Why not go as a few of the Avengers? Some options: Captain America & Black Widow. Thor & Captain Marvel.
What could be better than a huge inflatable T-rex costume? How about two!?
This double T-rex extravaganza comes as a set from Amazon. While you won't have the best freedom of movement at this year's Halloween party, you'll surely get a lot of attention and a lot of laughs.
Game of Thrones
With the series end this year, Game of Thrones is still one of the hottest shows around. You could absolutely put a couple of these characters together for a very recognizable costume. Daenerys and Jon Snow are one great option.
Check out all the Game of Thrones costumes here.
Classic Halloween Costumes for Couples
Every year, there are several go-to couple Halloween ideas that make the rounds. We ourselves went as Bonnie & Clyde last year! While these may be classics that you've seen done before, there a reason that they are so popular–they're great costumes! Plus, these couples costumes are usually easy to find or even easy to put together on your own. Here are a few of the best:
Bonnie & Clyde
This infamous murdering pair is always fun to portray. Bonnie & Clyde costumes can either be bought or put together on your own. We did a DIY attempt using our own vintage-style clothes and topped it off with some accessories from Spirit Halloween.
Click here for Bonnie's costume.
Click here for Clyde's costume.
Morticia & Gomez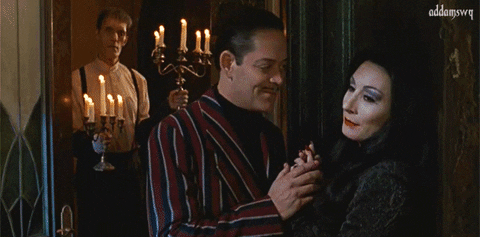 Another classic choice for his and hers Halloween costumes: Gomez and Morticia Addams. Kooky and creepy, this iconic duo is instantly recognizable–and oh-so-in-love! This couples costume gives you the opportunity to unleash your dark and quirky sides.
Pirate & Wench
Yaaarrrr, what couple hasn't considered dressing up as a pair of pirates, or the more standard pirate & his wench. Shake things up and have one partner go as a parrot!
Check out the many pirate-themed options at Spirit Halloween!
Devil & Angel
Here's an easy solution for those looking for last-minute adult couples costume ideas. Go as a devil and an angel! Virtually every store selling Halloween stuff will have the basic accessories for these costumes, and with some red and white clothing, you're good to go with a simple DIY costume.
Or, you can really go all out with some stunning angel and devil costumes. Here are some of the best versions.
Get this angel costume here.


Get this devil costume here.
Superman & Wonderwoman
Superman & Wonderwoman are one of the best couple Halloween costumes. Both of you get to wear terrific outfits and portray some of the best characters in the world of superheroes.
Again, Spirit Halloween has some of this year's best costumes. Click here to see the Superman options!
A pair of dice
I've always thought going as a pair of dice was a particularly clever couples costume. Although you can get a premade option that's fuzzy and lovely, you could also take this opportunity to make a DIY couples Halloween costume and create your own dice using cardboard boxes and paint!
Get the fuzzy dice costume here.
Playboy Bunny & The Hef
For a couple of decades now, couples have been dressing up as Hugh Hefner and one of his "bunnies." The Playboy Bunny costume is something you will most likely need to buy, but your man can be Hugh with just a silky red bathrobe and a pipe.
Get a Playboy bunny costume here.
Some Unique and Funny Couples Costumes
Now for some unique and different ideas. Sure, some of these have been done before, but they are a bit more creative, especially if you put a unique twist on them. Check out these options for good couple costumes that are a lot of fun.
Where's Waldo and Carmen Sandiego
Nathan and I have joked about doing this forever. As travel bloggers, what could be better than the two people who are always so hard to find around the world? Maybe this will be our year.
While Waldo and Carmen Sandiego don't exactly go together, these are fun costumes that are iconic and easy-to-recognize. Plus, these make for great stand-alone costumes as well.
Get your Carmen Sandiego costume here or here.


Get your Waldo costume here.
Throw it back to the 90s with this costume set. You're sure to get lots of compliments.
Bob Ross & Painting
Everyone loves Bob Ross! Now you can go as him plus one of his works of art. Pro tip: I saw this exact costume win a big prize for best costume at a Halloween party, so it is definitely a great one!
Mario & Luigi
This classic brotherly duo has so many costume possibilities. Forget Princess Peach, no matter your genders, go as Mario and Luigi together. What could be cuter? So many options, including a "sexier" version of each. Here's sexy Luigi andsaucy Mario.
Check out all the Mario themed costumes here.
Mary Poppins & Burt
Mary Poppins has experienced a resurgence in popularity with the release of the new film. This can be a wonderful choice for couple Halloween outfits because the costumes are so fun. There are multiple outfits to choose from for Mary, including her famous white and red dress. Check out more Disney costumes here!
Get it here.
Get this one here.
Get it here.
Wolf & Red Riding Hood
One of the most classic costume ideas for couples, but one that probably deserves a comeback, is Red Riding Hood and her wolf. This is one of those couples' costumes that you could make yourselves, but if you want to get really into it (which I fully support), you'll need something like this.
Beauty and the Beast
Finally, perhaps one of the favorite husband and wife Halloween costumes out there, Beauty & the Beast! This is an excuse for your lady to live out her childhood dreams and wear Belle's spectacular yellow gown (or her sweet blue village outfit). A Beast costume is no small commitment either. I recommend going full beast or just popping on a shirt like this (if you're not really into Halloween):
As for Belle, you can't do any better than this stunning gown found on Amazon.
---
Happy Costume planning and Happy Halloween!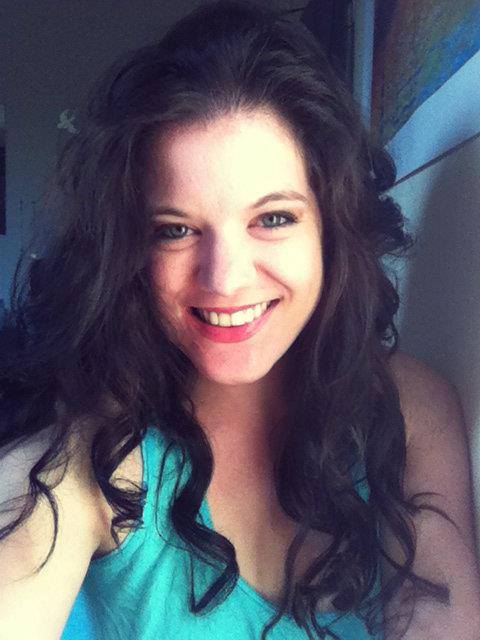 Amy Hartle is the author of Do You Love Me? How To Stop Seeking Reassurance in Relationships, a book on reassurance seeking and relationship anxiety. Both her book and this blog are born of personal experience; Amy shares expert relationship advice from the lessons learned during her own 10+ years with her husband, as well as couples travel tips and romantic getaway recommendations, all gleaned while traveling the world together.