This post may contain affiliate links. Read our disclosure page for full details.
We touched down in Brisbane, getting our first taste of the balmy subtropical nation so far from our own home. Australia. It's a place that many dream about visiting, and a country that seems filled with adventure, rich culture, and (if the Buzzfeed articles are to be believed), any number of creatures just waiting to murder you.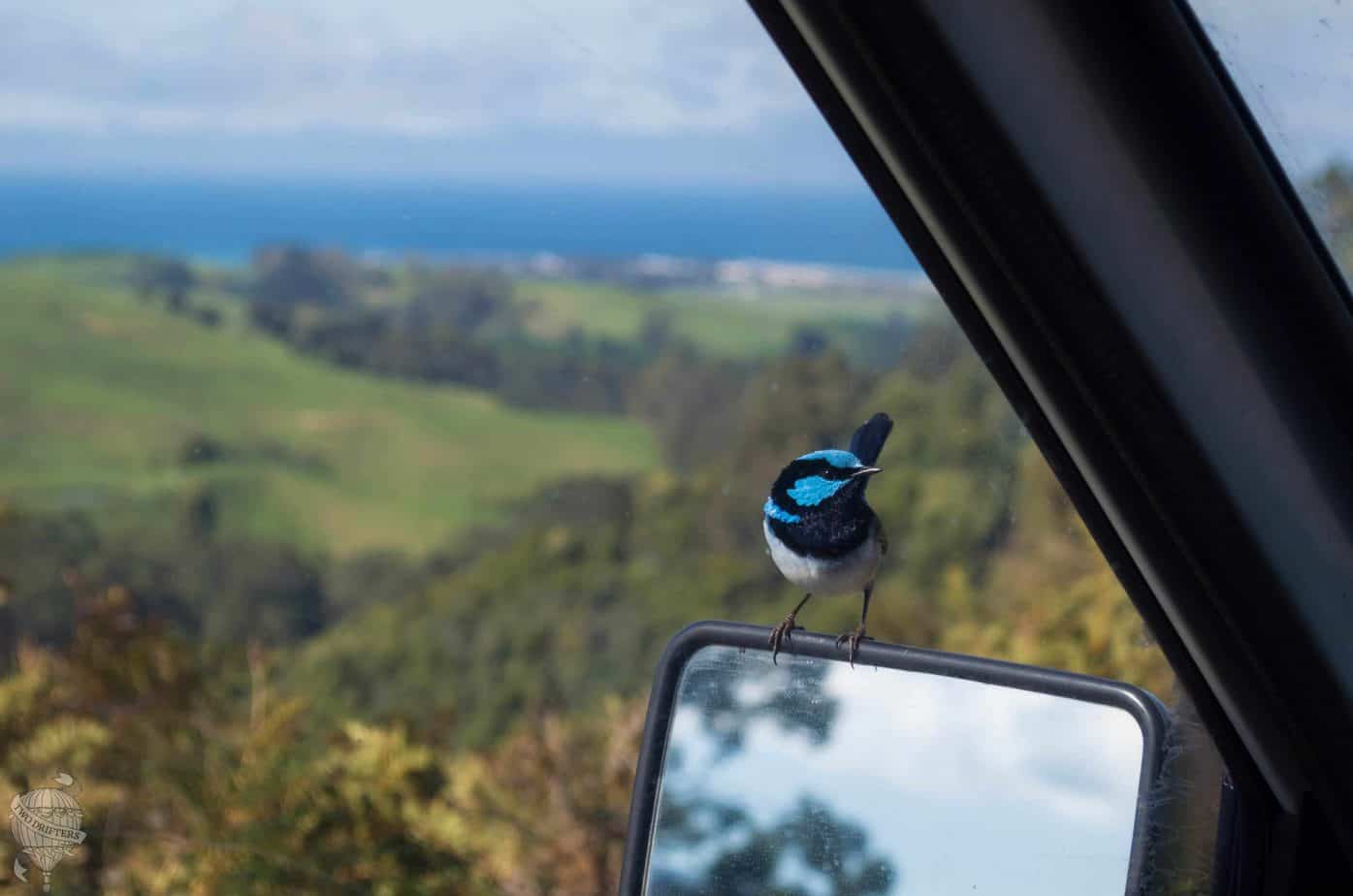 In truth, although there are said to be more deadly species in Australia than in any other nation, I can safely say we did not encounter any of these menaces.
But the other notions are true: Australia IS rich in history and beauty, with a landscape unlike anywhere else on earth. It rivals the US in its range of climates, with diverse areas across the entire country. And in 2014, we saw most of them, while living the campervan life: driving around in our 1991 Mitsubishi campervan, affectionately (and thematically) dubbed "Moon River."
From June to October, 2014, Nathan and I made our way from Perth in Western Australia, all the way over to Sydney on the east coast, taking a circuitous 5000+ mile route that lead us through four states and one territory. Nathan's dad figured out that our trip was the equivalent of driving from Florida to Alaska. Australia is an amazing place for a road trip (and New Zealand seems pretty darn great, too).
For five months, we traveled with our trusty campervan, essentially living in this cozy space. We weren't in the van continuously, we spent some time renting a room in Broome, house sat for the cutest puppies imaginable, and helped out at a Victorian bed & breakfast. But wherever we went, Moon River took us.
And as you might imagine, campervan life has its ups and downs, and this experience instilled in me a few valuable lessons.
Don't judge a road by its beginning.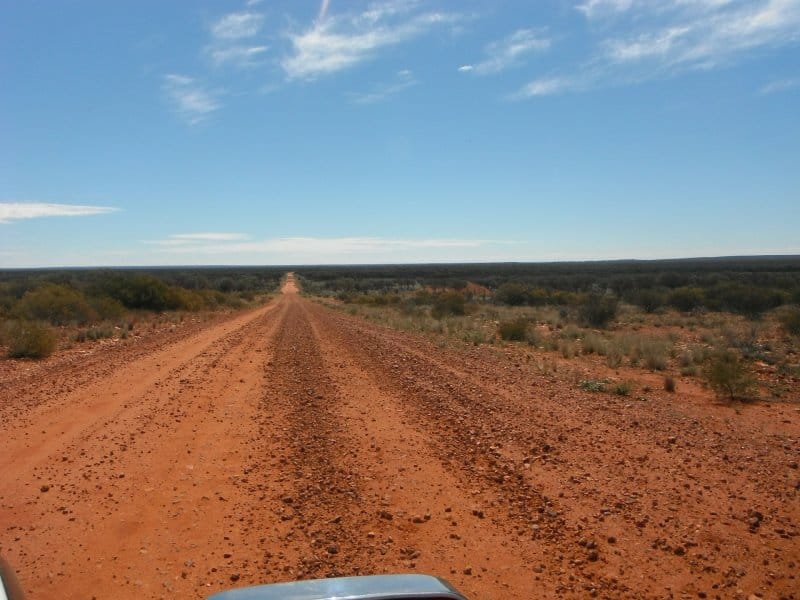 So much of Western Australia and the outback was filled with roads identical to this one. Looks straightforward enough, right? The lesson is, you never know what to expect out there, so keep an eye on any signs. We didn't buy a 4WD van (which ideally we should have) and could have gotten stuck in several spots were it not for appropriate road signs.
We also had a memorable evening driving out in the darkness towards a free campsite on a road such as this. Not a light to be seen, and its was 5 miles of vibrating, slow driving towards pitch blackness. I was pretty sure we were gonna get murdered. As it turned out, the end of the road led to the loveliest seaside campsite set atop a hill, with dozens of other travelers already set up.
24/7 in a campervan: expect arguments
Even the closest of friends or the lovey-dovey-est of couples will experience the tension that builds when you're driving, living, sleeping, and eating in the small confines of a vehicle 24/hours a day, for months at a time. I think going through that and not breaking up at the end of it all solidified for us how strong our relationship is. But we had to figure out how to get space.
Stopping during the day for a walk or just some relaxation was vital. It let us move around and get some space for ourselves. Also knowing that we didn't have to talk constantly in the van was freeing. Sometimes we just rode in silence or listened to our headphones. Of course natural arguments arose, regarding directions and such, but they always quickly fizzled out;. When you are living in a campervan together, you have to get along!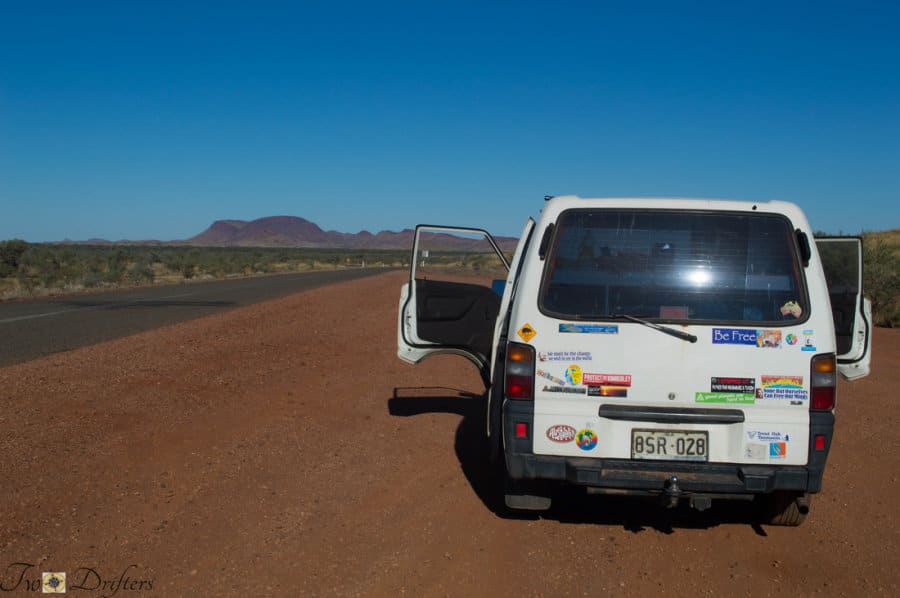 I appreciate America's constant gas stations
In Australia, we drove great distances and only saw fuel stations every few hundred miles. We were on the main travel roads, but even so, the stops were few and far between. When we saw a roadhouse coming up, it was honestly a godsend. Stopping wasn't even an option. This made me appreciate the highways I've driven on in the States, where you don't have to plan ahead for fuel because a gas station is nearly always a stone's throw away, at least on the east coast.
However, the roadhouses in the Australian outback are wonderful, so unique and full of character. And because they are some of the only civilization found for miles, they become gas station, restaurant, bathroom, pub, shower, hotel, and recreation in one. They are some fascinating spots.
A $5.00 shower will be the best purchase you ever make
Did I mention our tight budget in Australia? Unfortunately, it's a pretty expensive country, and we were traveling like true vagabonds. For this reason, while in the outback we stayed at free campsites as often as possible. These were awesome spots with great views, sometimes basic bush toilets, and fellow travelers to chat with, but such places did not generally include shower facilities. This meant we'd shower ever 3rd day or so. Gross, right?
Roadhouses are not just places to fuel up, they're also places to soap up. And though often pricey, $5 for 5 minutes of water, nothing will ever feel so good.
Get rid of your shyness and modesty now
On the days you don't pay to shower, or don't have the option, you can make use of your very own portable shower. We purchased one of these from a camping supply store, and it promised to warm your water in the sun and create a toasty nighttime shower.
NOPE.
More often than not, it created a huge leaking mess in the back of our van, and when we tried to shower with this bag, it was nothing more than a sad, sorry little drip. In short, all modesty had to go out the window, and instead we sometimes literally POURED water on one another, pausing to allow for a quick shampoo. Just us, some makeshift towel curtains, and the Australian moon. Those were not our finest moments, but my god, they were some of our funniest.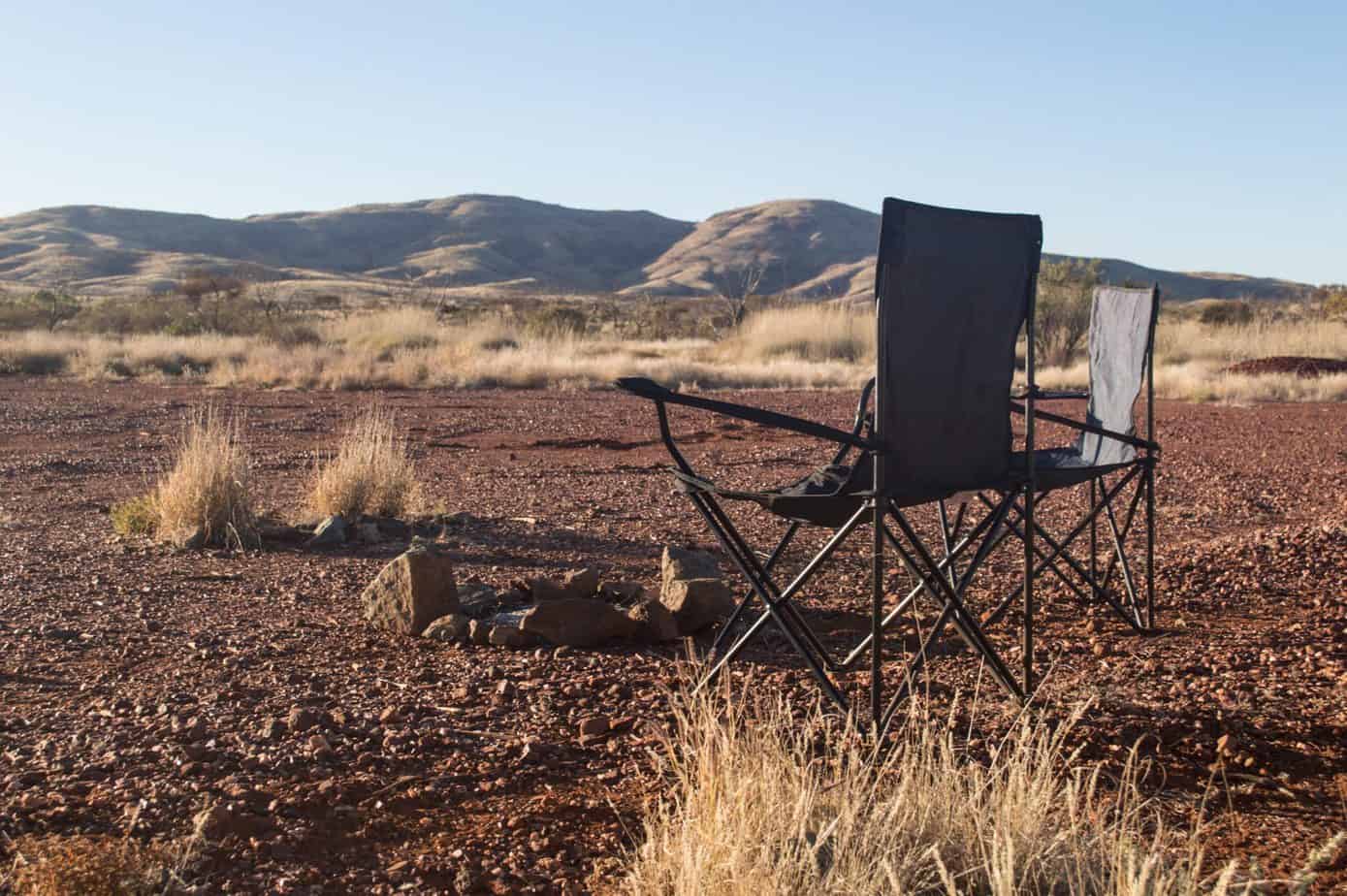 You can live entirely without a refrigerator
I guess some campervans do have tiny fridges in them, but Moon River was not so fancy. Instead, aside from our very rare occasions dining out, we subsisted for 5 months on what you might call non-perishables. No refrigeration required!
Man, it was some simple vittles in those days. You don't realize how much you miss butter and milk til they're unavailable. Our daily diet on the road consisted of the following:
Breakfast: instant oatmeal made with boiling water. Instant "mocha" from a packet. Cereal bars.
Lunch: Peanut butter & jelly. (bread would keep a few days, and jelly, well, we were taking our chances). Cans of flavored tuna (only in Australia, and man so delicious and cheap), and some combination of applesauce, apples, chips, or crackers.
Dinner: Rice with soup poured over it.
It was very simple fare, but hey, we're simple folk. And the money we saved in this way was spent enjoying the best fish and chips we've ever had and the occasional insanely expensive pint.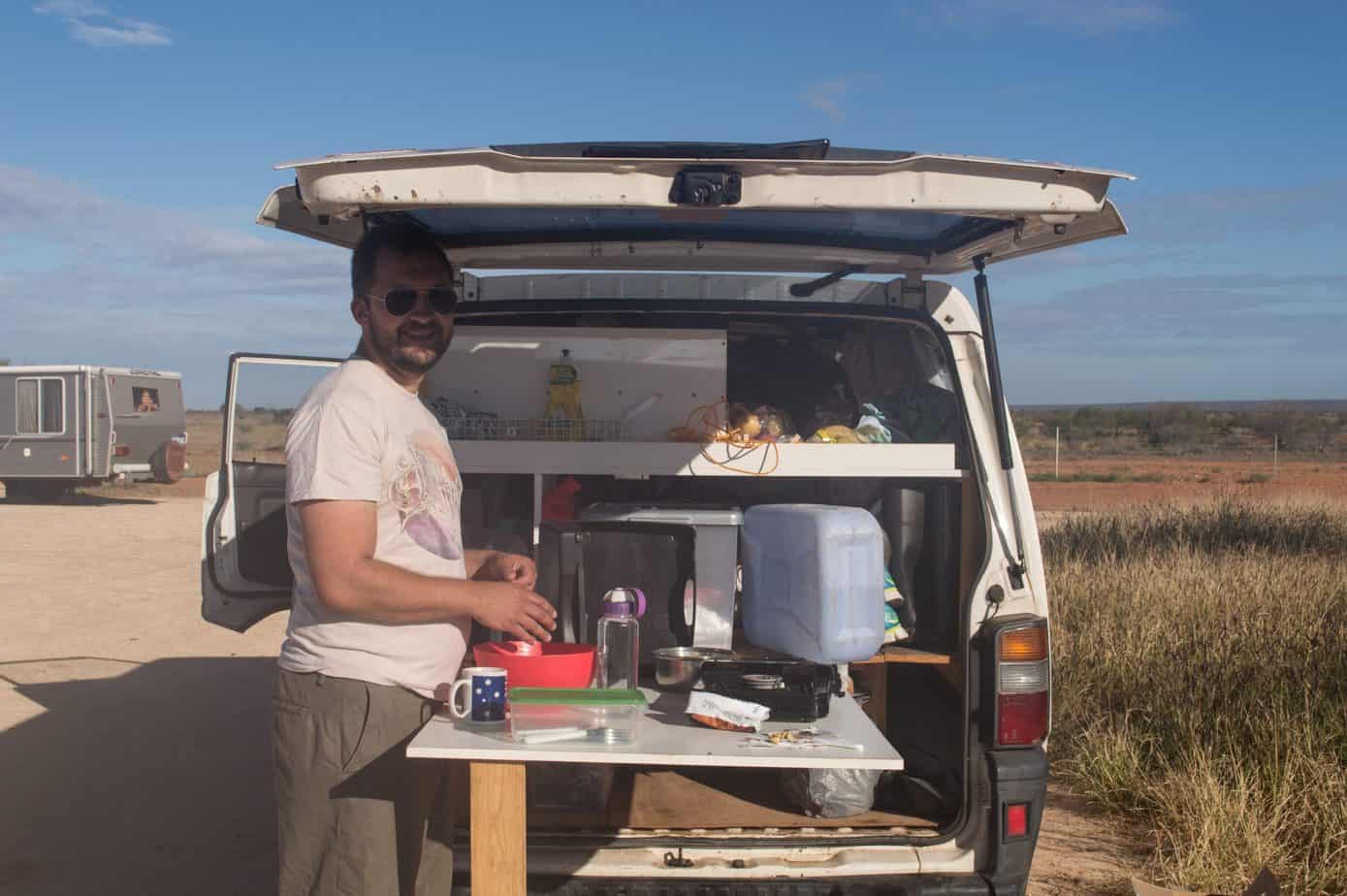 Parking placement is everything
When your van is your home, the place you park, and even the orientation you choose, are very important. To me, I found this mattered a great deal. When we pulled into a campsite, it was very rare that we were the only guests. Which is incredible, considering we were seemingly in the middle of nowhere. So when choosing a spot, we aimed to stay a respectful distance from current campers, and choose a spot that would afford a little privacy.
Pro tip: You wanna be close enough to the toilets but not TOO close (or you risk smells and bug-attracting outdoor lighting). Or, you have to decide your nightly calls of nature are going to take place in the bush. For this purpose, consider parking your campervan with its sliding door facing towards the trees and away from others. This makes you feel much more secluded and you can set any chairs or cooking gear in front of the door for convenience sake.
Grey nomads are amazing
In Australia, if you're over the age of 60 and you're finished working, it seems you will be found out on the highways in your fancy caravan. In the states we might call them RVers but in Australia, they have a much cuter name: grey nomads. These folks were literally everywhere. It's awesome that so many locals get out and explore their vast country. Whenever we encountered an older Australian couple, they were the nicest, most helpful people, always eager to share stories, give advice, and even share a beer with you. We got Moon River stuck in some sand once, and a half dozen grey nomads pushed us easily back to the roadway. When you're in Australia adventuring in your campervan, make sure you meet some of these great and interesting people along the way.
Bring your own WiFi to the desert
If you are a travel blogger, or if you're merely addicted to the Internet (come on, it happens to the best of us), you might want to consider investing in your own personal device to provide you with that scarcest of commodities: WiFi. We needed a connection to work on the road, so we bought one through Australia's Telstra
and it worked pretty darn well. But when you're out exploring the remotest regions, give up trying to grab a signal and just enjoy the incomparable beauty of the outback!
Some of the best things in life are free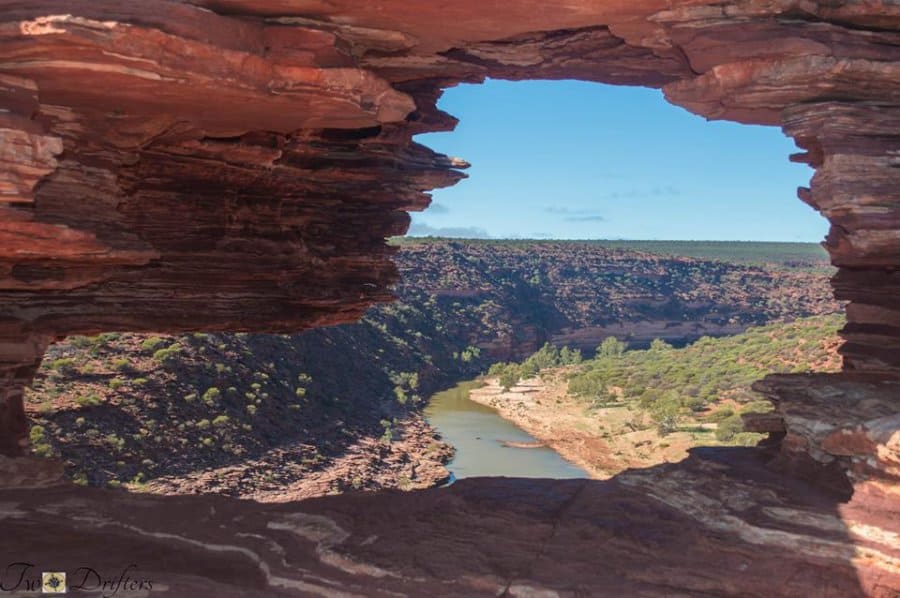 The greatest lesson I learned from this experience, is how some of the best things in life are those which are absolutely free. Experiences. Nature. Love. Memories.
I learned that luxury is exactly that: luxury. And even things I feel are "essential" in my everyday life are things I can easily do without. I also realized the value of certain items that I hadn't treasured as much before: books, a solid pair of waterproof boots, facial moisturizer–things that the dusty outback and the untamed wilderness teach you to truly appreciate.
This kind of trip isn't for everybody. Living in a campervan is rough and tumble. If you're after continuous luxury, or the thought of finding desert sand in your bed bothers you, let me recommend the many lovely hotels and caravan parks around Australia.
But, wild and unpredictable as living and traveling in a campervan may be, I still think it may be the very best way to see the glory of Australia.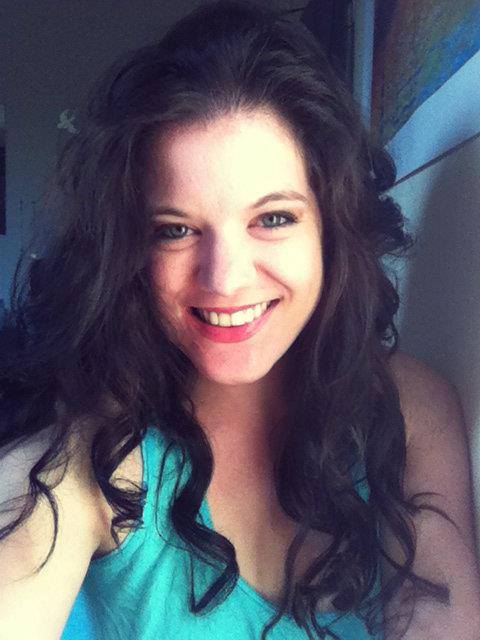 Amy Hartle is the co-founder and owner of Two Drifters, where she blogs about romantic and couples travel, relationships, honeymoons, and more. With a Master's in English and a BA in Musical Theatre, Amy loves to write quality content as well as to entertain, and she hopes to do a bit of both here on the blog! Amy is happily married to her husband Nathan, and when not working on their sites, Amy & Nathan can be found cuddling, reading, and enjoying delicious lattes.