---
*Links in this article may be affiliate links, from which we may earn commission. See our
Privacy Policy
for full details.
---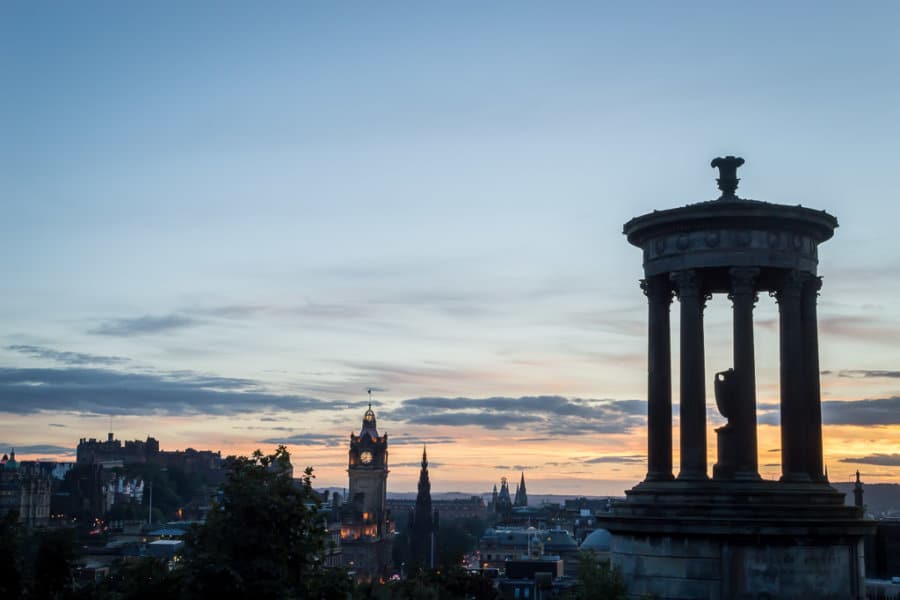 You can't help but love Edinburgh.
In many ways, Scotland feels like a second home to both Nathan and I, and a big part of that is the atmosphere of the place. I guess you just can't help feeling cozy and happy in a grey, chilly medieval town. Some people might prefer the beach, but for me (and I think Nathan would agree) there's nothing quite like snuggling up with a book, a cup of tea, and a roaring fire in a gorgeous setting. With the typical Scottish rain falling, Edinburgh is the setting of this dreamy afternoon plan and it's not hard to be whisked away in your mind to days past (and far away lands).
There is magic here, and we felt it again on our recent return to Edinburgh.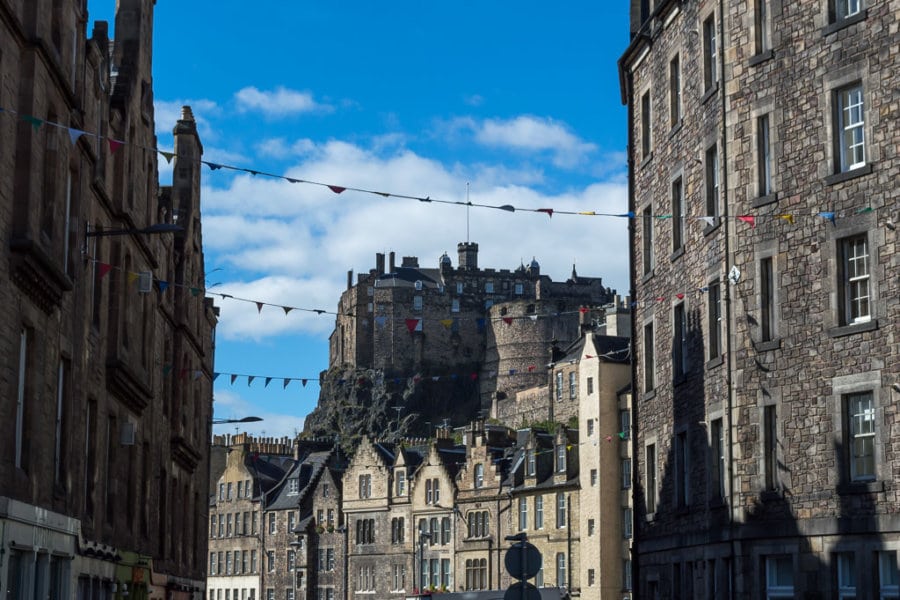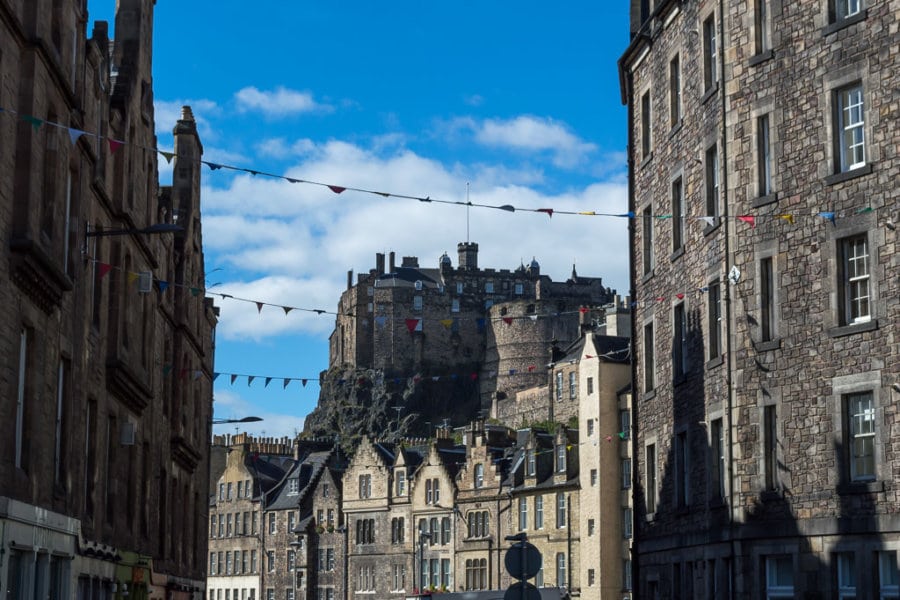 Edinburgh is So Photogenic
We Two Drifters have both been to Edinburgh several times before, so we weren't looking to hit the major tourist sites. Instead, we took an entire few days to walk around and photograph one of our favorite cities. The castle, of course, is hard to miss, as it sits high on an ancient crag of volcanic rock overlooking the city. But around every bend are delicious nooks and crannies of history and beauty. We tried to capture as many as possible.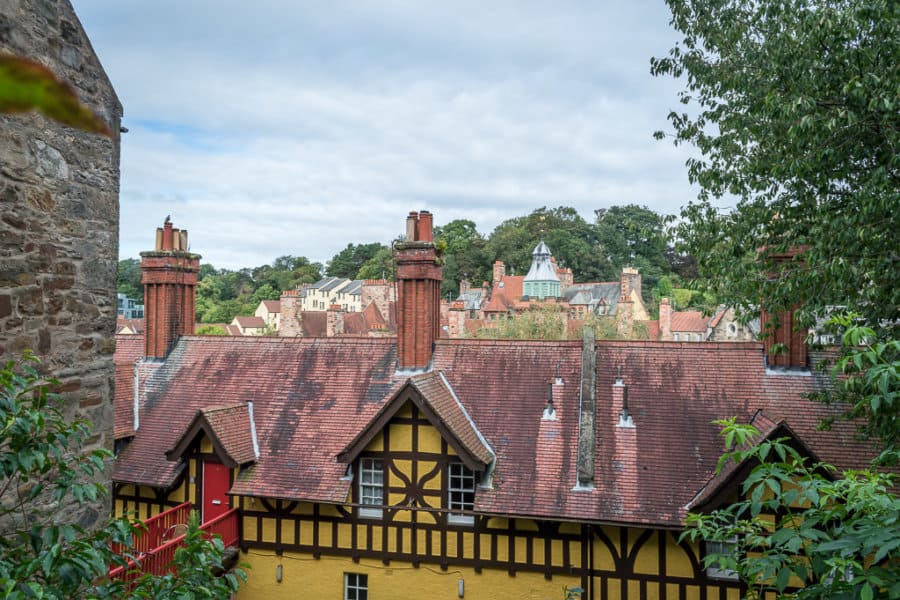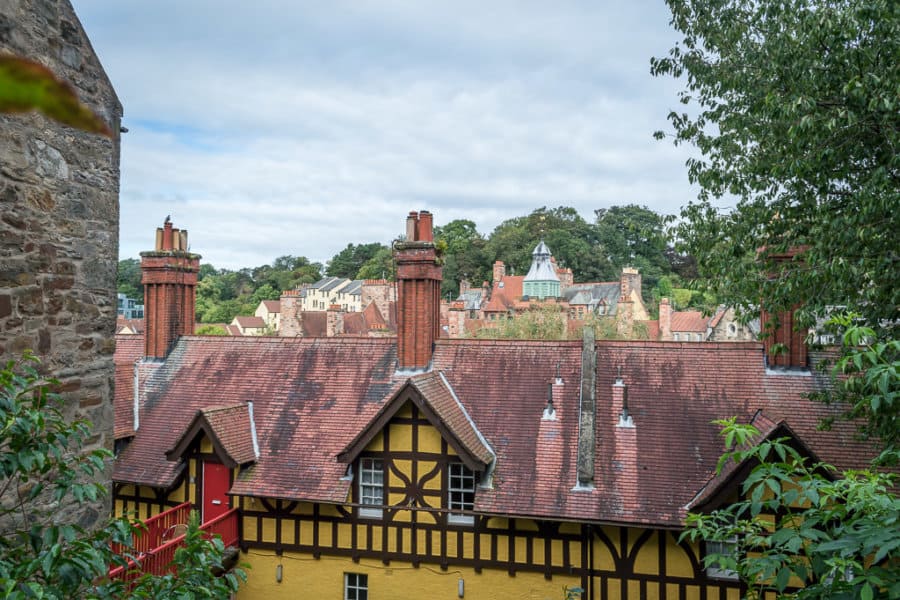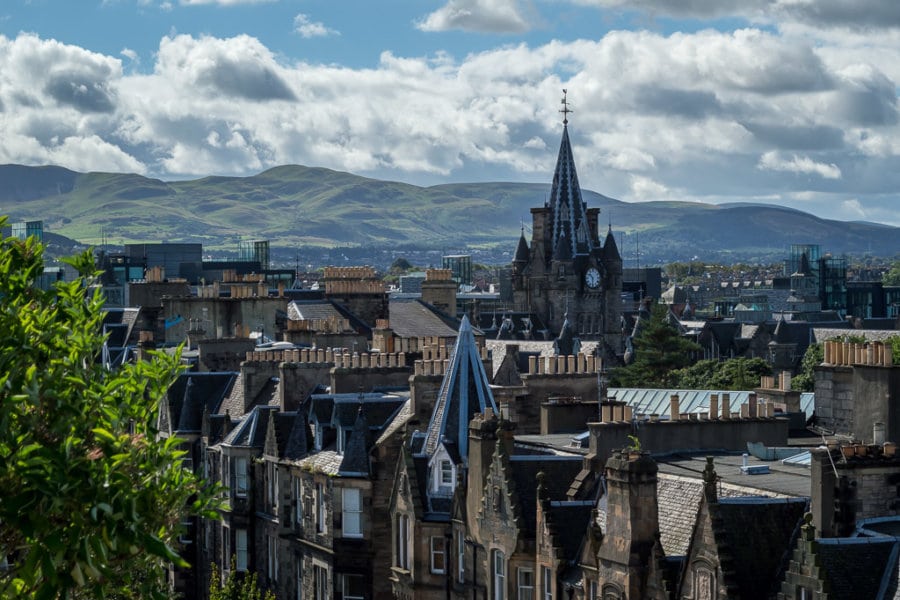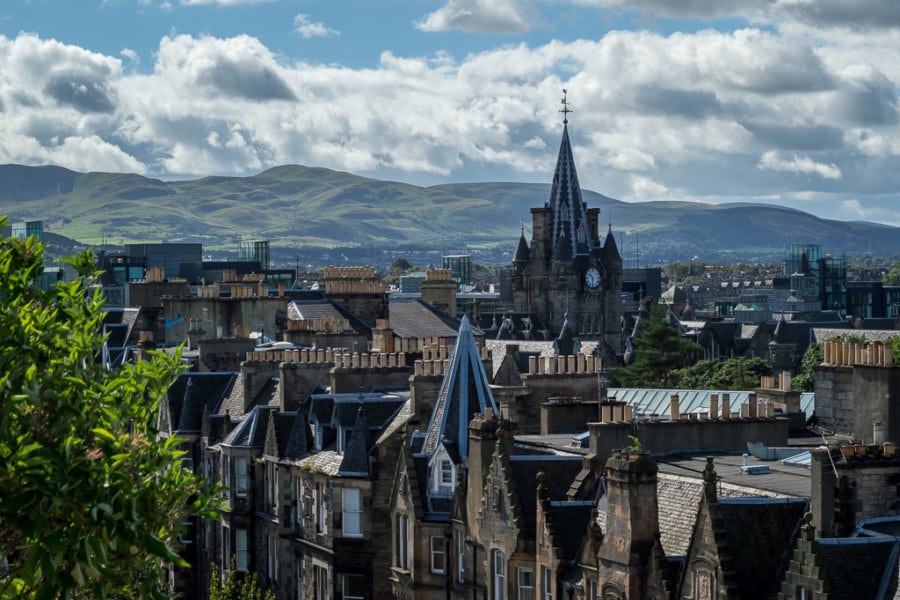 I really enjoy wandering around a destination with no set route. This is when you stumble across the unexpected and find the unique gems of the city. Edinburgh is a perfect place to do that, as it's not difficult to navigate and is highly walkable. Even the highly-touristed Royal Mile has its secret spots. As a keen traveler looking for these, make sure to visit the small closes dotted up and down the street. These narrow alleys set off to each side of the mile are hiding delightful little squares, restaurants, and views.
There's a lot to be enjoyed in Edinburgh. The Royal Mile alone will keep you very busy. And many of the best things to do don't even cost very much (or anything at all.) During our recent visit, we updated our old piece 10 Free Things to Do in Edinburgh.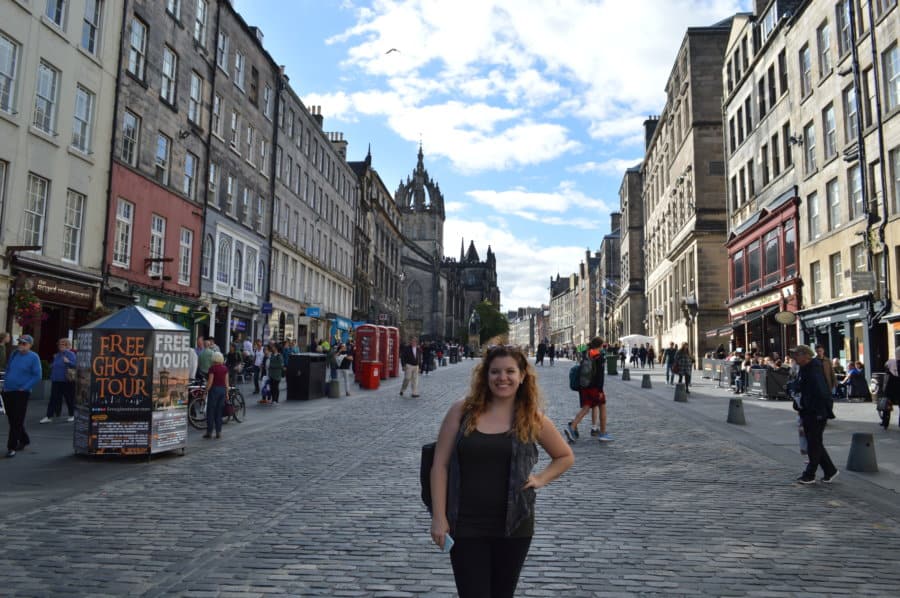 Edinburgh is Cute
Oh yes, the city of Edinburgh is definitely a cute, quaint place, but it just got a whole lot cuter. Not too long ago, a new Edinburgh cat cafe opened up called Maison de Moggy. As big animal lovers (and huge fans of cafes lol) we had to go. We booked ahead and were able to spend an hour with a dozen or so delightful feline companions.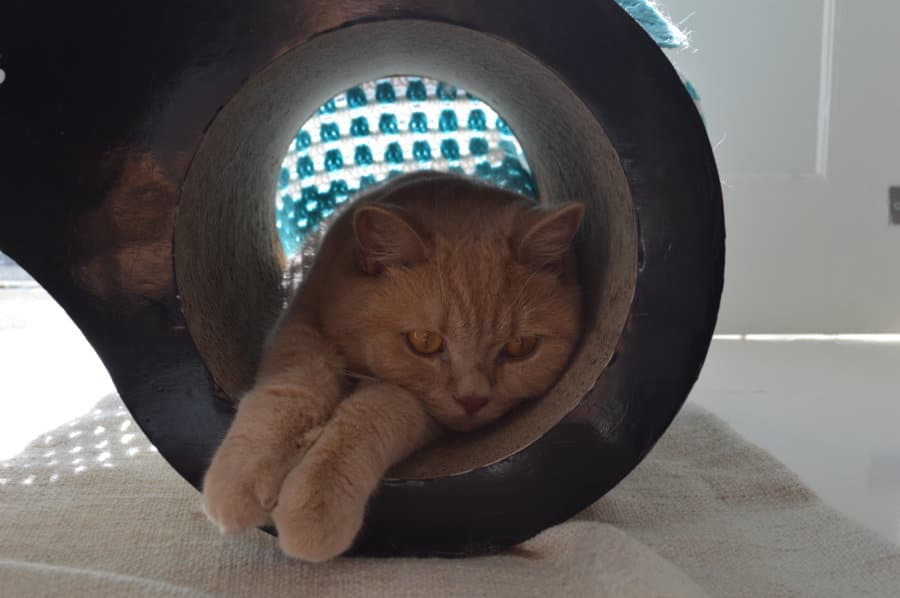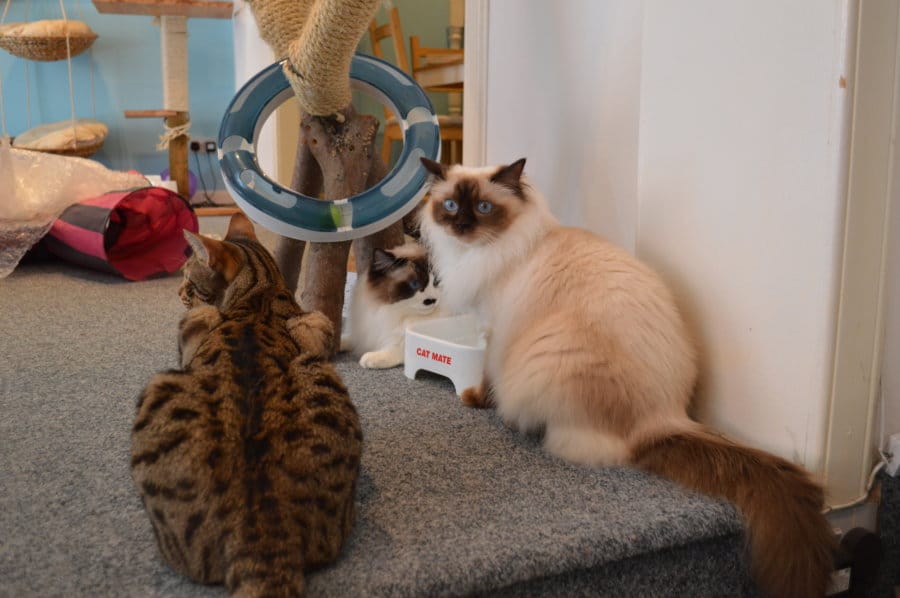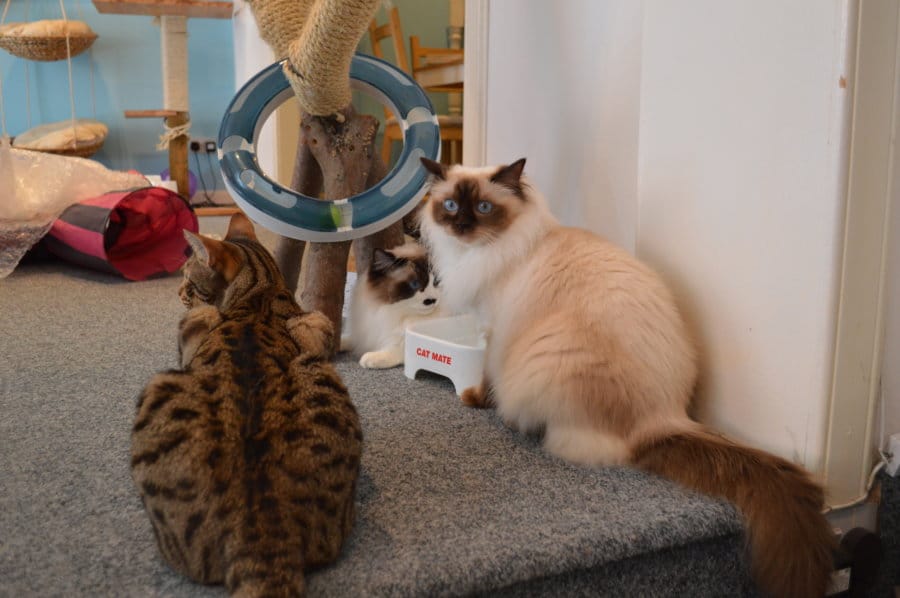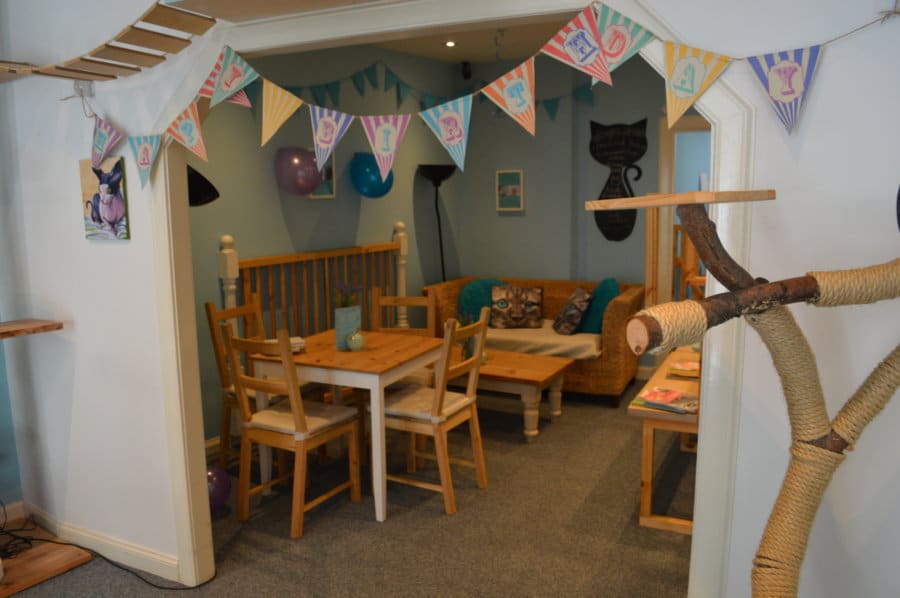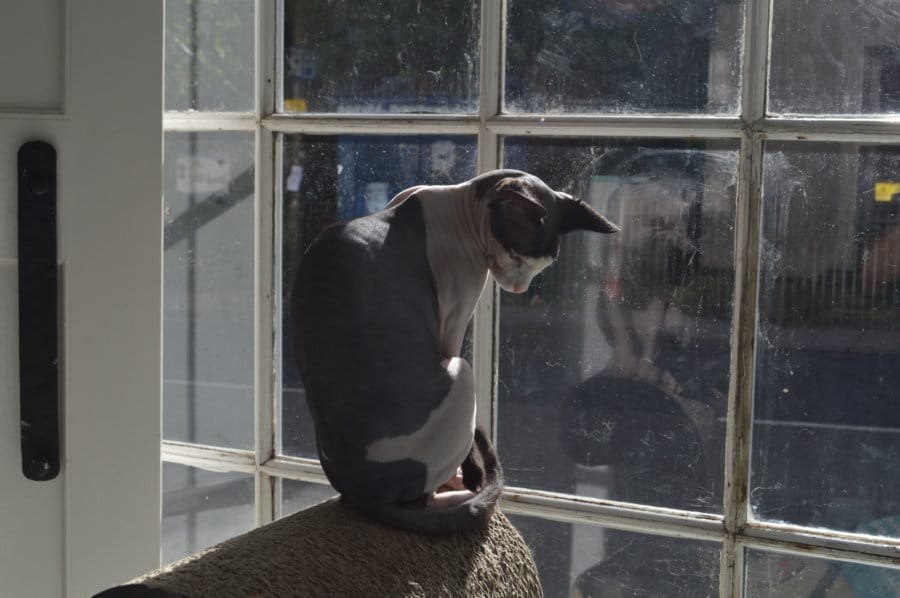 The cafe is really adorable. The cats have plenty of places to climb, play, and sleep, and along the walls you can read a cheeky bio about each cat. We especially loved the orange, chubby-faced Sebastian, and the sphynx Elodie. Maison de Moggy is only £7 per person for an hour of kitty love.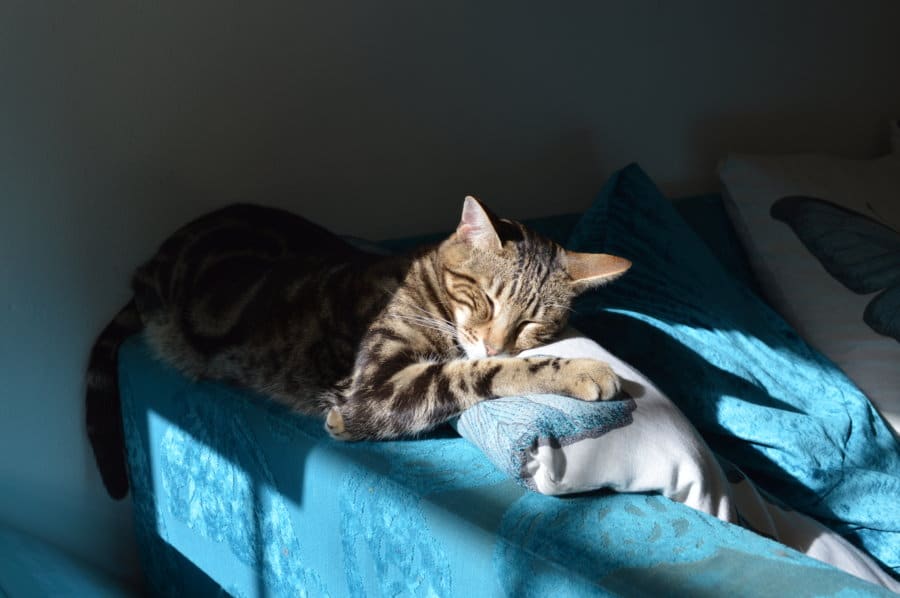 Edinburgh is Romantic
You'd be hard pressed to convince us that Edinburgh isn't romantic. After all, it is in this city that we Two Drifters first met.  It was nearly 5 years ago that our paths crossed in the tiny, cheap Belford Hostel. We'd both chosen it because it was the most inexpensive in town and is housed in a converted church…we share a clear love for stained glass and for thrift. On our stroll about town, we made sure to stop by the hostel to pay it a visit. We also took a quick kissing selfie at Frankenstein's, a very unique bar where, incidentally, we shared our first kiss.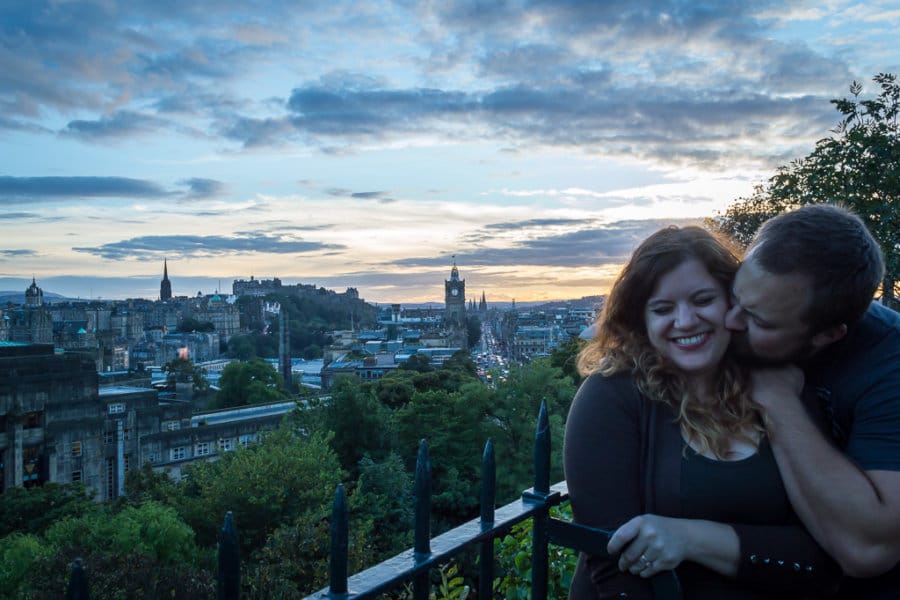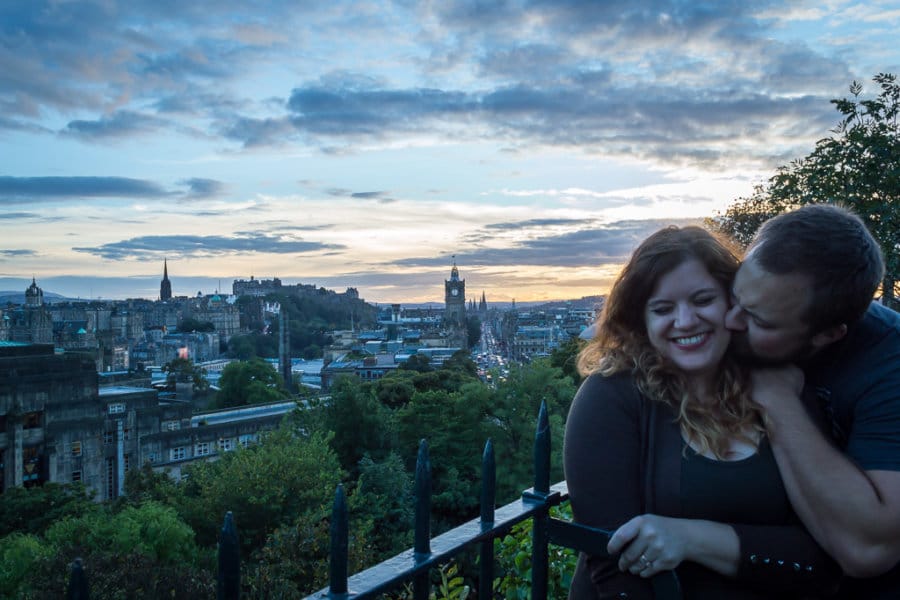 From sunsets over the city to the beautiful views from a hike up Arthur's Seat to whisky shared side by side, there is an abundance of romantic feeling here. And for us, it also has the cozy, nostalgic feeling of home. It's a city that really can't be beat. What's your favorite city?
–As (almost) always, words by Amy, photos by Nathan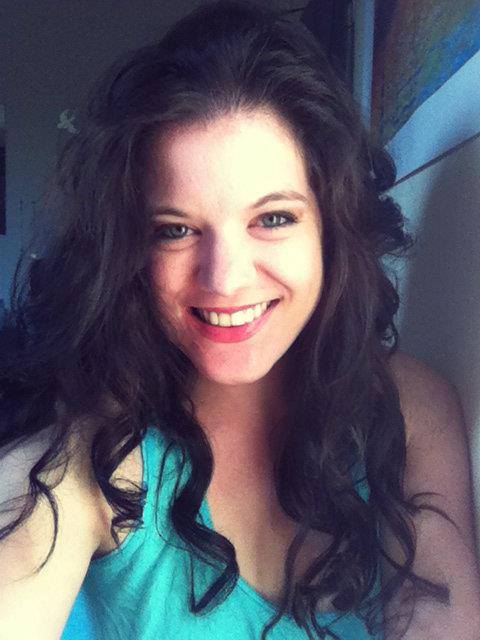 Amy Hartle is the co-founder and owner of Two Drifters, where she blogs about romantic and couples travel, relationships, honeymoons, and more. With a Master's in English and a BA in Musical Theatre, Amy loves to write quality content as well as to entertain, and she hopes to do a bit of both here on the blog! Amy is happily married to her husband Nathan, and when not working on their sites, Amy & Nathan can be found cuddling, reading, and enjoying delicious lattes.