---
*Links in this article may be affiliate links, from which we may earn commission. See our
Privacy Policy
for full details.
---
Yesterday was a great day. The Two Drifters are apart at the moment, as one (Amy) headed north to spend time with family this week. While I'm away, Nathan is holding down the fort in North Carolina. Over 8 days, my mom, younger bro and sis, and I are heading from Vermont to Massachusetts to Pennsylvania and back. It's a whirlwind road trip, and, as is always the case with my family, we've jam packed each day's schedule with activities.
Yesterday was spent on a whale watch in the North Atlantic waters off the New England coast. We're staying in Rockport, Massachusetts, perhaps one of the loveliest little towns I've ever seen. Our whale watch was just down the road in Gloucester–America's oldest seaport, perhaps most prominently recognizable as the setting of the film The Perfect Storm. As I sat onboard for several hours today, reclining in the sun and waiting for whales to be spotted, I had a lot of time to think. And I began to realize I was learning a few lessons both big and small….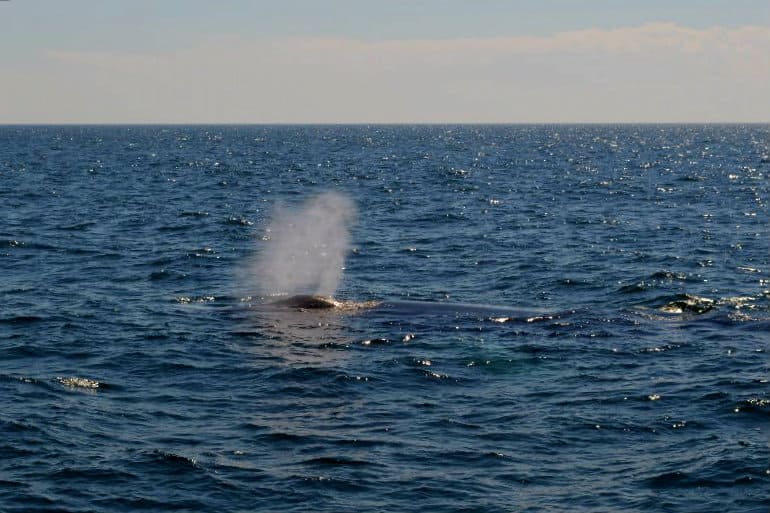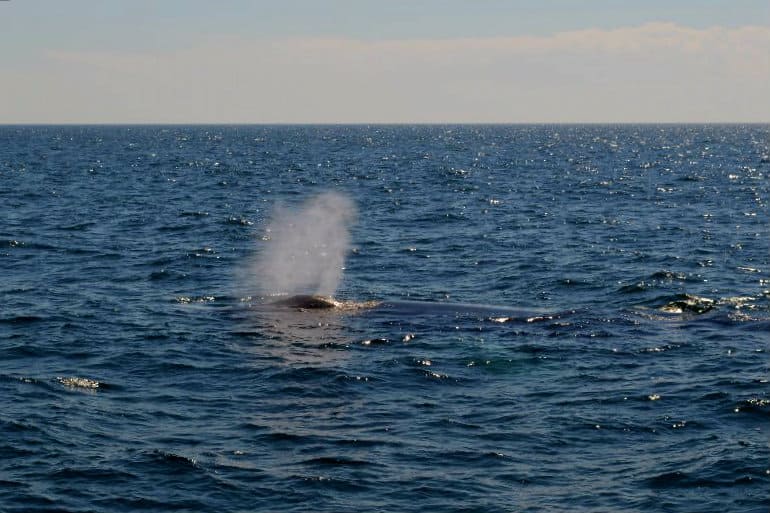 Whale watching is amazing, in all parts of the world. Here's what I learned about it.
1. The early bird…gets the best seat
This morning began early at 6:30 am. Up for a quick breakfast in our hotel, we chomped hurriedly through our Lucky Charms and English muffins and got on the road. The whale watch departed promptly at 8:30, but we were instructed to arrive at 8. We pulled up at 7:50, and there was already a very long line forming. Apparently people really want to make sure they nab a good spot on that boat! My mom was no exception, and suggested we make a beeline for the front of the boat. Amazingly, we ended up with a prime spot right on the bow and had excellent views the whole trip.
If you're doing something that you suspect might be fairly touristy and/or crowded, consider making the effort to arrive even earlier than suggested. It can definitely pay off especially when you are keen to snap some good photos!
But by the same token….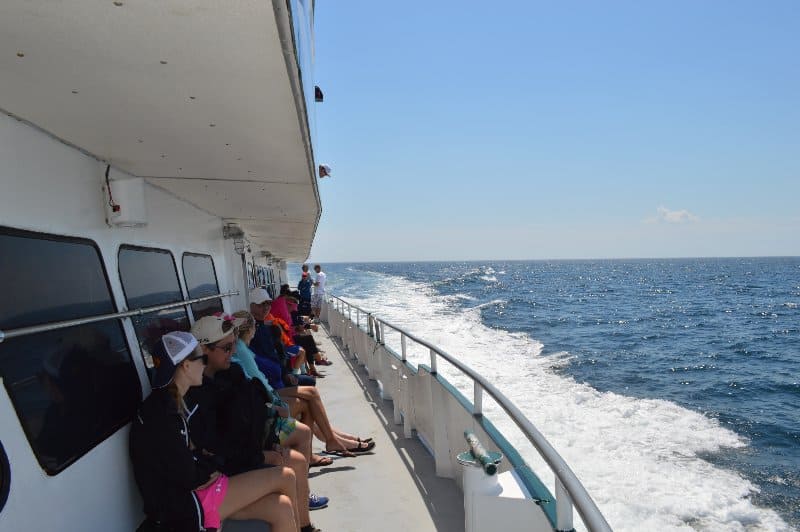 2. Don't fret about your spot
It's ideal to arrive early to grab a prime spot, and maybe most importantly, a place to sit. But, in the end, the whales are wholly unpredictable. You never know where they'll show up in the water and so every area of the vessel is treated to a great view at some point. So, choose your location wisely and promptly, but don't waste time worrying there's a "better" spot out there.
3. Bring a jacket
Most whale watching companies or other boat tours do suggest this, but I always forget until it's too late. Even when the day is sunny and 80 degrees, mornings on the water can be COLD. Particularly when you're speeding out to sea and the wind is whipping around you. I really wish I'd brought a light jacket or sweatshirt for the early part of the day. It also would have kept the sun off me a bit more (4 hours in the sun burnt me a bit even with 55 SPF suncreen!)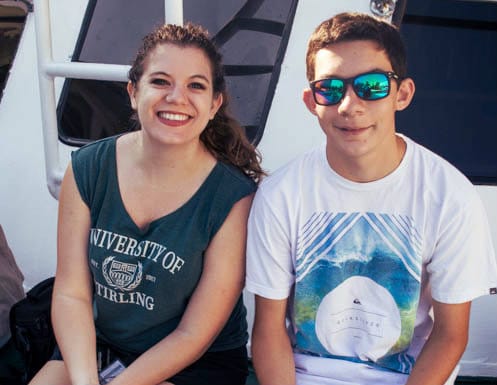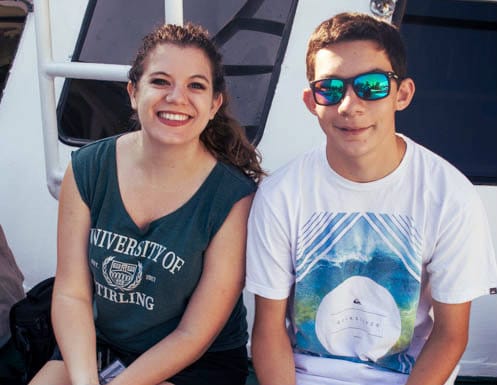 Photo Credit: (my mom!)
4. Dramamine is a must (for me, anyway)
Unless you are certain you never get seasick (or have a tummy made of steel), heed my words and get yourself some anti-nausea medicine like Dramamine. (*Remember, I'm not a doctor, and I am not making any medical claims here!) When we went swimming with whale sharks last year in Australia, I made the mistake of thinking I never got seasick. The voyage that day was pretty rough and I felt horrible. This time on the water, I made sure I was prepared. I took 2 Dramamine before heading out on the water and I felt really great. I felt bad for the woman next to me, who threw up over the side of the boat. Poor thing. Be careful when taking medicines like Dramamine, however, as they can cause drowsiness. Don't fall asleep and miss the whales!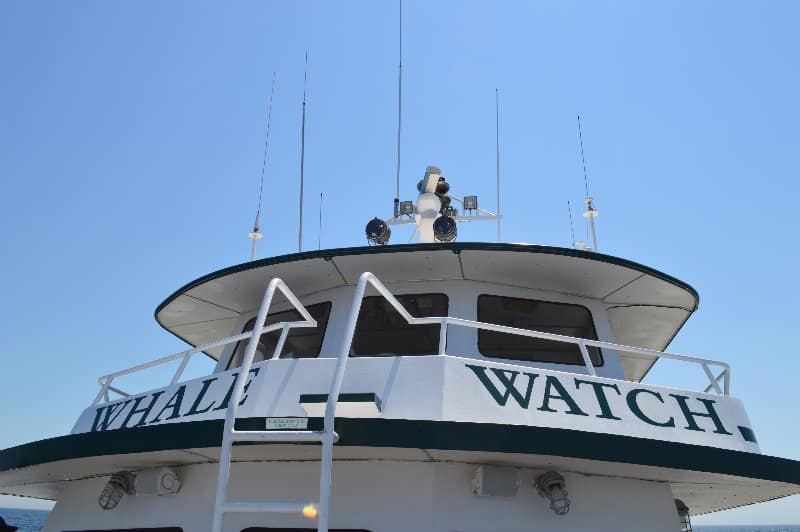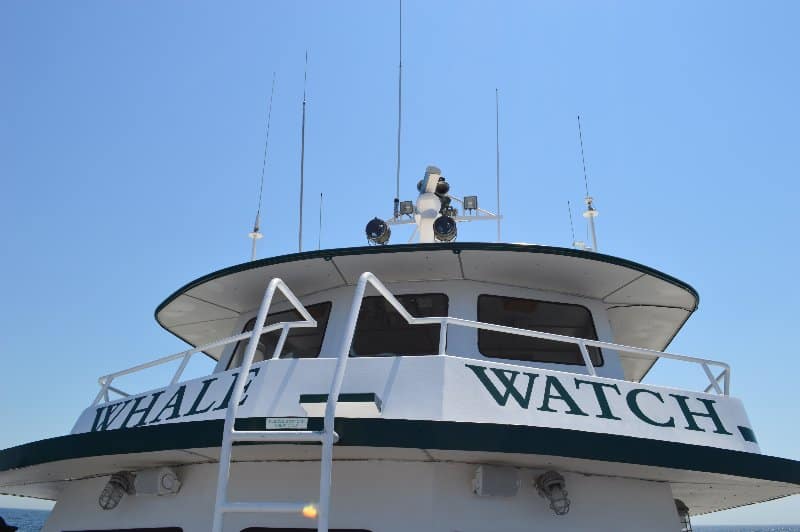 5. Nature is unpredictable
I love seeing wildlife. It is absolutely one of my favorite parts of traveling. But animals (in the wild) are completely unpredictable. Although we may know the patterns of animals and thus when we're more likely to see them (kangaroos tend to feed at dawn and dusk, for example), you simply never know. Whale watching is much the same. Our tour took us to the Stellwagen Bank National Marine Sanctuary, a thriving habitat where whales are often found. Even with our knowledgeable guides at the helm, we had to travel nearly 30 miles off the coast of Massachusetts before we encountered any whales. I personally think it is most exciting to observe animals in their natural habitats, but this comes with the added layer of open-ended possibilities. The animals do what they want. The humpbacks aren't adhering to our schedule. This can make it somewhat tougher to come across them, certainly, but I think it's that much more special when it happens!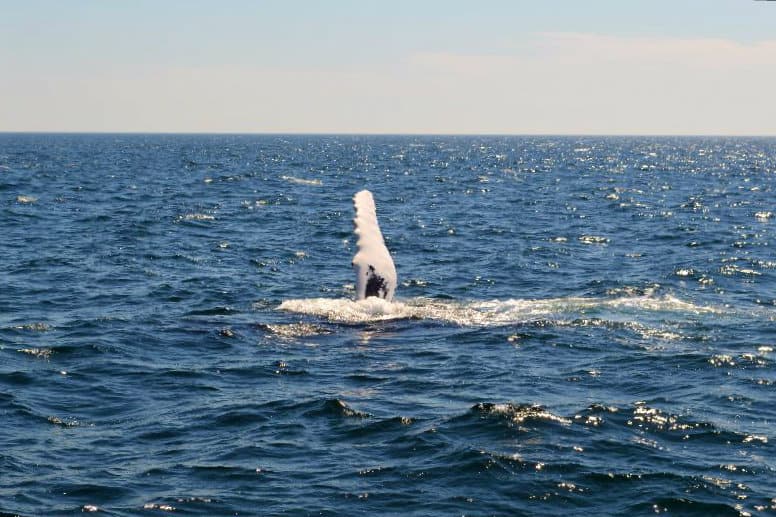 6. I am but a speck in the universe
See, I told you my thoughts went pretty big yesterday. There's just something about sitting out in the middle of the ocean, with nothing around you but water as far as the eye can see that makes you think about your place in the world. As I looked around, the incomprehensible size and depth of the ocean made me feel so small. Not only did I feel small, but I understood how helpless I am in the face of nature. Nature is something beautiful and good, and yet so frightening and powerful at the same time. I love that contrast and I love thinking of how vast the planet is. I am only one of several million humans. And one of innumerable living organisms that make up our universe. Some might find that concept not only mind-boggling but a bit scary. I don't. It makes me catch my breath, but it's a feeling of wonder and delight. I feel glad to be a part of such a complex, glorious system and I think that is what, in part, drives me to want to see as much of it as possible.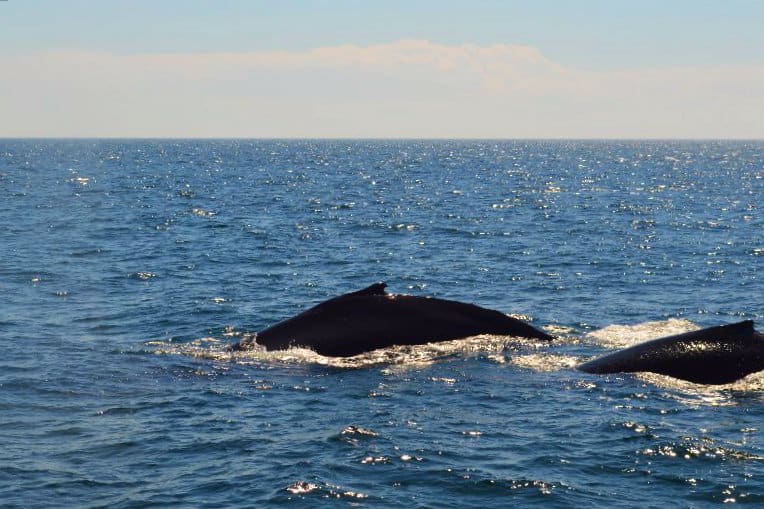 7. Humpback whales are amazing creatures
The focal point of this entire whale watching experience was, of course, the whales themselves. About 30 miles off the coast of Gloucester, we spotted two humpbacks, a mama and baby, engaging in some lively water activity. The first sight was thrilling. Despite what I knew about their size (average adults measure roughly 52 feet in length) I was unprepared for how massive the whales were; even the baby. They were huge, yet so graceful as they swam through the water. With movements slow and deliberate, the humpback whales seem almost human in their actions. They looked like they were relaxing, playing, and having fun in the ocean. The entire boat watched in awed silence as the whales lay on their sides near the surface of the water, slapping their fins to make loud, reverberating noises. The guide told us a great deal of information about the whales and their reproduction process, letting us know that it looked like the young whale was nursing one minute, then swimming over to check out our boat the next. Whale watching in New England was truly an unforgettable experience and if you get the opportunity to do so, jump on board with gusto!
x Amy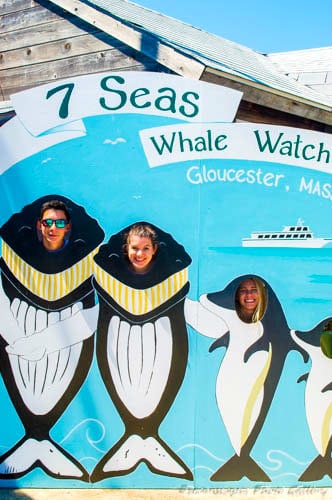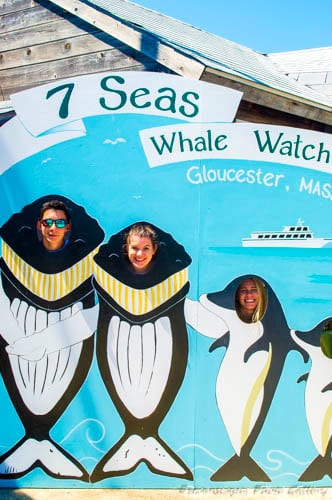 PS: Our whale watch was with 7 Seas Whale Watch in Gloucester, Massachusetts. Highly recommend them for their excellent tours and friendly service!
Amy Hartle is the co-founder and owner of Two Drifters, where she blogs about romantic and couples travel, relationships, honeymoons, and more. With a Master's in English and a BA in Musical Theatre, Amy loves to write quality content as well as to entertain, and she hopes to do a bit of both here on the blog! Amy is happily married to her husband Nathan, and when not working on their sites, Amy & Nathan can be found cuddling, reading, and enjoying delicious lattes.