*Links in this article may be affiliate links, from which we may earn commission. See our Privacy Policy for full details.
Who's ready to rock their blog in 2018?! I bet all of us! Blogging is a fun, tiring, overwhelming, rewarding, and constantly changing BEAST. It's vital to stay ahead of the game and up to date with the latest innovations. To find blog success in 2018, or to take your budding blog to the next level, I personally recommend these 10 things (things that have helped me and my blogger friends to rock our blogs this year.)
---
10 Essentials to Take Your Blog to the Next Level in 2018
---
Tailwind
Do you use Pinterest to grow your blog traffic? For so many bloggers I know, Pinterest has been what made their pageviews EXPLODE! I struggled for a really long time to try and master pinterest. I tried courses, e-books, various methods, hours of manual pinning, and more, but finally stumbled across the ideal tool for me. Tailwind.
I started using Tailwind consistently in November. Check out how much my Pinterest reach has skyrocketed since then! It's now at 1.5M monthly viewers! That's like 3 million eyes, guys!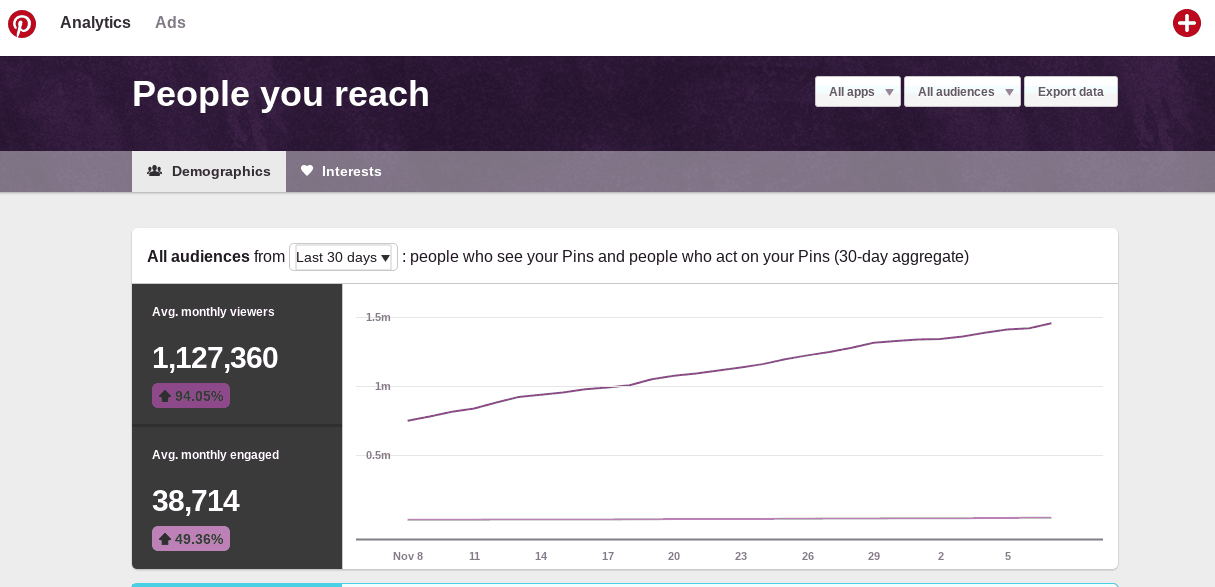 Tailwind is a Pinterest scheduler that takes care of pinning your pins for you at the perfect intervals. You can also schedule other people's pins to keep your feed versatile and bring your followers the best content.
I really do love Tailwind. After an initial learning curve, it becomes super easy to set up. I now only have to take about 2 hours on Sundays to schedule my Pins for the week. The results have been really good so far, and I anticipate them getting even better as we enter 2018.
If you want to enjoy a free trial on ME, please use this link: Yes, I'd love to Try Tailwind!!!
Want an excellent primer on the basics of Pinterest? Find out how to use it with this kickass post from my friend Lia.
A Solid Grounding in SEO Basics
Does the idea of SEO totally overwhelm you? You're not alone. Search Engine Optimization can be a baffling concept for many, but it's actually not so tough once you get the hang of it. And get the hang of it YOU MUST, because focusing on SEO has been the single biggest traffic builder for us here on Two Drifters. More than half of our traffic comes from Google, which means people are searching for terms and then finding answers on our site! Very exciting!
2018 should be the year you master SEO. To get started, check out this ebook by my blogger friends Gemma and Laura. Both of them are SEO geniuses, and have helped me learn a lot about the mysteries of these strategies. The ebook is called "SEO: The Easy Way".
Speaking of SEO….one of its most important elements is the KEY WORD. You may have heard of it. It's basically what your audience is searching for to land on your blog post or web site. With so much great content out there, the Internet can be competitive, but getting found can totally happen if you use the right keywords.
The tool that Nathan and I use for finding awesome keywords is called Keysearch. It allows you to check the frequency with which terms are searched, plus see how your site stacks up to your competitors. With a little knowledge of SEO plus Keysearch, you'll be set. I'm not lying when I say it has revolutionized our blogging this past year. It could revolutionize yours too. Check out Keysearch here for a free trial, and when you decide to purchase, use KSDISC for 20% off. I use Keysearch multiple times per week, and it has helped increase our traffic this year by 96%!! At a little less than $14/month, Keysearch has more than paid for itself.
A Better Understanding of Google Analytics/Search Console
As your traffic starts increasing with SEO/Keysearch/Tailwind and all your other great efforts, you'll want to be sure you're accurately tracking your results. This means you need to have a solid grasp of Google Analytics and Google Search Console. These two tools are TREASURE TROVES of information about your site, and when you know what you're looking at, you can use the data to make smart decisions about your site.
Ready to learn? Go straight to the source. Google has its own free course on understanding the basics of Google Analytics. This course could be ideal for a total Google newbie, or a nice refresher for a seasoned blogger. Check out the details here.
Buffer
One thing's for sure, blogging seems to bring with it an endless to-do list! Some of the best blogging tools I've found are those which help me to save time or be more efficient. Buffer is one such tool. This is an app/web-based tool that allows you to schedule posts for Twitter, Facebook, Pinterest, and even Instagram.
Now, I haven't used it for anything aside from Twitter, but that alone has been instrumental in streamlining my days. Basically, I use Buffer to schedule tweets throughout each day. Many of these are of our own Two Drifters posts, but I also share the content of fellow bloggers and travel sites. Buffer makes it super easy to set up a set tweet and let it fly! With the $10/plan, you can schedule up to 100 tweets at a time. I like using this plan. I still have to do the work of scheduling my Tweets, after the initial setup it's super fast. It's really easy to click "Rebuffer" and put a Tweet right back in the Queue.
Better Hosting
Good hosting is a necessity for your blog! The right host can help make your site faster and safer and prevent downtime. In 2017 we switched from a different hosting provider to Siteground, which came highly recommended by tons of bloggers. We are extremely happy we made the switch. Good pricing, great customer service, and ZERO downtime for our site. If you're looking to start a blog or upgrade your hosting, definitely check out Siteground.
Investing in a Great Theme
Want a beautiful, readable blog or website? You'll need an exceptional theme. The best option is to find a theme that enhances user experience and meets the demands of today's reader. For instance, a mobile-friendly theme is a MUST since a massive percentage of traffic is from mobile-users. Read this post for some wisdom on how to pick a great theme.
Taking the Leap into Affiliate Marketing
If you're a blogger, it's likely making money is one of your goals. And, truth is, it's totally possible to earn an income as a blogger. Many bloggers are earning a full-time salary from their sites, and plenty more have a nice side income from their blogs. Making money on a blog doesn't require heaps of traffic; it doesn't require selling courses or covering your site with ads. Nope. One of the very best ways to make money via a blog is through affiliate marketing.
If you haven't yet explored the wide world of affiliates, 2018 is your year, baby.
I'm sending you to read Sharon Gourlay's site at Digital Nomad Wannabe. Sharon is a wealth of info on how to make money blogging, including the all-important affiliate marketing. Happy reading and learning!
Creating a Business Plan
To take your blog to the next level in 2018, the most essential of the essentials is a real business plan! So many bloggers ignore this crucial step, but developing a business plan gives you focus and helps you to truly meet your goals. You need to treat your blog as a business if you want it to be one!
And don't be intimidated by the term "business plan." All you really need to do is sit down and write out your goals and the strategies you'll use to get you there. You can also take a look at countless business plan examples across the web. However you approach it, writing it all out sends your desires out into the universe, and helps make your goals become a reality. And to stay organized for those day-to-day tasks in 2018, why not invest in a helpful day planner?
Last, but certainly not least, we bloggers love our coffee! This year, get yourself a big 'ol tumbler to keep that liquid gold hot and ready for you. Best of all are coffee mugs and tumblers with inspirational messages to remind you of your awesomeness.
---
Are you going to take your blog to the next level in 2018? Let's do it!
---
Pin this post to save for later.